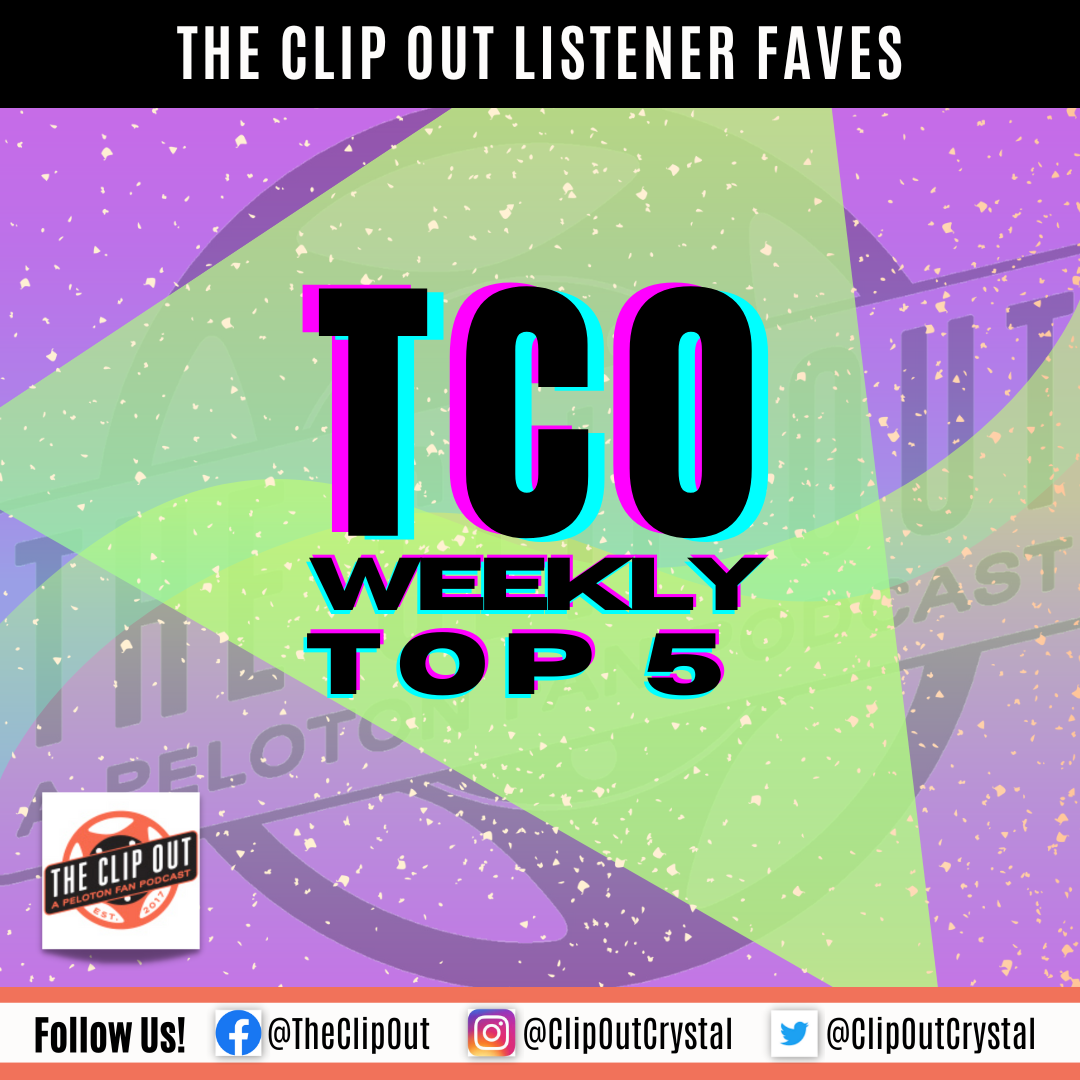 TCO Top 5 Favorite Peloton classes: Stay motivated with this week's picks (9/18/23)
The Clip Out Facebook Group came through with another excellent list of recommendations, including Alex Toussaint's first appearance on the TCO Top 5! We're sharing the five most enthusiastic recommendations (in no particular order) from our community, along with a quick summary of each class. Read on for our weekly dose of motivation!
This week's favorite Peloton classes:
Why you loved them!
Sometimes it's hard to pick just one favorite, but these reviews make it seem easy! Here's what the TCO Group had to say about their favorite classes from the last week.
1. Favorite Peloton Yoga Class
9/12/23 20 min Focus Flow: Twists with Anna Greenberg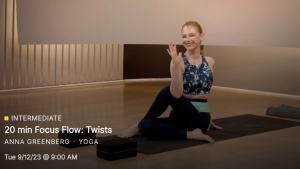 If you're like me, you don't do as much yoga as you'd like. And that means when you do get around to taking a class, you might want some help wading through the vast pool of Peloton yoga classes. Listener Caroline Gray is here to help with an excellent yoga class recommendation this week.
"This [class] took twists up a level from usual twist moves and really felt good. I usually never repeat a class but this one will definitely be done again and again by me as it felt so beneficial," she said, "not just giving relief in my shoulders as I hoped but all the way down my sides and into my glutes."
The class features a super-cool playlist, with artists like Hozier, Lana Del Rey, H.E.R., and Taylor Swift. Anna takes you through a flow anchored by two key poses: revolved triangle and seated twist. The class offers not just a refreshing rinse of the spine, but also a gentle stretch into the hamstrings, hips, and glutes.
2. Favorite Peloton LIIT Cardio
9/13/23 30 min Low Impact Cardio with Rebecca Kennedy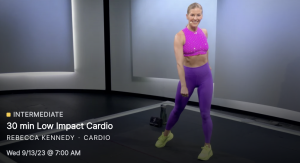 We've been excited about Rebecca Kennedy's new Low-Intensity Interval Training classes for a while, and we're thrilled to see that Peloton has finally made them an official collection. Past Guest Dotti Hopper Lupariello is excited too!
Dotti shared, "The new LIIT classes are so much fun and a throwback to 90s aerobics. Like the old days! Hope they make more!"
This class has some excellent rock jams to get you moving, including music by Aerosmith, John Mellencamp, AC/DC, and even some Madonna and One Direction to mix it up a bit.
Rebecca designed these classes with no jumping, never any burpees, and a target heart rate max of zone 2. The moves are meant to be repetitive so that they're easy to master. They include lots of step-touches, jogging in place, punches, arm raises, and pulsing squats.
Add this class to your stack for the next time you want just enough movement for a light burn but don't want to overuse your joints or get too exhausted.
This class is one of just three in the LIIT Cardio collection so far. If you agree with Dotti and want more LIIT Cardio in the library, please go take these so Peloton knows members want them!
3. Favorite Peloton Bootcamp
9/14/23 45 min Hiking Bootcamp: Standing Core with Rebecca Kennedy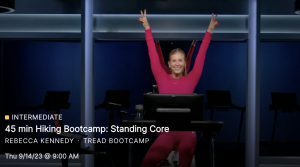 Hiking Bootcamps are my personal fave, and this week they're listener Rebecca Allen's too! She said:
"[Initially], I felt like the class was totally doable–definitely on the easier spectrum of her hiking bootcamps. It had everything RK always provides, great playlist, great instruction but her intervals on the tread were definitely not punishing and her standing core [exercises] were easier, not too difficult moves. However, the next morning my core was so sore and I really felt like I had engaged [it] in a way I typically don't w/normal core classes! Highly recommend…!!!"
Rebecca takes the class through four blocks of work—two on the Tread and two on the mat. But the difference between this core class and others is that Rebecca keeps you standing the entire time!
In a Standing Core class, you perform exercises that target core stability and strength without ever lying down. This is huge for people who can't perform traditional core moves, and gives all members the chance to train their core muscles in a different—and in some cases more functional—way.
As with all of her classes, Rebecca's energy in this class is positive, encouraging, and full of positive self-loving mantras. Her setlist is nonstop feel-good dance tracks from the likes of Justin Timberlake, David Guetta, Kylie Minogue, and Gorgon City.
And as with any hike, the class is designed to be low impact, but high output. In Rebecca's words, "If you want to climb the leaderboard, this is the one for you!"
4. Favorite Peloton Ride
9/16/23 45 min Club Bangers Ride with Alex Toussaint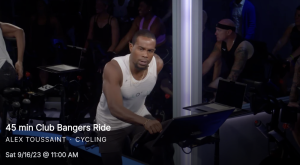 Surprisingly, this is Alex Toussaint's first appearance on the TCO Top 5, and it's only fitting that it's one of his signature series classes, a Club Bangers Ride.
Club Bangers Rides feature infectious playlists of club hits and feel not like a workout, but like a party you don't want to end.
Jessica Ann (CartonOMilk) picked the most recent Club Bangers Ride as her favorite this week.
"[The] playlist was fire and a bit dirty! It was so much fun. Great vibe," she said.
Music is the key focal point for this ride, with tracks from DMX, City Girls, Lil Wayne, Drake, Cardi B, and Ludacris, to name a few (and yes–as Jessica says, they're a bit… explicit!). But the class isn't just for fun—Alex leads a killer class complete with high cadence work and four separate climbs!
Whether you are looking for a party or a workout, Alex says in this class, "Let go, be free, do you, have fun, and spread some love!"
5. Favorite Peloton Unstackable Class
9/17/23 60 min Intervals Run with Becs Gentry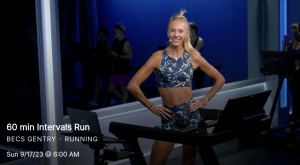 Sometimes we want a class that leaves us in a puddle and washes all hope of a stack of extra classes away with it. We call these classes Unstackable, and we love hearing about our listeners' Unstackable experiences.
For this week's "Unstackable" recommendation, we heard from Wicked Smaht Past Guest Josh Vernon:
"If you are training for a race, this is the class you want to take. [Becs] was ready for this one after her vacation and she loves coaching. It was also a new 60 minute PR and fastest 10k badge, so no stacking that."
After an 8-minute warmup, Becs takes the class through intervals of marathon, tempo, and short interval paces. If you're not sure what those are, no worries—Becs explains each pace as it comes.
Given that the class is intended to provide a rather intense quality workout, Becs does suggest starting out already warmed up. She wants you to get the most bang for your 60-minute-buck. (Technically, this might mean stacking a Warmup before an Unstackable, but we'll let it slide because this is excellent advice.)
The class is super tough. But Becs' energy and the upbeat music make it enjoyable! The playlist includes music from Dua Lipa, Ariana Grande, Beyonce, Oligia Rodrigo, and Miley Cyrus.
For anyone training for a race, take this class and let us know how it and your race go!
Thank you!
Thank you to all of our listeners for sharing your recommendations and enthusiasm. To see the full list of this week's classes and add your own to the conversation, check out the post from September 18, 2023, here. To see past weeks' Top 5 classes, visit TheClipOut.com and search TCO Top 5! If you try any of the recommendations and find a new favorite, we'd love to hear from you!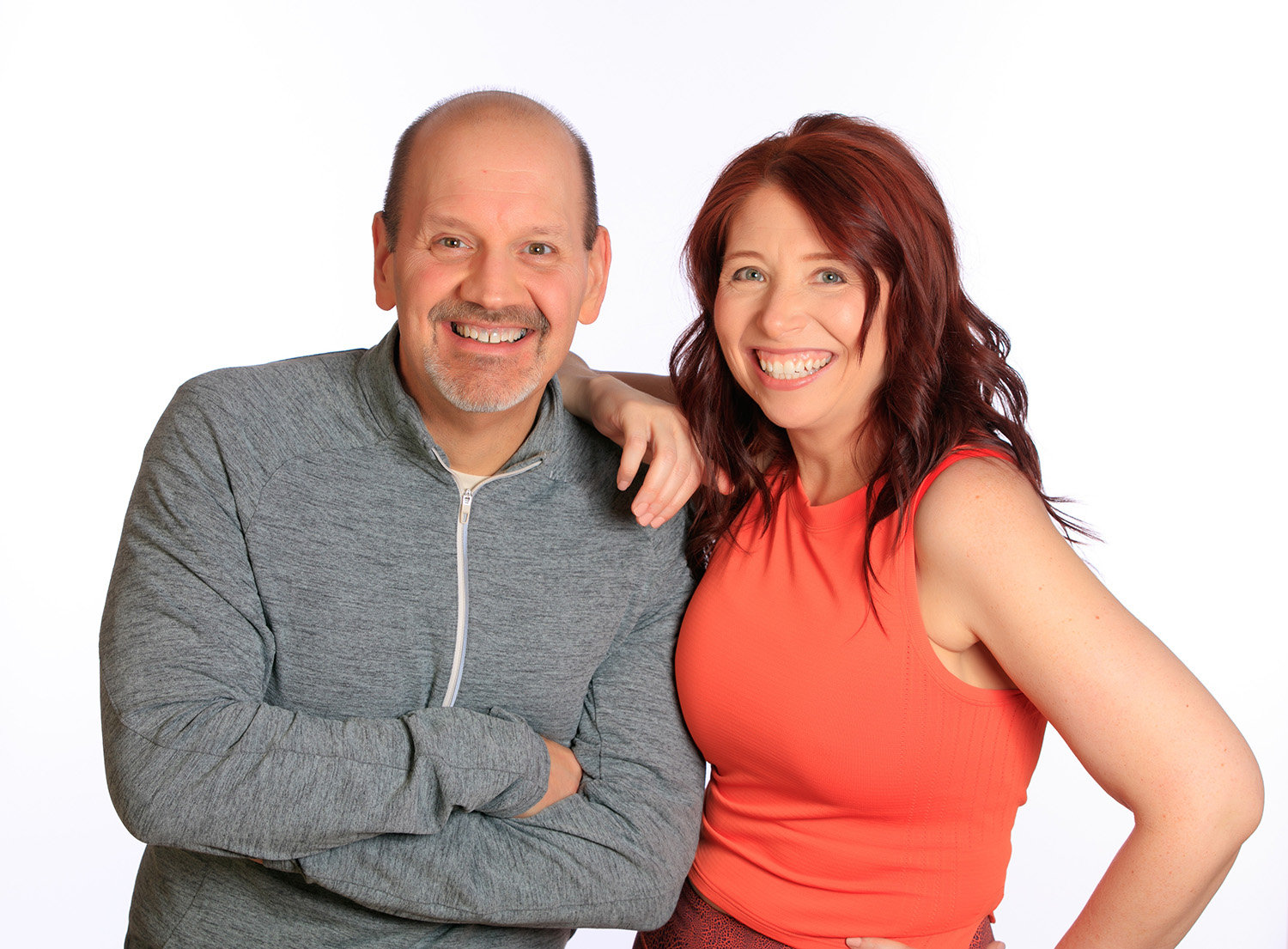 Subscribe
Keep up with all the Peloton news!