Peloton Price Hack: Get all the Content – WITHOUT a Bike, a Tread or a Rower!
Earlier this month, Peloton made a splash when it announced a multi-faceted relaunch (find our review of all the changes here!).  Part of the changes that Peloton made is creating new App Membership Tiers, including a completely free option. In its press release, Peloton said it aims to broaden access to its App content with "the most expansive collection of free classes since it first launched in June 2018." Here's how to get Peloton content without a Bike, Tread, or Rower!
Five Membership Tiers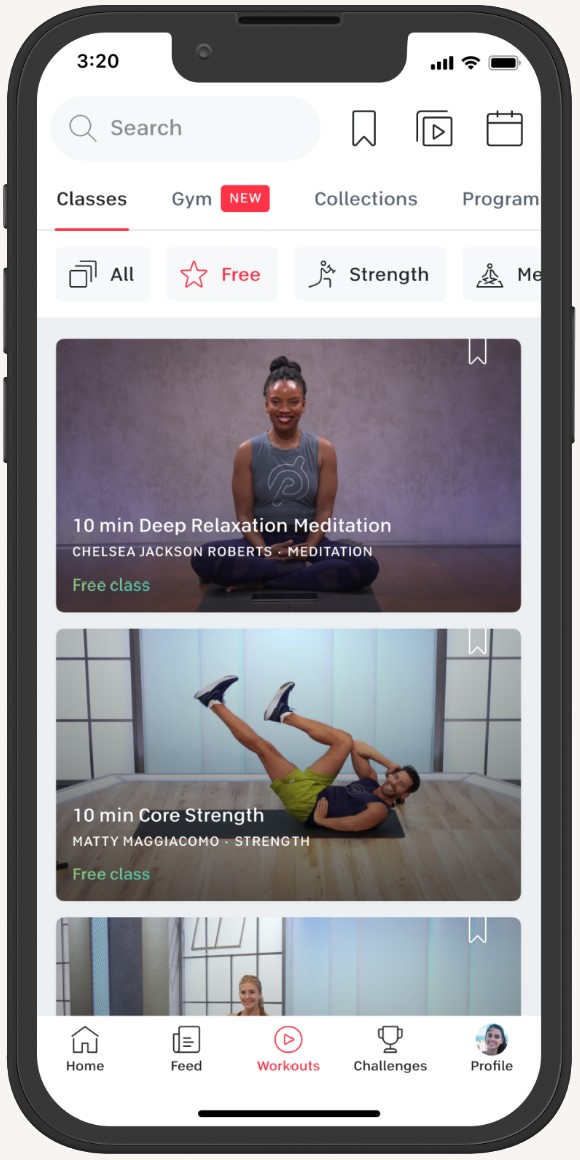 In total, Peloton will now offer five distinct Membership options, including three new App Membership Tiers launched today, in addition to the existing All Access Membership (for hardware owners) and Guide Membership (for Guide owners).
Across all App Tiers, members will be able to access expert instruction, the fitness industry's leading music library, and the Just Work Out feature for activity tracking. The App Membership Tiers are listed in the official press release as follows:
Peloton App Free

– Designed to supplement a user's current workout routine or as a taste-test of all Peloton has to offer for a newbie. This tier currently provides more than 50 classes curated across 12 of Peloton's modalities to enable the user to pair workouts that meet their individual interests, even as those goals change over time. It will also include a rotating set of featured classes that will be refreshed on an ongoing basis.

(Cost: Free. Zippo. Zilch. Nothing.)
Peloton App One

– Designed for the Member who wants unlimited access to thousands of classes across 9 of Peloton's 16 modalities, including Strength, Meditation, Outdoor Walking, Yoga, and more as well as all the classes included in the free tier. App One Members can also take up to three hardware-based classes per month (Cycling/Tread/Row). New on-demand and live classes will be offered almost daily as well as access to Peloton's Challenges, Programs, and Collections.

(Cost: $12.99 per month, $129 per year)
Peloton App+

– Designed for the user who wants frictionless, unlimited access to Peloton's vast library (not including Lanebreak or Scenic classes). This tier includes all of App One's offerings and unlocks access to thousands of equipment-based cardio classes to take on any indoor bike, treadmill, or rower. This tier also offers exclusive access to classes, featuring the latest specialty content.

(Cost: $24 per month, $240 per year)
Note: Price changes for existing digital-only members will go into effect on Tuesday, December 5, 2023. For more information please visit Peloton's Membership page at: onepeloton.com/membership.
Some people who have been paying $12.99 for the app are upset that the cost to move to Peloton App+ will take them to $24 per month.  But – there is a secret way to get ALL the Peloton content without buying a bike or tread AND share your account with everyone in your household.   Impossible you say? Peloton Guide: A Valuable Addition
Peloton Guide: A Valuable Addition
Well, all you have to do is buy a Peloton Guide.   The Peloton Guide uses machine learning and computer vision technology to provide real-time feedback on users' form and performance during strength training workouts. By offering personalized guidance, the Peloton Guide helps users improve their technique, reduce the risk of injury, and maximize the effectiveness of their workouts.
The Peloton Guide can currently be purchased for $195 (down from the original $295.). As part of the Guide setup, you choose your membership (this is where you choose the Guide-only membership). The Guide-only membership gets you access to everything on the app plus all the Guide content for yourself and up to five other members of your household, all for $24/month. 
This means you get:
Form feedback

Rep Tracking

Movement Tracker

Exclusive Guide Content (on the Guide 7 weeks before the rest of the App!)

BONUS:

All of the classes across all modalities are on the app.  You can take a rowing class with any rower.  You can take a cycling class with any bike.  Any outdoor class.  ALL OF IT!

BONUS:

To share all of this with 5 people in your home

BONUS:

to pay the same cost as the new App+.  
I wanted to highlight this because I think a lot of people are glossing right over the Peloton Guide.  And it is a good little piece of hardware.  You have to remember when you choose any of the app-only tiers – it is for ONE person.  So, regardless of tier, that cost is per person.  However, if you can share that cost with others in your home, you are significantly reducing the cost and you can do it while using a very small amount of space. 
By the way, if you already have a Peloton bike, tread, or rower, you have the All-Access membership and NONE of this applies to you.  You get all the things and the Guide is just part of your monthly membership fee. 
Putting it all Together
Peloton's recent relaunch and introduction of new App Membership Tiers has generated mixed reactions. While some users are concerned about the increased cost for certain tiers, the addition of a free option and the innovative Peloton Guide-Only Tier presents exciting opportunities for both fitness enthusiasts and newcomers alike. The Peloton Guide offers a cost-effective and comprehensive solution for households seeking access to the full range of Peloton content, without the need to invest in larger equipment such as a bike or treadmill. Ultimately, this expansion of membership options showcases Peloton's commitment to making its high-quality fitness content accessible to a wider audience, while simultaneously incorporating cutting-edge technology to enhance the user experience and promote a healthier lifestyle.
Check out all of Peloton's new plans at the following links:
---
See something in the Peloton Universe that you think we should know? Visit theclipout.com and click on Submit a Tip!
Tune in to The Clip Out on every Friday to hear Tom and Crystal's take on this and other hot Pelotopics. We're available on Apple Podcasts, Spotify, Google Podcasts, iHeart, TuneIn. Be sure and follow us so you never miss an episode. You can also find the show online on Facebook.com/TheClipOut. While you're there, like the page and join the group. Lastly, find us on our YouTube channel, YouTube.com/TheClipOut, where you can watch all of our shows.