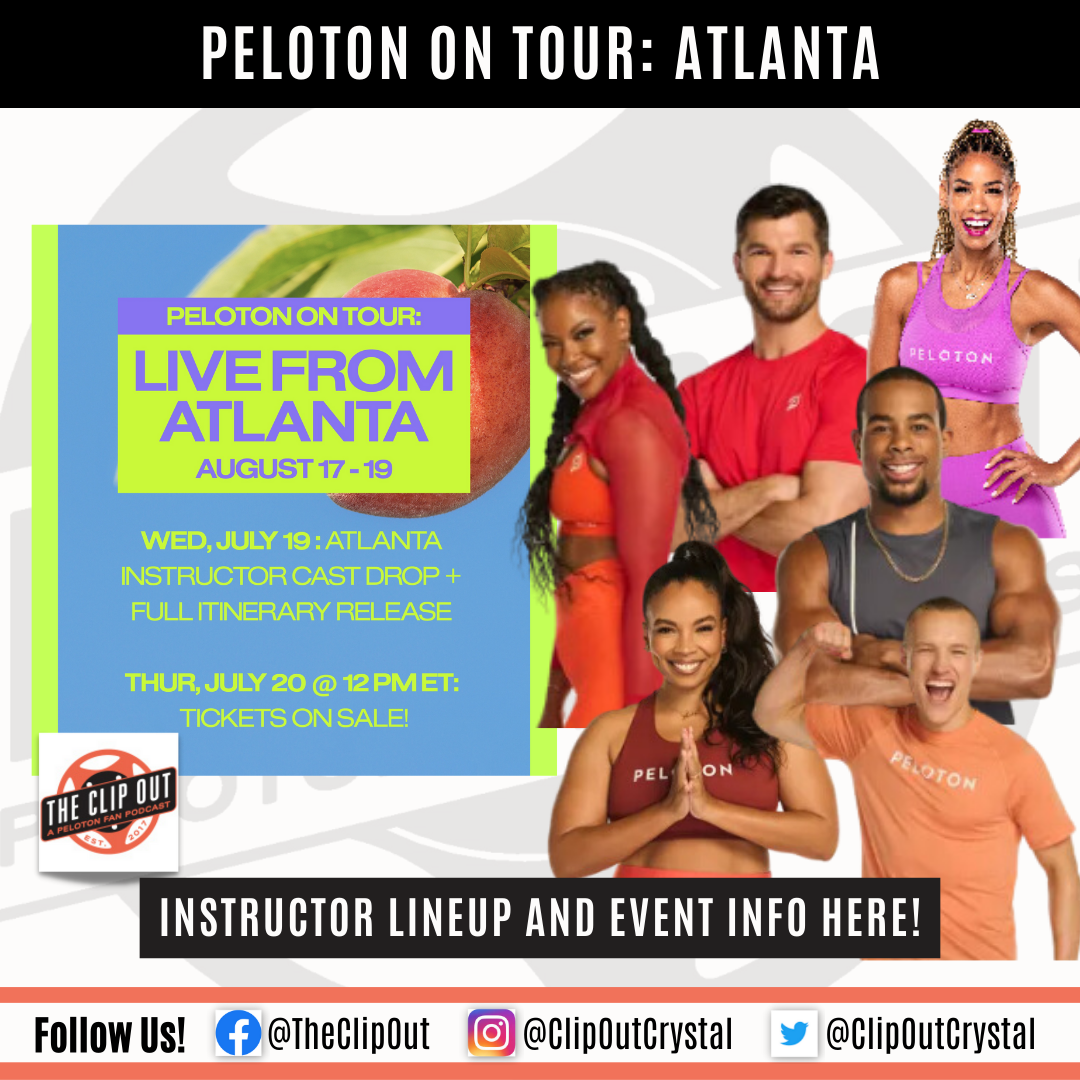 Peloton On Tour: Live in Atlanta Instructor Lineup and Event Info
Get ready, Atlanta! Peloton On Tour is coming your way on August 17-19, 2023. After an amazing event in Los Angeles, they're shifting focus to the next stop of the tour with plans for an epic weekend of fitness, community, and fun. Mark your calendars and get ready to party with Peloton in Atlanta!
The Instructors with Georgia On Their Minds
Hot-Lanta, indeed. The Instructor lineup is definitely bringing the heat to the second stop of Peloton's world-wide celebration.  Members can expect appearances by Marcel Dinkins, Kirsten Ferguson, Chelsea Jackson Roberts, Alex Toussaint, Jon Hosking, and Matt Wilpers with five different events across three days, plus opportunities to see Instructors out and about, taking in the sights and sounds of the city.
Event, Leaderboard Awards and Ticket Info
While tickets for the Atlanta leg of Peloton On Tour were initially set to drop on July 18th, Peloton gathered what they learned from the Los Angeles stop and made a few small changes to the ticket release plans.  We don't know the specifics of what prompted the change, but we do know that it resulted in a shift in dates of both the Instructor and Event info release, as well as ticket drop.  As has been the case since Barry McCarthy took the reins as CEO, Peloton is leaning into the "lessons learned" mantra and is tweaking areas that they feel could be improved from tour stop to tour stop. 
In order to help spread the Tour experiences out to as many people as possible, Peloton is not offering 3-day passes. Each experience will be ticketed separately. This will divide the Tour pie into as many teeny tiny pieces as possible.  The Los Angeles/Santa Monica store event was the smallest (space-wise) of all of the events, so we do expect ticket offerings to be expanded for Atlanta and beyond.  Still, tickets are limited, but an additional event was added to the LA Tour Stop, so the possibility of an additional Atlanta event beyond what is announced absolutely exists.  Even if you aren't one of the lucky few to snag a paid ticket, keep your eyes peeled as the event date gets closer.
This stop's event lineup includes instructor Meet & Greets, live group classes, Leaderboard Awards, and two new events previously not held at the first stop in Los Angeles.   

Thursday, August 17th:  Instructor Experience
Fans will have the opportunity to interact with Peloton Instructors in three different areas.  
Friday, August 18th:  Peloton Field Day
Participants will be assigned a Peloton Team Captain and will compete in four separate field day events.  This is a NEW event to the Peloton on Tour lineup.
Friday, August 18th:  Active Your Greatness Panel
Members will have the opportunity to listen to a panel discussion with Alex Toussaint, followed by a Meet & Greet.  This is a NEW event to the Peloton on Tour lineup. 
Saturday, August 19th:  Live Group Classes!
Members will have the opportunity to attend group workout sessions led by Peloton Instructors.  Each class will have 100 spots available. These classes will NOT be filmed for the on demand library.  A Meet & Greet will follow. 
Saturday, August 19th:  Leaderboard Awards Party
This is an invite-only event for people who have been selected for a Leaderboard award, plus their guest.  Want to nominate someone for an award?  Click

here

.
Tickets are set to go on sale at Noon (ET) on Thursday, July 20 and can be purchased at the Peloton on Tour landing page.  
Los Angeles Recap
The Clip Out had boots on the ground at the LA event, which is being viewed as an enormous success.  Instructors Ben Alldis, Kendall Toole, Camila Ramon, Adrian Williams, and Katie Wang led workouts, hosted events, and even popped up at a last minute event held on UCLA's campus.  Curious about what went down?  Read our recap here and then tune into this week's episode to hear Crystal and Tom dish about all of the details you know you want to hear.  
Ushering in a New Era
After the pandemic put a sudden stop to Homecoming in 2020, and people came to the platform in droves, Peloton satiated the Member craving for a big Peloton party with virtual events. Now, three years later, Peloton is making a big pivot away from a central event and moving toward smaller local experiences with Peloton On Tour. 
Instead of one big event at Peloton Studios New York, or even one big global virtual event, the fitness company announced in June that they're taking the party to five different showrooms across the globe. 
Peloton On Tour is meant to provide engagement on a local level for both Members and Non-Members alike, and to help reframe Peloton's expensive showroom spaces from equipment sales rooms to places where people can meet and experience the energy of Peloton together.
Up Next
Atlanta marks just the second stop in the Tour with the entire rest of the year to go!  Peloton on Tour will be visiting the following cities for the rest of 2023.  
Chicago, October 5-7
Berlin, October 19-21
London, November 30 – Dec 2
As a reminder, details are being kept under wraps and won't be released until 31-days prior to each event, with tickets going on sale 24-hours later, via a dedicated link.  Want to know more about Peloton On Tour?  Check out their landing page here.  
See something in the Peloton Universe that you think we should know? Visit theclipout.com and click on Submit a Tip!
Tune in to The Clip Out every Friday to hear Tom and Crystal's take on this and other hot Pelotopics. We're available on Apple Podcasts, Spotify, Google Podcasts, iHeart, TuneIn. Be sure and follow us so you never miss an episode. You can also find the show online on Facebook.com/TheClipOut. While you're there, like the page and join the group. Lastly, find us on our YouTube channel, YouTube.com/TheClipOut, where you can watch all of our shows.