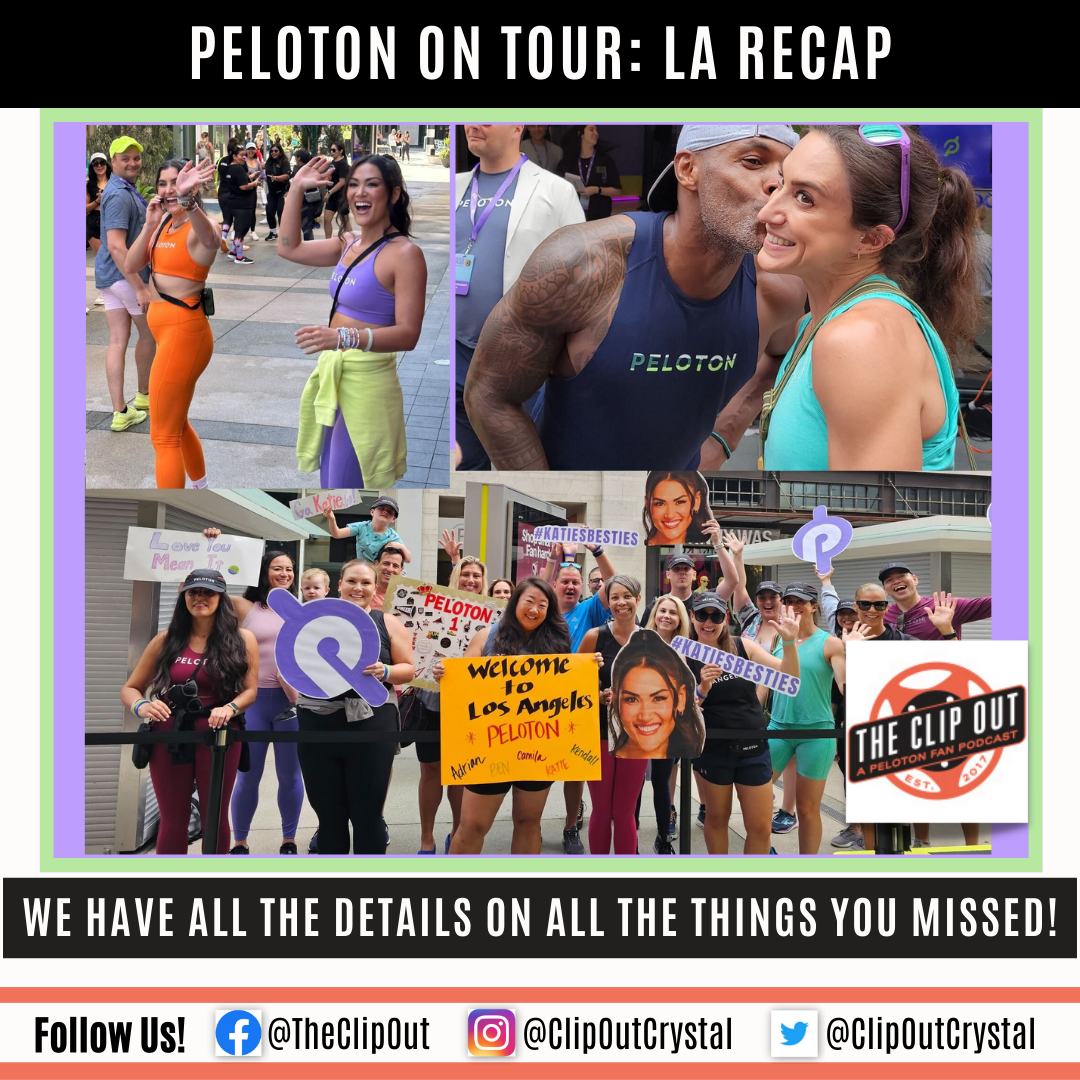 Our Insider Look at Peloton on Tour: Live in Los Angeles
Get ready for an inside look at Peloton on Tour in Los Angeles! Melody Baltazar spills all the exciting details about the event. From daily schedules filled with amazing activities to special meet and greets with Instructors, this Tour stop had it all.

An Overview
On Thursday, the Instructor Meet and Greet took place every half hour from 12pm-5pm, offering an intimate setting for 20 people per block. It was an incredible opportunity to connect with the instructors on a personal level.
In the morning, there were Walk and Talks with 35 people and 2 surprise instructors. The excitement of not knowing who would lead the event until that morning added to the thrill. Later that day, there was an unticketed pop-up workout class at UCLA, where everyone could join in for an energizing session.
Saturday was all about class tapings for future on demand content. Every instructor led a class, and there was even a special 2-for-1 class where Adrian joined Ben for a strength class. A lucky few got Backstage Pass access to the taping, while the rest of the crowd acted as the High Five Crew and cheered on from outside the building where the production team captured all the excitement with B-roll footage and still shots from the crowd.


Meet and Greet Details
Melody had the incredible opportunity to attend the Meet and Greet as well as the High Five Crew for Kendall's class. She got to meet Adrian, Katie, Camila, and Kendall, although she missed out on meeting Ben. Peloton does mention that meeting every instructor is not guaranteed, so she wasn't too surprised (although understandably a little bummed).
Inside the Meet and Greet there were three stations that Instructors rotated through, including a Social Station (where attendees could record messages for loved ones or create GIFs), the Instructor Meet and Greet, and an Intention Setting station. Melody reports that the event was well-organized, and there was enough time to have meaningful conversations and even share hugs with the instructors. At the Intention Setting station, members could discuss their intentions with the instructors and receive their signatures on their cards (even more incentive to stick to those newly-set goals!).


Introducing, Everyone's Bestie: Katie Wang
Katie Wang, one of the newest Peloton instructors, made a huge impression on members despite the limited interaction she's had since becoming a Peloton instructor. Coming onboard at the end of the pandemic and with in-person rowing classes not yet available, Katie's enthusiasm resonated with members.  TCO listener Christina noted that Katie even shared her starstruck experience of meeting Tom Cruise at the Mission Impossible premiere. Members had been eagerly waiting for instructor interactions after being unable to visit the studios, and Katie really understood their excitement and nerves on a different level.
While Melody didn't participate in the Walk and Talk, she mentioned that it was an outdoor event involving a walk to the beach and back. In the afternoon, there was a small surprise pop-up workout in Rose Plaza in Los Angeles, which may have been overlooked due to its timing, the heat, the distance from Santa Monica, and/or the surprise element. Attendees of future stops, keep an eye out for any surprise events added to the tour in Atlanta, Chicago, Berlin, and London, just in case something new is added to the weekend event lineup!
Pulling Back the Peloton Curtain
The High Five Crew event on Saturday had smaller crowds, possibly due to the location or the heat. However, this free event was an excellent opportunity for those craving more Peloton on Tour experiences or those who couldn't secure paid tickets for other events. Just make sure to RSVP to the event via the Tour landing page so that Peloton knows how many people to expect. Note:  a paid ticket isn't required for this event, however you do need to be on the RSVP list.  While the production crew appeared to be welcoming walk-ups at the LA event without an RSVP, we cannot guarantee the same will be true for Atlanta and beyond.  That said, if you aren't able to get your name on the RSVP list, you can certainly roll the dice and show up and see what happens…you may get lucky!
During the High Five Crew event, attendees watched the class on a monitor but Melody noted that audio to the class wasn't available, which made it tricky at times to know what was happening and how to respond appropriately. The producers, however, guided the crowd to cheer at the right moments. In between classes, there were impromptu meet and greets with the instructors, and even a member's puppy made an appearance and was quickly scooped up by Camila and Kendall (not even Instructors can resist puppy snuggles!).  Each city's event will have its own unique surprises, so don't sleep on the High Five Crew opportunity!
Keep an eye out for these classes to appear in the On Demand library within the next few weeks. The Peloton on Tour experience will soon be available for everyone to enjoy!


Melody also raved about the genuine and enthusiastic atmosphere at the Peloton events. From the Instructors to the staff, everyone was excited to interact with Members and make the experience memorable.  In terms of location, Melody noted that the Santa Monica Peloton retail location is one of the smallest. As a result, classes had limited equipment and Members didn't work out alongside the Instructors (which will be true for all Tour stops). However, lucky Members with Backstage Pass tickets got a behind-the-scenes experience, witnessing how the classes are created for the On Demand library.
If you're unsure about attending future Tour stops, especially if they are in your area, Melody wholeheartedly encourages you to go. She had an amazing time and would love to attend more events at future Tour locations which, we think, speaks to the overall success of the first stop that seems to have left Members eager for more Peloton fun.
A big thank you to Christina Sandefur (#kuokoakristina) and Melody Baltazar (#sharxgrrl), Peloton Members and listeners of The Clip Out, for providing us with detailed updates and fantastic photos from the weekend's events.

Have questions?  Check out the Peloton On Tour FAQ landing page here.
If you're craving more details from the LA Tour stop, make sure to tune in this Friday for a full interview with Crystal and Tom, where Melody will share even more anecdotes from her weekend with Peloton!

See something in the Peloton Universe that you think we should know? Visit theclipout.com and click on Submit a Tip!
Tune in to The Clip Out every Friday to hear Tom and Crystal's take on this and other hot Pelotopics. We're available on Apple Podcasts, Spotify, Google Podcasts, iHeart, TuneIn. Be sure and follow us so you never miss an episode. You can also find the show online on Facebook.com/TheClipOut. While you're there, like the page and join the group. Lastly, find us on our YouTube channel, YouTube.com/TheClipOut, where you can watch all of our shows.