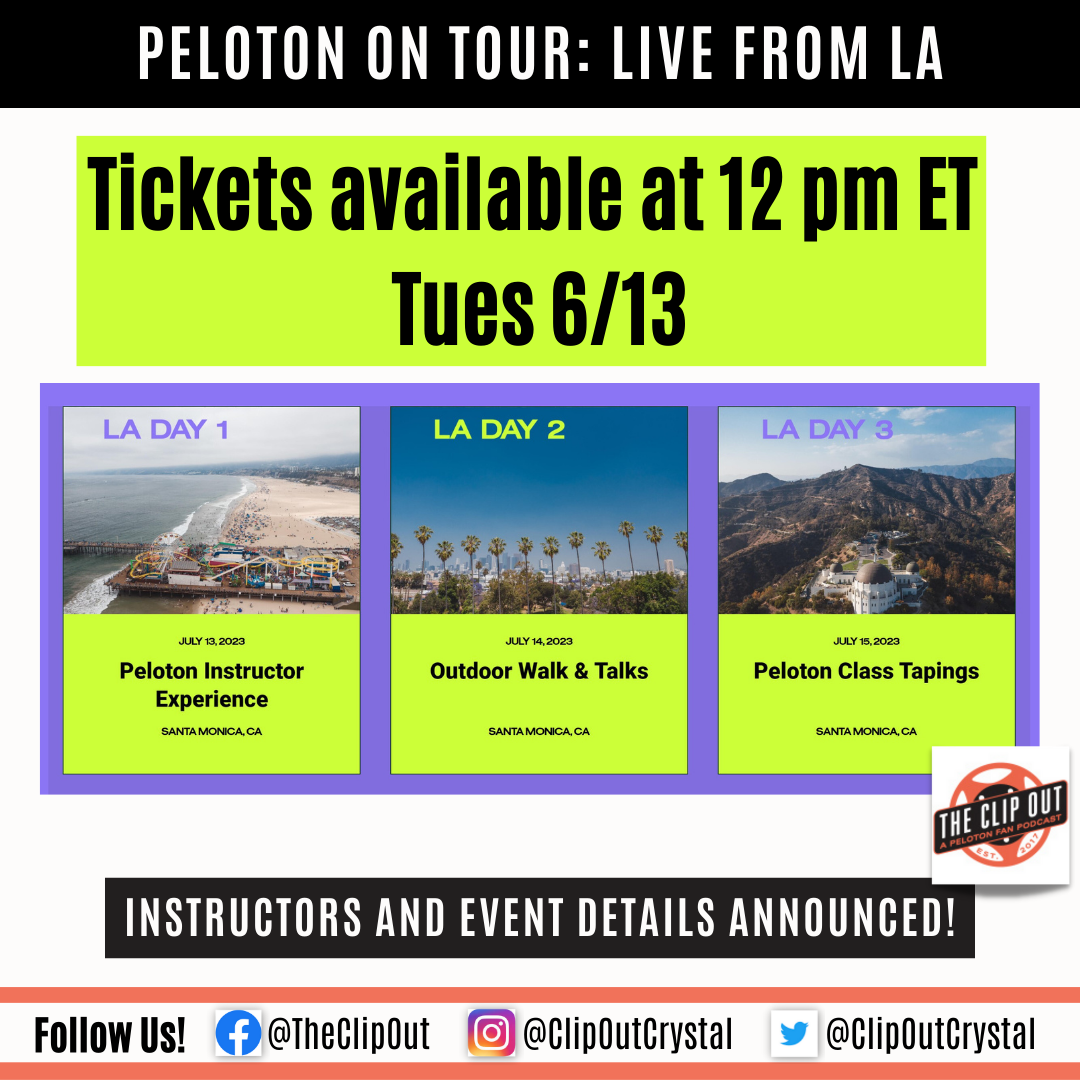 Peloton On Tour Los Angeles instructors and events announced!
Peloton Studios announced today, June 12, the instructor lineup and event itineraries for the first stop of Peloton On Tour: Live From Los Angeles, taking place July 13-15. You now have until 12 PM ET tomorrow, June 13, to decide which tickets you hope to snag.
Before we get started, we want to say we anticipate some folks being a little underwhelmed by the low number of tickets available for the Los Angeles experiences (yes, they're low). But there's a reason, and it will get better.
The Los Angeles Tour will take place at the scenic Santa Monica Peloton Store. This is the smallest Store in the Tour, so it offers the least amount of space and therefore tickets. And even though you'll see a free experience option that takes place outside of the Santa Monica Store, even that space is very small.
In order to help spread the Tour experiences out to as many people as possible, Peloton is not offering 3-day passes. Each experience will be ticketed separately. This will divide the Tour pie into as many teeny tiny pieces as possible. And we'd rather have a sliver of pie than no pie at all!
After Los Angeles, Peloton will be able to expand ticket availability for the larger locations. They're also intent on learning from each location to make the rest of the stops the best they can be. So, while the knee-jerk reaction to the low ticket volumes (or anything else about the experiences) might include some raised eyebrows, we know Peloton is going to make Peloton On Tour an amazing experience for as many people as possible. Fingers crossed that we will be some of them!
And now for the details:
The Instructors
The instructor cast for the LA Tour was announced this morning. Not surprisingly, self-proclaimed California Girl Kendall Toole will be there! And Ben Alldis will be hopping the pond and the entire country to welcome fans as well. Who are you most excited to see?
Adrian Williams
Ben Alldis
Camila Ramón
Katie Wang
Kendall Toole
The Location
The first stop of Peloton On Tour is Los Angeles, specifically Peloton's Santa Monica Store. Peloton is being upfront about capacity limitations and its impact on ticket availability: We're excited to come to our scenic Santa Monica store first, but due to the store's capacity, we are limited in the number of tickets we can offer at this location.
Tickets for each experience (except the High-Five Crew) will be $60 per person and each person can purchase up to 2 tickets per experience. There is no limit to the number of experiences per person, except for the fact that the event spaces are small and tickets overall will be quite limited. Details, including available ticket quantities for each event, are included below.
The Events
Day 1 – Thursday, July 13: Peloton Instructor Experience
The immersive Peloton Instructor Experience offers three unique opportunities to interact with the cast of instructors, including a custom photo booth, a space to capture an unforgettable social video, and an intention-setting station to fuel your wellness journey.
Your ticket to the Peloton Instructor Experience includes all three unique stations and is available in 30-minute windows from 12:00 pm to 5:00 pm.
This experience is sure to be in high demand. There will be 10 time slots with only 20 tickets available for each 30-minute experience.
Peloton hopes that the Instructor Experience will connect local Members and non-Members with the Peloton community and create memories that will last a lifetime.
Day 2 – Friday, July 14: Outdoor Walk & Talks
Peloton invites you to start your day off right with a live and in-person scenic walk led by two of the above-mentioned instructors. Each experience will begin with a 15-minute warm-up followed by a mile-long walk.
There will be 4 walks for this experience between 7 AM and 11 AM, with 35 tickets available for each. Each walk will be approximately one hour and will be led by 2 instructors.
The meetup location for the Outdoor Walk and Talks may not be the Santa Monica Store. Peloton says that additional details, including the meet-up point, will be communicated to Walk and Talk ticket holders 48 hours in advance.
If you're lucky enough to snag a spot in this special experience, you are sure to come away refreshed, inspired, and connected after enjoying some quality time with an instructor while basking in the California sunshine.
Following the Walk and Talks, the instructors will head out into Los Angeles, taking in everything that makes the LA Peloton community unique. Peloton says to keep on eye on the @PelotonStudios and instructors' social channels to see where they end up and what they get up to.
Day 3 – Saturday, July 15: Peloton Class Tapings – 9:00AM to 4:30PM
While this experience category is called "Class Tapings," we want to point out that these experiences do not include a workout component for participants. They are more like a chance to observe class tapings. Still cool, but definitely not what comes to mind for most Peloton people when they hear the words class taping.
The class taping experiences do include a free option, which sounds kind of like getting to be at a taping of Total Request Live (my inner 90s teenager is totally freaking out right now).
Here's how Peloton describes the experiences:
Option 1: Backstage Pass
Your exclusive insider access for a special viewing of what it takes to make a Peloton class. Come be a part of the crew for the day with us in LA. You'll get a behind the scenes view that includes everything from set up to breakdown alongside staff, crew, and your favorite instructor! Each time slot includes one class* with one instructor and lasts 60-90 minutes.
*Peloton mentions that this experience includes one class, but then adds this little note: Due to space and capacity limitations, this experience does not include a workout component. So again, this looks like a [super cool] chance to observe a class being taped, not actually take one.
Option 2: High-Five Crew – FREE!
This experience makes good on Peloton's promise to include a free Peloton On Tour component. And while it may not be as up-close and personal as the Backstage Pass, it still sounds pretty exciting. They're describing it as a party and encouraging attendees to make signs and cheer (or squeeeee?) for their favorite instrucors.
Here's what Peloton says about it:
Join us outside of the Store [yes, outside–not even inside the Store doors] to watch the class tapings and take part in a pep rally/viewing party, with some special instructor cameos! This is your chance to potentially appear in a class, as we'll be taping the party to be integrated into our on-demand classes. Make a sign to cheer on your favorite instructor and bring the energy—make sure to RSVP to come by and see what we're all about.
So in other words, this Tour stop doesn't offer a chance to be in a class taping, but it does give you the chance to be taped watching a class… And please remember that space outside the Store is also quite limited (and set your expectations for instructor sightings accordingly).
Here's what Peloton wants you to know about the difference between the Backstage Pass and the High-Five Crew:
Backstage Pass is an exclusive, behind-the-scenes look at the production of a Peloton class from set-up to breakdown, and it takes place within our retail space. High-Five Crew is a combination pep rally and viewing party for the class tapings; it takes place outside of our retail space, with instructor cameos and a chance to be featured in a future on-demand Peloton class. Backstage Pass is a paid experience, High Five Crew is complimentary.
Here's the Day 3 Class Schedule
9:00AM: 10-minute Row with Katie Wang
10:30AM: 10-minute Strength with Ben Alldis
12:00PM: 20-minute Tread with Adrian Williams
1:30PM: 15-minute Cycle with Camila Ramón (Spanish Language)
3:00PM: 20-minute Cycle with Kendall Toole
All three days: Attendee-exclusive Online Apparel Warehouse Sale
All members who secure tickets for an experience at Peloton On Tour: Live From Los Angeles will receive an exclusive code for 50% off Peloton Apparel.
If you have tickets, you will receive a single use discount code via email on Monday, July 10th; the discount code will be valid starting after the Tour, on Monday, July 17th through Wednesday, July 19th, and exclusions may apply.
Leaderboard Awards nominations open
The new Leaderboard Awards are now open for nomination. The nominee must be in the Los Angeles metro area, but if you have a positive Peloton influence that you want to see recognized, head to the nomination form by 5 PM ET Monday, June 26. Tell Peloton why your nominee should be honored by submitting a 1-minute video or a 250-word paragraph.
Leaderboard Award Celebration event details have not been released. The event will be by invitation only.
Be ready!
Time to start planning your Peloton weekend (and maybe doing some online shopping warmup exercises–these tickets will go FAST!) and set a reminder to be ready to secure your tickets at 12 PM ET tomorrow, June 13, at the Peloton On Tour: Live from Los Angeles landing page.
We previously shared that instead of a Homecoming weekend at Peloton Studios New York, Peloton announced on June 6, 2023, that it would take the instructors on tour to five cities around the globe. Check out that story for more: Homecoming is over. But Peloton On Tour is just beginning.
---
See something in the Peloton Universe that you think we should know? Visit theclipout.com and click on Submit a Tip!
Tune in to The Clip Out every Friday to hear Tom and Crystal's take on this and other hot Pelotopics. We're available on Apple Podcasts, Spotify, Google Podcasts, iHeart, TuneIn. Be sure and follow us so you never miss an episode. You can also find the show online on Facebook.com/TheClipOut. While you're there, like the page and join the group. Lastly, find us on our YouTube channel, YouTube.com/TheClipOut, where you can watch all of our shows.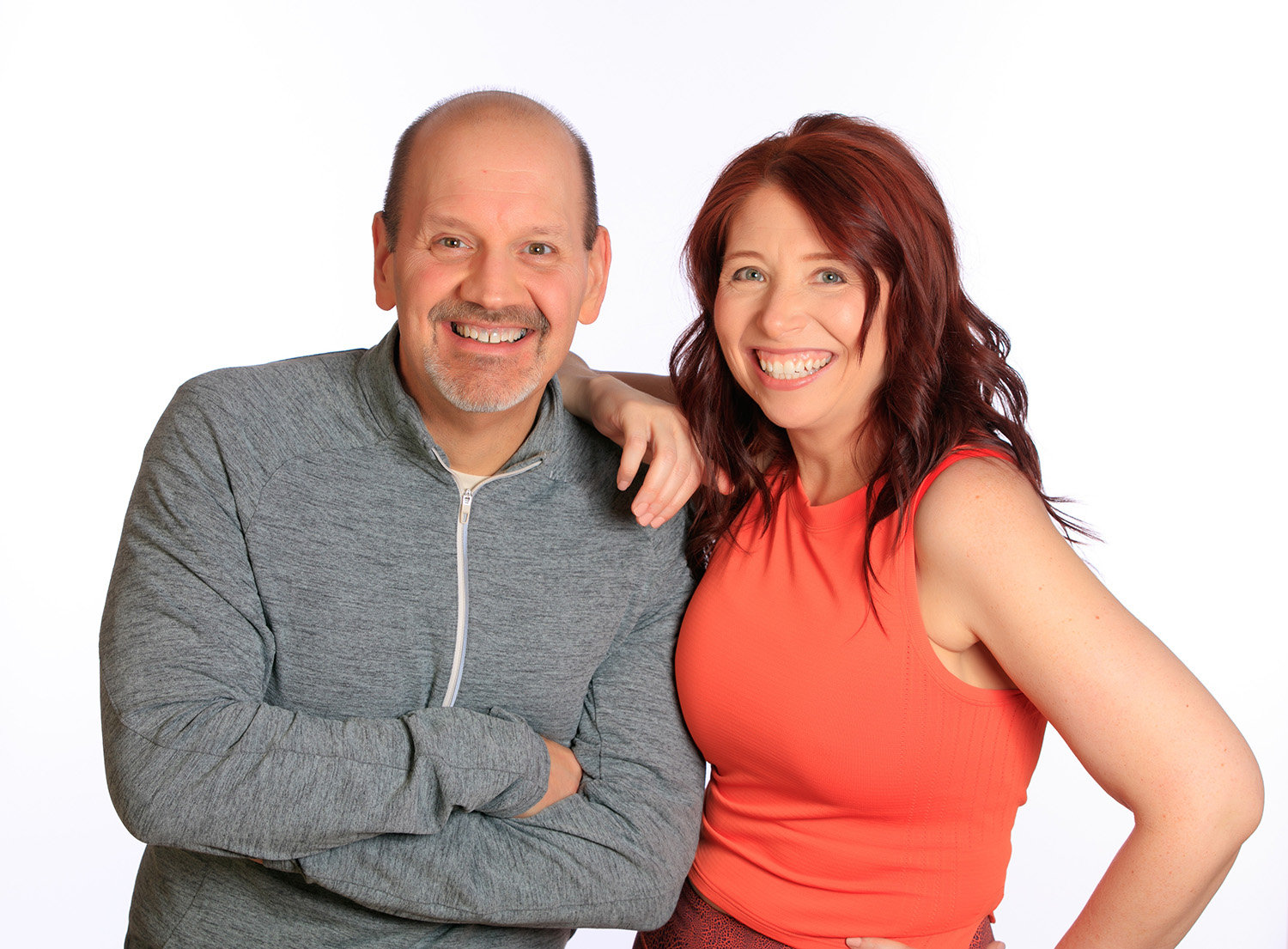 Subscribe
Keep up with all the Peloton news!