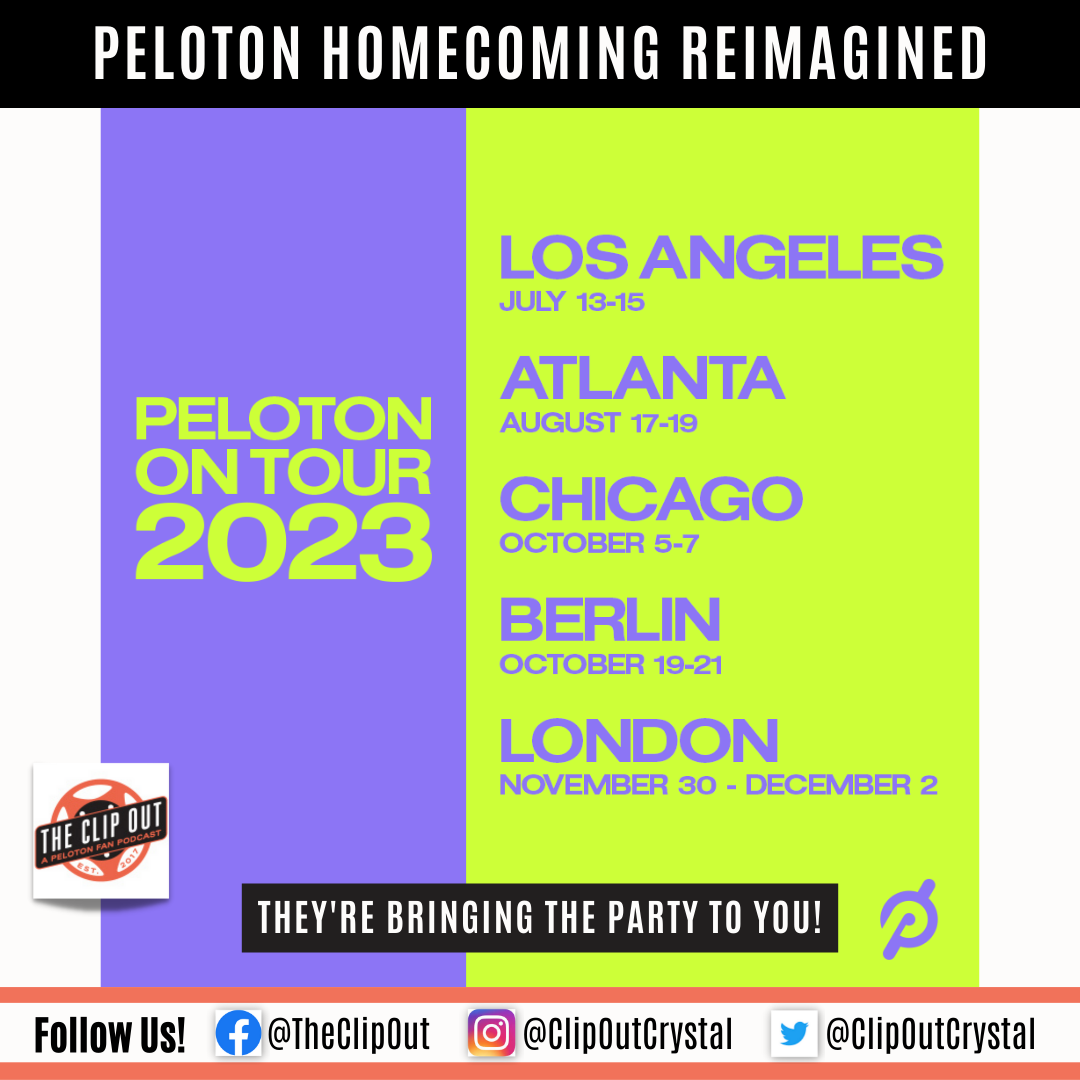 Homecoming is over. But Peloton On Tour is just beginning.
Written by Darci Bolger and Nikki Smith

After the pandemic put a sudden stop to Homecoming in 2020, and new people came to the platform in droves, Peloton satiated the Member craving for a big Peloton party with virtual events. Now, three years later, Peloton is making a big pivot away from a central event and moving toward smaller local experiences with Peloton On Tour. 
Instead of one big event at Peloton Studios New York, or even one big global virtual event, the fitness company announced today, June 6, 2023, that they're taking the party to five showrooms across the globe. 
Peloton On Tour is meant to provide engagement on a local level for both Members and Non-Members alike, and to help reframe Peloton's expensive showroom spaces from equipment sales rooms to places where people can meet and experience the energy of Peloton together. This might help make all that retail space even more worth the expense! 
The tea
Peloton is keeping event details for each location under wraps until the first tickets drop on June 13th. But, we did get to sit down with their event leadership for as much tea as they could serve, and we are here to spill it!

Here's what we know so far:  
Peloton On Tour will visit showrooms in Los Angeles (July 13-15), Atlanta (Aug 17-19), Chicago (Oct 5-7), Berlin (Oct 19-21), and London (Nov 30-Dec 2), with a promised special twist to the London finale.





We love seeing Germany and London getting in on the fun, but we were surprised to see Australia and even New York (PSNY) left off the list. We also noted that there will not be a virtual component to Peloton On Tour, but Peloton assured us that other virtual experiences will be available outside of this specific series of events. And we all know PSNY has more than its fair share of events outside of this.
Each city will follow a similar overall event flow, but with its own unique components, leaning in to what's special about each city, and letting the dynamics of the individual locations drive, in part, the events that are scheduled. While the event structure may remain the same overall, each location will definitely have its own flavor.





Peloton is going for a dynamic programming approach, meaning that they'll take the learning experience from each location to improve on the experience for the next.
Given that the showrooms are much smaller than the studios, we are curious whether and how classes might be part of the Tours. But! Peloton teased on the Tour landing page that workouts and even class tapings may be part of the events! And we do know there will be a handful of instructors present, so maybe–just maybe–a lucky few will get to ride, row, run, or flow with their favorite instructors. 

Peloton also aims to involve important partners to highlight their Environmental, Social, and Governance (ESG) goals, likely in terms of accessibility.
We're dying to know what (and who!) will be at each event, but we'll have to set our calendars for

31 days prior to each scheduled Tour date

to find out.





Peloton is keeping the city-specific instructor and event details top-secret, but event details will drop on the

Peloton On Tour landing page

31 days before the event. Then, 24 hours later, tickets will open up for purchase. This gives prospective attendees a little time to decide which events they would like to attend.

There will be no limit to how many events each person can attend, but each person will have a 2-ticket-per-event limit. Peloton said there would likely be a free component in at least one location, but most events will involve a cost. We have no guidance on price point at this time.
Peloton on Tour will also include an invite-only event for a special Leaderboard Awards Celebration, where select members will receive a shout out like never before…
Shout outs like never before 
Peloton On Tour will be the debut of the Leaderboard Awards. These awards aim to celebrate local members in each event city with an in-event, in-person shout out and special gift. This will NOT be a ticketed event. If you have been selected for a Leaderboard Award, Peloton will reach out to you with an invite to the party.  
Know someone who's had a positive impact on your Peloton experience or life in or near one of the Tour locations? Peloton wants to hear about it! Show your favorite Peloton friends some extra love by nominating them for one of five categories of Leaderboard Awards. 
Along with event details, the Peloton On Tour landing page will include a Leaderboard Award nomination form. At press time, we do not have details on the award criteria, or how the winners will be selected, but will update this article as more information becomes available. 
How to get tickets
31 days prior to each Tour date, Peloton will release event details on the Peloton On Tour landing page. 24 hours later, tickets will be available on the same page. The events will take place over three days, and each ticket is purchased on a single-event basis. 
Worried about having to make a snap purchasing decision once the tickets drop? Peloton hears that, which is why they are releasing the schedule of events 24-hours prior to the ticket sales, so you'll be able to decide what you're attending, and who you'd like to attend with if you plan on going with a group of friends. To ensure an equal distribution of tickets, and guard against mass-purchases, Peloton will implement a 2-ticket-per-person cap.
The Tour kicks off in Los Angeles on July 13. Full event info and Leaderboard Awards submissions will open on June 12, with tickets available at Noon (eastern) on June 13. All other locations will open 30 days prior to the event start date. 
Bookmark the Peloton On Tour landing page and watch for new details as we get closer to each city event. 
Non-Members welcome! 
Curious about an in-person Peloton event, but not a member? No worries! Peloton is eager to show everyone (non-members included) the accessibility and motivation of the platform. The more people who can experience the magic of Peloton in any way, the better! 
Homecoming is officially in its new era
We here at The Clip Out have been anticipating the announcement of the official end of in-person NYC Homecomings for a while, and, although this isn't an explicit ending, it does feel like the Homecoming gatherings that we are used to are now a thing of the past. 
With a change this big, a little grief is natural. But! With all the possible fates that Homecoming faced, we think this one has loads of potential to be more inclusive for everyone who loves Peloton, and creates new opportunities to welcome more Members to the platform. The company and community have absolutely exploded over the last three years, and the old Homecoming (or Home Rider Invasion) needed to evolve to account for that exponential growth. 
Yes, change is hard. But we're also seeing Peloton reflect the heart of the Members so well lately. We've actually been more excited about the direction of the company than we have been in a very long time. And we are optimistic that this new Homecoming format will provide more access to the Peloton Homecoming experience to more people in more markets, which we believe will equal more net joy than sorrow.
What do you think? Will you be looking for tickets to a Peloton On Tour event near you?  If an event isn't near you, will you be planning a trip to meet Peloton on the road?
---
See something in the Peloton Universe that you think we should know? Visit theclipout.com and click on Submit a Tip! 
Tune in to The Clip Out every Friday to hear Tom and Crystal's take on this and other hot Pelotopics. We're available on Apple Podcasts, Spotify, Google Podcasts, iHeart, TuneIn. Be sure and follow us so you never miss an episode. You can also find the show online on Facebook.com/TheClipOut. While you're there, like the page and join the group. Lastly, find us on our YouTube channel, YouTube.com/TheClipOut, where you can watch all of our shows.