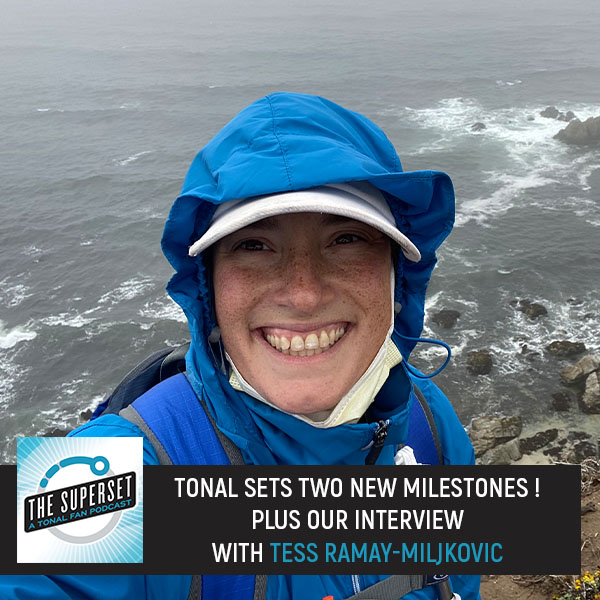 Tonal Sets Two New Milestones ! plus our interview with Tess Ramay-Miljkovic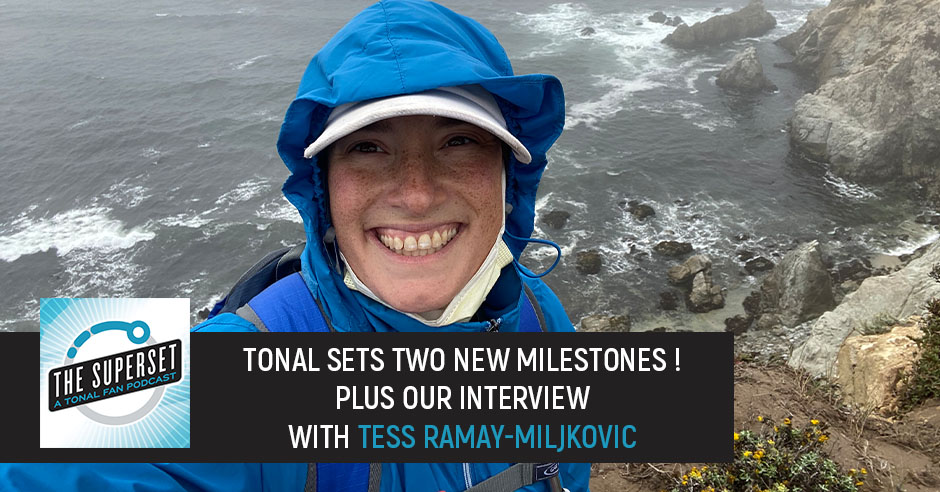 The Official Tonal Community on Facebook hits 6,000 members plus an even more impressive milestone.
There's a new way to share your stats.
The "Show Us Your Moves" contest is over and there are THREE winners.
Coach Liz was on the Svn Space Podcast.
Coach Nicolette is teaching virtual classes on the "Recess" platform.
There was a Tonal Talk featuring Mark Allen and one with Therabody about recovery methods.
Upcoming Tonal Talks feature Coach Liz and another one featuring Coach Allison talking about radical self-care.
New program – Triatholton Power, Release The Back, Upward Dog + Cobra, and Down Dog
All this plus our interview with Tess Ramay-Miljkovic
—
Watch the episode here:
Listen to the podcast here:
Tonal Sets Two New Milestones ! plus our interview with Tess Ramay-Miljkovic
We have very exciting stuff as you got your shelf from Julius.
I did and I installed it myself.
I stood there and held the drill for you.
You did, and it got a little hairy. I'm not going to lie, I might have made more holes than necessary and got desperate.
Here's my rule of thumb. I learned this trying to hang pictures like the posters you see around the room, for people watching on YouTube. If whatever you're hanging in that spot covers any additional holes that you made in the process, that doesn't count. Some of these might have 2 or 3 holes to get them level. When I hang the poster, you can't see them. Until just now, no one knew, they were none the wiser.
Here's the thing, I was going to give credit for the fact that I got really desperate in the middle of this.
She was so desperate, she asked me to help.
Not only that, but I asked him to help because I tried putting a nail instead of a screw because I couldn't get it to actually set in the stud. I could not utilize the drill to make this screw go in, so I got desperate, I tried putting a nail in which failed. Then you helped me by removing the nail.
I helped you get the nail out because you were struggling. It was in a weird spot. Whereas you were trying to pull it out, at some point it's going to give, and you're going to punch yourself right in the face, which is why she gave that task to me. Thank you, Julius.
It's not Julius' fault. I need to make it very clear that this is user error. I know that it is because Tom and I both suck at doing anything mechanical.
The fact that it's up at all and both of us were involved says that for the average human specimen, we're not going to have a problem.
This is all me having an issue. It looks beautiful though. I love it.
It's cool-looking. I will give him that.
I like how nicely everything sits up there now. It looks so pretty. Thank you, Julius, for real.
What do you have in store for people this week?
We're going to talk about a new milestone that the Official Tonal Community hit, actually a couple of them. Then we're going to talk about new features, new content and some stuff going on with the instructors.
Before we get to all that, shameless plugs, don't forget we are available on Apple Podcasts, Spotify, Google Podcasts, wherever you get your podcasts, you can find us. We are there. Be sure and subscribe while you're there so you never miss an episode. Don't forget you can watch us on YouTube. It's on YouTube.com/TheClipOut, which is the name of our other podcasts. We put all our videos on one channel because we're lazy.
There's a separate playlist for The Superset though.
She does that. She's the non-lazy one. You can find them all there. Of course, you can check out our Facebook page, Facebook.com/supersetpodcast, so you can stay up to date on breaking Tonal news in between episodes. There's all of that, let's dig in, shall we?
—
Not one but two major milestones this week in the world of Tonal.
Tonal community is growing.
They hit 6,000 members in the Tonal Facebook group.
In the last episode, we were like, "We had 5,000 members." Then 6,000 in just a blink.
I like this statistic even better.
I do too. It is very exciting. Three billion pounds have been lifted by the entire Tonal community together. That's amazing.
That's a really cool stat.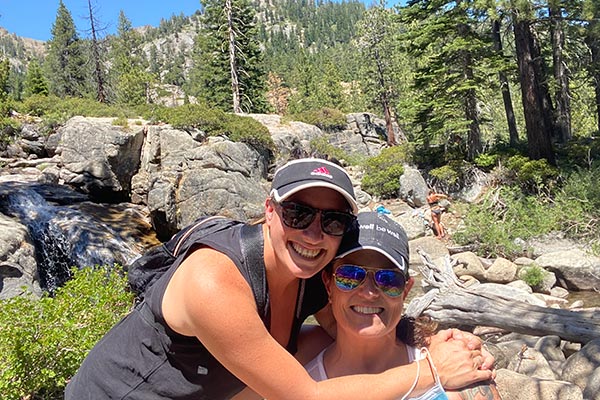 I love that. It's so cool. Congrats to the entire community. Pretty sure Sumner Paine has four million of that all on his own.
There's a new way to share your Tonal achievements.
I love all these things that they do to the app. This is another really cool one. If you have volume stats and you want to show them off, maybe a workout for the entire week, year, maybe a month, etc, you can do that. All you have to do is go to your Tonal mobile app, pull up the home screen, click into the total volume block or the total workout block. Then you just click on the share icon and you're done. That's it. It's really cool. It's neat-looking. I love the ability to show different things. I like to keep my content fresh. Thanks, tonal.
Quick update on the Show Us Your Moves contest that Tonal was doing.
They chose three winners at random: Ashley Maury Drugu, Debra Kerner Alison and Ryan Heath. Also the three of them were supposed to check their DMs because they get to schedule a one-on-one personal training session with any of the instructors.
That's awesome. I'm sure we will see many more contests like that moving forward. That's my guess. I don't know that. I am literally guessing, but I feel like I'm guessing right.
—
Coach Liz popped up on a podcast this week.
It's called SVN Space Podcast, and it's Episode 22. It talks about Fight Flight or Freeze, How to Turn Off Your Stress Response. SVN Space sat down for a chat with Liz Letchford and obviously everybody in the community knows that she's a PhD, also an athletic trainer. She is the Creator of The Release. She's also an Injury Prevention Specialist. She has all this amazing knowledge going into this conversation. She teaches everyone how to identify where the stress is coming from, how it's manifesting in our bodies and most importantly, how to turn it off and get your mind and body feeling good again.
If you can't turn all that off, then what difference does it make?
Knowing where it comes from or that it exists is not helpful. Make sure you check that out.
Coach Nicolette has got a little side project she's working on.
As you know, she is a personal trainer and keeps up her personal training aspects on her business while she's also doing Tonal. I thought this was really cool. She's doing a virtual class announcement. She's going to be teaching every week through a new video platform called Recess. You can go in and check out her schedule and book classes. She's going to do some cool stuff. She's going to be helping people with all kinds of different things, different ways that they want to do it. This cracks me up. She says, "I promise to bring you an experience like no other group class. For one, I'm funny as hell. Two, I will always integrate my vast Strength Programming knowledge and Postural Health Education and experience. Three, my playlist rules.
With a name like Recess, is it affiliated with schools? I know a lot of the kids learning from home, they have some socially distance gym class for them now.
Tonal gives us the confidence and the desire to want to challenge ourselves even more.
Click To Tweet
I don't know if maybe that's where it started, either way I think it's really cool. I didn't check in to see what this app is all about or how did this start. I don't know if it's that or if it has something to do with general group learning. The kind of class she's teaching is full body with weight. It's body weight variations provided for people who might have different needs for things that they can do, and core burn and posture reboot classes. All of those sound great and different than the typical things that you see out there. I like that. I'll have to dig into Recess and see what that's all about maybe for next time.
Since the last episode, there was a new Tonal Talk.
There was one with legendary Mark Allen, all about his amazing triathlete accomplishments, as well as being a guest instructor on Tonal with those two new programs that just came out. That's really cool. Everybody who has not had a chance to listen to that definitely needs to or to watch it. You can watch it on YouTube or you can watch it on the Official Tonal Community. Another really cool when they had a lab that was how to recover like a pro with Therabody. Therabody has been teaming up with Tonal and I think there's a 20% discount. Maybe it's only 10%, don't shoot me if I got that wrong. You can get a Theragun product if you don't have one already, but it taught you how to use a percussive instrument to recover like an optimal way to do that.
You don't have a Theragun but you have a percussive puncher machine. What are they called?
A percussive recovery instrument.
You dig it.
I do, I was too sore after my recent self-imposed marathon on my tread. I did not use it after that. A normal person with a normal amount of work would have done that, and it would have been great but my injuries were too severe. You have to know when it's okay to use or when it's not okay.
Which is I'm sure something that Tonal Talk will walk you through. If you want to catch them live, there are some upcoming Tonal Talks.
There's an upcoming Ask Coach Liz on August 27th, 4:00 PM. Eastern. You'll be able to submit questions ahead of time and ask her anything. Remember she's a PhD, so not only does she have lots of information about all of the physical fitness aspect, but she also can tell you in a medical version of that. I don't mean she's a medical doctor, but she adds another layer of knowledge.
As always with the Ask Coach series, don't make it weird. We like to always remind people don't make it weird.
There's also a really cool Tonal Talk coming up on September 2nd with Coach Allison that we interviewed. She's going to be going over radical self-care. It will be how to put yourself first, I'm sure, because that's all about the radical piece of it. I'm curious to hear what kinds of tips she has. I think this will be a really good one, especially in the times of COVID and now we're going back to school on top of unprecedented insanity in the times that are occurring.
—
Speaking of Mark Allen.
There was a program that started weeks ago called Endurance Triathlete. This one is Tri Power. It dropped on August 17th. It is all about how to work your body effectively to increase the power, but not overwork your muscles that you use for your triathlon training like you're swimming, you're biking and stuff. Keeping things fresh, but increasing your power at the same time. It's super exciting. Mark Allen is acting as a guest coach here. He's acting in Conjunction with coach Kelly. That's pretty cool. If you haven't gotten to try either of those, definitely give them a try. Especially if you're interested in triathlons or you've been doing triathlons, I think these are very cool options to have.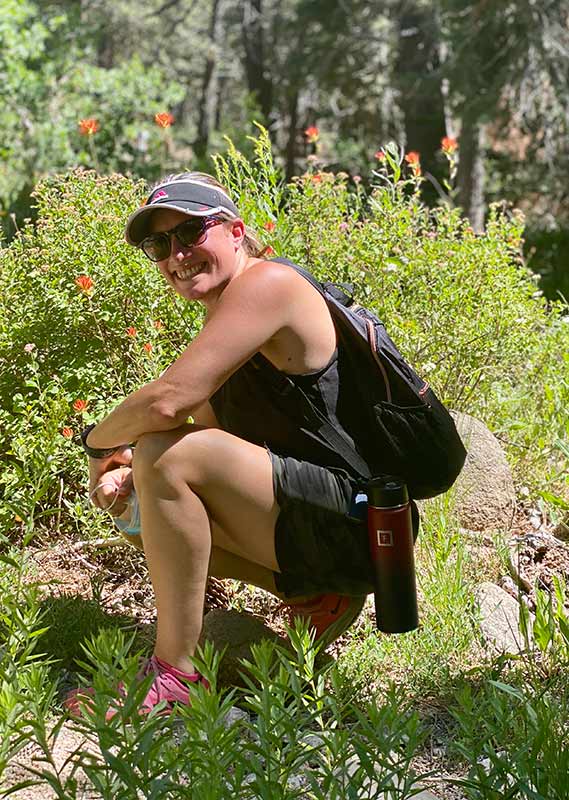 It's probably a good way to get this started without another major investment, like hiring a swim coach or joining a pool. It's a good way to get your feet wet without getting your feet wet.
There were some other workouts that were released this week. These are not programs, they're workouts. There's Recovery Release the Back with Coach Natalie. There's a Beginner Bite, Up Dog and Cobra learning those different postures with Coach Frances. She breaks those down very well. There's another one, Down Dog, that's coming out with Coach Frances. You can try all of those out. There are lots of great opportunities.
—
Joining us now is Tess Ramay-Miljkovic.
Tess, I am curious how you originally found Tonal?
Tonal came around as many people now because of COVID. We had never heard of it before. My wife for about a year and a half prior to that had done a tremendous job going to the gym every day at 5:00 in the morning. She was feeling good. She had lost a lot of weight for herself. I was more like, "I'll sign up for the gym too." I go every two weeks or every other month. It wasn't as much of an investment for me at that time as it was for her. We started looking for things. At that time, I was overweight. We have some events that were coming up. This is pre-COVID. We're talking about vanity here. I wanted to look good for the summer. There are a couple of weddings coming up and some of events that she and I wanted to go, we wanted to look a little better for.
I started to join her on this path. We're trying to want to be fit and COVID happened. For a long time, we wanted to get a home gym. We have a larger home but it has crappy storage. I don't have a lot of areas to put big things. We're like, "We don't want to give up the gym because I'm still going to have to go to the gym. I could get on a bench and do these things but I still don't have the treadmill. I don't have this and I don't have that to get that whole workout." We looked into those. We did not already put it. As COVID at that time started to look like this was not ending anytime soon, ads were popping up because our phones and everything in our home can hear us.
We are talking about what we should do. I'm getting bombarded by all these advertisements for the hydro. I'm seeing all these things for God knows what and I hate cardio. I can't stand cardio. I'm like, "I don't know. I guess we need to get this hydro because I can do this a lot and I'll do something." I'm all-in to the point that I don't have an alternative. She's like, "Let me look into this a little further." We spent an entire night going through all these cool new things. She found Tonal online. We started to look at it.
We thought about it for a couple of days. It seems amazing when I watched the YouTube videos from people. I didn't realize it at the time, but I was seeing a lot from the coaches. I didn't realize that they were on there. It seemed awesome. The way we justified for the price was I'm spending $65 for a membership at 24 Hour Fitness. I can do it for $50 here. Once I had purchased the machine, which we're going to purchase something anyway, I'm sold. I'm now saving $10.
That's exactly the way I justify things.
It's not a justification. That's a real value. I know that there's an upfront cost that maybe you don't have at the gym, but long-term, there is a value to it. People that don't have this or a Peloton or whatnot, they presented as like, "It's this toy for the rich. I'm going to keep going to the gym." I'm like, "I don't know that you're saving the money you think you are."
Mathematically, perhaps somebody can throw it out there. For me, the cost of the dollar change that became an emotional thing. Here's the difference. I went to the gym maybe 30 times a year. I'm spending all this money. I'm not seeing any results. I don't know what I'm doing. I go when I feel like I hit that point where I can't stand myself another day. Two weeks later, I'm like, "I'm perfectly fine again." There are no results. Trust me because I don't know what I'm doing there and I'm not there long enough.
I didn't wake up with a six pack. I didn't wake up with anything that I wanted out of that 30 minutes I was there. For me, it is the investment. In my head, I'm justifying this like, "I can use this every day. My life is chaotic. I don't have a set schedule every day like some people do. I'd be able to fit it in." That was justifying. It turns out I'm able to use it and I'm doing it. It costs us upfront. My monthly payment is a little cheaper up front but it's worth the investment. I'm doing something with it. We're all doing it. I have kids that are using it. I could not put a value on it. It's invaluable to me.
It's certainly cheaper than a family membership to a gym.
That's right, once you get all into that. Let's talk about COVID and depending on where you live, things are working a little differently. Here in California, it's shut down. Our soccer players aren't playing soccer. The basketball is not playing basketball and all those things. Specifically, I'm thinking of the teenagers. They're sitting here blabbing, playing video games and doing nothing. No one's outside anymore. It's a 103-degrees outside where we are. It's provided an outlet for them to get some physical activity, but it does and it's working.
Set yourself up to win. You don't want to go right into the deep end of that pool.
Click To Tweet
How often do you feel that you use it compared to before? Before, we wouldn't say you were a gym rat. Maybe we'll call you a gym mouse.
Something that's the way the wilderness that never sees people. It's so far away from the gym. That was me.
How much are you using the Tonal now?
I use it between 5 and 6 times a week.
Are you doing a program? Do you do one-offs? How do you use the Tonal? I feel like everybody uses it a little bit differently.
I get that five as well. For me, I like the programs. I feel like I have this faith in the coaches that they know what they're doing. To follow this program, I like to see it. I'm not one of those people that is so focused on my strength score, but I focus on my strength score in the sense that it's working. It's building things. I like when I start my first week and the difference towards my 3rd and 4th week are different.
I don't know that I could see that as much if I'm constantly doing different things. I also don't know a lot. Back to the gym again, I didn't know how to use the equipment. I see all the people in there seemingly knowing what they're doing. I was intimidated by that. I wouldn't use things outside of the gyms we have at the circuit like the ten machines in a circuit. You go from this machine to the next. You go to this machine. It's these basic moves. That's all I could do because it's all I felt comfortable enough to do.
I didn't know what weight to use. I didn't know when to go up in weights. Also, in my own head, I don't like to burn. I like to feel good. I'm like, "It should it be out of my chest. What's happening right now?" I had one of those. Here, they push you through it. I liked that feeling of the rest periods. The act of recoveries are amazing. I guess the way that I do it, I am in a program on my rest days. Depending on what it is, if it's lower and upper, I'll go back to back. If there's something that is repetitive, I'll throw in. I've come to throwing an ab workout on there. I'm still struggling to understand when I'm supposed to use a workout or an active recovery as opposed to doing a workout that's not the same. As long as you're not doing the same moves as the day before or the day coming.
I don't know what the correct answer is on that, so ask the coaches. I will tell you what I do is on my off days, I tend to do cardio. I know you don't like cardio. I'm getting ready to try to do an entire marathon on my treadmill. I have shifted gears and I'm not doing a program. I'm doing one-off workouts like an in-between. I know there's some people that they'll do a program and then take a week off, do some one-off workouts. They'll go back to a program, so that might be another option for you.
As far as the cardio and everything, that's where I started getting a little more active on the weekends mostly. It's not the perfect program but my wife and I decided that one day on the weekend when she has off that we do something active. Be it bike riding or hiking or anything that is a little more on the cardio side and a little bit outside of the strength training. It's not the perfect program but it works for us. To me, doing things that you enjoy with determination and dedication to things that are great is a better combination than doing everything by the book, but hating most of it. You're going to fall off the wagon that way. Starting at that balance of pushing yourself past the comfort level, but then finding these alternative ways to still bring in smaller things to me has been a good formula.
The key there is that you keep coming back. I have no idea what percentage is. It sounds like it's an effective program. You're doing great job by doing the program, then also adding in an ab workout and then doing something cardio-ish on the weekends. That's a good way to do that. Even if somebody were to say that's only 80% effective, but you're doing it. You weren't doing it before.
Goals are different for people. My goal, I like to wake up and look amazing and whatever. My life is not 100% focused on this either. I am focused in the way that I like quite how I feel. I like how I'm starting to look. I also love to go out to dinner. I like to throw parties. I like to enjoy that. I have gone to a more vodka, soda water and grapefruit diet on that every once in a while. I want that 26 salty from Mexico. To me, my goal is not to be so caught and perfect. I like the balance I'm on because I don't do it every day, but it allows me to have those fun one-offs, fun weekends and to not have any guilt. It still keeps me out a little to stay on my program and that balanced life, a little bit of debauchery and a little bit of the opposite.
It sounds perfect to me. That's great having fun.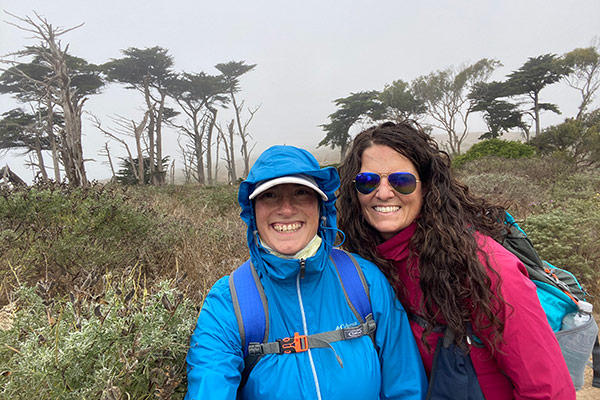 Excess in moderation.
You can't be hardcore all the time. As you said, this is not your sole focus in life. You have all these other things going on. You are spot on with how you're approaching it. A lot of people would like to find that balance that you have struck. A lot of people aspire to that.
It wasn't working for me before the Tonal because I wasn't doing anything to offset the fun stuff enough.
What part of California are you in?
I'm in Sacramento. I was born in Wisconsin. I moved out to California years ago.
What made you go out there?
I fell in love.
How do you fall in love with somebody in California if you're in Wisconsin? Is it online or how did that happen?
My wife now, we're married. It's been a good story. A friend of hers that has residency in Milwaukee, Wisconsin, and long story short, her friends were my friends. When she came to visit, the friend then connected my wife and I. We started talking, emailing and all that. We started to see each and I move to California a year later.
Is this the story of how you got from Wisconsin to California? I was curious about that, so I'm glad you asked.
Yes, it was quite the life changer.
When it comes to the Tonal, how's your wife utilizing it? Is she digging it too?
She's a freaking beast. We got that installed. We did the program that comes with, match us up. It does a couple of things. The next morning, she woke up before work and is going to do this machine. I was still sleeping. All of a sudden, I heard her. I'm pretty sure the F-bomb threw out of her mouth too. I was like, "What is happening in there?" I'm scared to death now because I'm supposed to follow her. She comes up and she's sweating. I'm like, "I'll do mine." I came back in and I said, "Is that over?" She's like, "That was mine."
That is my nemesis. It is so hard to do that.
I know. It's a hard one. You wouldn't think all the ones that I thought I'm like, "No problem." It's simple. l was like, "What the hell?" She's into Jackson program. She's in advanced. I'm all like, "I'm going to stick here in this intermediate strength mode. I feel like I need one more under my belt." She went running but she's got that weight and spirit in herself.
Is she still working out every day?
Probably 6 to 7 days a week. She'll do the full program and maybe she'll throw in a yoga or something. She's set on. She wants to feel good. She wants to look good. She always did. In her perspective, there's always a little more challenge. She's motivated by that. If she can do this, then she can do that. She's got that fierce drive. I've got a good drive. I'm more like a drive-in business. She's like everything. I'm like, "I'm inspired to be you." I have ultimate respect for her. It's good.
It sounds like a power couple out there.
It can be. Kids are a little scared of us sometimes.
That's good you want to keep them in their place.
Speaking of that, we came up with something pretty awesome that some parents might be a little interested in. With COVID, the kids and teens haven't been able to do much. You've got video games. We try to control the amount of time in front of the television. It's always been a losing battle. Every year, we come up with some brand-new way of doing it or trying it, and it's always a flop. First of all, they were out since March instead of June. Normally, it's a summer vacation issue for the most part. We can handle that for six weeks. We then found out in California that kids aren't going back to school. We're like, "We need to figure this out quick."
We talked about again monitoring the TV and this and that and it never works. We had gotten these Apple watches and they've got those activity rings. We thought, "What about instead of monitoring the video games and the TV time, which we don't totally care about. What we care about is the activity time. Instead of monitoring how long you're in front of the television, let's start monitoring that activity level. We flipped it and we got one of the lower ones, not one of the new ones for one of our kids. He's fifteen and instead of doing that, it was supposed to be the red ring somewhere between like 350 and 400 calories a day of that red ring.
I'm sitting on the first day, he's getting it and he's killing me. I have a kid that did fifteen minutes total and I did 35. I walked all over. I did all this stuff and he's bawling me out of the water. He sat on the couch all day. I'm like, "What the heck's going on with him?" I watched him every time he hits the controller, he's getting these blocks in points. This could dupe the system. Now instead of the red ring, we use the green ring. It's 45 minutes every day in the green ring that mostly, you can do a longer Tonal. I said, "Don't change out of that warm up or that cool down. That's going to give you some more points." He does that. It's not usually enough to get the 45, which was designed so that he does one more thing like walk the dogs, anything. Vacuuming hasn't happened yet.
We have not quite gotten the bathrooms done or the vacuuming but I pushed it. That's a cool thing too. That's the Tonal as far as that's where you primarily can come in here and he enjoys it. Once he gets started, he does enjoy it. It's a great way for even the teenagers to use the Tonal and connect it to something and for parenting to use it as a device. I would not have done that without the Tonal. What I would have him do is 103 degrees again, back to that. I did not know what to do. Tonal gave us an ability to keep some of these kids, at least getting their muscles going and doing something.
I'm trying to figure out like, "Can I convince the kids they got to do a Tonal a certain amount of times a week?"
You don't want to hound them and harass them and all of that. It worked and it gets the phone out of it. He was excited, not the phone, with the watch. I'm like, "This is a little investment but now I can stock your progress every day."
I saw that you posted in the official Tonal community about you and your wife going on a hike. You mentioned that Tonal made that ability possible. Tell us about that.
With the Tonal, it gave us the confidence and the desire to want to challenge ourselves even more. Every blue moon, we're privileged we live in an area close to Lake Tahoe or close to the KOA. There are a lot of places that we can go and do these things. The sad part was we weren't taking advantage of them. We'd go there. There's something different about biking, hiking and taking that as opposed to driving by, staying in a hotel and things like that.
Every time we would do something, we'd be sore. We took a hike with the kids. It was eight miles. It was super flat. It was pretty hot that day. We got a little exhausted. The bottom line is I was sore for a week. My glutes and my hammies and everything, I was burning. I'm like, "I'm never going to recover from this hike." We bring in the Tonal and we took that one pictures that you're remembering was a ten-mile up the coast. I could make it with no problem and no soreness anywhere. I owe some of that to the recoveries, the cool downs and the warmups and the flexibility at top of the strength, which I wasn't doing before. It allows us to not be in so much pain that you can get right back up if you want to do it again. That's what we did. We did that hike. I did another one with some friends.
One advice for anyone looking to buy a tonal is do not wait another second.
Click To Tweet
We're going on one with our two youngest kids who are 15 and 17. After that, we're doing our first backpacking trip together, the four of us, me, my wife and our two youngest kids for two nights and three days in desolation wilderness. We're going to do that survival and 100% the Total. One of them started to take a hike program on Tonal. The other one's finishing up what he's got. He's going to flip to that one to do what they can. We're motivating that, but they're doing it and happy. It's pretty cool.
It's cool that they're willing to do that and not be grumps about it.
They know like, "I'm telling you this for your best interest. Do what you want," and we're not forcing them anything. It's going to be what it is. We're going on that hike. We're bringing the backpacks and it's a shorter hike in a cooler climate, then we are going to test the waters. It gives us enough time to see where our weaknesses are and what we need to do or anything. We'll see. This would have never have happened without the Tonal.
Set yourself up to win. You don't want to go right into the deep end of that pool.
It's different story when you've got that pack on your back. That can change how exhausted you get.
Do you have a preferred Tonal instructor?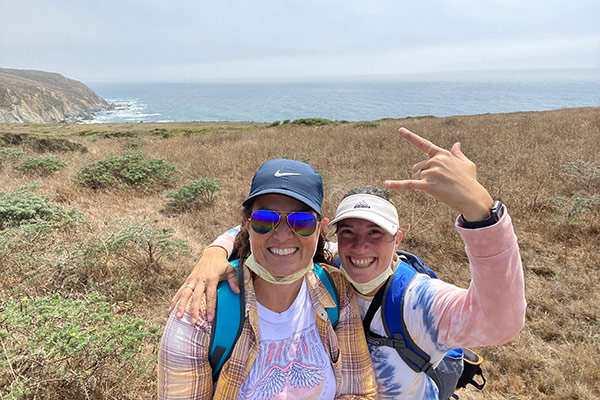 For me, I prefer Nicolette. I like the strength and more to the strength building aspects of it. She's like, "You're not getting in my way." She's a strong woman. They called her the B word a time or two, but she wasn't. She is just a strong woman. I find her empowering and motivating in the sense that I'm driven by that. I feel like her personality matches mine a little bit more as far as we can do this and do it. It's definitely Nicolette for me.
Isn't that amazing how every different person can have a different connection with the different instructors? They're all great instructors, but they all have different things they bring to the table. They push you in different ways. There are some that you're going to have that connection with more than others. I find that fascinating and see how people connect.
Especially with the four of us in the house using it. Our kids both love Coach Paul. Mara is a tossup. She's big in Jackson right now, but she also enjoys Natalie very much too. I would think Natalie for her if I had to pick one, but it's all different and for all different reasons. I'm like, "How can it not be Nicolette?" It's fascinating, the difference. We're all doing the same programs and same everything at the end of the day. That culture, it's interesting that you connect with.
You all end up doing goblet squats. You get there in a different way.
Do you have any advice for people new to Tonal?
My advice for anyone looking to buy a Tonal is do not wait another second. The people that have it, I would say we're privileged to have this machine and not just the machine, but the coaching. If you have an injury, they'll literally will design a program for you for whatever your issues are. That is amazing. I find it a privilege to be able to have this machine. Take advantage of it because there are many people that can't. When you wake up and you don't want to do it, and won't even get in there and do a ten-minute, whatever, you're doing something or working some muscles because you can. Yoy shouldn't be taking that for granted. When you're feeling like you don't feel like it, one day here and there but don't get yourself so far off. Remember the privilege you have to be able to have this machine. Use it and do it.
By virtue of definition, even though it has great value and in the long run, it's cheaper than the gym if you do the math. It's still not inexpensive. It is a luxury that some people don't have. That's smart.
The ability to move, which is also what you were getting at, Tess. It's like not everybody can have the ability to have workouts and to do workouts. One of my favorite wall clings that I have is, you don't have to, you get to. I agree with that very much.
That's become a thing here. I don't know Jackson has some version of it, but I've been going around. At the end of the day, it's hard work and it's freaking hot here. It's like, "We don't have to live, we get to live so let's do it. Sky is the limits here." I do. It's a whole positive thing. Be a part of the Facebook community and don't forget that. That to me is huge. With all this time, I'm one of those people that can't stay away from this political thing. I tried and it was my New Year's resolution in 2020 to not be a part of anything.
I was like, "I can't." I involve myself again and watching. It was a little different this time around. I felt that it went to bring opinions. I felt like this was so much darker than it never been before. People have always disagreed. Now, it's to this point where they're closing doors on people, friends that have been best friends or families that are closing the door on people. I'm watching this happen. It is breaking my heart. I decided instead of taking away my social media because I do enjoy that and far away from family. I like to see what other people are doing. It brings me happiness and the good things. I started deleting. I unblocked everything that was super political and everything. It allowed me to see all the other people doing all these cool things, taking these hikes, going in the high kayaks, taking all these adventures and everything and being able to see more of that has been inspiring to me.
I become friends with some people on the Tonal community and that has been empowering. With every negative thing that does seem to believe through here and there, I'm bombarded with all this positive stuff. It's making such a difference instead of the majority of being negative which it was, and these positives you couldn't even enjoy. It's exactly opposite now. It's been inspiring. I owe that to the Tonal community and the coaches to get out there. I like to see your accomplishments. I like to see the big guy hit the million mark.
I like to see the ones that are out there. They've had injuries. You've crossed the 300 strengths for which is nothing as they always say, but it is something to you. Because of that, I'm super proud of you that I'm super happy that you're happy. That makes me happy to be part of this. I feel like we started this community that is uplifting. I like it because you take it out of this community on say a Facebook platform. You're judged. People think that you're bragging. You always get this other side that is a negative. To have a community that's protected only from people in the community, trying to do the same thing, finding inspiration, providing inspiration. I think that it's huge. There are many times I don't want to get on that Tonal. I'll flip through Facebook or whatever. I'll see this thing happened to me. Having that positivity, to me, I can't stress that enough and so much of it is the community.
On that note, how can people find you on social media if they would like to reach out? What's the best way?
I am on Facebook and I have my IM. You can find me there.
Thank you so much for taking time out of your day to join us. We appreciate it.
Thank you for inviting me. It was wonderful to talk to you guys. I'm very privileged to be asked. Thank you.
Thank you. It was a lot of fun. Tell your whole family to have fun on that hike. We're excited for you.
They got their big old 60-liter backpacks. They're exited. They don't know what it's going to feel like on the hike, but I can't wait to see that.
—
That brings this one to a close. What pray tell do you have in store for people next week?
We are going to be talking to Joina Liao. She has had an amazing success story with Tonal. She just blew me away. I can't wait to share it with everybody.
She blew me away with her patients.
That is no joke. We had some serious technical difficulties and that woman has the patience of a saint.
You will learn about the very patient Joina on the next episode. Until then, where can they find you?
People can find me at Facebook.com/CrystalDOKeefe. They can find me on Instagram or Twitter, @ClipOutCrystal.
You can find me on Twitter, @RogerQBert or on Facebook at Facebook.com/TomOKeefe. You can find the show online at Facebook.com/SupersetPodcast. While you're there, like the page and join the group so you can stay up to date on things throughout the week. That's it for this one. Thanks for tuning in. Until next time, keep lifting.
Important Links:
Love the show? Subscribe, rate, review, and share!
Join The Superset community today: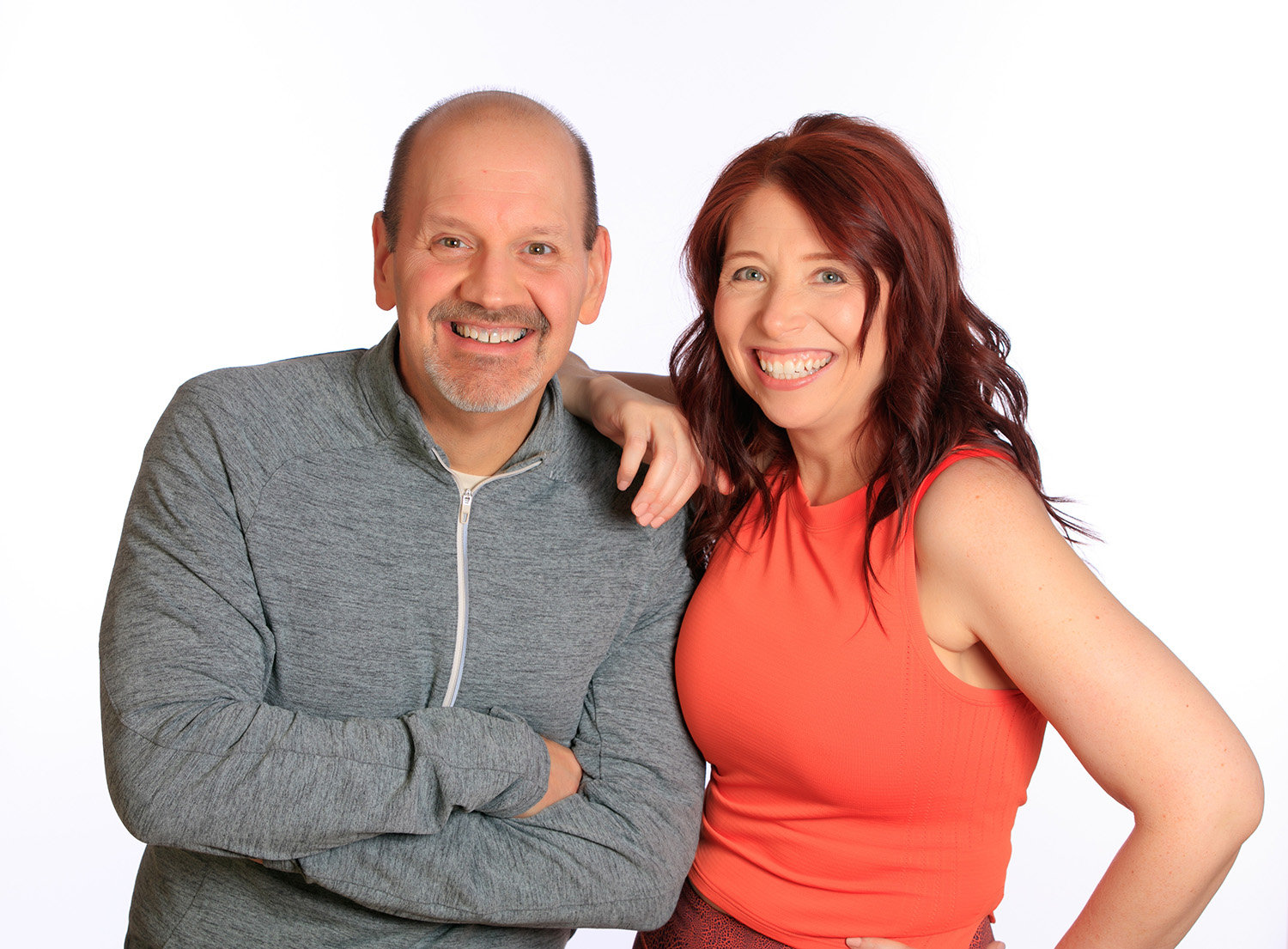 Subscribe
Keep up with all the Peloton news!