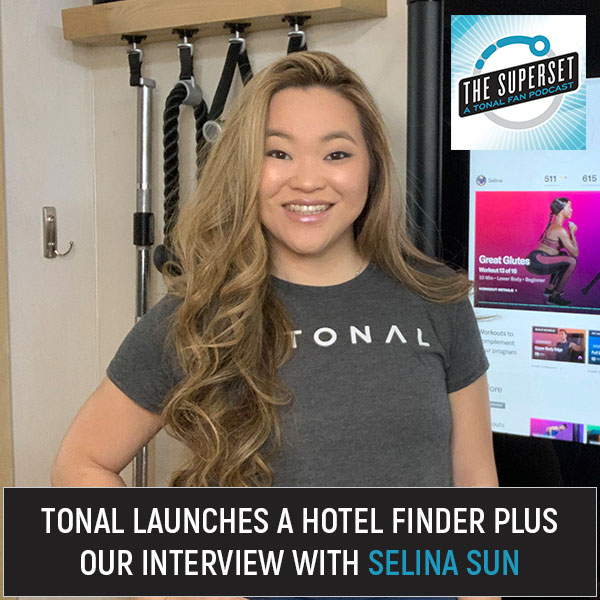 Tonal Launches a Hotel Finder plus our interview with Selina Sun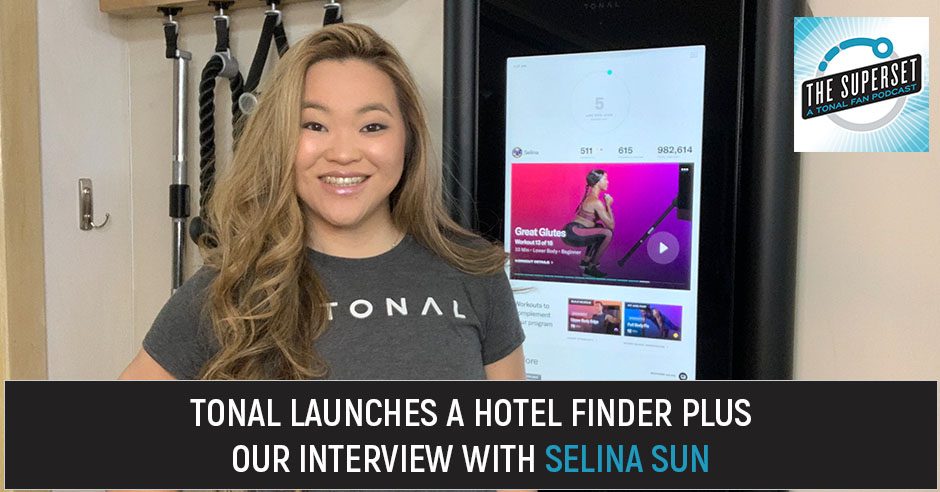 Tonal launches a hotel finder.
The Tonal blog spotlights workouts for various athletics.
Forbes magazine sits down with CEO Aly Orady
Tonal gets their first legal chief.
Coach Jackson got married to Anya.
Coach Venus was featured in Health magazine.
Coach Pablo got a new puppy.
Andrew Tripppi, founder of the Tonal Dads FB group, now works in a Tonal showroom.
Sumner Paine hit the 25 million pounds milestone.
So much new content that we can't list it all.
Upcoming Tonal Talk has Coach Liz helping with hip pain.
Recent Tonal Talk featured Troy Taylor discussing Tonal's Strength Institute.
There are some new unofficial Tonal Facebook groups – "Fighting Disease with Tonal" and "Vegas Strong."
July Book Club – The Mindful Athlete
Happy birthday to Dia Woodbury.
All this plus our interview with Selina Sun!
—
Watch the episode here:
Listen to the podcast here:
Tonal Launches a Hotel Finder plus our interview with Selina Sun
How's your mood? I know that you'll start a new job.
I'm anxious. I know that move will shock you.
If people are watching on the YouTube channel, they can see that I put on pearls just for this episode so I could clutch them.
Consider them clutched. I'm nervous. I'm excited though. It'll be interesting to make such a large change in our lives.
You've changed jobs since we've been together but it's been the same type of job, just at different places. This is a very different type of job. It's a different commute. That's going to be an adjustment.
I'm a little worried about how that's going to fit into the old schedule.
You'll spend a lot of time in your fancy sports car.
I do love my car.
She sounds on edge. That's why. What do you have in store for people in this episode?
We are going to talk about some new cool stuff that Tonal is doing because that's what we do here. There's also some instructor news. There are some articles that Tonal was mentioned in that we're going to hit. There's a new content we're going to cover, some past Tonal Talk that I wanted to highlight, and an upcoming Tonal Talk that I wanted to highlight as well.
Before we get to all that, shameless plugs, don't forget we're available on Apple Podcasts, Spotify, Google Podcasts, iHeart, TuneIn, Stitcher. Wherever you find a podcast, you can find us. While you're there, be sure and leave a review so people who come along after you will know that we're worth checking out. Also, while you're there, be sure and follow us so you never miss an episode. If you want to stay up to date on Superset and Tonal things in between episodes, check us out on Facebook at Facebook.com/supersetpodcast. There's a group and a page. You can like the page and join the group. The group lets you start conversations a little bit more easily. You can also watch these episodes on YouTube at YouTube.com/theclipout, which is the name of our other podcast. We have everything living under that umbrella at the custom YouTube URL. Check us out over there. There's all that, let's dig in. Shall we?
We shall.
—
There's a nice little addition to the Tonal page, which is a Tonal Hotel Finder.
It's brand new. I love it. For everybody that is getting to travel this summer, this is the perfect time to check it out. You can go and find where Tonals are located all across the nation, which is cool.
I know that when we're going places, you're always like, "Does it have a Peloton? Does it have a Tonal?" Those are always the two big questions. Any tools at your disposal that make that a little easier, yes, please. You can find all that at Tonal.com/Tonal-hotel-finder or just go to the Tonal website. It'll be there for you somewhere.
You can find it.
As life continues and you become an adult, life gets in the way of prioritizing your health, your physical and mental well-being.
Click To Tweet
Also from the Tonal blog, they have Tonal Workouts and Programs to Channel your Inner Athlete.
This was posted back on July 8th. This goes through some different options you have, for example, to build up athletic strength. They give you suggestions like Athletic Barre with Coach Gabby which focuses on strength and cardio. It's going to develop body awareness, which helps you get centered in your own body. You also work on flexibility, agility, balance and posture. If you want to move on from there, there's also one for runners. For example, In The Running with Coach Liz. That's what powers the world's fastest runners and muscle strength. She goes in and she teaches you how to train your core for increased speed, developing hip and core stability, and preparing for your next race with the strength to win.
There's also one for golfers, Above Par with Coach Paul, for swimmers, Swim To Success with Coach Natalie, for cyclists, there is Core Strength With Cycling for Coach Liz. There's a whole bunch of programs to look into. That's Good to Great with Coach Paul, Triathlon Power with Coach Mark, Triathlon Endurance with Coach Mark, Better Bike and Tread with Coach Nicolette. I have to give a huge plug for that one, 5K Strong with Coach Liz, and Watts Up with Coach Liz. There are lots of options to increase performance. It's just one of the many things that we are so lucky that Tonal does.
Many people come to Tonal for different purposes and goals. There are all sorts of different ways that you can utilize it to achieve very different goals.
—
Tonal CEO Aly Orady was featured in Forbes magazine. That's pretty fancy.
This is a little ode to Aly. It talks about where he started. First of all, it mentions that the global fitness equipment market exceeded $10 billion in 2020 and is expected to reach $25 billion by 2027. They're talking through where that's headed. They feature Tonal as one of the places they're headed. We know the story because Aly has been on our show. He's been kind enough to let us interview him. We know that where he started was he was not happy in his career. He wasn't happy because he was overweight and out of shape. He quitted his job and focused on fitness. This talks about that. It also talks about he was sitting there spending all this time in a gym and then he was like, "I need to figure out a way to make that cable machine smaller." That's when he did that.
The super exciting part about this is that you look at the future at the end of this article. He talks about how Tonal has 300 employees now, 50 points of distribution beyond its eCommerce presence. That includes Nordstrom. He's looking to expand his market beyond fitness enthusiasts into rehab applications, and has entered into a clinical trial with the Mayo Clinic. It's very exciting. He looks to combine his history for entrepreneurship, focus on health and passion for fitness to continue to grow the company. While the company's growth trajectory and lofty valuation point to an IPO sometime in the future, no timetable was provided as of this writing.
I'm sure there's no connection between all of that stuff you just rattled off and the other article we found from Bloomberg Law titled Tonal Taps First Legal Chief as 'FitTech' Loads Up on Lawyers.
This points to an IPO coming. We've been saying that for a while but this is a very clear indicator that this is what they're doing to prepare. It's a huge step that every company must take before they file an IPO. This is very exciting. M. Andrea Soria is the new Director of Legal. She is going to be the first in-house legal chief. They have been seeking funding over the past years, which we already know.
They've touted several different times that they've got an influx of investors.
They are from very high profile people. Soria started her legal career many years ago at San Jose, California-based law firm, McMannis Faulkner. She spent four years as General Counselor at Intero Real Estate Services, then she moved on to Berkshire Hathaway Home Services as well. In 2009, Soria was hired by Glu Mobile, and then she was hired by Calm, and then she left Calm in 2020.
Probably because it was boring. It was too calm. She was like, "I'm so bored. Get me out of here." She won't have those problems at Tonal, a very exciting place to be.
Congrats and welcome to the Tonal family.
—
Coach Jackson got hitched.
He did to Anya who is also part of the Tonal community. She's very active in the Tonal community. We wanted to make sure and say congrats to both of them. I understand that this was a small ceremony, but there is a destination wedding. I believe she said Cabo.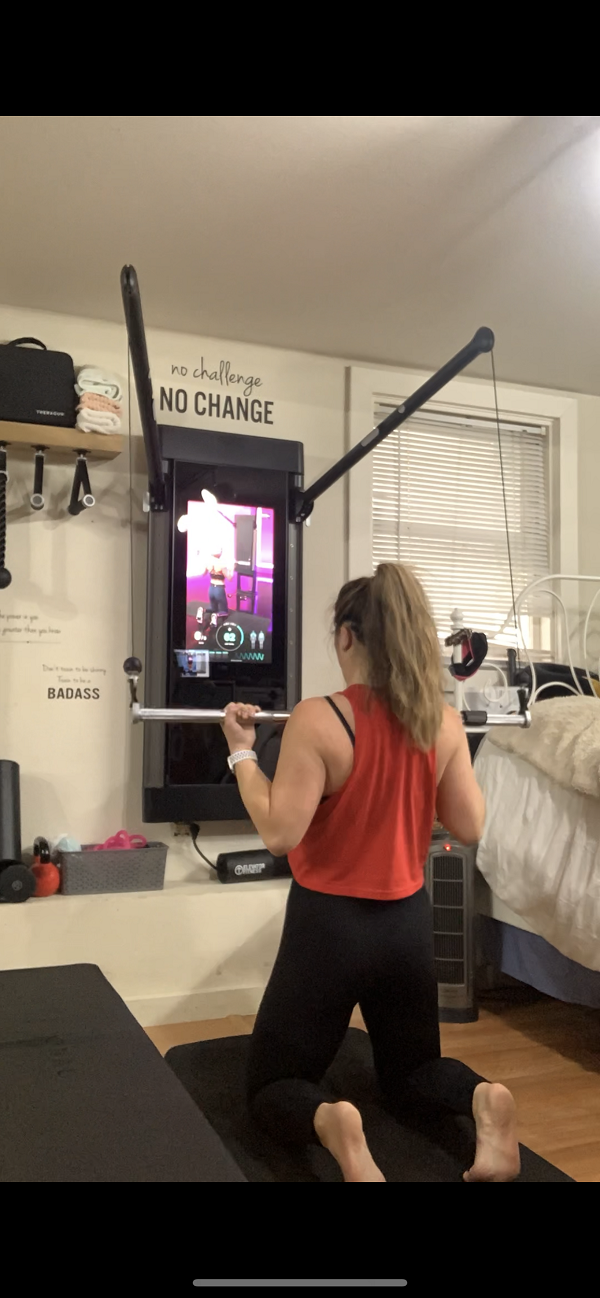 That will be fun. I can't wait for our invitation.
We'll just watch for that. That's coming up in a few months. We will be able to celebrate yet again. It's very exciting. Congrats to both of you guys. That's awesome. I know they've been waiting for a long time. COVID derailed their plans.
COVID screwed it all up. Also, Coach Venus was featured in a magazine.
I believe it was a women's health magazine or maybe it was just a health magazine.
My subscription lapsed so I'm not aware.
Health.com is at the bottom so I think it's a health magazine. It featured her and an eagle-eyed Tonal community member posted this in the Tonal community. It was pretty cool to see one of our instructors posted in a magazine. Congrats to Coach Venus who we also interviewed on the show. If you didn't get a chance to read that, you would want to head back to that episode and check it out.
Finally, while we're talking about what's going on with instructors, Coach Pablo got a puppy. It's a pretty cute puppy. For the people who are reading, you can see the video of the adorable puppy whose name is Debbie Ballerina Barbie if you watch this episode on our YouTube channel at YouTube.com/theclipout.
Tom, we need another one.
Crystal is fighting the urge to not nuzzle her computer monitor right now.
I want that puppy. Congrats, guys. That's amazing. She's so cute. Now Dude is a big brother. Dude is an adorable puppy too, but he's not a puppy anymore. He's just a big doggie.
—
There's a new member of the Tonal team.
I thought this was cool. Andrew Tripppi is the founder of Tonal Dads. That's the Facebook group. Now he is going to be a sales specialist at the Tonal Oak Brook showroom. That's in Chicago, for anybody who doesn't know that. If you were in the Chicago area, definitely go and say hi. Congrats to Andrew. That is so cool. I love watching the Tonal family grow.
—
An interesting little note about Sumner Paine.
Sumner has been part of the Tonal team for a long time. He's worked at Tonal for a long time. He always amazes me with his accomplishments but this one takes the cake, 25 million pounds reached. That's unbelievable. Big congrats to Sumner.
—
As always tons of new content on your Tonal machine.
There is so much. I am not going to go through it all because it would be an entire episode, but I want to point out that there is a lot. These are single one-off workouts that you can do. Some things that I want to highlight are there's a brand new, and I know I just said that they're single workouts, but this one happens to be a program. It's a high-intensity program. We've never done this before. There's never been a program that's been focused on high intensity. This is very exciting. This is Coach Gabby intermediate, full-body, three times a week for two weeks. You're starting to see a lot more of these two-week programs. That's a good way to mix things up. You get to focus on the HIIT the entire time for two weeks in this program.
My guess is there are probably a lot of people that don't want to lock in for a month. Those two weeks classes make a lot of sense. It's comparable to how Peloton started to discover that people like the 20-minute classes. This is the Tonal equivalent of people who are like, "I don't know if I want to do it for a whole month, but I can power through for two weeks."
The hardest part of doing exercise is starting, having to start over and over again.
Click To Tweet
Thirty days is a long time to focus on a HIIT program. That would be a long time. I can understand why that would make sense to do a shorter one.
It's intimidating.
There are tons of new Theragun content. Tonal is still partnering with Theragun. You can still get 10% off if you purchase a Theragun. There's a whole bunch of content as I said, upper body, lower body, recovery, etc. We've got some new meditations and new yoga. There's one new yoga that I wanted to point out. It's Empower One. It's all about the peacock pose, which is a difficult pose to master. We have Unleashed Your Core with Coach Frances. New cardio, there's Cardio Dash with Coach Nicolette, eighteen minutes, full body. That sounds like it's up your alley, Tom. We have new mobility, Neck and Shoulders with Coach Nicolette. There's new Pilates, which is going to focus on your posterior chain.
There are also new barre classes, Standing Cardio Barre, and then new strength. There's Form Focused Fitness with Coach Amy. More high intensity, there's Ease Into Intensity with Coach Amy and Full Body Elevate with Coach Amy. There were twenty new drops that happened in one week. I'm not going through them all. There were a few that I wanted to point out. New strength, which is Everyday Fit with Coach Alison. High intensity, it was Overachieving Upper Body with Coach Jared. There's a new recovery with Coach Nicolette. It was Expressed Recovery, which is good for people who don't have a ton of time but do want to focus on recovery. A new warmup, Slow and Strong Warmup with Coach Paul. That's a lot and I didn't touch everything. There's so much more that dropped.
—
There's a new Tonal Talk coming up.
This one had to get rescheduled because of some airport snafu. Coming up on August 11th at 7:00 PM Central is a Tonal Talk with Coach Liz. It's all about hips. It's going to focus on the causes of hip pain. That means that they're going to explore common causes of hip pain, how to conduct a self-assessment to better understand your body, form fixes and tips to help you move and feel better. This has been an ongoing series they've been doing that Coach Liz has been deep-diving into different areas of your body. In the past, there's been shoulder health, knee health and spine health.
If you have not been checking those out, I highly recommend that you do because they are so incredibly helpful. They help you pinpoint why is this hurting, and help you figure out the causes because sometimes it's as simple as not stretching the right way. Maybe you're not stretching enough. Maybe you're just not stretching. You think like, "I have this pain and it's just a pain I have to deal with." Maybe if you do some mobility, you might find that that pain completely goes away. It's fascinating. I just wanted to highlight that that was coming up because I feel like that series is a do-not-miss series.
In case people were unaware, Liz has a PhD in this stuff.
She just finished up her PhD in 2021. As a matter of fact, she's been working on it for a long time. She knows her stuff. She's a smart lady.
There was also a Tonal Talk featuring Troy Taylor.
Troy is new to the Tonal team. He is going to be leading up the Strength Institute, which I'm super excited about. What is the Strength Institute? I'm sure you were asking that, Tom. It's a department that is dedicated to high-level research that is for everyone interested in strength training. Think of this as really deep data mining for strength nerds. It's totally interesting to me. It's cool because this is one that I got to watch. I enjoyed hearing about their plans. They can take data across everyone who's using Tonal and find little tweaks that they can personalize for each of us. Sometimes it may not be personalize. Sometimes it might be things like here's how people are using Tonal.
It's been a couple of months ago that there was an article that came out like, "Here are the things you should know for building your biceps or building your chest." It talked through all of the different ways people are doing that. It's going to be like that, but it can be on any topic regarding strength training. For example, one of the things that they talked about was like, "If you're having pain and you're having mobility issues, here are some things that could help." In theory, with all this data compiled, you could be like, "I'm having pain in my lower back. What kind of mobility exercises can I do?" It would pop up with some suggestions for you. How amazing is that? This Strength Institute is going to be able to do all kinds of things. This is going to be a very exciting space to watch. I am super excited to see where Tonal takes us.
—
There are a couple of new Tonal groups that people might want to check out.
There's one called Fighting Disease with Tonal. This one is about people that have a Tonal and they also have auto-immune diseases. That was worth mentioning because I know that auto-immune disease can be very debilitating, isolating, stressful, and movement has so much to do with making you feel better. I think this is a great group to highlight. There was also another group created. Both of these are unofficial. These are not Tonal supported groups. It's not that Tonal is against them. It's just that Tonal is not running them. That's all that means. It makes it sound bad when I say it like that. There's also another one for Tonal members in Las Vegas. It's called Vegas Strong. If you live in Las Vegas and you have a Tonal, this group is for you. You can connect with like-minded Tonal members. I like seeing all these little groups starting to shoot off. It's neat to see it.
—
The latest Book Club selection has been selected.
We talked about it in our episode before this but we just mentioned it. We didn't talk what the book was about. I thought it was worth mentioning again. The book is called The Mindful Athlete. In this book, George Mumford shares mindfulness practices that can help transform the performance of anyone. If you're an athlete or if you're a weekend warrior or maybe you're an executive, but somebody who's trying to get the best out of things you love and your passions, then you can discover proven techniques that help people like Michael Jordan and the late Kobe Bryant elevate their game.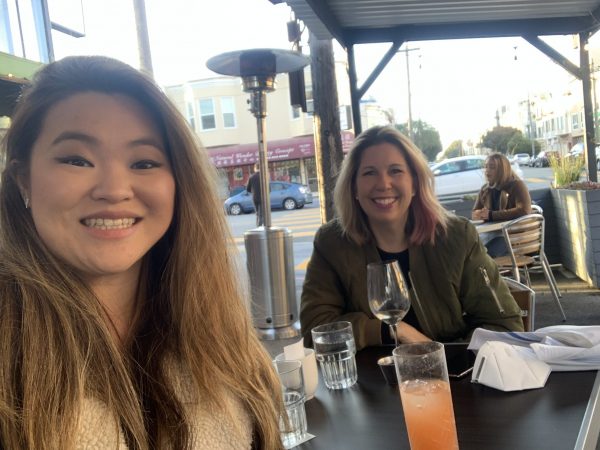 Those two did okay for themselves.
—
Finally, we have a birthday to celebrate.
You might remember that we talked about that we have a new community member or a person running the community as Kate does. She is Dia Woodbury and it was her birthday on July 8th. This is the first episode we've had since then. I wanted to make sure and wish her a happy birthday.
We can't sing the song because we have to pay for it. I don't think it's public domain now but we don't want to risk it and you don't want to hear us sing.
That's the biggest reason but happy birthday.
—
Joining us is Selina Sun. How's it going?
I'm good. How are you doing?
We're good. We are so excited to have you here. One thing that I always like to do at the beginning of these interviews is to find out where you first heard about Tonal and what made you pull the trigger to decide to bring it home?
I heard about Tonal from a friend. I was texting my friend being like, "I don't know if I want to go back to the fancy gym that we both went to." He sent me a link to Tonal. This is right around the time where I was like, "I shouldn't go back to the gym. Maybe I should find something that would be able to have me working out at home forever." I went on the Tonal website and then I pretty much was like, "I'm going to get this." I did order another comparable device but I returned it before I even got it. I was like, "I'm going to try Tonal. There's a 30-day thing. I'll try it. If I don't like it, then I'll return it but I'm not even going to deal with this other one. I don't need it." I tried it. I did my first workout and I was like, "I'm totally keeping this. I don't even need the 30 days. It's fine."
Have you been a person who works out all the time? Since you went to a fancy gym, I'm going to assume you were working out?
I spent a lot of my youth playing sports. When you're a kid, it's built-in, so you're always doing physical activity. I did that through high school and college. I lost that scheduled time and I struggled with self-esteem, my mental health, stress. It took me after college to realize that I needed physical activity to feel better. I started going to the gym after I went to college. The hard thing about the gym is that as life continues, you become an adult, you get a job and then you meet more people, life gets in the way of prioritizing your health, your physical and mental wellbeing. I'd have a lot of spirits where I'd go regularly and then I stopped going for two months. I'd have to pick up again and then stop again. The hardest part of doing exercising is starting, having to start over and over again. You're like, "This sucks. I'm getting sore. I hate it. Why am I torturing myself?"
Some people like it. I don't like starting over and over again. They're out there. I know that because I have friends that are like that. I'm like, "You're crazy. More power to you." I started grad school in 2019. I was working full-time and doing grad school at the same time. I exploded with stress. By my first semester, I gained 20 pounds. I was feeling super unhappy and overwhelmed with the amount of stress I had. I was like, "I can't keep living this way. It's not healthy for me. It's not healthy for my friends, my family and the people that I care about. I'm going to make a commitment. Get up at 5:00, 6:00 in the morning and go to the gym before work." That's how I started down this new path. The pandemic hit and then I started working out at home. I was like, "This is great. I can work out at home and not have the time issue or the fitting it in because I can roll out of bed and workout." That's how I found Tonal. I got onto the Tonal thing. Now, I'm loving it. I have a whole structure fifteen steps away from everything, which is great.
I feel the same, especially going to the gym if you're taking classes because then you have to fit in around their schedule. There might be parking you have to deal with. You have to might get there early to get a seat. That adds a lot of stress. Working out at home takes all of that away.
To your point with classes, a great thing about a class is that you get to meet other people at the class but Tonal does a good job of being able to meet other people through the Tonal community. I would go to the gym and be alone so it's nice to be on tonal and get to talk to people that I feel like I know, even though you haven't physically met them. I feel like I know, I can bond with and we can keep each other accountable. It's great. It's completely changed my life and my perspective on what wellness means. It's great.
How has it worked for you during the pandemic? Did you find using it more?
When I first started, I was like, "I'll do it a couple of days a week and see how it goes." I ordered my tonal in June 2020, so it was during the pandemic. I got it in September 2020. From there, I was like, "I'll try it a couple of days a week." I did the first group challenge they did with Natalie. It was in November 2020. With that challenge, my Tonal kick then because I started doing it every day. Instead of doing strength training, hip training, or the core, I started doing more yoga, meditation and mobility work. That helped me to incorporate more things into my day. Instead of doing the workout, I would warm up and then do a workout. At night, I would listen to meditation to calm myself down. It helped deal with the pandemic in general. I was working full-time in a pandemic going to school at night. There's a lot that's happening. I got through it because I had Tonal structure here with me. It made me feel more capable of doing things and that helped me get through the last few months.
Being a coworker sometimes is harder than being a good friend.
Click To Tweet
What do you go to school for?
I just graduated but I got my Master's in Business.
Congratulations.
Thank you.
I felt like I was at a frat party, "What's your major?"
I am a fellow MBA. I also had to work full-time whenever I was doing mine. I feel you. I didn't have the pandemic to deal with but I was going through a divorce at the same time and moved. It was crazy.
I will say this if it makes you feel any better. That MBA has been worth every penny.
It's going to open so many doors for you. It's very exciting.
I'm excited to be done. I'm taking a little bit of time to maybe rest a tiny bit. I'm very excited.
It sounds like you're using your Tonal, not just for your physical wellbeing but also for your mental wellbeing. I was surprised to hear that it's the challenge that led you down that path. It wasn't something like you said, "I would like to do a meditation." It was like they suggested it and you did it. It sounds like you started loving it. Am I making too many assumptions there?
No, you're right. First joining Tonal, meeting a few people in the community, seeing how they interact and then joining that challenge, it all happened in two months. It got me into a place where I was like, "Maybe I should listen to this meditation because it might help me calm my mind." I tried listening to white noise before or music but it always takes me a long time to fall asleep. I listened to the meditation as I fall asleep and then I breathe when I do it. I feel like I don't even remember when I fall asleep. It's very calming in a way for me to not think about the rest of the day. I find that my mind is always running, even if I am trying to calm down.
Is that something that everybody with MBAs has or just you two?
I don't know but I feel you, Selina.
Even when you're doing yoga and Francis is telling you, "Deep breathe. Think about your body. Do a body scan." I'm like, "What should I do later? Do I need to do my laundry?" It's hard to calm your mind down. The meditation has helped me stay more present, which helps the whole aspect of my life. As we're moving, we're doing a bunch of things throughout the day. It's hard to stay present in conversations when you're talking to people when there are one million things coming at you, whether it's work or other things. It does help make sure you're like, "Push the other stuff out. I need to focus on this conversation or this activity. Put all of myself into it and then focus on one thing at a time."
Tonal has helped me get a better sense of my mental wellness as much as my physical. I started my journey again in order to lose weight. I wasn't feeling great about myself. I didn't fit into my clothes. Tonal helped me realize that it's not just about losing weight but it's also feeling strong inside and outside. It's been a great journey for me to think about that like, "What kind of person I want to be in the world? How do I want to show up for people physically and mentally?" I might go on a tangent there but yes, that's generally what I've been going through.
It sounds like tonal has given you an opportunity to transform not only your body but the way you think.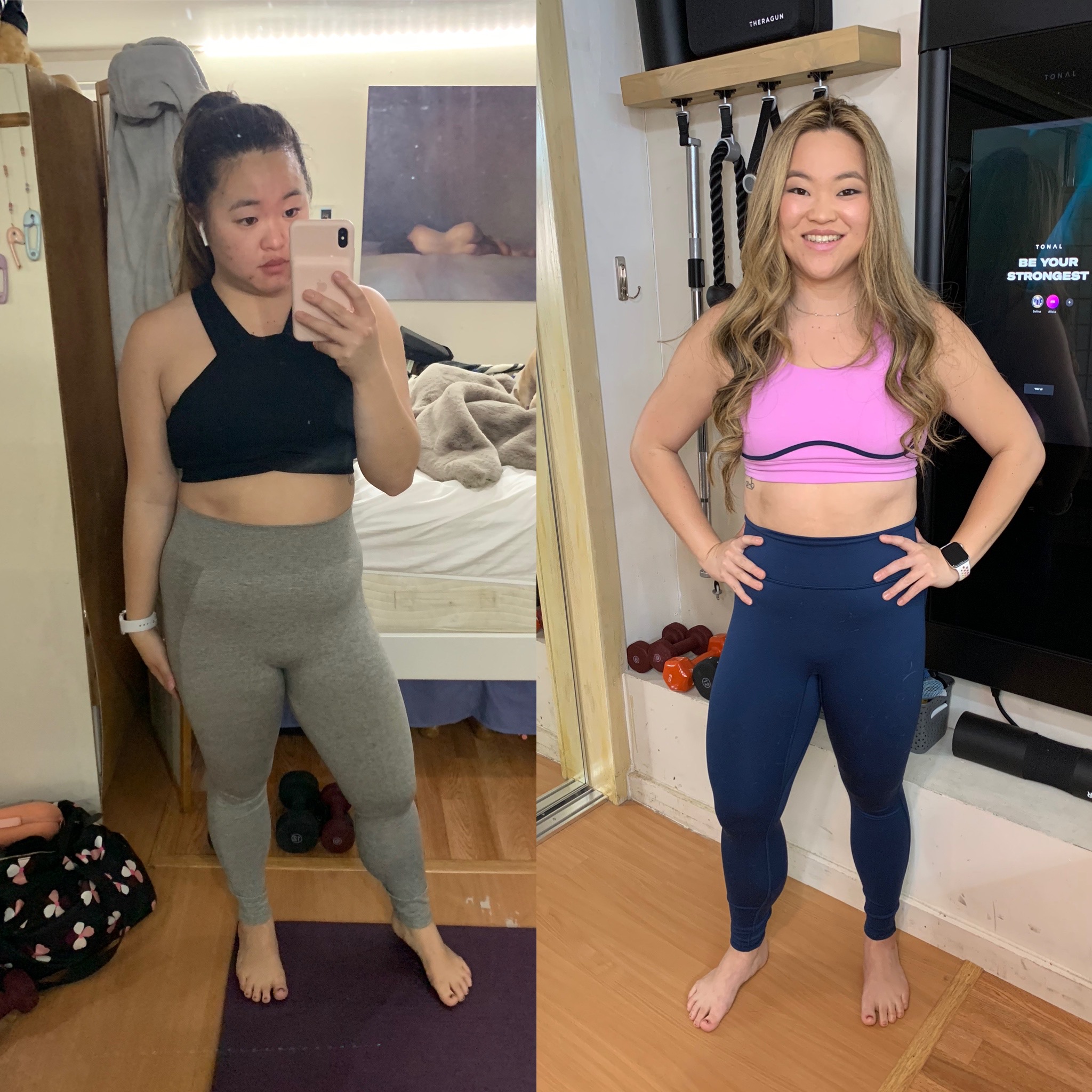 Your definition of fitness or physical health made it less weight-focused and more health-focused.
I've spent most of my life looking in the mirror. A lot of people have self-esteem issues. You look at the mirror and then you hear all these things in the back of your mind nitpicking at yourself. By being on Tonal, interacting with the community, doing the challenge, doing a little bit of everything helped me understand that it's not about what I look on the outside, which is great but it's also how I feel about myself on the inside. I want to be a good daughter, a good friend, and a great coworker. There are lots of things that I want to do where I can be the best version of myself but it took me in 2020 to realize that in order to do that, I have to prioritize myself. I have to make that time to get up, do my yoga, my work out and my meditation at night. I think about all the times where I'm like, "I'll do it later." Then I'm like, "Why did I do that?" If you're doing the yoga and stuff, it probably takes one hour but you can get something done in twenty minutes. Twenty minutes out of your day is nothing. You listen to all the athletes and you're like, "Why didn't I listen to them before?"
This is why she's got an MBA though. I couldn't help but notice you wanted to be a good friend but a great coworker.
I love that it's your takeaway.
It's because being a coworker sometimes is harder than being a good friend. It's challenging.
It's because you can choose who your friends are but with a coworker, you didn't have input on that. You got to struggle if that would work. When you're talking about self-esteem, the older I get, the more I think that the weird people are the ones who don't have self-esteem issues.
Do you mean because they're quirky? What do you mean?
With most normal people, there's something about themselves that they don't like.
It's a typical versus atypical kind of thing.
It's more odd to not have a self-esteem issue, to not wish you were taller or shorter, had hair or had different hair. I feel like the more I talked to people, the older I get. It doesn't seem like anybody's completely comfortable with who they are.
I also think how amazing that at such a young age, you're able to already know that and have absorbed that into yourself. You didn't have to wait until you got to your 40s to figure that out. My hat is off to you. That's amazing.
Hopefully, it stays though. I'm trying hard to make sure I remind myself every day. It's hard when society is showing you what you should look like. It's hard to say like, "I don't look like that. Is that acceptable?" It totally is. Everyone should find a way to love who they are, no matter what size you are, what you look like, what you like to do or who you love. The most important thing is that you can be happy with yourself.
It seems like overall, culture seems to be trending in a better direction in that regard. It is not a success-only journey.
We have a long way to go.
Big picture, it's better than it used to be.
If you compare it years ago from an advertising standpoint, it's very different from what it used to be. We don't want to see that slowdown either.
Everyone should find a way to love who they are. The most important thing is that you can be happy with yourself.
Click To Tweet
We need to keep going. We need more of Natalie. Natalie is an inspiration.
Selina, I am curious. How do you balance your workouts? I know that you said that you were going by the challenge and that's what kicked all this off. Do you still go by the monthly challenges or are you making your own schedule?
I'm still doing the challenges. I hurt my back weeks ago. I've been rehabbing that. I was following the challenges before I hurt my back. I technically still am on Coach Pablo's challenge, which is super great. I'm bummed that I'm so behind and I'm missing it because I'm trying to fix my back. I wasn't expecting to still do it. I was doing the roadmap that Tonal has first. When Natalie did her first challenge in November 2020, I was like, "This is great." I went back to the roadmap and then they started doing challenges every month in 2021. I love them because A) You get a big group of people that are all doing it with you but B) You get to interact with the coaches and for me, that's so cool.
Seeing them on the screen and then knowing that you can interact with them, ask them questions or hear them live from tips is awesome. I'm not trying to sound like a dork but it's super cool. I loved doing every coach's challenge because they all have different tips and they all have different things that they're good at and can share. That's why I am still doing challenges. It's a great way to stay accountable and also a great way to interact with them because I think that they're the coolest people, even though I don't know them but I feel like I know them. I want to meet them.
They're all so great. You get to see their personality because they're teaching the classes. When you add the extra layer of having the virtual group, having the happy hour and doing those things, it makes it almost like an exclusive club. Exclusive is the wrong word because that makes it sound like not everybody is invited. That's not at all what it is. It's the exact opposite of that but it makes it feel like you bonded. Not just you with the coach but everybody that completed the challenge together is bonded in this event that you were able to get past because they're not easy. They're hard.
Maybe instead of excluding because it's an exclusive group, it enhances your own experience. I get to interact with the Tonal in this group but I'm also in a smaller group of other people. You've interviewed people like Michelle, Marianna and all these other people, who are my support system. Michelle took me out to dinner for my graduation, which was so sweet. It was the first time I met her but I feel like I've known her for years because we are Tonal friends. It's cool. You don't have to be a part of it but it's great that Tonal gives you an opportunity to do those things if you want to. It's awesome to see the coaches on the screen because they're great in the workouts but it's great to see them on Facebook Lives for questions. You get to ask them about anything. You get to hear about different things about them. It makes you feel like you know them, which is awesome.
What other Tonal communities have you been involved with if you don't mind saying? Like with Peloton, there are lots of different kinds of branches of Peloton fans out there.
I'm in the Unofficial Squad Group. I was in the Tonal Fitness Nation. I'm still in Tonal Fitness Nation but it's hard to keep track of everything. I prioritize the ones that I try to spend the most time on. I am in the challenge groups each month. Social media is a lot but it's a lot to keep track of. Those are pretty much the groups that I'm in. I have a few friends that I've met through the programs that I interact with on an individual basis.
It's cool that so many people who do tonal live on the West Coast. You and Michelle are able to meet up and sometimes get to meet the coaches in person because you live somewhat near them. That's cool. It's a definite added benefit. Sometimes I get very sad about that. We live in the middle of the United States where we can't just join in on those things because I would love to.
They should make a Tonal hotel so they can house us when we want to visit other members.
Can you imagine walking and it would be like all working out all the time? That'd be great.
That sounds awful. All working out all the time?
There would be meditation and stuff too, Tom. Tom doesn't like to work out. He does it on the Tonal but he doesn't like it at all.
Who's your favorite coach, Tom?
I don't know. I go on autopilot and just do it.
Whoever he's not working with is his favorite coach because he yells at you if he does get mad.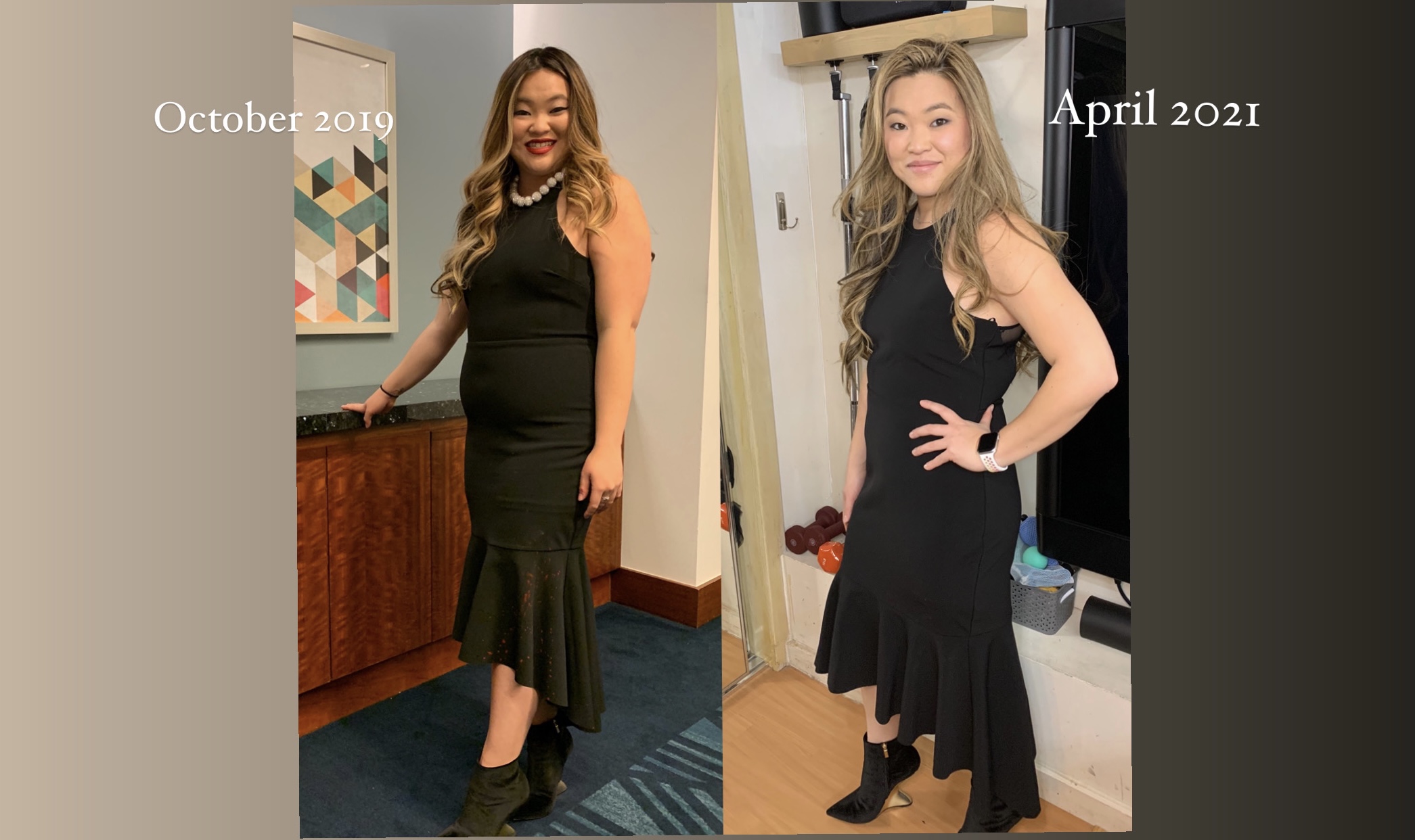 Sometimes I get mad too. I get mad at Tonal. I get mad at coaches when I'm doing a move.
I'm that guy that yells at the umpire when it beeps at me. I'm like, "I did not have my reps. This is no different than the last three reps." I'm doing Four Weeks to Fat Loss too.
How is that one?
We got back from vacation and I've lost 5 pounds, then I came back really fat. I gave myself a head start. I don't know that everybody can expect to lose 5 pounds in five days. Before I left, I was trying to time it out so I finished up a program. I was doing one-offs because I didn't want to leave in the middle of a program. The organizational part of my head didn't like to leave a program hanging for ten days. I can't do that. When I got back, I was like, "I'll go into four weeks of fat loss too because I gained ten pounds while I was gone." That seemed appropriate.
He's cursing in a lot, so I think it's an effective program. He's doing all the things that he should.
I haven't done a workout in weeks. I have been eating like a pig but that's okay. Once I get better, it's all good. It doesn't make me feel bad about myself, which is great.
You deserve to have a break too if you're taking care of yourself.
If you've got a plan in place, you know that there's an end date on this and you'll get back to it.
I'm missing Coach Pablo. He's going to kick my butt when I'm back. It will be fine. It will be all good.
What would you say you love most about Tonal?
The community is probably the biggest thing that I love about Tonal truthfully. I care about the communities that I am a part of. When you put time into something, time is the one currency that you can't ever get back. I enjoy the people that I'm around. The tonal community is probably the biggest thing. Aside from the fact that I can work out at home, I can do everything that I wanted to do in the gym, understand my metrics, my weights and all of that, the tonal community is probably the best. I'm always amazed by how much you can do. My friends think that I'm in a cult because I talk about Tonal so much. My parents also agree but it doesn't matter. Honestly, it's made a big difference and now my friends are always like, "How's your Tonal or Mirror?" I'm like, "It's not a Mirror." I can't even tell you how many times we've gotten that. I swear there should be a jar that people have to put $1 in every time they compare it. It's fine.
That's like if somebody called your Mercedes a Hyundai.
It's not the same thing. I was like, "It's strength training." Strength training isn't for everyone. I love strength training. I'm not a big runner or a big cardio person, so it's great for me. I love that I can do it at home. One of my coworkers bought a Tonal. I'm excited for him to get it. I was like, "We can do virtual group workouts. Let's do it." Community is big for me but everything is great. I can't pick one. I'm sorry.
Do you have any advice for people who are getting their Tonal?
I would say that keep an open mind because Tonal has a lot to offer. When you first get on, at least for me, I was like, "There's a lot of stuff here. I don't know what to do. I don't know where to start." You do that strength assessment but as the community gets bigger, it gets harder to find information, which is not a bad thing because it's great that the community is growing. For someone who's starting, you might be like, "What program do I do?" That's a big question when you're starting. Keep an open mind. I love Liz's mantra, staying curious because it's helped me get to the point where I do a little bit of everything every day. If you're so like, "I just want to get muscle," then you risk the opportunity of losing out on something that could maybe improve your mobility and your strength. That's what I would say. Join a virtual group workout or message them when you're like, "Do you want to do a workout together or something?" You never know what's going to happen. It could be the best decision that you've made for yourself.
Before we let you go, where can people find you on social media if you would like to be found?
Keep an open mind because Tonal has a lot to offer.
Click To Tweet
I have an Instagram handle. It's also my music Instagram but I put it all together. It's @SelinaSunTheSinger. Check it out. Listen to my music if you want. You don't have to but it is cool. I have my own CD.
I'll have to check that out.
What kind of music is it?
I would say it's more like pop music but it is on Spotify. It's my name, Selina Sun. It's also an iTunes Music but it's a CD. It took me six years to put together. It's one of those things on my bucket list. There are a bunch of songs that I wrote when I was younger. Now that I've finished school, I'm going to potentially try and start working on another album but we'll see how it goes. It's in the pipeline.
We'll set another interview until you're a big star, so we get all the traction from our exclusive Selina Sun Tonal interview.
Don't do that.
Thank you so much for joining us.
Thank you.
Thank you so much. It was great talking to you. Thanks for the opportunity.
This has been a lot of fun. Hopefully, you and I will get to do a virtual group workout together at some point. That would be great. I would love that.
Tom, you should do it too.
I heard her sing, so don't make an album with her. You, Selina, don't make an album with Crystal.
You don't want to do that.
We can do a show.
We just did.
We can do another one.
What do you think we were doing all this time?
I thought we were just talking and having fun.
We can do that too. Thank you so much.
—
I guess that brings this episode to a close. Until next time, where can people find you?
People can find me on Facebook at Facebook.com/crystaldokeefe. They can find me on Instagram and Twitter at @ClipOutCrystal.
You can find me on Twitter @RogerQBert or Facebook at Facebook.com/tomokeefe. You can find the show online at Facebook.com/supersetpodcast. While you're there, like the page and join the group. Wherever you're getting your podcasts from, be sure and follow us so you never miss an episode. That's it for this one. Thanks for tuning in. Until next time, keep lifting.
Important Links:
About Selina Sun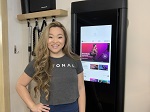 I've been singing since before I could speak. Music has always been a part of my life. It is my passion, and my first love. The music I've written comes from my heart and soul, and I am so happy to be able to share it with you. I hope that you will enjoy the most personal and honest feelings I can express about love, life, happiness, sadness and just about anything that speaks to me. Singing, performing–it's who I am, and I am happy to have in it my life.
Love the show? Subscribe, rate, review, and share!
Join The Superset community today: