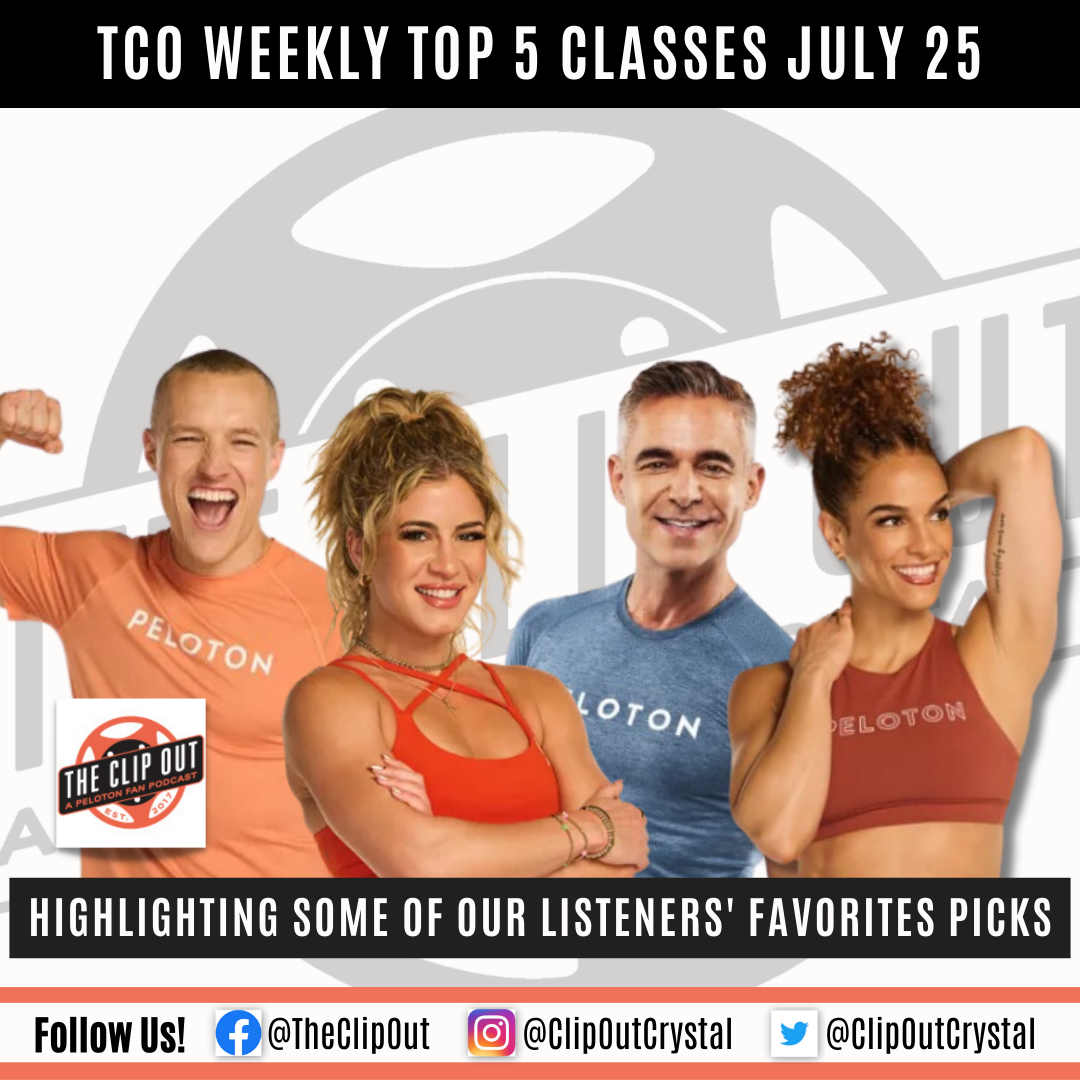 TCO Weekly Top 5: This week's listener favorite classes
The Clip Out Facebook Group had some amazing favorite classes this week! We've rounded up 5 of the most enthusiastic recommendations from our community and share a quick summary of each below. If you're looking for some new class inspiration, check out what got our listeners moving this week!
The classes:
Ross Rayburn 10/12/20 20 min Relaxing Meditation
Matt Wilpers 3/5/20 45 min Power Zone Ride
Jess Sims 4/1/23 Saturday 60: 2000s Tread Bootcamp
Matt Wilpers 4/7/23 30 min Advanced Beginner Run
Kendall Toole 7/18/23 15 min Live from LA: Pop Punk Ride
Why you loved them!
1. Ross to the rescue
10/12/20 20 min Relaxing Meditation with Ross Rayburn         
This favorite highlights Peloton's positive impact on overall wellness—not just fitness.
Karen Eindorf Marquez harnessed the power of Peloton Meditation to support a friend in need. She shared that this class was able to offer some much-needed relief: "I'm visiting a friend and while there, there was a family crisis with one of her adult (ish 🙄) children, so it was extremely stressful for her. I made her lie down and Ross to the rescue!"
This class features the song Moth-Like Stars by Max Richter. (If you've taken Ross' Sleep Meditations, you've probably heard this song before…unless you fell asleep!). Together with Ross' soothing guidance, this song's rhythm and descending melody feel like a steady hand helping you safely down a mountain, each moment becoming steadier and more grounded.
Thank you to Karen for sharing this story and recommendation with The Clip Out community.   

2. The Washing Machine Ride!
3/5/20 45 min Power Zone Ride with Matt Wilpers
This is the kind of class that makes Power Zones legendary. To be fair, most Power Zone classes are long and easy with just strategic bursts of the hardest work of your life. But this one justifies the intense reputation–the output graph looks like 45 minutes of being tossed around in a washing machine, hence its comically ominous nickname.
We can thank Jennifer Urbancic Kern (#Reasons2Wine) for pulling this one out of the vault for us. She loves the class for its challenge both physically and mentally, and appreciates the always-stellar coaching from Matt.
"I'm going back a few years to Matt's PZ ride nicknamed the washing machine," she said. "It not only challenges you physically but mentally! Make sure you get a good warmup before this!" She continues, "Matt does a great job coaching on this ride. I may or may not have sworn at him though."
The class includes four blocks of 30-second zone-5 intervals. You might be thinking that sounds manageable. But here's the kicker: The "recovery" between the zone 5s is just 30 seconds–in either zone 3 or zone 4. You are basically working just below a sprint for half a minute and then only backing off a touch… and then going back to a near-sprint and repeating that 5 or 7 times before taking a short break and doing it all again.
This sounds intense, but remember that Jennifer loved it. Sure she felt like she was trapped in a major home appliance and wanted to swear a little, but this was still her favorite class of the week, so it must be good!
If you're new to Power Zones, check out Tom and Crystal's interview with Matt Wilpers where he explains the method behind the madness!
3. A gateway to Saturday 60s
4/1/23 Saturday 60: 2000s Tread Bootcamp with Jess Sims
Jess Sims' Saturday 60 made the TCO Top 5 last week as well. But for the uninitiated, Saturday 60s might be intimidating! Well, this week we were tipped off to what might be the perfect intro to the series.
Debbie Gregg (#DebbieDoes) appreciates that this class is challenging, but not daunting. As she describes it: "When you're thinking to yourself, 'I want to sweat it out for an hour but I'm not looking to have my soul leave my body' this class was perfect! A floor section dedicated to abs and a little bit of everything but nothing crazy. An all-around winner. I never repeat a Sat60 (still have many new ones to do) but this one I will!"
The playlist is an eclectic tour of the 2000s including Crazy in Love by Beyoncé, Don't Let Me Get Me by P!ink, Señorita by Justin Timberlake, Can't Stop by the Red Hot Chili Peppers, and Rollin' by Limp Bizkit.
The boot camp is programmed with three blocks of running, each starting with jogging or easy runs and then building to a few minutes of intervals, speed pickups, or hills.
The first strength block is ten minutes of core work, all on the floor. The second block is nine minutes of Arnold presses, reverse lunges, and reverse flies. The third is an EMOM (every minute on the minute) of lateral steps, swing cleans, and single-arm dumbbell thrusters. The class wraps with a classic plank finisher.
If you're looking for a gateway to the Saturday 60 community, add this to your stack and let us know how it goes!
4. Running workouts explained
4/7/23 30 min Advanced Beginner Run with Matt Wilpers
When you're new to running with a coach, you may be surprised to learn that there are so many different kinds of running! Even athletes who've been running their whole lives might be unfamiliar with the various strategies to get faster or build endurance.
In this class, Jill Courtney (#principalJill) was delighted by Matt's overview of the kinds of run workouts in Peloton's library.
As she explains it: "I picked this class for the playlist but [Matt] did an awesome job of going through each type of run class. There was an endurance section, intervals, and HIIT. Great class for beginners or anyone who wants a fun workout combining all three types of classes."
The class eases in with an 8-minute warmup and then alternates between jogging and running in intervals of descending length, from four minutes long to less than two. The eclectic setlist includes music from AC/DC, Lil Nas X, Tiësto, and P!nk.
If you find yourself wondering how to choose the right kind of Running class, this TCO listener fave might be a good place to start.
5. Live from LA Pop Punk energy!
7/18/23 15 min Live from LA: Pop Punk Ride with Kendall Toole
Kendall is the California-est instructor of them all, so it's no surprise that she got to join the cast of Peloton on Tour: Los Angeles. And thankfully, Peloton managed to include the excitement of the Tour in this Live from LA class!
Past guest Donna Carr (#donnasmiles74) says, "I love the pop punk classes and the energy in this one was amazing!"
This class kicks off with a montage of Peloton on Tour LA, where you can even spot special past guest Melody Baltazar cheering Kendall on in The High Five Crew!
Kendall's love for California and the crowd comes through in this Ride like a big happy hug. She gives love to her mom, who's there in the studio with her, and to the in-store crew, which includes a member who apparently had some happy tears flowing!
The setlist includes pop punk crowd-pleasers from Blink-182, Fall Out Boy, Paramore, and New Found Glory. Kendall packs this short class with a lot of power. It includes a jog, spin-ups, a climb, and resistance efforts. But regardless of the callouts, Kendall's excitement will surely fuel a high-energy workout.
Thank you!
Thank you to all of our listeners for sharing your recommendations and enthusiasm. To see the full list of classes and add your own to the conversation, check out the post from July 24, 2023, here. And let us know in the comments if you try these and find a new favorite of your own!
---
See something in the Peloton Universe that you think we should know? Visit theclipout.com and click on Submit a Tip!
Tune in to The Clip Out every Friday to hear Tom and Crystal's take on this and other hot Pelotopics. We're available on Apple Podcasts, Spotify, Google Podcasts, iHeart, TuneIn. Be sure and follow us so you never miss an episode. You can also find the show online on Facebook.com/TheClipOut. While you're there, like the page and join the group. Lastly, find us on our YouTube channel, YouTube.com/TheClipOut, where you can watch all of our shows.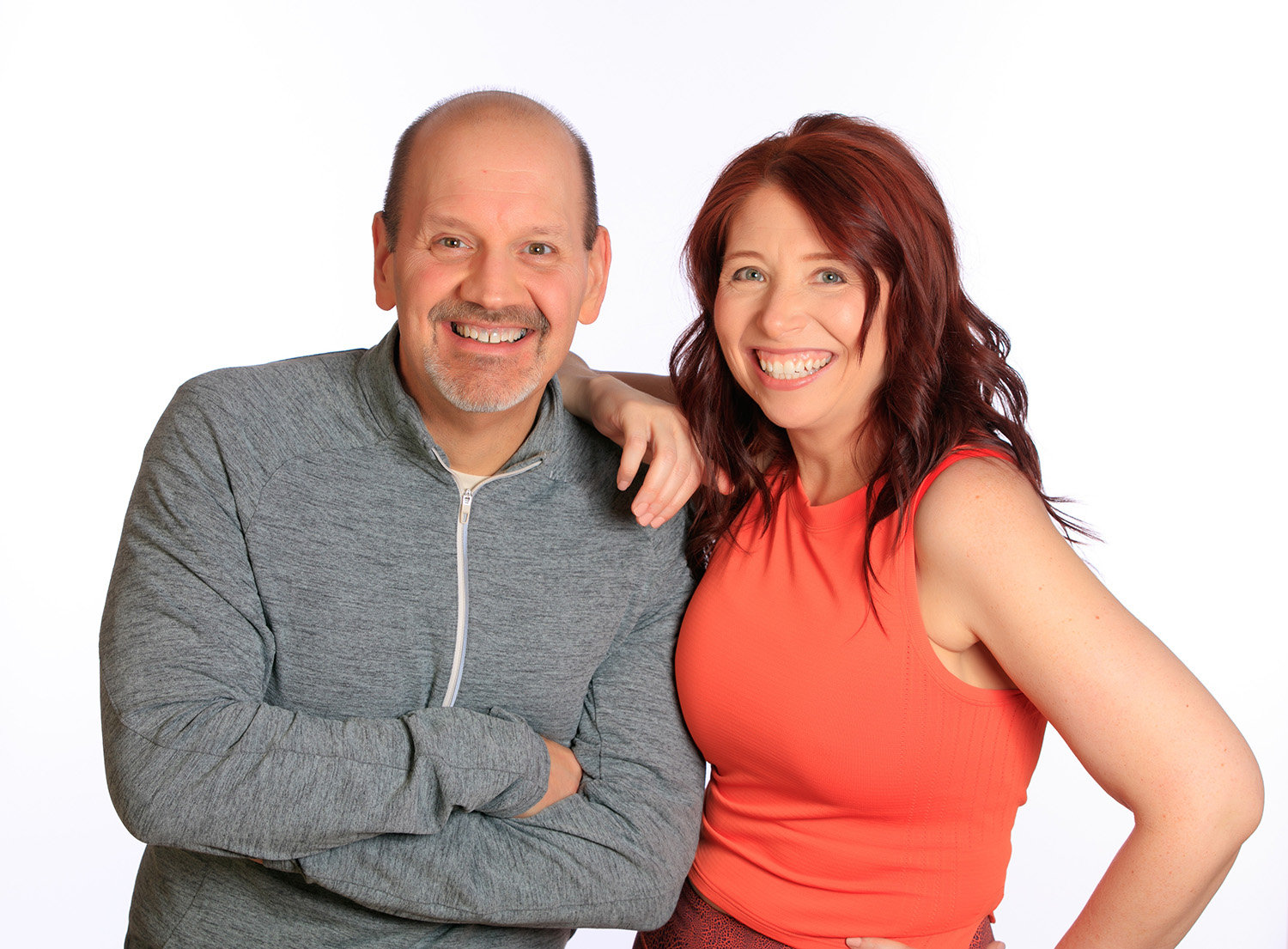 Subscribe
Keep up with all the Peloton news!