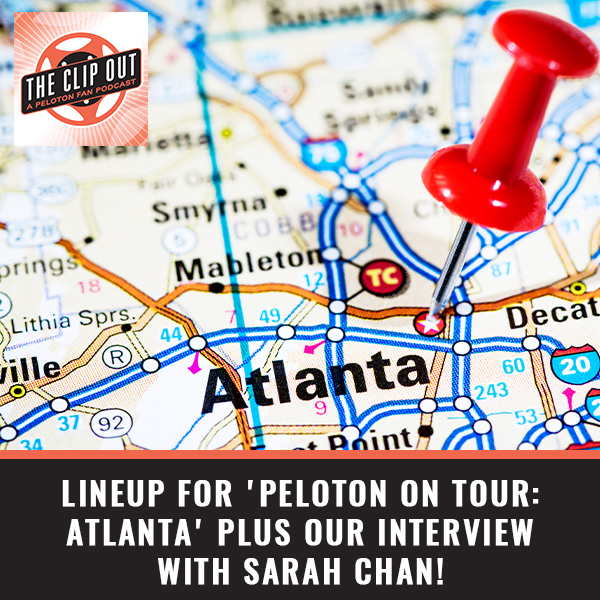 319. Lineup For 'Peloton On Tour: Atlanta' Plus Our Interview With Sarah Chan!
Peloton On Tour kicked off this week in L.A. We talk to Melody Baltazar who attended the event.
'Peloton On Tour' announces Atlanta line-up.
Peloton partners with Liverpool FC.
Peloton drops class ratings.
Lanebreak classes are popping up in On Demand libraries.
Peloton relaunched the hotel finder.
Amazon Prime Video disappears from Peloton beta test.
Peloton On Tour classes debuted.
Graphic Springs examined the design behind the Peloton logo.
News.com.au reviews the Tread.
Becs Gentry sidelined with laryngitis.
Jess King is out on maternity leave.
Alex Toussaint shared a chapter from his new book on IG.
Jess Sims and Kirsten Ferguson will be the Peloton Short Hills store in New Jersey.
Tobias Heinze is training for a 120-mile race.
Susie Chan completed all three Badwater events in one year.
Emma Lovewell's book event at Martha's Vineyard is just around the corner.
Emma celebrated 6 years with Peloton.
Emma, Rebecca Kennedy, and Kirra Michel took a beginner's hip-hop class together.
Ally Love was on Hoda & Jenna spotlighting Taryn Delanie.
Robin Arzon was on the Zone of Genius YouTube show.
Ben Alldis is heading home.
HGTV's Christina Hall is a Peloton fan.
Kevin Costner is getting custody of the Peloton.
Former English football player John Barnes was spotted in a Peloton class.
The latest artist series features Motley Crue.
There's also a new artist series featuring Busta Rhymes.
TCO Top Five.
Peloton Apparel has a new milestone collection.
Helper Bee Tina gave us an overview of Peloton workouts for while you're traveling.
Anna Greenberg has a class un-purged.
All this plus our interview with Sarah Chan!
—
Listen to the podcast here
Lineup For 'Peloton On Tour: Atlanta' Plus Our Interview With Sarah Chan!
I'm grumpy.
I know you are.
Everything I was trying to do with my computer was fighting me.
I do understand that because I feel like that's been my week the other day.
This is different now. Now it's happening to me.
This is why we say the man flu.
I don't do that.
You do it now.
This isn't a flu, but I did get my hepatitis vaccine. I found out that it is a three-part vaccine.
That's annoying.
I think the last one I'm going to skip. That's where they put the microchip in you.
Is that when you get it after a certain age or is that just boys or what?
I'm pretty sure it's not just boys.
My doctor hasn't said anything.
Hepatitis is what took out my mother.
That's fair. I just don't understand when this will arrive in my life.
She got it in a restaurant. I need to be clear. Many people are thinking my mom was sharing needles or a sex worker or something.
It sucks because your mom did nothing risky.
She got it when she was very young, and then it took its toll as she aged. She beat it back in the day and then it took. Anyway, not trying to bring everybody down, but I do know that it affects women because Pamela Anderson had it.
My larger point is when I am going to have to deal with this because my doctor said nothing to me about it.
I don't know if it's an age thing or if they just started pushing it. I have no idea, but when they're like, "Do you want a vaccine?" I'm like, "Sure."
"Why not? I'll add that to my collection."
I will take all the vaccines. Why not? I'm not scared, so I did that. I don't remember that in the morning when I go to take a shower. I still have a Band-Aid on. How about that?
At least it didn't hurt.
I got a Kermit one and a lollipop, so that's good.
Kermit is your favorite.
What pray tell do you have in store for people? It is a little different this week. There's no Dr. Jenn and no Angelo.
I guess we should start there. There's no Dr. Jenn and there's no Angelo because we are going to have a very long episode. We have an interview with Sarah Chan. She's our interview for the week. We then did a second interview, but this one was all about Peloton on Tour. We had boots on the ground, Melody Baltazar. She was there for everything. She talks us through every detail.
In great detail. When we're done with the news, the first segment will be an in-depth look at the first stop of Peloton on Tour.
That way, whenever you're thinking about other events that are coming up, whether or not it makes sense to do, you're going to have a lot more details to go on. We have all of that, but we also have the new Atlanta Tour lineup that we're going to go over. There's a ton of Peloton news. There are all the things. We're going to talk about all of the things.
We got an instructor with laryngitis.
Jess King's maternity leave. We got to talk about that. They're doing lots of things though. There are lots of stuff happening. We also have the In Case You Missed It. We have a bunch of stuff to talk about for the artist series. We don't have birthdays because it's July. Get ready because all the Leos are coming. There's a parade of Leo's.
If you want your child to grow up to be a Peloton instructor, my best advice to you is whatever ten months ago was, don't do it then. There's something about it that makes you not be a Peloton instructor.
It seems like Christmas is a good time for the Leo babies.
People hopped up on eggnog, getting their stockings stuffed.
That's how I got here. I'm a Leo.
There you go. Before we get to all that, shameless plugs. Don't forget, we're available on Apple Podcasts, Spotify, iHeart, TuneIn. Wherever you find a podcast, you can find us. While you're there, be sure and follow us so you never miss an episode. Maybe leave us a review. That's super helpful for the people that come along after you.
There have been a lot of people that have been leaving reviews, but they've been star reviews, not word reviews. We see you and we thank you for that. That is so kind of you to do. We don't get to read those but we appreciate them, so thank you.
You can find us on Facebook, Facebook.com/TheClipOut. While you're there, like the page and join the group. You can find us on Patreon if you like ad-free episodes, Patreon.com/TheClipOut, where you can pay a little bit of money. You get ad-free episodes. If we get them early, you get them early. We record bonus content. We released an episode a few days ago talking about all the different behind-the-scenes changes and things that go into an episode. We spent about 30 minutes or so talking about that.
That is a popular episode. People are excited about that one.
You can also watch all of these episodes on YouTube, YouTube.com/TheClipOut. Finally, don't forget, we throw a lot of links at you every week trying to figure out how to keep up with those. You can sign up for those at our website, theclipout.com. There's all that. Let's dig in. Shall we?
We shall.
—
Peloton on Tour had its first official stop in Los Angeles. We have a nice article here courtesy of Nikki Smith, one of our help bees, Helper Bee Nikki, and all sorts of stuff. You can go read that if you want. We also spoke to someone who was actually there experiencing things firsthand. Rather than recap our article because it's based on things she told us mostly, we figure we would just play the interview and you could check that out. Without further ado, here is our interview all about Peloton on Tour so you can figure out what to expect if you're debating whether or not you want to go to one of the other stops.
—
Joining us is Melody Baltazar. She went to the first stop of Peloton on Tour. She's going to tell us all about it.
Tell us all about it. Welcome. I can't wait to hear. Let's start with you laying out the events that happened versus what you got to go to.
Let me screw this up. What do you mean?
What events were possible to go to over the weekend versus which you got to go to?
I got it. Peloton had events every single day. I know on Thursday as my work computer text me, they had a meet and greet with instructors. It was running every half hour from 12:00 to 5:00, 20 people per. It was very small and intimate. It was quite nice. There was something else that evening. I believe it was the Leaderboard Awards, but I am not certain. It was not anything public. It was an invite-only situation there.
Thursday morning, they did walk and talk with instructors. It was 35 people and two instructors. Apparently, you didn't know what instructor you got until pretty much the day of. In the afternoon, they went out to UCLA. That was not something that they announced until the day or so before. It was unticketed. You just showed up and it was going to be a workout class. As I said, we didn't know that earlier on. That was Thursday and Friday.
Saturday, there were class tapings. They taped some classes for on-demand. Every instructor, I believe did a class. Although some doubled up. They only had twenty spots for those as well. They also have the High Five Crew, which was taped off just like barriers in front of the store. They had monitors out so we could see what was going on with the class. We could see the feed of them recording it, and you just hyped up things.
They also said that they were going to be doing some B-roll for the on-demand classes there, and just getting shots of the crowd and things like that. This is the magic of the internet. I don't know how I got it. I was lucky enough to get meet and greet tickets and also a High Five wristband for 3:00 PM on Saturday. At the time I didn't know it, but it was Kendall's class.
Who did you get to meet?
I met Kendall, Adrian, Katie, and Camila.
Everybody except for Ben.
For some reason, I cannot connect with Ben. I tried so hard. I was excited. I got everyone except Ben.
I was messaging you because you explained to me that they were taking breaks. We were talking while you were waiting in line for things. I went to the FAQ page and I was rereading it. They say in there that there is no guarantee that you will meet the instructors or which instructors you will meet. I thought that was an interesting very blank statement, CYA.
I also noticed in looking on social media of other people who got in that it looked like the pairings were slightly different at different times. They had three stations inside the meet and greet. It was a social station where they could record a video for you or for someone you know, like doing a personalized shout-out on the video, or you could do a GIF with the instructors. You come up with cute little clever poses and they send you a GIF of it. That's what I did. Mine was with Katie, but I saw other people with other people too. I think during the day, they rotated them around a little bit.
That's good.
They were doing the same thing for 5 to 6 hours.
That's a lot. That's interesting. I was wondering when you said you were coming in groups of twenty. Was it just lining people up and taking pictures? It sounds like you get some quality time. 
It did. It was nice because you line up outside. You sign in and they give you one of these little rubber bracelets.
I was going to say, unlike the studio, it says Peloton on it.
It says Peloton on Tour 2023. It's not fancy. It's just written. No logos or anything, and they have different colors throughout the weekend to tell different time zones.
You can't double dip or they're onto you.
Exactly. You got your wristband. You got a little number like a little laminated number. Once it was time, honestly, they were very on time for the 4:30. We started filing in at 4:30. You worked your way into the store. The first section, honestly, is a very small store. They weren't lying about that. On top of that, they had probably about twenty staff members between people selling merchandise for this, people taking pictures, and people helping with the actual running of the stations. Among other staff there, there were twenty of us, the people who bought tickets, but there were at least twenty of them and the instructors. It was a little warm, but that was the only real knock I had on it. They organized it pretty darn well.
I went into the first station. It was just a backdrop and a table that had a chair for you to put your stuff on, which was lovely. My first one was Katie. Katie is an absolute gem. I've not had a lot of time to interact with her yet because I haven't had a chance to row too much. I knew she was from the Bay Area. I'm from the Bay Area. It turns out we know places that are literally street to street where we are. She comes up to you, gives you a hug, and says, "Hi, I'm Katie. What's your name?" Immediately, you feel like you're best friends. She was so genuine. I loved her so much. The other nice thing about being lost, I don't know if other people felt this way, but I didn't feel rushed.
I got probably a five-minute chat with her. Some of it is also because Kendall and Adrian were the next station. They were a little backed up, so I couldn't move forward. I kept chatting with Katie. She didn't mind it at all either, but then the next one came up. That one was the photo booth. They had it set up so that it was a backdrop. It was two parts of a backdrop. They had signs and things. They had hashtag signs on the phone boards for every crew for every instructor that was there. The giant faces, giant Peloton logos, and things like that. No one was using that though. Not here at least. You got a picture. You first got a Polaroid with the instructors. Mine were Kendall and Adrian.
They took a photo with your phone, whatever it is. I walked up and the first thing that happened is Adrian hugged me and my world stopped. Amazing. I then got a hug from Kendall also. I introduced myself. We chatted about things. I mentioned where I was from. It turns out Kendall's dad is from the same city. We got proofing on that and just chatted, got our Polaroids taken, moved over slightly to the second half of the backdrops, and then took the photo with my phone. We just got chatting. I was talking with them.
I asked Adrian how his arm was doing. He said great, and start moving his arms around. Kendall was saying, "Calm down. Calm down. Don't get excited." We got talking about an issue I have with my own arm. He gave a device on what to do to help fix it. He looked at me and opened his arms and gave me another hug. It was amazing to me because I've met celebrities before. I've met a lot of hockey players from the NHL and things like that. Peloton instructors are so sweet and so down to earth. I was hoping that they would be like they are on screen. They really were. It was very nice and refreshing.
I say bye to Adrian and Kendall after I picked myself up off the floor, and moved on. The final station was an intention-setting station. There was a table there with blank cards. They said Los Angeles is on it now. Actually, I have mine right here. it's a little card that you can write your own intention on. I met Camilla. We started talking. I couldn't figure out what my intention was and we were just talking about things. She had given me a shout-out for my 1,100th ride.
I said, "I need to be more consistent on my bike. She says, "There it is. There's your intention. You need to be more consistent." I said, "I'm always there watching you, and you're encouraging me." She says, "I'm watching you too." On my card, it says, "Consistency on the bike is what I'm wanting to do." She wrote, "I'm watching you and signed it for me." Everyone got a signed intention card, then we left. After that, we got a little wooden Peloton on Tour magnetic frame for our Polaroid.
For people that are tuning in, it's got a whole cutout so it can frame your Polaroid on your fridge. When you met Katie, were you allowed to take a picture with her too? Was it only in the photo station area?
I think I could have if I wanted to. I didn't think of it. Also, I figured I got a GIF so I can always post. That's probably why they didn't necessarily scream at you, "Do you want a picture?" I was just enjoying talking to her too much. I wanted that more than anything. When we left, we got the photo frame. We got a sticker that says Peloton on Tour 2023 Los Angeles and a postcard that literally looks like the website image. It was "Live from Los Angeles" with a palm tree and a Peloton logo on the back.
We were off. That was event one. I did not get tickets to the walk. I heard from a lot of people that all they did is they met at the store, and then they walked out to the beach and back because the store isn't a mall. It's an outdoor mall, but it is in a mall. It wasn't like you could see the ocean or anything from the store. It's just a store in a mall with normal things around you. Normal for us. There was a Louis Vuitton down this edge there, and a Rolex store in everywhere that I always go.
That afternoon, they decided to go out to Bruin Plaza. I think they were trying to get more people involved than got tickets because the ticket numbers were so small because of space limitations. They said, "Come out to Bruin Plaza and be ready to sweat." It turns out they did a small workout class there. I did not go. I saw everything online. From what I could tell, it doesn't look like it was very well-attended, but it was also at 2:00 PM on a Friday in Los Angeles.
For me to get there from Santa Monica could have taken up to an hour. I wasn't ready to commit to that, especially knowing that I was going again the next day. I don't know what they did that evening. I'm not certain. I don't even know if they did anything. Saturday was the classes. They started pretty early in the morning. I stayed away because I was trying to pack up my room and get ready to leave, as well as do everything else.
I got there at probably about 1:45 and Camila was doing her bike ride. There were not many people in the High Five Crew. I was surprised. There were maybe only twenty people there. They had a lot of space. They could have fit easily double that. It was also extremely humid that day, which is not super common for that area. It might be that a lot of the locals were saying, "It's too humid. I'm out."
Especially if they got to meet her the day before. They're like, "We're good."
I've also found that people in big cities like New York, LA, and Chicago are jaded. They see famous people all the time, so it's not a draw. I was telling the story to somebody the other day. In my club days, I did a Bruce Willis show. His band came and played at the club I worked at. They had played in Chicago the night before and they were like, "Hopefully, you sold better. We did 200 people last night." We had sold 1,600 tickets and probably we're going to have 2,000 people in the club. He was like, "What?" I was like, "You were in Chicago last night. They get famous people all the time. You're in St. Louis now. It's a big deal here."
It's a whole different world, man.
It was quite interesting because they let me into the High Five Crew for 1:20, even though I didn't have tickets. There was space. I also talked with a lot of the staff on Thursday. They were so excited to hear that I was coming to more events. I ran into several of the people that I'd seen on Thursday. They said, "Come on in. Let me get you a wristband, come in." It was interesting because I was over near the edges of the roped-off areas. A lot of people were stopping by saying, "What's going on? What's happening?" It was so interesting to tell who was into Peloton and who wasn't because some people knew, and other people said, "Peloton? What? Why?"
Those people still exist.
We all hung out in the High Five area. It was great, except we had no audio. The only things we could hear were from the store. The sound coming out of the store is the only way. We couldn't tell what song was playing. We couldn't hear any of the callouts. We had a producer out there waving at us when we needed to cheer and things like that, which is good because we couldn't hear.
You would have no clue.
We didn't know when they were talking to us. The 1:20 finished, and we all hung out. Camilla came out. She took pictures with people and did things like that, just saying hi. Kendall came out for a moment as well because her class was the next one. There was a lady in front of me who had an eleven-week-old Corgi with her.
I thought you were going to say baby. I was like, "Don't do that."
The Corgi was the star of the show. Kendall took her. Camilla took her. They brought her a little bandana and things like that. It was interesting to see a moment grow out of nothing, and how excited the instructors were to see this cute little puppy who was absolutely adorable.
That's good to know that the instructors are interacting with the High Five area because I know a lot of people were dismissive of that. They're like, "I'm going to sit there and watch people take a class. Who cares?" At least now people know in future markets, there's no guarantee.
It's different in every city.
It looks like the rhythm might be some instructors will come out and take pictures and stuff.
Everyone did, as far as I saw, during their times, but they all came out. I saw Adrian giving high-fives as I was walking by.
I heard that in the UCLA part where they did the other workout, they repeated the same process as that morning with the walk. They did a walk from UCLA. My understanding about the walk and talk is they rotated people through. You might start up front with let's say, Katie, and you might talk to her for five minutes, and then you rotated to the back, and the next two people went up and talked to them. They had some of the instructors in the front and some in the back. You got to talk to all of the instructors while you were walking. I thought that was a cool way to do that. As you said, it was very well organized.
Considering this is their first stop, especially, they had it down. I was surprised. There are always a few things that go sideways, but for the most part, it was well run. I hopped in at 3:00 PM and I managed to get in the very front. You do see me in the class, whatever they put. I know I will be there because I saw myself in their stories as well. Kendall came out beforehand and told us it was going to be pop-punk. We all lost our minds because the majority of people there love pop punk.
During her class, she went inside. The producer came out and told us what was happening at this point, "This is what's going to happen. We need you to be excited. We need you to be very animated. Go for it." They started out the ride. Everything started running, and then we started hearing little tiny bits of the songs from the store. We all figured out what they were and sang along. It was like being at a concert. All of us are singing completely off-key probably. That was also another very organic moment. You could tell Kendall could hear it because you saw her on video on the screen responding to it. I told several people, it was more fun than it had any right to be.
That's great because I know people were very skeptical about the nature of this event.
Also, the later in the day it got, the more the High Five Crews enjoyed it. For the 1:20 PM, the producer said, "This was amazing. You were the best," and then 3:00 PM upped it again. He was thrilled. They were all delirious at that point though because it had been a long weekend for them.
I'm sure. Although behind the scenes, I'm sure it was exhausting to keep everything going.
I talked with several of the staff members afterward to tell them how great it was and how much I enjoyed even meeting them. They all were saying, "We're just delirious." I mentioned to them that I'm thinking about going to Chicago as well. They all said, "Please, we want to see you again." It was very authentic people. It shouldn't surprise me because it's the Peloton brand. It was very interesting to see not just the instructors, but the staff were approachable, friendly, and kind.
That's awesome.
How are they doing these classes? Are they basically gutting the store and putting a bunch of bikes in there? Are they doing it on the storefront? Where are they actually holding the classes?
The classes were not actual classes. If you got a ticket, you were a production assistant or something like that. You just went in and got to see what they do to put it together. There was only one piece of equipment. Katie had the rower. Adrian and Ben had weights. Kendall and Camila had the bike so there was only one. You weren't actually taking the class. You were just watching it happen in front of you.
It was like when they film direct to camera. They just drop it, which is I'm sure what they're going to do with these. They're going to take them with all that B-roll footage and then they're going to drop it. It will be special. That will be cool.
It was interesting with Kendall because we saw her flashing an LA sign. One of the people outside said, "You know what they're doing right now. They're taking the little thumbnail clip that will be part of the ride when you get on the bike and you're thinking, 'What class do I want to see?'" You see that little one image. They also told us the B-roll will be in that preview when you go into a ride and you're not sure. You could look at a little bit of it. They said some of the crowd shots would be in there as well.
That's good to know.
It was a lot of fun. It was very exhausting. I only went to two events. Anyone who's on the fence about going to another one of them, if you're local to the area especially, just do it. They're probably going to start adding in more things that are spontaneous. Just because you don't have a ticket doesn't mean you're not going to get anything out of it. The High Five Crew ticketed it, but they were letting anyone in at the end because there was so much space. They wanted to get more people hyped up in there.
It felt very special. I could tell the instructors were also feeling the same way. One of my personal stories is my picture with Adrian and Kendall, I sent it to my husband. My five-year-old daughter saw it. She said, "Kendall, I like her. She's a girl and she has pretty nails." Wisdom of a five-year-old. I told Kendall that on Saturday. I have a picture of Kendall showing her nails to me so I could send it to my daughter.
That's so sweet.
Things like that are not things that you're going to find anywhere else. It's nice that they're spreading the love from not just New York and London but across. I know it's very limited but at least more cities are getting to see some of these people.
I know people were bummed that there was no Homecoming. At the same time, the tickets would've been pretty limited, especially when you view it as an annual event that everyone has to feed into. Also, it's prohibitive for a lot of people to get to New York City. Maybe you don't live in Chicago but you live in St. Louis. That's a five-hour drive. That's not so bad, or you live in Wisconsin. You can get there easier than getting to Chicago. Doing it in different geographic locations at least makes it somewhat easier for people to travel than having to fly from one end of the country to the other.
I drove six hours to get there, and I would do it again in a heartbeat.
That's because California is long. It is like that.
California is very big. It is about 300 miles away from my house, and I still went. There were other people from my area that went as well. What was interesting is they did have specific merchandise on sale for it. I noticed when I got my receipt in the email that there was a tote bag and it was actually tagged as Homecoming. I'm wondering if things had changed at some point or I don't know.
A nurse practitioner is one of those degrees that people can more easily attain because it doesn't cost as much and doesn't take as much time in your life.
Click To Tweet
They just rebranded Homecoming to this. I'm sure they just used the stuff they already had in the system.
It's funny that they didn't reclassify it for their inventory purposes, especially front facing.
That's probably because they're going to do those tote bags and things like that for each city. That would be so many skews to put in the system. I don't know how helpful that is.
It would only be one because I noticed they're all saying Peloton on Tour 2023. You could add a heat press item. You could choose one of three and one of them. As for this one, it was Peloton with palm trees. I got that, but they could use those tote bags anywhere. There's no specific Los Angeles, Chicago, Atlanta, or anything. They could take those and go anywhere they want.
The water bottles said Los Angeles.
They also had the little works project bracelets, and those had Los Angeles.
I know some stuff said the city. That's why I wanted to make sure.
The tote bags did not. I thought that was sneaky.
That's clever.
They save some money.
This has been tons of great information. It's great for people to hear that the High Five Crew area isn't as lame as people might have thought. I get to say stuff like that. It sounded lame and a lot of people were giving it side-eye. It's great to hear that it wasn't lame. It was another way to maybe meet some instructors that you didn't get to meet in the other part, or if you couldn't get tickets at all to that, maybe you still got a shot at meeting some instructors. No guarantees. We only have one under our belt, but so far, 100% of them have done that.
It was interesting to see how excited the staff was too. They are very happy it went off well because none of us knew what was going to happen with this.
Hats off to the events team. It's a lot of work to put that together. That's a huge undertaking to bring all of those people across the country like that. Hats off to the entire Peloton team for doing that. The events team especially. I'm glad that you had such a good time. I know that it's worrisome to walk into a situation when you don't know what to expect. I totally know that. I'm so glad you got to go and I'm so glad you had fun.
Thank you. It makes me want to go to New York and take the class there.
I bet you will.
Someday, I will. We're working on it.
Before we let you go, tell everybody your leaderboard name.
My leader board name is SharxGrrl. You will know it was me because I have a tattoo on my arm that is blurring out. It is a watercolor rubble logo from Star Wars. If you see that, it is me.
I'll let people know. If they're watching on YouTube, it's blurring out because of your background. People are going to be like, "What the hell did she have tattooed on?"
We're not blurring out. That was her background. It's not us.
My office is terribly messy. No one needs to see that.
Melody, thank you again. We appreciate it and enjoy the rest of your day.
Thank you.
—
We now return you to your regularly scheduled Clip Out program already in progress. Peloton on Tour Atlanta has been announced, hot on the heels of LA. We knew it was going to happen, but now we have more insight as to what it will look like.
Scroll down and let's talk about these instructors. We've got Alex Toussaint, Chelsea Jackson Roberts, Jon Hosking, Kirsten Ferguson, Marcel Dinkins, and Matt Wilpers. It's very exciting. There are going to be five different events across three days and opportunities to see the instructors out and about taking in the sights and sounds of the city. As you just heard about in LA, there were visits to Disneyland and movie premieres. You can expect to see the same types of things from these instructors in Atlanta.
I'm wondering what they will do because movie premieres are easy to come by in LA.
I'm thinking music premieres.
That makes sense. I know Atlanta is where they film a lot of the Marvel stuff.
You never know. I feel like Sam Yo would've been involved though.
That's fair. They have that big Marvel studio where they film all the green screen stuff where they can film it in the round.
Maybe they will do a Peloton-casted special post-episode of Ozark.
That's because even though Ozark is set in Missouri, it was filmed in Atlanta, but they filmed tons of stuff there. I know Walking Dead was filmed there.
I was thinking there might be some visits to special music events. I was also thinking that
Paper Boy artist series.
Wouldn't that be cool? There are a lot of sports fans in this particular group of instructors. Maybe they will go see a sports game of some kind.
Sports games are very popular with sports games enthusiasts. I feel like they're doing a good job of mixing instructors. You hate to be crass and be like some are more popular than others, but some are more popular than others. Some have books deal and some don't. Some are dancing with stars and some aren't. I feel like they've done a good job of making sure you've got a couple of big ones, a couple of medium ones, and then then the newer ones that haven't had time maybe to build an audience. That's smart the way they're spreading that around.
It's also interesting because they're taking them from different modalities. You've got Chelsea and we've got our yoga. You've got Alex who does the bike and the tread. Marcel and Kirsten both do the tread. Matt Wilpers does the bike, tread, and rowing. You've got different modalities happening here. I didn't say Jon Hosking. He also does the tread and strength classes. You can expect to see at least strength. I would say a yoga class film. I would say a couple of bike class films. There's a good variety of classes.
Based on our interview, if you're on the fence or if you wanted to go but you didn't get tickets, it sounds like the High Five Crew is the way to go. At least based on our first stop, we have a sample set of one, but they seem to be very interactive coming out and taking pictures with people on the High Five Crew. It's not as silly as people might have thought.
I also would like to point out that there are more events happening in Atlanta over the three days. There are also going to be more rooms for each of those events because the first one was the smallest, and we knew that. There were only 320 tickets that went on sale across all events for the Santa Monica. There's going to be more. I don't know how many more until tomorrow. By the time you hear this, they will already be on sale and they will be sold out. It will be a completely moot point.
If it is sold out, don't discount the High Five Crew. Peloton announced an official partnership with Liverpool FC.
That's Football Club.
I know. I'm not a sports game enthusiast as has been noted multiple times, but I think how soccer teams name themselves is the stupidest thing I've ever seen in my life. It's so dumb. I know Americans are like, "It's soccer. That's not a real thing." I'm not even doing that. I just think it's dumb. It's the city and then the initials of the game we play. Get a mascot or something. St. Louis got an NLS team and they're doing the same thing. They call it City. All I can think about is when my dad was out of work and he just drank Beer. Do you remember the white can that just said "Beer" in Helvetica and black ink?
We may not have had money, but my dad had his brand named Beer.
You got to have priorities. My dad used to drink Stag. I used to always joke, "My dad used to drink Stag when he still got a job." It's like in Repo Man where they ate food and it was just a white can that said "Food" on it. Anyway, that's my pet peeve about football /soccer teams. Your names are lazy. They suck and you need to change it.
We've now got that out of the way. I'm excited about this. I think this is cool because it's the first big pairing we've seen in the UK. The fact that they are the first digital fitness partner is a big deal. I'm hoping we're going to see some players come into the London studio and do some visits. It will be really fun and get people super excited. You know I could care less about sports. I don't care, but I love the fact that people who do love sports are going to have something to cheer about. It makes people feel like it's smart.
Liverpool is now going to be part of Peloton. Do you remember when Cody was on Dancing With The Stars and everybody voted for Cody? Cody could have been the worst dancer on there. He wasn't, that's not what I'm saying. He could have, but we all still would've voted for him because that's what kind of community we are. Now, we're going to be sitting at home cheering for Liverpool. We don't even care, but that's the kind of community we are. This was smart across the board. I love this so much.
I would root for Liverpool anyway because of the Beatles.
I get that. Go, Liverpool.
We were talking about Peloton on Tour a lot on this episode. Don't worry, we won't bog you down with more stuff you've already heard. The Live from LA classes premiered on the 18th if you want to check them out.
They're all pretty short. They're good quick hits for you to get a little taste of what happened in LA and feel like you were part of the action. That's a nice way to do that.
Lanebreak classes are appearing in people's on-demand libraries.
We all thought this was fascinating. You go to the bike and now there are Lanebreak classes that are coming up as your suggestions. The other interesting thing is that you cannot add them to your stack. Some people are salty about that. I can't help but wonder if there will be a way to add it to your stack later. I think that's interesting, but Lanebreak is there now.
It's nice to see that they're pushing on people. There is probably a class of people that think it's silly and doesn't want to try it. They're probably trying to entice people because they're seeing when people do try it like you. You love it.
It's so great. I think people are missing out if they're not doing the Lanebreak.
It's maybe the second-best thing you ever found on the internet. I was thinking I'd be the first.
I was trying to keep in my giggle.
Now I'm second-guessing that.
Now it's out there.
Peloton has relaunched its official hotel finder.
This is cool because now you can do searching for a specific hotel. Before, you could go to a city and search for hotels. Now, you can be like, "Is the Hilton I'm staying at or the Westin I'm staying at have a Peloton?" That's very nice.
I'm sure that will come in very handy. Especially if you're traveling for work, you don't always get a lot of choices of where you're going to stay. If you can't pick a hotel based on whether or not it has Peloton, it's easier to at least go find out if where you were forced to stay has a Peloton. Spoiler alert, Motel Eight does not have a Peloton, or Motel Six Super Eight. I get them mixed up.
Also, make sure you take your correct bike shoes with you because they don't have Delta cleats. They usually have Toe Cages or SPD pedals. Keep in mind that because of the seat-post recall, not all hotels have a working Peloton. You might want to call to double-check that.
People were loving Prime videos on their bikes and treads so it's gone.
A lot of times, with beta testing, they come and go.
Calm down. It will be okay.
People lost their sh*t over this one.
I find it hard to believe that they're selling Peloton stuff on Amazon, but they won't work out some sort of licensing deal with Amazon for Prime Video. That seems counterintuitive. My guess is it's a bug or they had limited room and they wanted to try something else, or they're about to license it but they had to pull it down until it's finalized.
It's something like that. If everybody loved it too much, why would you put something out there that people love and then be like, "Just kidding." I'm pretty sure it's going to be back. We all need to calm down.
You will just have to watch Handmaid's Tale on your couch. Is that Hulu? You will just have to watch The Marvelous Mrs. Maisel on your couch.
I was thinking of Handmaid's Tale. I can't even finish that. I loved that show and now I'm like, "Ah."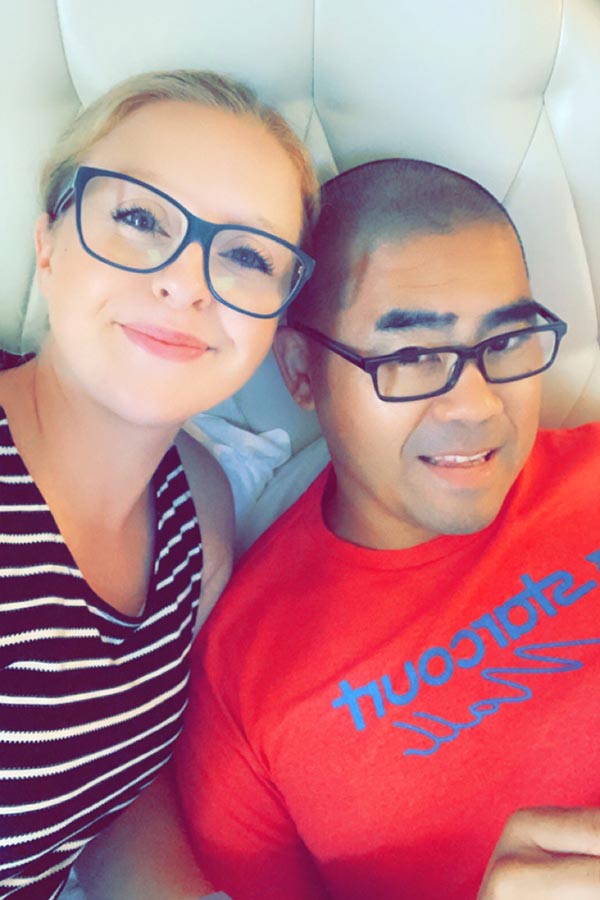 It feels like a slog now.
They ruined it.
It went off the rails.
It got weird.
They needed to wrap that up sooner than they did.
I love Marvelous Mrs. Maisel. Although this season, we're watching and it is a little weird too.
We just finished the second to last one. That was a little hit-and-miss, so we're hoping they stick the landing. If you like to use the class ratings to decide which classes you wanted to take, you were the only one and it's gone. Sorry.
That sums it up. Here's the deal. Everybody was using it, but they were rating each class from 99% to 100%. Peloton took a look at that and they were like, "Why are we doing this?" Here's how people used it. If it wasn't 99.2% or above, it probably wasn't worth doing. That is true but most classes were above that.
I always think that when I get done with the Tonal, it wants you to do the same thing. I think there's been one that I gave a thumbs down to.
I always give my classes five stars. In fact, I do this to everything. I was just finishing up a book the other night, The Plot. I think you bought that one by the way. I saw the ending coming a third way through the book. It pissed me off.
You still haven't beaten my record for Gone Girl.
That was the first chapter.
I was three pages in and I was like, "I know what's up. Is this what's going on?" She was like, "I'm not saying anything."
I didn't say anything, but he knew.
She had to wait for me to get to the end of the book, and I'm a slow reader. It took me like six months. Finally, she was like, "How did you do that?"
I was so annoyed that he did that instantly.
I can't tell you how I did it without ruining it for people, but I did it.
It wasn't like that and I still figured it out. People had rated this pretty highly and I don't understand why. Anyway, I still gave it three stars. It is a lot for me to give one star. You have to suck really bad because the fact that you put yourself out there, you get a star. Only trolls on the internet get a star because they don't put anything out there except for bitching about other people's content. The fact that you wrote a book and the fact that it exists, that's three stars right there. Even if I didn't like it, you're amazing. I didn't do that.
Anyway, that's gone now.
So many rabbit holes today
We're all at the rabbit holes. I'm trying to figure out where I can go to tell people that want to know how I knew what was up with that book.
If you want to know, we could tell that story on Patreon.
Patreon members maybe haven't read the book yet. Maybe we will have a secret post that says, "Tom's Gone Girl story spoilers."
We could do a free Patreon episode. There is a way to do Patreon episodes for free. You can join Patreon without paying money to support us. Maybe we will do a free one.
Everybody, regardless of tiers or whatnot can at least listen to it there. It will be short. It will be 5 or 10 minutes. We will work on that. A website called GraphicSprings.com which focuses on designing logos had a nice little blog post about the thought and work that goes into a logo. In this case, specifically Peloton's logo. Sometimes less is more and keeping it simple, but still being distinctive. It's all the thoughts that go into something like that.
It's a lot deeper conversation than you would think. We're just sharing that. It's a pretty cool little conversation back and forth in article form. I think you might enjoy that.
News.com.au, which is in Australia, had a review of the tread.
We all know this, but they say that it is proof that walking improves health and fitness.
I didn't realize people were doubting that, but in today's world, people love to question science.
It's true. Either way, there was an Australian actress and she credits all of her transformation to Peloton. That's pretty cool. Rebel Wilson. That's who said it.
I thought it was going to be some actress we've never heard of because she's on a big show over there, but instead, it's Rebel Wilson. There's no Dr. Jenn for this episode because of our special coverage feature on Peloton on Tour. We're going to roll right into instructors in the news. We're going to do that coming up after this. You're going to find out which instructor is sidelined with laryngitis. Sit tight and do it quietly.
—
Becs Gentry has been sidelined with laryngitis.
She is unable to teach for the last couple of days. She had some classes that were canceled. People were starting to be like, "What does this mean?" Every time a teacher does that, that happens.
She couldn't tell anybody. She's going around trying to tell people.
I love that she whispered this into Instagram and made the captions. That's amazing to me.
That's what threads are for. It is so you don't have to use pictures or video. That's why you get on the thread.
She probably wanted to do it this way so people could see her and know she was okay.
She's not lying. She needed to prove that her voice didn't work.
We just got an update that Becs had posted earlier. She does not have strep throat. It is laryngitis only, but she is going to take it day by day. She's going to see if she's going to be teaching on Thursday. I'm sure that will be a daily occurrence until she is able to be back and teach.
The only thing I know about laryngitis is what I learned on the '70s era sitcoms. I think what that means is that she will get her voice back in time to sing Oh Holy Night on Christmas morning because Cindy asks Santa for it.
Thank goodness we've got that resolved.
It will all be okay. Speaking of Peloton instructors out for medical reasons, Jess King is officially on maternity leave.
This time, her wife Sophia is the one giving birth and Jess left it a little bit vague that she would be back in a couple of months. The last time, she was out for four months. That could mean four months still. It depends on how a person defines couple.
For some people, a couple means a few or an indeterminate number.
I'm like four is several, a strict several. A few is three, two is a couple, and several is anything more. I don't know. We have no idea. It's vague. We will have to play it by ear. We're going to have to be strong while she's gone. Good luck to the family. There are a lot of people thinking this baby is coming this week and they've got it all planned out according to Instagram. There are a lot of hints about it. I don't know. Speculation.
Alex Toussaint shared a chapter from his new book on Instagram.
It's not the whole chapter. He did a passage about making free throws in life, and how there's a bunch of people and there's a lot of free throws we get. I think that people are looking forward to this book coming out in the fall. We're going to see a lot more of this from the other instructors that are going to be releasing books also in the fall. Now that that's done, can we talk about these slippers? They steal the scene. I could see nothing else. He was talking and I was zooming. I couldn't get my eyes off the slippers. If you were wondering they're UGG slippers. They're very eye-catching. I just had to share that.
Logan will be throwing out the first pitch at a baseball game of some sort.
I believe it's the Mets game. He is throwing it out tonight. That's Wednesday night. I'm sure we will be getting coverage of that very soon. We will be posting about it as soon as we do.
There is an in-store event coming up at Peloton Short Hills, which is in New Jersey.
We've been there.
Do we go to that one in New Jersey?
Maybe not.
I went to the secret stash in New Jersey.
I guess I just thought about it. It didn't happen.
That's coming up on July 20th. I guess it will already have happened by the time you hear this.
This got posted today though. It was so funny because the capacity was limited to 75 people. We posted it and ten minutes later, it sold out. It cracked me up.
It will be with Jess Sims and Kirsten Ferguson. Not that it matters because Crystal sold it out.
I think the people who bought them sold it out. We will have boots on the ground at this event as well. We will have all the details for you. Keep a close look on our Instagram and you will be able to get all the details.
Tobias Heinze announced that he is gearing up to run a 120-mile race TransRockies Run.
This one takes place in the States because it's in Colorado. It takes place over six days. It's 120 miles. It's all trail running, but 20,000 feet of elevation through the Colorado Rocky Mountain. It goes anywhere from 7,400 feet all the way to 12,000 feet. Just mind-blowing. Race is already sold out, so you can't join him, but somebody brought up the fact that you could volunteer if you live near it. That is a possibility. How cool that he's going to do this. I love this. It takes place from August 14th through 19th. For my birthday, I think we should pop out to Colorado. I should meet Coach Tobias.
I think we have enough traveling between now and the end of the year.
It's my birthday. Maybe we could get him to stop by Missouri on his way.
I'm sure he has no problem with doing that. We were talking about the elevation. Do you remember when we were in the Smokey Mountains? We drove to the highest point. You park really close to the top. It's like 500 feet from the top. It's next to nothing in terms of physical distance of how close you are to the highest point, then you walk the remainder of it. It was like getting punched in the dick to do those last 500 feet because the air was so thin, and that's the Smoky Mountains, which is nothing like the Rockies.
We did experience that also when we were in the Rocky Mountains because we went on that train ride all the way up to the top.
The Durango silver tin thing.
I remember running out of the store because we were going to do a quick photo and run out of the store. It's like running in slow motion all of a sudden. I was like, "What just happened?"
Also, a fun Smoky Mountain story. It's fun now. We're driving back down the mountain.
I thought that took place in Colorado.
It was for sure in the Smokey Mountains because I remember we were in our own car. We were going down the mountain or we were coming down the mountain. You kept yelling at me to slow down.
It's nice to have somebody that understands what your workday is like.
Click To Tweet
I didn't yell.
Not at first. I was like, "It's fine. I got it. I will slow down a little bit. It's fine." You're getting mad.
I'm like, "I don't feel like you're slowing down."
"I'm slowing down."
"It doesn't feel any slower."
"It's fine."
This is how it went.
We finally get to the bottom and I was like, "My foot was buried to the floorboard. I could not make that car go any slower than it was. There was nowhere to pull over." I wasn't going to tell you that while it was happening.
It was a good call.
If I was the captain of Ocean Gate, I'd have been like, "Everything is fine. We're going to be okay."
That's the best way to go.
It was like, "There's nothing I can do about it now. I'm just going to hope I can steer this."
That was a good call. We made it out.
We talked about Susie Chan completing Badwater, which is a big deal. I didn't realize until she shared this that there are multiple Badwater races. There are three of them. She completed all three in a year. She's the first European female to do that.
Let's talk about these races. Cape Fear, 50 miles along a beach, Salton Sea, 80 miles running alongside another person, then Badwater, 135, the one she just finished. Not only did she do all three of these in a year, but only 90 finishers have ever done that in one year. She's the first European female. She's such a badass. I just love her.
Well done.
Well done indeed.
Emma Lovewell's book event at Martha's Vineyard is just around the corner.
Did you see who is moderating?
Eddie K. Thomas.
Somebody said that was Finch from American Pie or something. Is that right?
I don't recognize the name.
That's what somebody said. I have no idea if that's true. Apparently, she's good friends with him.
How about that? She grew up in Martha's Vineyard, so she's going to know movers and shakers.
She does, so cool.
Speaking of Emma, she is celebrating six years with Peloton.
At first, I was like, "Really? Six years? That doesn't seem right." I was like, "It is because we interviewed her six months after we started this show. We celebrated our six years six months ago.
The math works on that. We will allow it.
Congrats to Emma. That's very cool.
Happy anniversary.
That also means Denis Morton is coming up next for six months.
While we are speaking about Emma, she attended a Beginner's Hip-Hop class with Rebecca Kennedy and Kirra Michel.
One other instructor was there too. I think Tunde was there. All four of them went to this Hip Hop class together and it was for beginners. If you haven't gotten a chance to go look at their socials, you must. It is hilarious. They all did amazing but it wasn't quite as perfect as they are whenever they're performing for their classes. It's nice to see them struggle a little bit like the rest of us mere mortals. They all had fun with it. It's nice.
Ally Love was on Hoda & Jenna. Is that what it's called? I don't do the morning TV.
Me neither. They are all Good Morning America in my head.
I know. They all blur together, but she was spotlighting Taryn Delanie.
Not only did she spotlight her but later in the day, she did a special interview on Instagram Live or maybe it was TikTok with Taryn Delanie as well. She is a TikTok social media star if you're wondering who Taryn Delanie is.
I don't do TikTok. That would explain why I don't know who she is.
Pretty cool.
Robin Arzón was on the Zones of Genius Pod. It's a YouTube show. I don't know if it also exists as a podcast.
It might. I have no idea, to be honest, but a bunch of geniuses sitting around in a zone discussing things.
Their genius stuff. We didn't watch this. There's too much. We can't watch it all.
I can't, but especially if you're a Robin fan, this is good. In all seriousness, this is a discussion about why we are so obsessed with sports. They all sat down to talk about it from different vantage points. They all come from a background that they have different reasons to have an obsession with it. It's a good discussion.
That's probably why I wasn't invited. They were like, "The genius part, yes. The love in the sports not so much."
You wouldn't have done it anyway because you always prefer to be called a visionary.
That's true. I don't like to be called a genius. I prefer visionary.
Unless they're going to call it a zone of visionary.
I will start my own. We will never talk about sports to show them. Ben Alldis is going home. His New York adventure has come to a close.
Did you see this little caption at the bottom of the screen?
Should I try and do this in a British accent?
God, no.
"Who's had an exciting week of things going on behind the scenes," then two hands.
That's praying hands. Not praying praying, but they like bowing down to you.
"Proud of you," always heart.
That's towards Leanne because you forgot to mention that part.
 Leanne is in the picture.
Here's the deal. That means something is going on with Leanne. There's about to be a big announcement.
Another book? I don't know.
It could be. Maybe something like super good news about cancer. Maybe there's something happening in their little family. I don't know.
She's going to be on British Dancing With the Stars. Do they have that?
I don't know, but all kinds of things to consider.
Watch this space. Coming up after this, we're going to talk about celebrities in their peloton. We will let you know what A-list actor is currently locked in a custody battle over their Peloton.
—
We found out this week that Christina Hall has a Peloton from Christina on the Coast, which is a show according to this article in front of me.
Do you remember where she's originally from? That's what most people know.
I have no idea who this person is.
I watch way too many home improvement shows. She was on a show with her husband, I want to say his name is Tarek. They were like Flip or Flop. They would flip a house. He would pick a house and then she would design it, and he would do all the construction stuff. They had this very large public split. Because their show was super popular, they continued to work together. It was weird. They then went their separate ways after their contract was up. That's the only reason that I know of her. She does have her own show now called Christina on the Coast. I suppose people watch it, but I have no idea what it is or anything about it.
Part of me longs for the day when I could know who these celebrities were. It's also nice because there are so many niche ways for people to reach a modicum of fame. I like that there are so many different avenues for people, but it's also so weird when I'm like, "Here's somebody who's a big deal." and I have never heard the name. It's just weird.
Your leading to this didn't help because you were talking about an A-list celebrity. That's not what this is about.
That's still coming up.
I don't mean that in any disrespectful way to her.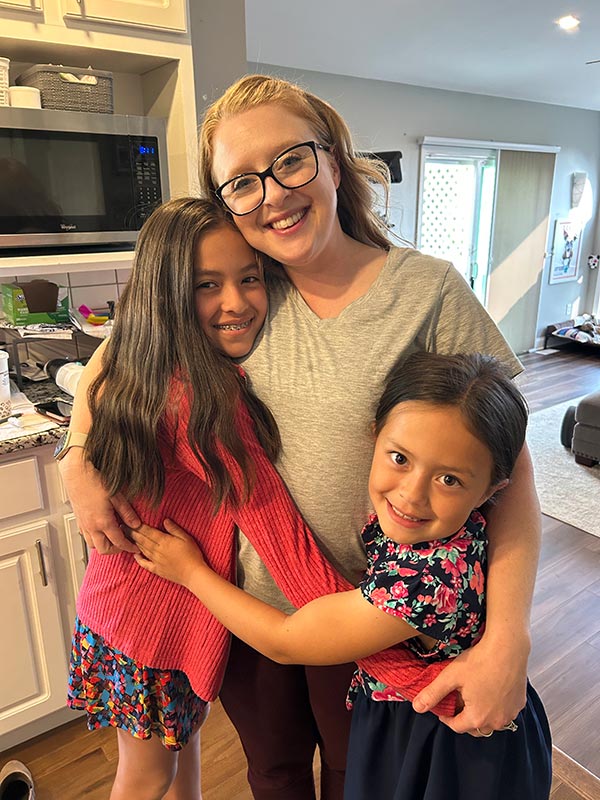 She's certainly not as big as the celebrity we're about to talk about. I think she would tell you that.
The thing is there are so many ways to be a celebrity, but that means there are so many freaking celebrities. You can't keep track of them all. It's impossible.
The celebrity we were talking about is Kevin Costner. He's currently going through a very high-profile divorce. I guess a judge weighed in about who gets the Peloton. For the moment at least, his soon-to-be ex-wife cannot take the Peloton off of the compound.
You know you're rich when you have a compound.
It's one or two things if you have a compound. You're either rich or you're a nut job.
One of those two things is happening.
In fairness, you could be a rich nut job.
You could. They exist far more prevalent than they should be.
When people get rich, they think it means that they're smart about all things instead of whatever one thing that they're smart at that made them rich.
Not that I will ever experience this in my life, but I can understand how being that rich and successful would warp your mind because everybody around you agrees with you.
You can't just say, "I invented this thing or I came up with this idea and I happen to get lucky," because then it means that it's all a crap shoot. You feel bad about yourself because you've got all this money and other people don't. I think there are some people that sit there and start to convince themselves, "I'm superior."
That's true and again, you have all these people around you telling you that you are. There's no way in that situation you can maintain that.
"You can't be smarter than me or you'd have more money." That's not how it always works.
You lose perspective if you're that rich.
Anyway, Kevin Costner is getting divorced.
Speaking of not maintaining perspective, just buy another Peloton. You can afford it.
I didn't bother to read the article, but whatever this fight is about, it also shows you how dumb and petty divorces can get. There is no version of events where either of these people couldn't buy another Peloton. Does she forget her login and it's got to be that one?
I have no idea. That isn't even an excuse anymore because now they have that little QR code.
It's funny how shitty people can get. I remember when I was getting divorced, my dad was saying, "She's going to take this or she's going to take the furniture." I was like, "I will buy a new couch. I just want her gone. It's worth the cost. If the couch is what it takes, she can have the couch."
Buy a couch.
I promise you, spoiler alert, I don't make anywhere near what Kevin Costner is.
You're just a baller, Tom.
John Barnes was spotted in a Peloton class. He is a footballer, which is how you distinguish them from football players.
He's a soccer player. Is what we're saying? When we say English football player, does that mean that he's from England?
I assume he's from England because most of our soccer players don't get good enough to go play over there because they don't play in an ecosystem.
I'm just asking. I don't know.
There's enough competition of that caliber. We don't have the feeding system where that's their baseball. Everybody, that's the dream. You have so many more people trying it and the competition is so much greater. Over here, sometimes there's a cap to how good you can be. I know he does work for ESPN. I read it on Wikipedia, so it must be true. For the people that care about soccer over there across the pond in the UK, they were very excited.
Was he in a UK class or a US class?
I have no idea. I assumed it was a UK class, but I don't know that. Sorry. This is something I found.
Dig a little deeper next time.
I didn't care enough. It was merging Peloton and sports.
I remember when we first started doing this podcast and you would always ask me follow-up questions that I had no idea the answer to. I was a lot less comfortable back then on the microphone.
You'd be very mad with me like, "Stop asking me things." Now she'd be like, "Shut up."
That was just me teasing you.
A little throwback. Kicking it old school on The Clip Out.
For those of you who listened to that far back.
—
The latest artist collaboration spotlights Mötley Crüe. Congratulations to Helper Bee Nikki for going out and spelling Mötley Crüe with the umlauts. Well done.
I want to tease Peloton a little tiny bit. They sent out an email with all the things that were highlighting July. Some child, because you know that it was a child.
Some Millennial that has never heard of Mötley Crüe.
They spelled it CREW. It was like, "You're killing me." I hope that wasn't your summer internship.
I'm like, "Kids today." You then find out that kid is 35.
Not only did Nikki get the umlauts, but she spelled it correctly.
She spelled it CRÜE, which is the proper way to spell Mötley Crüe.
I'm looking forward to that one. It's going to be freaking awesome.
I would think that would be a good class. That would be some high-energy music, except for Home Sweet Home.
There are going to be all kinds of instructors involved, Logan, Dennis, and Andy. I believe Sam Yo has a class as well.
I bet you they were fighting to see who got to teach these classes. That's my guess.
I hope that you're right. I would like to imagine that.
I love me some Mötley Crüe.
Is it enough to get you on the bike?
No, but they suck live. They're so bad during live. They're notoriously bad. It's not even them, it's Vince Neil.
You told me about this.
That's who needs to get on the Peloton.
He did have a Peloton.
He was working on it. I don't even mean that as a weight thing. I mean that as an endurance thing.
You got to breathe.
I have a bootleg from 1984. His problem has always been that he doesn't have the stamina to run around that stage and sing those songs. It's like he sings every third word. He's constantly out of breath. It's brutal. It's so bad. It's a shame because the band I'm sure sounds good. That's why when they had that fight with him and they brought in the new singer named John Corabi, which that album is underrated. It doesn't sound like Crüe, but it's a good record.
They were like, "Let's see this new singer. Van Halen pulled it off. Let's give that a shot." This guy can actually sing and be a good frontman, which Vince Neil always struggled with. I can't even imagine how many splices there were in that tape to take out all the sounds of him gasping for air. It is too bad. Especially for that kind of money, get in shape and sound decent.
At some point, that's laziness because you know you have enough time. You know you have enough money and resources. That's too bad.  The classes will sound amazing.
They will, as long as they don't use live tracks or they use officially released live tracks because they sweeten those up.
You could get a backup singer like a filler.
Some people do.
I know. That's what I'm saying.
That happens. Also speaking of the artists series, we have one featuring Busta Rhymes.
This is going to be a fun one too. He's had quite a long career. I feel like it's very nostalgic having both of these happen in the same month for sure, a little Mötley Crüe and a little Busta Rhymes. Totally different, but both are a lot of fun. I think people will enjoy this one.
—
We've got our TCO Top Five for the week, our listeners' favorite classes.
We got Simple Strength with JJ. This one is from Sarah Clark, a Monkees super fan.
She's on the Zilch podcast all the time, and a former guest.
She loved this class with JJ because it was straight to the point, got all the things across, and took the time for dance breaks in the middle of it.
How about that? She's also a mediocre librarian according to her leaderboard name. She's an okay librarian.
The best way to sober up and start another day is to chill out in a diner and eat pancakes.
Click To Tweet
I assumed she lived in Oklahoma.
That makes sense too. That's probably what it is.
You're welcome, Sarah.
She's like, "I would expect no less from Tom."
Also past guest Christina Riviera, Little Powerhouse. She had a 60-minute '80s run with Susie Chan. This one is outdoor. I have not gotten to take this one. It's from July. She absolutely loved it. Perfect length and enjoyed that it was outside run, bike, lift to 71. Doesn't even need to take the class and knows that she agrees because the fact that it's 60 minutes is huge during marathon training. Amen. That set list includes Bon Jovi. Need I say more?
There you go.
Rebecca Kennedy is up next. She did a Christina Aguilera hike. Jennifer is Jay Jeezy on the leaderboard. She loved this class. Now she says that this class is like taking a hike with Christina Aguilera. That's how good it is. Megan Pace agreed. Loved it so much. We have a 30-minute power walk with my other girl, Mariana Fernandez. Everyone is digging Mariana because she's so genuine. Rebecca Allen says that Mariana's vulnerability impacted her. She loved the walk because this was her first power walk on the platform. She was so vulnerable about the difficult times she's been through and how she overcame them. The music was touching and inspirational. Sandra Vigil loved it as well.
Number five.
We have a 45-minute '90s Hip-Hop Run with Marcel. This took place on 7/16. Lake Erie Mermaid, aka Stephanie loved Marcel's energy. This class offered an extra personal touch that pumped up the volume even more. She created a custom mix that featured the best parts of the song, allowing her to feature more music and harness the most energy from it. That's amazing. Marcel loves her mixes. She's into music. That's cool. Thank you all for sharing. I love getting all these wonderful recommendations from The Clip Out community. You are so freaking cool and very inspiring.
We had a new apparel drop with an updated milestone collection.
It actually never dropped today.
It never came out.
It said tomorrow. We assume tomorrow. Let me check my phone real quick. It still hasn't come out, but they said tomorrow. That was last night. We can assume it's still happening. At any rate, it had an array of colors. All with the verbiage, "More than a number." We think it's going to be a new milestone collection, but we don't know for sure. Surprise. It's coming soon one way or another. Hopefully, it will be out by the time this airs.
Helper Bee Tina did a nice write-up about workouts for when you're traveling.
This is fantastic. So many suggestions, but here's the thing. We've been talking about how Peloton started doing these pulse hour classes. It's Pilates and barre every weekday morning at 8:30 while they're doing a vacation edition. No equipment is needed. You can do any of these classes, barre, Pilates, and core, with no equipment. You can modify it. Even if they do, you could use body weight. How amazing is that? Great way to keep in shape while you're traveling and get your blue dot. Let's not forget that.
Anna Greenberg was the benefactor of a very rare event. A class of hers was unpurged.
This hardly ever happens. I found this over on Anna's Warriors, which you can find on Instagram or Facebook. She's got both. They had a 30-minute sleep meditation in November 2019. Do you remember those days before the pandemic?
I thought everybody could sleep just fine before the pandemic.
Not everybody. The 30-minute sleep meditation got purged, but the purge gods have spoken, which sounds weird now that I say it out loud. It was unpurged. Congrats to Anna and her warriors.
That's interesting. I wonder what happened there. Coming up after this, we've got another interview in store for you. That's our normal scheduled one for this episode, with Sarah Chan. Stick around.
—
Joining us is Sarah Chan. How is it going?
It's going well. How are you?
We're so glad to have you here. I don't know if you know this, Sarah, but I always like to start with getting the history of how people originally found Peloton because sometimes it's a circuitous route. I'm curious how that happened to you.
It was my husband and my sister who ganged up on me in a good way. I graduated from a nurse practitioner school in 2021. That was their graduation present for me. I almost ruined it too because I had been saying, "I want to get a bike. I don't like going to the gym. I want to be able to do it here." I was about to buy a bike on my own because I'm an independent woman. I don't need any man.
There might or might not have been a z-snap involved.
I may or may not have been at Costco with my kids like, "Look at that bike over there." I'm thinking, "I'm going to buy it." They were like, "Get a bike." Out of nowhere, I'm texting my husband about it, "I found this cool bike at Costco." He's like, "You're a psycho. Would you please stop doing that?" I'm like, "What are you talking about? We have been married for a long time. I don't do what anyone says. I don't need your permission." My sister sends me a message, "Buddy, what are you doing?" I was like, "What are you doing?"
"Why are you calling me buddy?"
She's always super busy with her kids and her job. For her to text me out of the blue, I was like, "This is weird." She was like, "I'm here to tell you that while you're at Costco, don't buy a bike." I was like, "What is happening? You people are so sus. I don't get it."
She's like, "They're made with slave child labor. It's made entirely out of COVID and cancer. Don't buy the bike."
She's like, "Check out without the bike. Get the rest of the stuff that you're going to get and check out." I was like, "What is happening?" I'm texting my husband, "What are you two up to? I'm annoyed. I was about to buy this bike." He is like, "How are you going to set it up?" I was like, "I'm going to call my dad."
Tom is going to call you on that.
Time out, Green Bay. I got to flag. You just started this with how you're an independent woman.
I cannot follow directions to put things together.
If it makes you feel any better, I can't put anything together, and I too am an independent woman.
I had it all planned out. I was going to be like, "Dad, I got a bike. Do you want to hang out and have iced coffee with me while you put it together?" My husband was like, "I got you a bike but it's not here yet." I was like, "Where is it?" It was 2021. This was back when Peloton was becoming popular because everyone was home from COVID, and everyone was buying bikes. He was like, "You just have to wait. You're so impatient." I was like, "I'll wait," but I knew it was a Peloton. As soon as it came, I was like, "This is so exciting." We both have been on it ever since.
Did you workout a lot before you got your bike? Were you a workout person?
On and off. It depended on my schedule and how much time I had. I could work out every day. I could go running, lift weights, do all the stuff, and then be a banana slug for two weeks and not do anything.
You have specificity in your slug selection.
I like banana slugs. They're brightly colored.
I thought they were smarter than regular slugs. I thought that's what you meant.
Maybe they are. I don't know.
It's hard to know. Nobody can ask them.
You were becoming a nurse practitioner. I know of their existence. I've been treated by one. What extra goes into that over and above being a nurse? I honestly don't know. One day, they showed up in the doctor's office, and I assumed it was okay, so I let them look at me.
That's a good choice on your part. Nurse practitioners are awesome. We're classified under advanced practice nurses. There are a couple of different advanced practice nurses. There are nurse practitioners. There are CRNAs. Those are certified registered nurse anesthetists. They can do anesthesia. There are certified nurse specialists. They have an advanced degree in advanced clinical training in a certain area. Nurse practitioners are similar. It's an extra two years of school. For me, it was three years because I did it part-time. It is a master's degree although they are starting to look at requiring a doctoral degree for it, which I'm going to probably get eventually.
You have to have advanced clinical training with another practitioner. We can diagnose, treat, and prescribe medications pretty much at the same level as a physician, although we do have our limitations with certain procedures, what we can charge, how we can bill, and things like that. Usually, we work with a physician but nurse practitioners can practice independently, at least in New York State, after three years or 3,600 hours of practice. They can practice independently.
I didn't know that.
I know a lot of that. I do know enough to know that a lot of that varies from state to state because as they were getting phased in some areas, it was a very controversial idea.
In Missouri, there have been some changes. It's led to a little dust-up.
There's some animosity in some parts of the medical world toward APPs or Advanced Practice Providers because physician assistants practice on the same level as we do but there's a very large shortage of physicians probably because med school costs a scrillion dollars. Who wants to be in debt for the rest of their life? I don't have any debt because I paid it off. It's pretty awesome. I can work and take care of my family.
It's one of those degrees that people can more easily attain because it doesn't cost as much. It doesn't take as much literal time in your life, but they do tend to clash although I haven't experienced as much of that. Honestly, I see more of it on Twitter than I see in person. There's a lot of nurse practitioner hate on Twitter. There are also physicians who are super supportive and willing to work with us and educate us, which is awesome.
There's a lot of hate in general on Twitter and social media.
Although it seems like there are fewer and fewer people on Twitter every second.
Threads came out, and everybody is jumping ship. It's pretty funny to watch.
It's great that we have such a system in place for doctors to be real and authenticated and go through a legitimate educational process. Also, maybe we overcorrected a smidge by making it so difficult. At the beginning of doctors, if you go back to the early 1900s, the path to being a doctor is going, "I'm a doctor."
"I robbed a couple of graves and cut up some dead bodies."
"I'm an expert."
That's all it took.
We didn't know anything about the human body back then. I have a great nurse practitioner that I see for my women's health. I've seen her for years. I love her. She's nice, and she always remembers me. She's not a doctor but she's a doctor that you want to come in, talk to you, and have a good conversation. I'm not in and out in 30 seconds. I feel cared for. I love nurse practitioners. Thank you for what you do.
I love that you have a great experience. That's awesome.
Am I wrong in assuming that based on my small anecdotal evidence, nurse practitioners tend to be more female?
Statistically, you're probably correct because nursing itself is a more female-dominated profession. On the other side of that are probably physician assistants. I have no data on this right in front of me, but physician assistants may statistically gear more toward men. My husband is a nurse but he is one of very few that I know compared to how many female nurses I know.
This is interesting. You both are nurses. How does that work in your household? Is that stressful that you both have the same job? Is it cathartic because you can vent to each other? How does that work?
More importantly, on Halloween, which one is the sexy nurse?
It is definitely me. I'm usually in scrubs. I'm tired. My hair is knotted on the top of my head. I'm like, "Don't even look at me." It's very cathartic. We have both practiced in similar areas of nursing. We have both done ICU, progressive care, and cardiac nursing. We understand a lot of the same things. When he comes home, sometimes he will get me geared up, text me on his way home, and be like, "I hope you're ready because I have a story for you. You're going to hate this." I'm like, "That means I'm going to love it." We can vent to each other. It's nice to have somebody that understands what your workday is like. I hardly ever get tired of talking about nursing with him because he is incredibly smart and insightful. It's nice to have somebody to banter and talk with.
I know that nurses have demanding schedules. I don't know if that's the same for nurse practitioners. It probably depends on your area of care. I heard ICU in there. I don't know what you're doing now but I know that's very demanding. How do you fit schedules for working out, especially with both of you sharing a bike? How does that work?
We have managed to work mostly opposite shifts. We got married in 2010, and we had our daughter in 2011. We went the opposite after that because with working twelve-hour shifts, it's easy to flip-flop back and forth. We save our workouts for the days when we're off. We were both here. I am usually the one that can't workout first thing in the morning because I'm too busy drinking an entire pot of coffee.
He is up at 6:00 AM, getting the kids ready. He is the mom most of the time because I'm passed out. He usually works out earlier. He gets cleaned up and does whatever. I workout and get cleaned up. Usually, by then, he is ravenous, so we get something to eat. We almost do it the same way every time. He will tell me that he is working out, or I'll hear Cody Rigsby yelling from the basement. I'm like, "He must be working out."
You had kids. I'm curious. As nurse practitioners, does that mean that you're super vigilant about the kids? Are you so jaded that you're like, "Lick a doorknob. Build up some immunity. You will be fine."
Pretty much. We're pro-vax. Our kids are vaccinated. They eat their vegetables but also, I don't want to say we're super anti-clean because we're clean. He probably worries more than I do. He will be like, "Wash your hands before you eat." I'm like, "What's a little dirt?" I will eat food from my garden with dirt on my hands. I never get sick. It's awesome. Neither one of them has ever had an antibiotic because I'm like, "It's probably a virus. You will be fine. Take some Tylenol." We're relaxed about stuff.
The only time we have been to the emergency room was my little one who is a carbon copy of me with brown eyes. One time, she swallowed a metal marble. We needed an X-ray to make sure that she did tell the truth and swallowed a metal marble, and she did. The other time, she needed stitches on her forehead because she did the whole jumping on the couch when mommy said no, right on the coffee table there. We got her some stitches but other than that, they're pretty healthy. We leave them alone. They're going to be kids. They're going to pick their noses. Their butts are never going to be fully clean. It is what it is.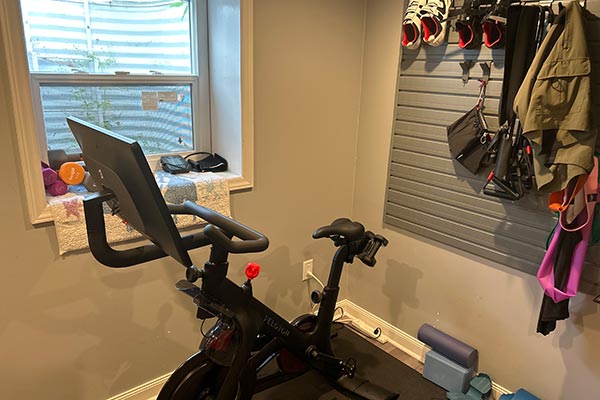 Have you ever been to the Peloton Studios since it opened?
I haven't but that would be so cool. I would love that. I'm hoping for my 1,000th ride or something, my husband will creep on my Peloton thing and then be like, "Let's go to New York City." I'll be like, "For what?"
Maybe what you should do is start to buy yourself a trip to New York to go to the Peloton Studios and then wait for that text from your sister, "Buddy, what's with that New York trip?" Where do you live in relation to New York?
We used to live a lot closer. We live in Syracuse, New York. That's my home. That's where I'm from. We have been here since 2016 but before then, we lived in Stamford, Connecticut. It would have been easy to hop on the train and go right down to New York City. Now, it's a drag. We could always drive to his family in Connecticut and then hop on the train. It wouldn't be too far but it would be worth the trip for sure.
We live in St. Louis. We have no sympathy for your, "It's so hard to get there."
You would have to drive for a while.
I'm not driving that far. I will fly but it takes forever. First, you have to get in and then do the flights. It's a whole thing to make it. Back in the day before the pandemic, it was so much easier to get into the studio. Now, it's a lot harder.
Where is the studio? Is it in Central Square?
It's in Hudson Yards. It's in the big building of Hudson Yards. It's right around the corner but it's in that same complex around there. It's a nice facility. It's worth doing. It's beautiful.
It's so funny because I'm not familiar with New York except for what's been on TV. Whenever you say Hudson Yards, and people know what that is, I would only know that because Peloton is there.
That's the only reason I know.
I know a couple of random places in New York City because I had friends that lived in New York City and that were travel nurses in New York City. The only time I went there was to go and drink because the bars in New York City are open later than they are in Connecticut.
We have a son going to school in Connecticut. I'm glad to hear that.
It's great.
They close at 2:30 sharp in Connecticut.
That's better than here. We're 1:00 AM.
New York City is 4:30 AM. You finish drinking and then get breakfast.
We did that one time.
It was so much fun.
We got pancakes at Big Daddy's. It was amazing.
They were the size of my head. They were huge. We were so liquored up, or at least I was.
The best way to sober up and start another day is to chill out in a diner and eat pancakes the size of your head.
It was so weird to walk out in the street because it was 4:00 in the morning. The streets were empty. As someone from the Midwest, I was like, "I didn't know the streets ever got empty. That's so weird."
He was like, "I thought the city didn't sleep. Lies."
That's what they say but everyone has to sleep sometimes.
Here's something that will blow your mind. I used to work at a bar/concert club. It was open 24 hours a day, and it had a 24-hour liquor license. It was across the river in Illinois. In Illinois, there's no state law preventing you from getting a 24-hour liquor license. However, most municipalities and local cities won't let you get one because that's insanity.
It could cause some problems.
The bar I worked in was run by the people that the town was named after.
They could pull some strings.
There's some string pulling there.
They owned all the businesses in the town. There had never been a mayor of this town that hadn't been in that family. They owned the whole town. They were great to work for. I'm not even complaining. They could do whatever they wanted. It was 24 hours a day. It was three different bars. When all the bars shut down, people would come to this place because it was the only place in town that was open. From 7:00 to midnight, we would do concerts. We were a concert club. We would do Megadeth and Fall Out Boy. This was twenty years ago back when they were still a club act.
I love Fall Out Boy.
We have Evanescence and all these bands before they were cool. During the day, there were all these factories around us. We were a neighborhood pub. People would make lunch every day.
All of the factory night shifters were like, "It's time to drink."
They would come in for lunch. They would make lunch every day. It was like school, "Today for lunch, we made lasagna. Eat it or eff off." That's what it was. Every Thursday, they made fried chicken, and it was so good. It was a weird setup. Twenty-four hours a day, they were slinging beer at pubs.
Back to Peloton, you mentioned Cody Rigsby. Do you have a favorite instructor?
It's a tie between Cody Rigsby and Emma Lovewell. They're pretty much the two that I mainly go with. Every once in a while, I'll do an Ally Love ride but Cody Risby and Emma Lovewell are the same age as me. I'm 36. I'll be 37 in November 2023. The whole '90s and early 2000s pop and everything is my jam. It gets me going. I have a special place in my heart for Emma Lovewell because she is half-Taiwanese, and my husband is Taiwanese. I'm always like, "Asian girl power." I love it so much. Sometimes my kids will come downstairs and go, "Is that the half-Asian girl like us?" I'm like, "Yeah."
That's awesome. That's so great.
They're my favorite. My husband does a lot of Cody Rigsby, Emma Lovewell, and Alex Toussaint. That's pretty much it. We have gotten into a groove where we're afraid to go outside of it, "I don't want to try anyone else. I only like them."
It's the stages of Peloton. At some point, you will be like, "I need to try somebody else for variety. I'm not feeling it." For whatever reason, you will be in a bad mood, you will have something happen. You will be like, "I need to try somebody else."
Is that how it works? I'm worried about our marriage.
It's only Peloton. You're good. You will then get comfortable trying other people at regular intervals. Right now, you're only in the, "I only want these instructors." That's a perfectly good stage to be in.
I'm glad to know that it's a normal thing because I'm like, "Am I missing out on the rest of Peloton? Tell me the truth."
There's a lot out there but you're good. There's plenty of time. That's the thing. There's no rush. You can do it as you want. On that note, when time allows, one of the best ways to try out all these different instructors is to try some Pilates, barre, or strength. You still kept your core instructors, the ones you love. That's who you always go to on the bike but now you can sprinkle in the others by a five-minute class here and there.
I've done a yoga class before. I cannot tell you who the instructor was but it was nice because my muscles felt tight. I was tired, and I felt like doing a cardio workout. That was nice. I've done a bunch of the stretching ones too. Every once in a while, I get a Leanne Hainsby or Robin Arzon stretch because when it comes up after, I always feel peer pressured. I'm like, "Should I do ten minutes more?" I end up on the bike for an hour and a half. My kids are like, "I'm starving." I'm like, "I still haven't stretched yet." It works every time.
That's what they're counting on.
Have we asked your leaderboard name? I don't think it has come up.
It's the same as my Twitter name. It's SarahToninFNP.
I like that. That's great.
We should probably ask your husband's leaderboard name so he doesn't feel left out.
She doesn't know it.
He's so annoying. He changes it once a week. Now, it's PeloTony46.
He changes it all the time, and he landed on PeloTony46. I thought it would be something super creative.
I don't how he do that. He was PeloGrannyRuth. He had some old Asian woman as his picture. He was like, "I want to beat guys in their 30s and have them feel bad that some old Asian lady beat them." I'm like, "Whatever floats your boat."
I assure you that worked. I bet if you search the OPP, there was a post about it, "This lady passed me. I'm so mad about it. My settings can't be right. This is bullcrap." That's how that went.
He got one of his best outputs. He was like, "I got over 500 with PeloGrannyRuth." I was like, "Maybe that's who you're supposed to be."
That's a great response.
I guarantee you he probably triggered some want-to-be alpha males.
They're going to be better versions of themselves now.
There probably couldn't be a worse version. Do you have any advice for people who are just now getting a bike?
Keep at it, especially the first week when you feel like you broke your butt. It's worth it because when you look at your butt in the mirror, then you're like, "It looks good."
Keep at it with your Peloton, especially the first week when you feel like you broke your butt. It's definitely worth it because then when you look at your butt in the mirror, it looks good.
Click To Tweet
You're like, "My butt is breaking hearts."
It's breaking traffic laws and everything. Keep going. In my case, I found that I liked Cody Rigsby and Emma Lovewell because I chose the rides with the music that I liked, and that kept me going. I was like, "I'm going to miss my streak for the week." I made space and time to get on the bike because I'm competitive, and I didn't want to lose my streak.
Thank you so much for joining us. We greatly appreciate it. Before we let you go, remind everybody where they can find you in all the places if you want to be found.
I keep getting confused between my Twitter handle and the actual Twitter handle because it is @MomRobe. I made it on the couch when I was sitting there in my bathroom. I was like, "I'm a mom in a robe." It says SarahToninFNP. I was going to do actual serotonin because of the chemical but then it turned out that way, and I was like, "I'm toning too. I win."
That's a good name.
I can't be like my husband and change it every week because I can't let anyone else have this name.
It's a good one. Don't let that go.
Thank you so much for taking time out of your day to join us.
Thanks for talking to me. It was so nice to meet you and so cool to hear about this Peloton fan show. It's awesome.
Thank you.
—
I guess that brings this episode to a close. Until next time, where can people find you?
People can find me on Facebook at Facebook.com/crystaldokeefe. They can also find me on Instagram, Twitter, and the Peloton leaderboard @ClipOutCrystal.
You can find me on Twitter @RogerQBert or on Facebook at Facebook.com/tomokeefe. You can find the show online on Facebook.com/TheClipOut. While you're there, like the page and join the group. Don't forget our YouTube channel at YouTube.com/TheClipOut. That's it for this one. Thanks for tuning in. Until next time, keep pedaling and running and rowing.
Important Links
Love the show? Subscribe, rate, review, and share! https://theclipout.com/