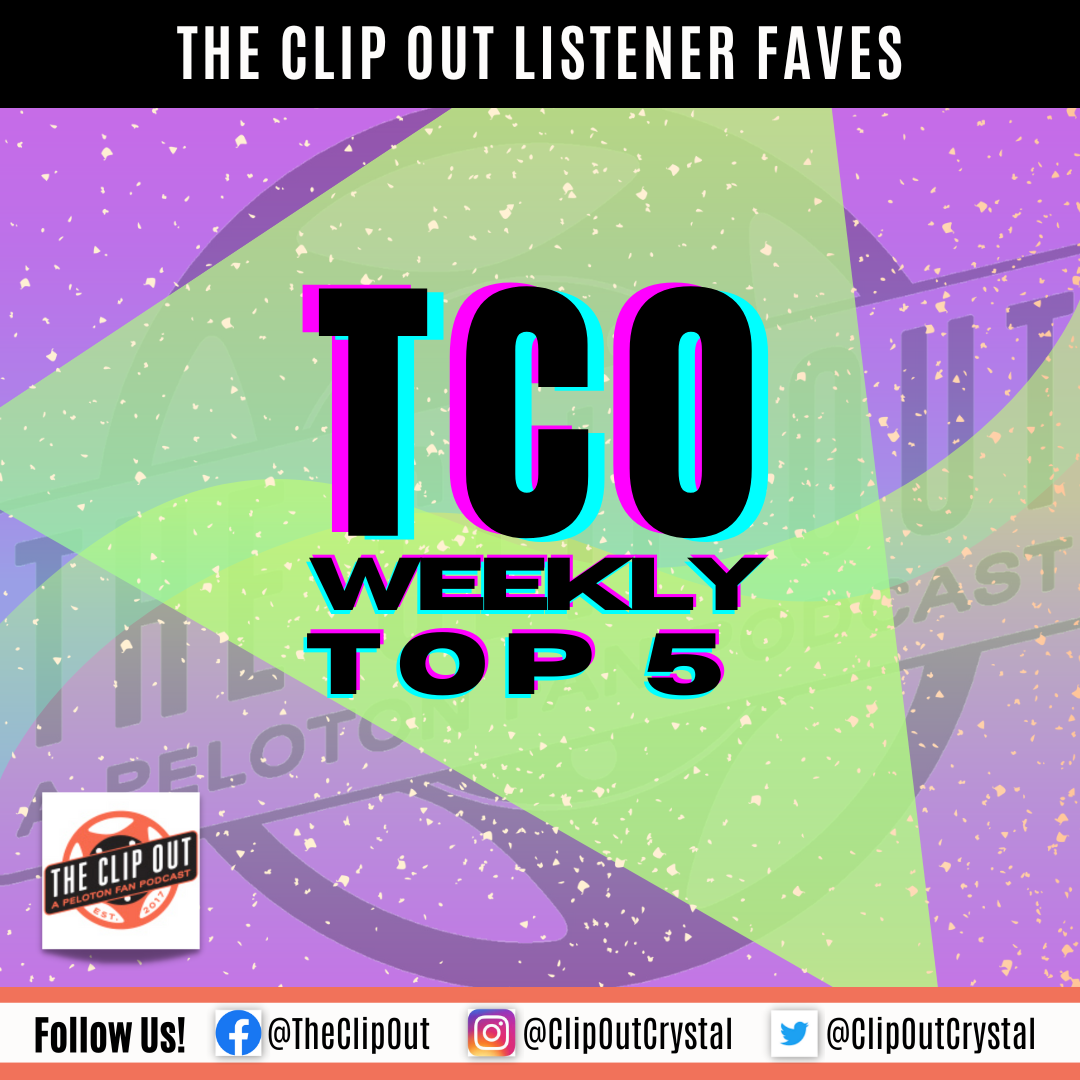 TCO Top 5 Favorite Peloton classes: Stay motivated with this week's picks (9/11/23)
The Clip Out Facebook Group had a lot of fun with All For One 2023 this week, but they pulled some gems from the vault too. We're sharing this week's five most enthusiastic class recommendations (in no particular order) from our community, along with a quick summary of each class. Read on for our weekly dose of motivation!
This week's favorite Peloton classes:
Three Salt-N-Pepa All For One classes!
Why you loved them!
Sometimes it's hard to pick just one favorite, but these reviews make it easy. Here's what the TCO Group had to say about their favorite classes from the last week.
1. Favorite Peloton Stretch
8/3/23 10 min Barbie Full Body Stretch with Adrian Williams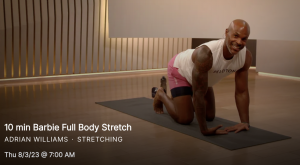 Stretching is important, but let's be honest—it's not always our favorite. But this week, it was exactly that for listener Greg Cochran.
 "The best class of the week in my opinion is Adrian Williams' full body stretch from the Barbie collection on 8/3/2023," he said. "The stretch is so calming, very reflective, and the music is spectacular! The way in which Adrian flows from one motion to the next is seamless and achieves everything you need in a 10-minute stretch."
The class is a straight-forward 10 minutes of full body stretching set to the Barbie movie soundtrack, including songs by Lizzo, Billie Eilish, and The Kid LAROI. Add this class to your stack to make sure you get your stretch on after your next workout.
2. Favorite Peloton Tread Bootcamp
4/29/23 Saturday 60: 2000s Tread Bootcamp with Jess Sims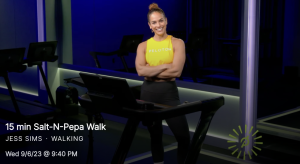 Stacking classes for a well-rounded workout is great, but listener Cassie Giebler knows that the space between the end of one class and the beginning of the next gives her the perfect chance to quit before she's done. That's why she's on a mission to complete all 60-minute Bike and Treat Bootcamps.
Cassie's favorite class this week was Jess Sims' April 29, 2023 Saturday 60 Tread Bootcamp.
"I like the hour because then I am committed. I will stop after 15, 20, 30 min if I can. Just trying to push myself. They really go by fast and are fun and very challenging," she said.
The Bootcamp playlist is pure fun with hits from the 2000s, including Telephone by Lady Gaga, Seven Nation Army by The White Stripes, and Beep by The Pussycat Dolls and Will.I.am.
The class is programmed with 6 10-ish-minute segments alternating between the Tread and the floor. Jess prescribes two sets of dumbbells, something light (10-ish lbs) and something moderate (15-ish lbs).
In a vulnerable moment during the warmup, Jess shared that she'd taken a few weeks off before this class to focus on some personal priorities. She reminded everyone that time away does not mean your fitness journey is off track—it's just taking a different path, and that's okay. She did take class a little easier than normal, but that doesn't mean you have to. Either way, like Jess always says, you do you and "No ego, amigo!"
3. Favorite Peloton All For One artist: Salt-N-Pepa!
9/6/23 10 min Salt-N-Pepa Dance Cardio with Jess King
9/6/23 15 min Salt-N-Pepa Ride with Ally Love
9/6/23 15 min Salt-N-Pepa Walk with Jess Sims


The Clip Out Group had so much to say about these three Salt-N-Pepa All For One classes. We couldn't pick just one, so we are sharing all three!
About the Dance Cardio class, TCO Helper Bee Lindsey Kelie says: "My favorite class I've taken so far of AFO was Jess King's quick little 10 min SNP dance cardio. It was just exactly the perfect bite-sized warmup for anything else you'd want to do. And if you are my age… the music and the moves took you right back to middle school. Wasn't cool and couldn't hip hop dance then; much cooler now but still can't hip hop dance. But it was doable, even for me. Her outfit was on point and OMG the braided fauxhawk she had going on was amazing. Also, the shoes."
Listener and past Superset guest David Stember loved the Ride: "Ally love's Salt n Peppa ride is a gem. Take it as a 15 min warm up. She's infectious and clearly knew all the words, etc."
Marie KBurdick's favorite was the Walk: "Jess Simms salt and pepa walk. 15 min was way too short. It felt like a party the whole time."
If you really want to maximize the Salt-N-Pepa party, stack all three for a perfect hip-hop cardio session.
4. Favorite Peloton Run/Walk
9/9/23 30 min Katy Perry Walk + Run with Andy Speer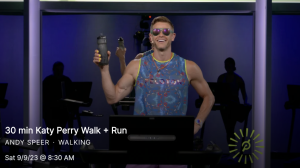 Melody Dillon's favorite class this week was another All For One party of a class, this time with Katy Perry.
"[Andy] totally pulled [this class] off—from his outfit to his comments on the songs! I loved how he made comments about what it was like to be at a Katy Perry concert and made it feel like you were a part of it!"
Crystal totally agreed with Melody, adding, "I took this one this weekend. The playlist was perfection and he was so into it! Great energy. Loved it!"
The class alternates equally between walking and running and is designed to align with the music, which includes Katy Perry classics Teenage Dream, I Kissed a Girl, Hot N Cold, and Firework. Andy specifically says he is not calling out pace targets and is instead indicating whether the effort is a walk, jog, or run. He does, however, encourage lots of singing!
5. Favorite Peloton Unstackable Ride
8/24/23 30 min 80s Ride with Cody Rigsby|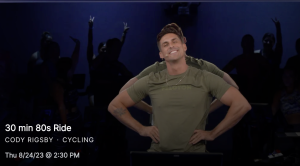 Sometimes we want a class that leaves us in a puddle and washes all hope of a stack of extra classes away with it. We call classes that really empty our tanks Unstackable, and we love hearing about our listeners' Unstackable experiences.
For this week's "Unstackable" recommendation, we heard again from Michael S. Davern, but this time with a surprising nomination.  
"[I] have to put Cody, of all people, on the unstackable list," he said. "Cody is supposed to be talking about Britney Spears and the relative merits of the various boy bands," he joked, "but during the back half of [this class] he had us climb the ladder from 45 to over 80 before giving in to a break. "80s" is supposed to be the time period, not the top end!!! Cody can be sneaky hard when he wants to be."
So if you're up for a new take on Cody, or for a try at 80+ resistance, give this class a go!
Thank you!
Thank you to all of our listeners for sharing your recommendations and enthusiasm. To see the full list of this week's classes and add your own to the conversation, check out the post from September 11, 2023, here. To see past weeks' Top 5 classes, visit TheClipOut.com and search TCO Top 5. If you try any of the recommendations and find a new favorite, we'd love to hear from you!