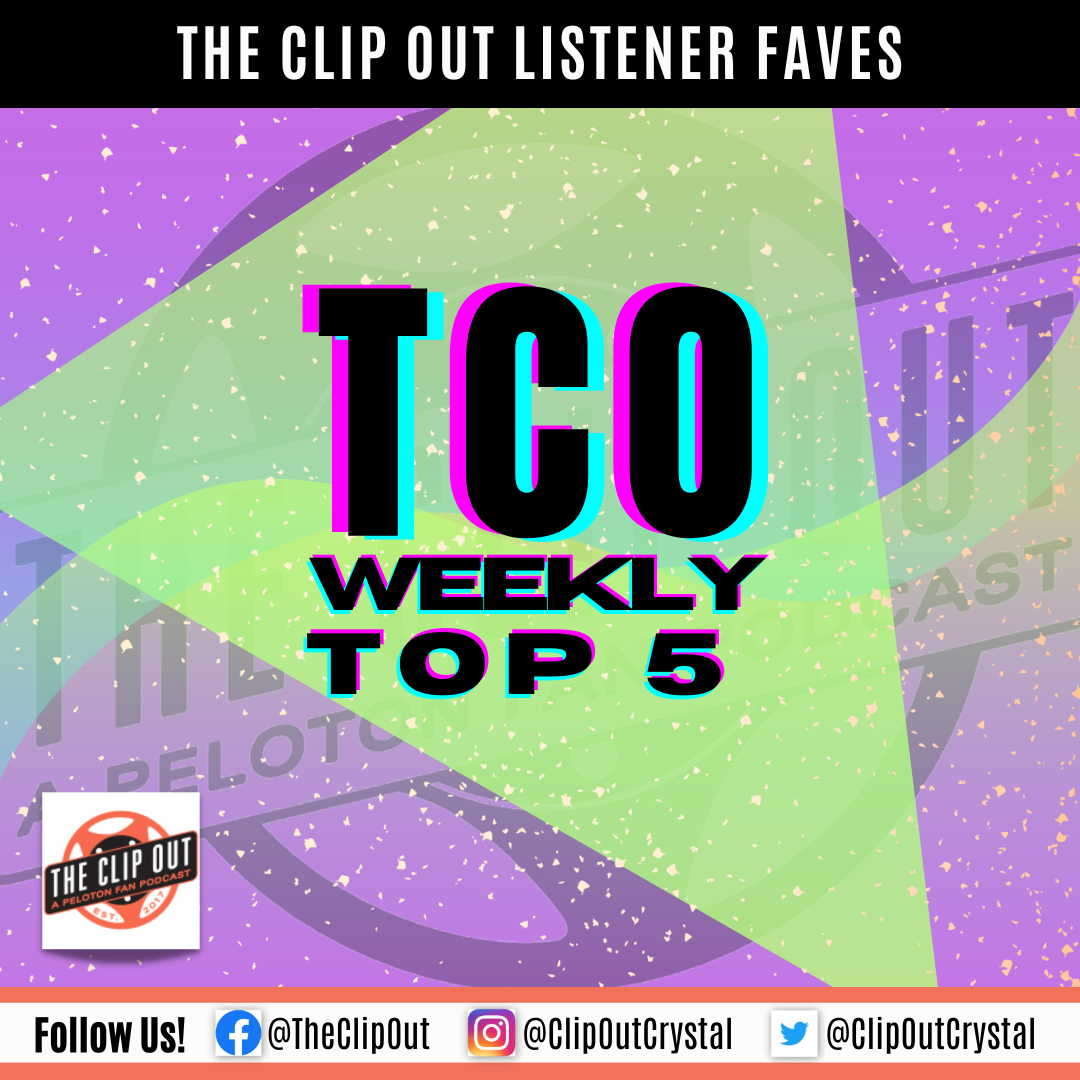 TCO Top 5 Favorite Peloton classes: Stay motivated with this week's picks (10/2/23)
The Clip Out Facebook Group shared their favorite Peloton classes with us this week, and they were all about the rides! And one super soothing meditation. We're sharing the five most enthusiastic recommendations from our community (in no particular order). Read on for our weekly dose of motivation!
This week's favorite Peloton classes:
Why you loved them!
Sometimes it's hard to pick just one favorite, but these reviews make it seem easy! Here's what the TCO Group had to say about their favorite classes from the last week.
1. Favorite Peloton Foo Fighters Ride
11/17/21 ​​30 min Foo Fighters Ride with Emma Lovewell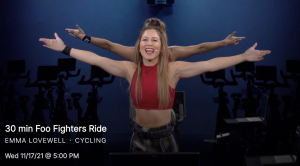 Paul Kittinger was inspired to revisit a class from two years ago, and it was even better the second time around.
"I just finished Dave Grohl's book, so I retook Emma's Foo Fighters ride from 11/2021. It was excellent, better than I remembered. All bangers. (Dave's book is also great, totally worth a read)."
This class has been taken over 250,000 times, and for good reason. Emma exudes a natural connection to the music. Her playlist features nine Foo Fighters rock hits, including All My Life, Monkey Wrench, Times Like These, and Everlong. If you missed this Artist Series the first time around, be sure to give it a try while it's still in the library!
2. Favorite Peloton Busta Rhymes Ride
7/20/23 30 min Busta Rhymes Ride with Camila Ramón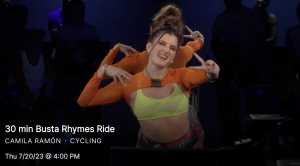 Michelle Gill Newton (queenmichelle) went back to a summertime ride to kick off fall with an energetic vibe.
"Camila's 30 minutes Busta Rhymes ride. The ENERGY was insane! I took it on demand to kick off October."
This class brings the energy and the music. Camila managed to squeeze 14 songs into this 30-minute class, including Break Ya Neck, Put Your Hands Where My Eyes Could See featuring Jamal, Don't Cha featuring the Pussycat Dolls, and Get Down featuring Timbaland.
Add this class to your stack for a little boost of energy!
3. Favorite Peloton Meditation
9/27/23 30 min Sleep Meditation with Ross Rayburn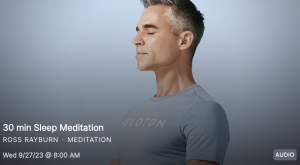 Amanda Kay Price tipped us off to a new 30-minute Sleep Meditation with Ross, and for that, we all owe her a debt of gratitude.
"Ross's new 30 minute sleep meditation. I am recovering from hip replacement surgery, and listening to his soothing, calming voice helps me drift peacefully off to sleep. It is a huge blessing!"
Ross uses one of his staple songs in this meditation, Max Richter's Dream 1, which in and of itself is a melatonin masterpiece!
Thank you, Amanda, and all the best on your recovery!
4. Favorite Peloton Jess King (and Brittany Allen!) Ride
9/28/23 30 min Pop Ride with Jess King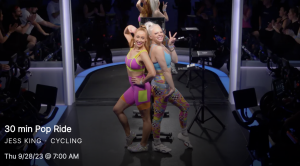 Linda Hauck loved the challenge, the entertainment, and the inspiration of the Jess King and Brittany Allen ride.
"Jess King's Pop ride with Brittany Allen from 9/28/23. The ride was very challenging, while at the same time it was entertaining. Listening to Jess tell the story about how and why they met was inspirational."
This class featured custom instructor costume designer Britany Allen and concluded with the announcement that she created a special collection for Peloton Apparel. You can catch up on all the details here.
The ride featured Jess King classic selections from Rufus Du Sol, Gorgon City, Sofi Tukker, and Dom Dolla, plus the incredible story of how Brittany Allen came to be the go-to designer for Peloton. It's a piece of Peloton history that can't be missed!
5. Favorite Peloton Janet Jackson Ride
9/28/23 30 min Janet Jackson Ride with Emma Lovewell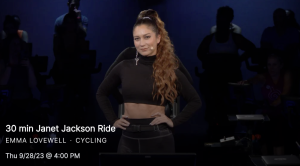 Mellissa Solin (wanderwhirl) loved the iconic experience of Emma's Janet Jackson ride.
"Definitely Emma's Janet Jackson ride, the playlist was perfect!"
Anyone who's taken Emma's Crush Your Core program knows Emma loves Janet Jackson. Through all 18 songs on the playlist, Emma's love of the music radiates. She features Rhythm Nation, If, That's the Way Love Goes, Nasty, All For You, and so many other iconic Janet Jackson hits.
This class has not even been out for a week and it's already racked up over 50,000 member workouts. Be sure to bookmark, stack, take, and retake this ride ASAP!
Thank you!
Thank you to all of our listeners for sharing your recommendations and enthusiasm. To see the full list of this week's classes and add your own to the conversation, check out the post from October 2, 2023, here. To see past weeks' Top 5 classes, visit TheClipOut.com and search TCO Top 5! If you try any of the recommendations and find a new favorite, we'd love to hear from you!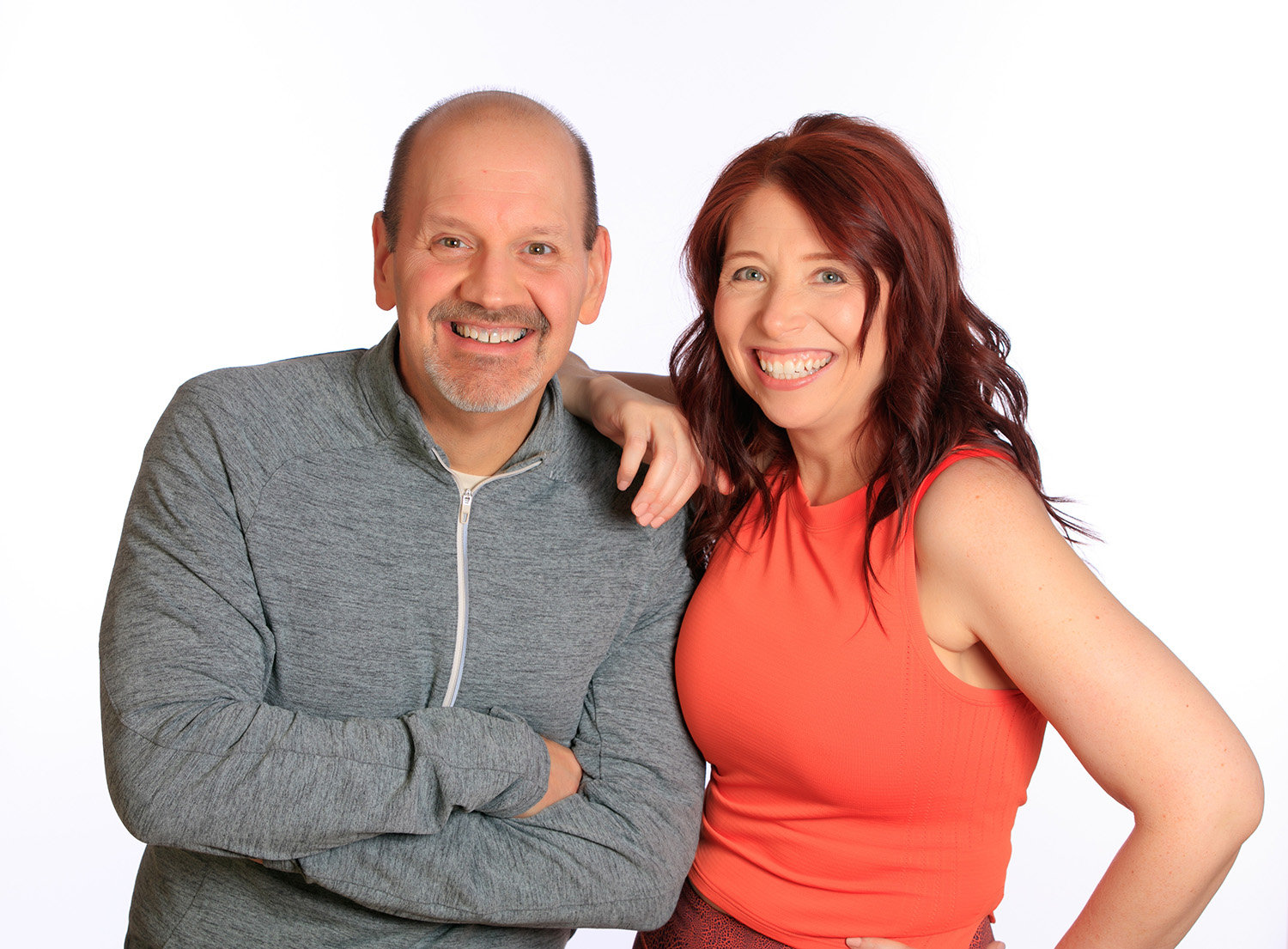 Subscribe
Keep up with all the Peloton news!