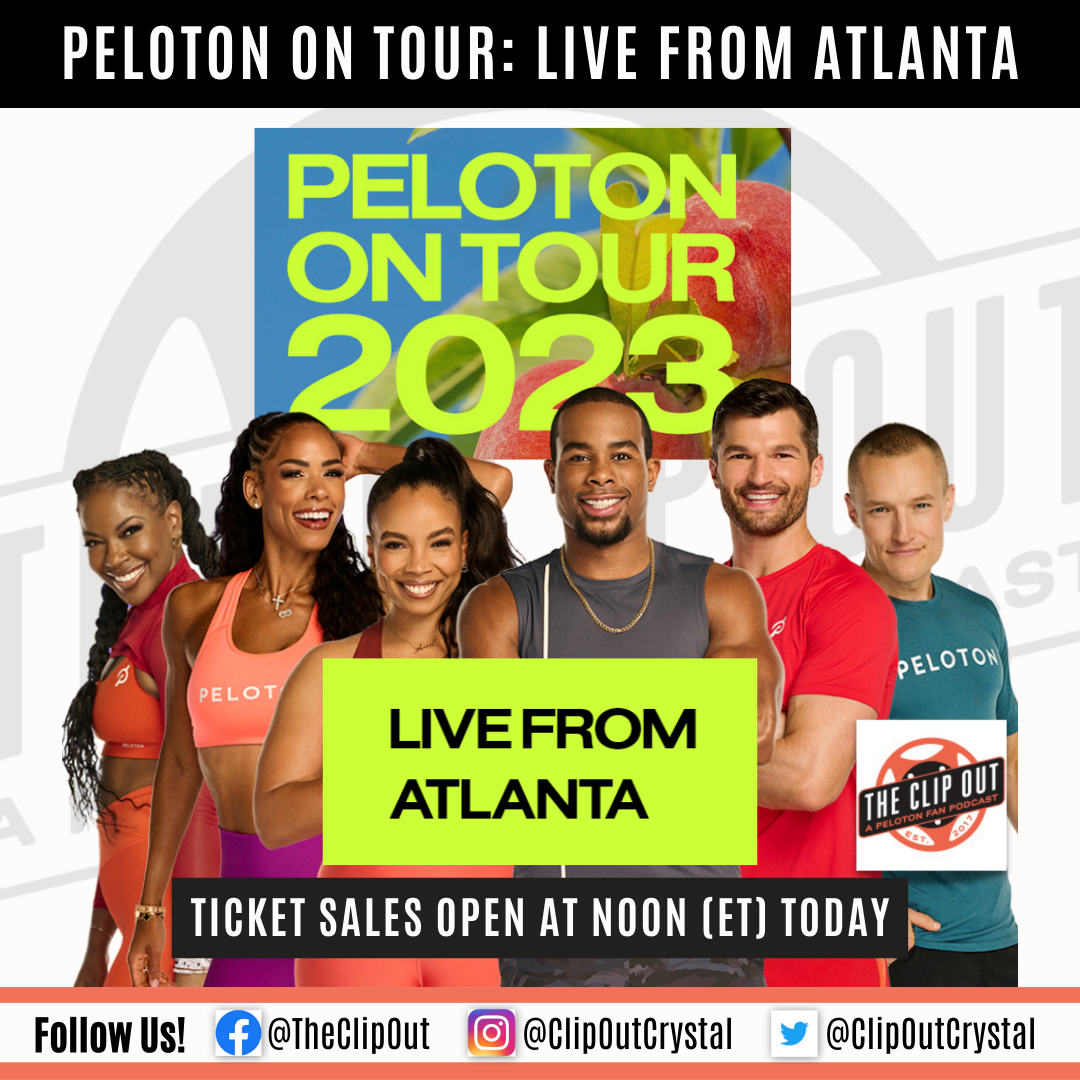 Reminder! Peloton on Tour: Live From Atlanta Tickets Drop Today
Atlanta Peloton on Tour tickets Drop today!  
On the heels of the Instructor and Event announcement yesterday, Peloton is set to open ticket sales to the Peloton On Tour: Live From Atlanta events at Noon (ET) today, 7/20.  If ticket sales from the Los Angeles event are any indication, the Atlanta events will likely sell out quickly, so, if you're planning to score a ticket, set those alarms.  All events are ticketed individually (with some requiring only an RSVP and no actual payment), and you can find each event listed separately near the bottom of the Peloton On Tour landing page. 

With the addition of new events, the Atlanta leg of the tour is shaping up to be an exciting weekend of fun and fitness.  This stop's event lineup includes instructor Meet & Greets, live group classes, Leaderboard Awards, and two new events previously not held at the first stop in Los Angeles.  
Event Info

Thursday, August 17th:  Instructor Experience
Fans will have the opportunity to interact with Peloton Instructors in three different areas.  
 Friday, August 18th:  Peloton Field Day
Participants will be assigned a Peloton Team Captain and will compete in four separate field day events.  This is a NEW event to the Peloton on Tour lineup.
 Friday, August 18th:  Active Your Greatness Panel
Members will have the opportunity to listen to a panel discussion with Alex Toussaint, followed by a Meet & Greet.  This is a NEW event to the Peloton on Tour lineup. 
 Saturday, August 19th:  Live Group Classes!
Members will have the opportunity to attend group workout sessions led by Peloton Instructors.  Each class will have 100 spots available. These classes will NOT be filmed for the on demand library.  A Meet & Greet will follow. 
 Saturday, August 19th:  Leaderboard Awards Party
This is an invite-only event for people who have been selected for a Leaderboard award, plus their guest.  Want to nominate someone for an award?  Click

here

.
If you're in the Atlanta area and score tickets to any of the events, we'd love to hear from you! 
See something in the Peloton Universe that you think we should know? Visit theclipout.com and click on Submit a Tip!
Tune in to The Clip Out every Friday to hear Tom and Crystal's take on this and other hot Pelotopics. We're available on Apple Podcasts, Spotify, Google Podcasts, iHeart, TuneIn. Be sure and follow us so you never miss an episode. You can also find the show online on Facebook.com/TheClipOut. While you're there, like the page and join the group. Lastly, find us on our YouTube channel, YouTube.com/TheClipOut, where you can watch all of our shows.