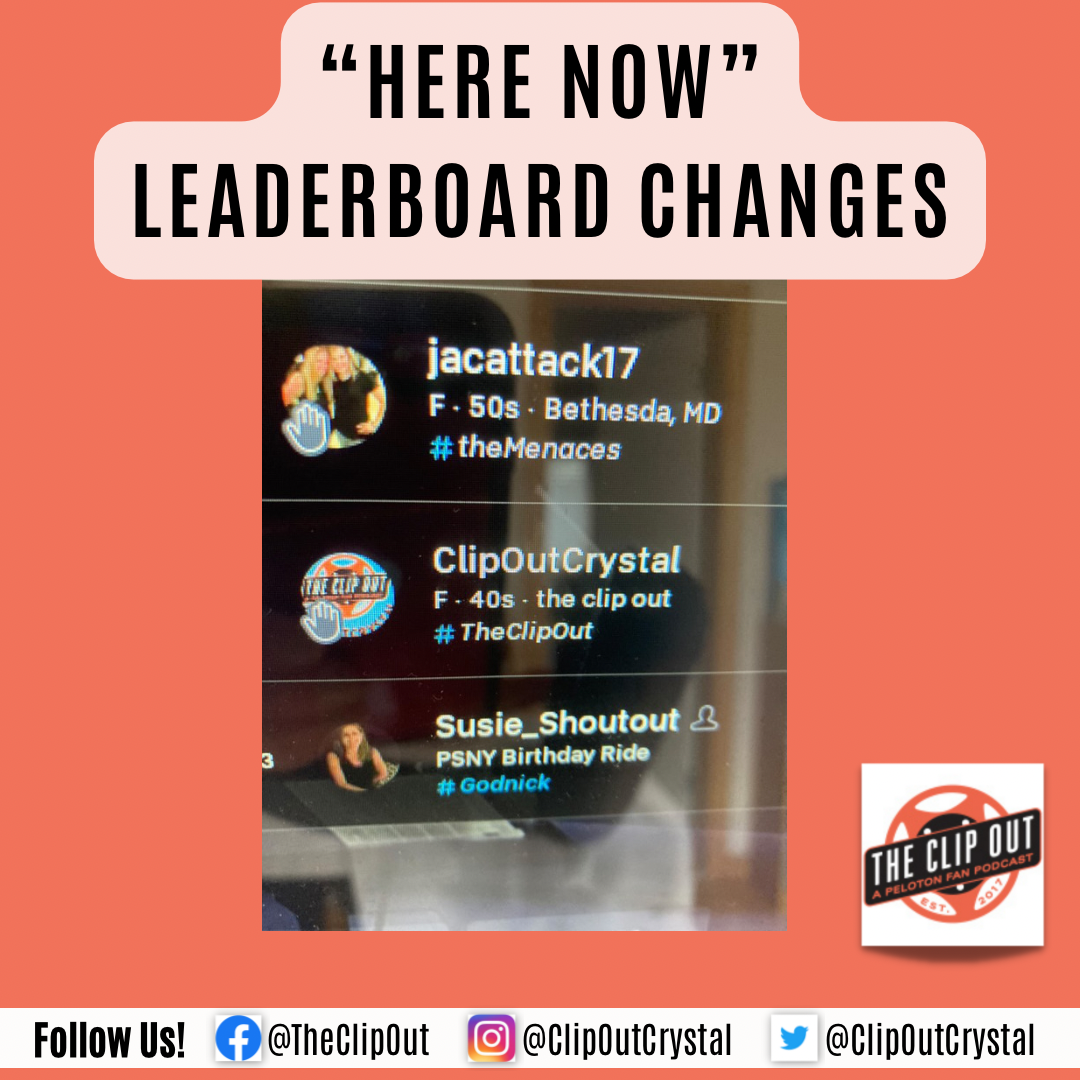 Out With the Old, In With the New: Potential New "Here Now" Leaderboard Feature for On-Demand Peloton Classes
Looks like even Peloton enjoys a good January declutter. New "Here Now" leaderboard features have been spotted.  
It's no secret that the "Here Now" leaderboard in On-Demand classes can be a bit crowded, with Member profiles who have long since finished a class.  But, thanks to an anonymous tip from a keen-eyed Member and The Clip Out listener, it appears that Peloton is rolling out a new feature that effectively cleans up the once-cluttered "Here Now" leaderboard in those rides much more efficiently than it has in the past.  
Up until now, anyone taking an on-demand Peloton class would see scores of other riders on the "Here Now" leaderboard who had taken/completed the class aggregate into one very (very) long list of check-marked Members who were, in fact, no longer here now.  While not as extensive as the All-Time leaderboard in any given class, it wasn't exactly a current snapshot of who was truly in that particular class at that moment in time. 
Now, it appears Peloton is removing these profiles relatively quickly once that completed-class checkmark is received, giving Members the chance to experience a "Here Now" leaderboard that is more accurate and has a live feel.  Furthermore, the leaderboard housekeeping doesn't stop at profiles of Members who complete classes.  Members who enter and then exit classes (for any reason) no longer have their Leaderboard names hanging out with a dash by their profile photo for endless amounts of time, either.  They, too, are recognized as inactive and are whisked away quickly.
Our Experience With the New Leaderboard Features
This feature doesn't appear to be consistent just yet. Some Member profiles vanished from the leaderboard almost immediately upon completion of the class, while others took a minute or more to clear.  Still, this news will likely be a welcome change for anyone weary of weeding through the scores of people no longer actively competing on the leaderboard. The update will make the on-demand class leaderboard a much more streamlined experience, with a bit of a live-class feel. 
Note: while these changes were specifically observed on the Bike+ and Tread, it stands to reason that Row owners should see similar updates to their On Demand leaderboard classes as well.
See something in the Peloton Universe that you think we should know?  Visit theclipout.com and click on Submit a Tip!