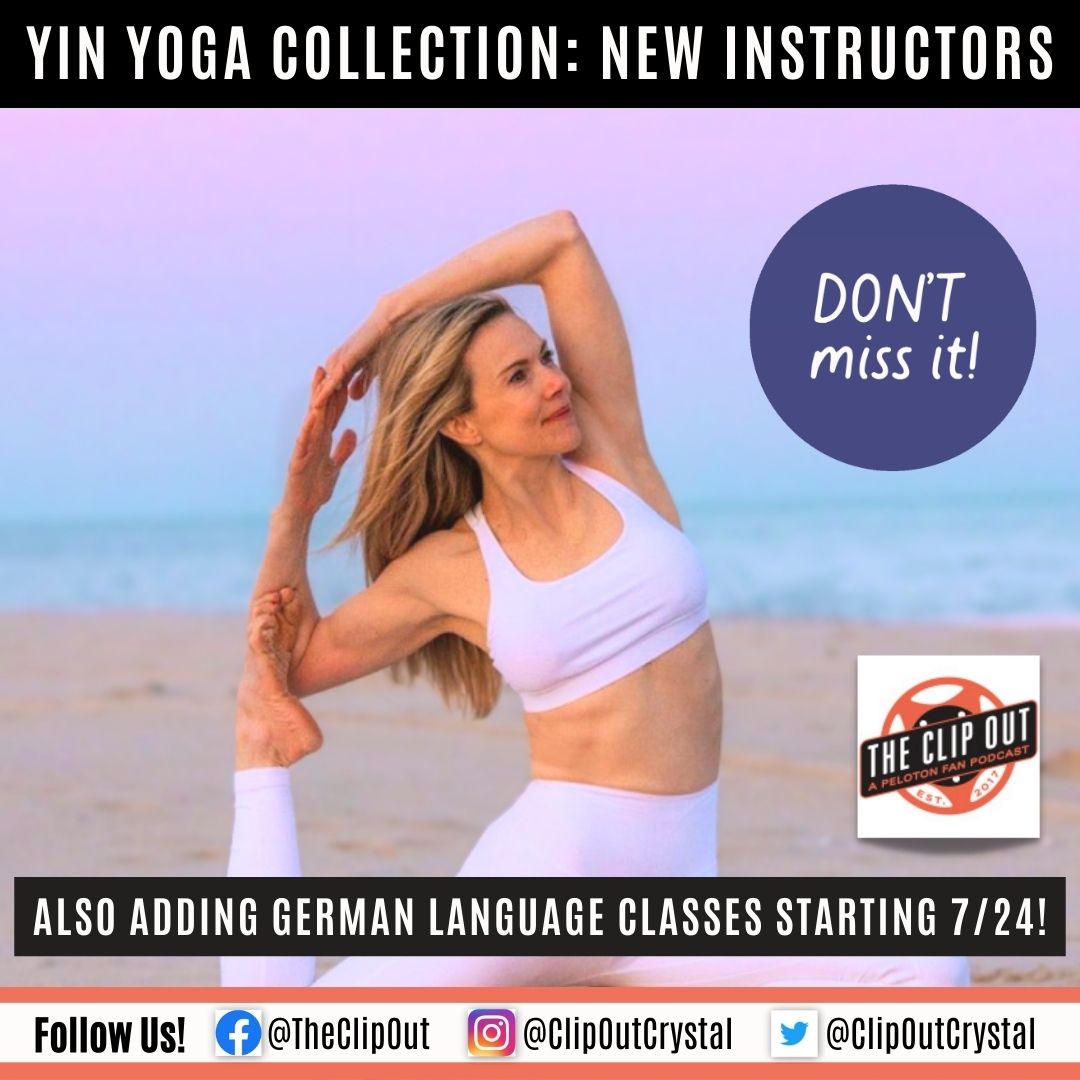 Peloton Adds Top Instructors to Yin Yoga Collection! Also starting classes in German
Peloton has recently added some of the most popular and experienced instructors to their Yin Yoga lineup. Kristin McGee, Chelsea Jackson Roberts, and Kirra Michel will now be teaching Yin Yoga, adding to the variety of fitness options available to Peloton users.
Peloton originally announced Yin Yoga was being to the platform in February of 2023.  Denis Morton and Aditi Shah kicked off the collection and all additions since.
Yin Yoga is a form of yoga that emphasizes holding poses for an extended period of time, typically three to five minutes or longer. This practice helps to improve flexibility, joint mobility, balance, and relaxation. The addition of these highly skilled instructors will provide users an opportunity to deepen their practice and gain new insights into this ancient form of yoga.
Kristin McGee, a certified yoga and Pilates instructor, is known for her energetic and invigorating classes. Chelsea Jackson Roberts is a well-known yoga teacher, author, and motivational speaker. And Kirra Michel is a former ballet dancer and yoga teacher, who specializes in Vinyasa flow and alignment-based yoga.
If you're interested in taking a class with one of these amazing instructors, simply navigate to the Yin Yoga collection on Peloton and select a class that suits your needs. These classes are perfect for all levels of yogis, from beginners to advanced practitioners.
In addition to adding new instructors, Peloton has also announced that Yin Yoga will be available in German starting this week. The first German-speaking instructor is Nico Sarani and her live class is scheduled for Monday, July 24th at 6:30 PM CEST.  
Peloton's commitment to providing quality yoga instruction in multiple languages is a testament to its dedication to helping users achieve their fitness goals. Whether you're a novice or an experienced yogi, Peloton's Yin Yoga collection has something for everyone.
So if you're looking to take your practice to the next level, why not check out the new Yin Yoga collection on Peloton? The addition of top-notch instructors will surely enhance your experience and take you on a journey of relaxation and peace.
---
Tune in to The Clip Out every Friday to hear Tom and Crystal's take on this and other hot Pelotopics. We're available on Apple Podcasts, Spotify, Google Podcasts, iHeart, TuneIn. Be sure and follow us so you never miss an episode. You can also find the show online on Facebook.com/TheClipOut. While you're there, like the page and join the group. Lastly, find us on our YouTube channel, YouTube.com/TheClipOut, where you can watch all of our shows.
See something in the Peloton Universe that you think we should know? Visit theclipout.com and click on Submit a Tip!