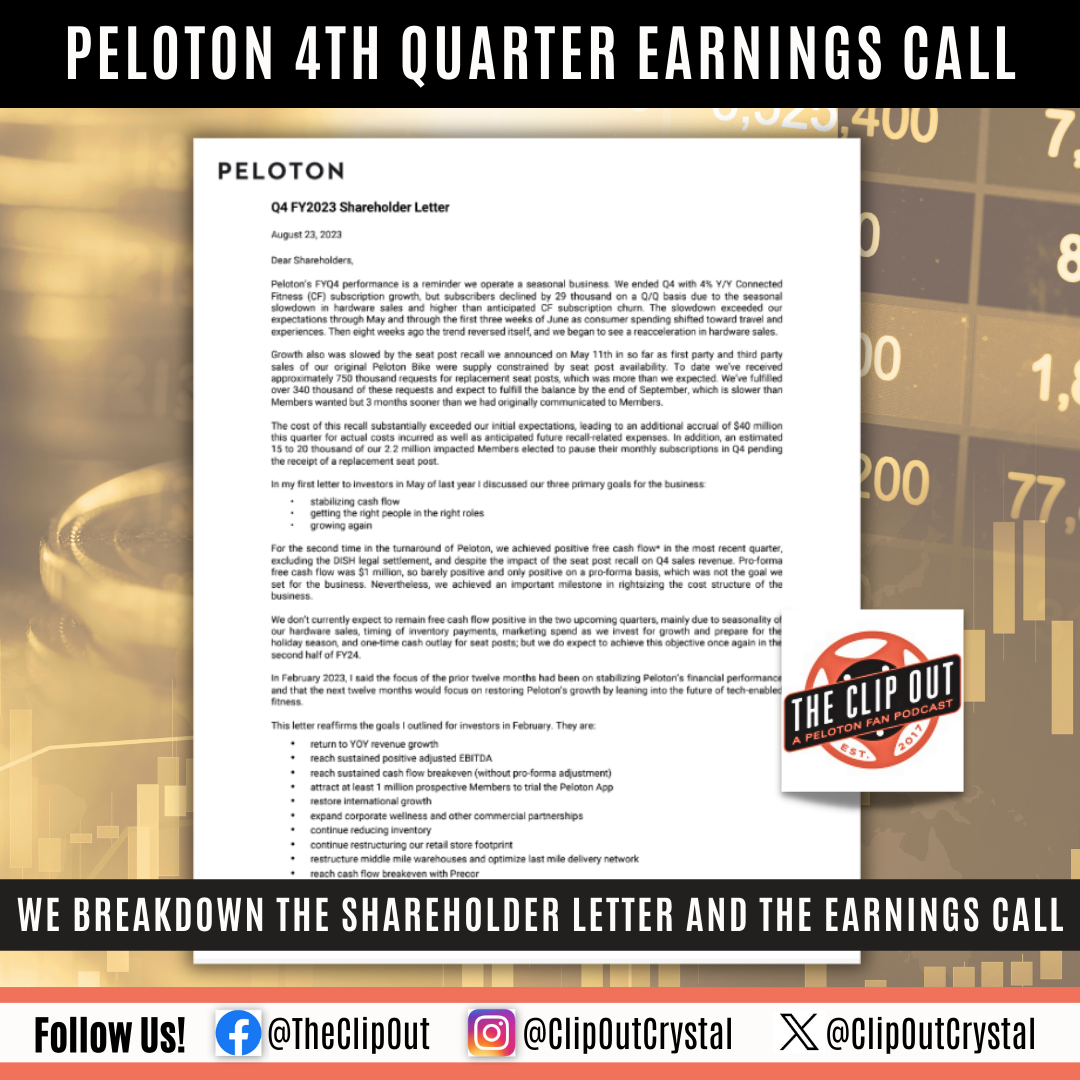 Peloton 4th Quarter Earnings Call, Fiscal Year 2023
Despite an expected slowdown in growth, for the second time in his effort to turn the company around, Peloton CEO Barry McCarthy shares in the 4th Quarter Earnings Call that the company has achieved positive cash flow in the most recent quarter.
Expected, and Unexpected, Hurdles
As consumers shifted their spending to travel and experiences, Peloton experienced a slowdown in growth, as anticipated.  In Peloton CEO Barry McCarthy's quarterly shareholder letter, he noted that, while the 4th Quarter of 2023 ended with a 4% year-to-year Connected Fitness (CF) subscription growth, subscribers declined by 29 thousand on a Quarter-to-Quarter basis due to the seasonal slowdown in hardware sales and higher than anticipated CF subscription turnover.
With a nod to the frustration felt by many original Bike owners, he also mentioned that additional growth was slowed by the seat post recall announced on May 11th, impacting first party and third party sales of the original Peloton Bike as supply was constrained by seat post availability. 
The Seat Post Recall Had An Impact
In his letter to shareholders, McCarthy mentioned that Peloton was inundated with roughly 750 thousand requests for replacement seat posts, far exceeding the company's initial expectations. Despite the sheer magnitude of requests, Peloton has successfully dispatched over 340 thousand seat posts and anticipates satisfying the remainder by the end of September.  While acknowledging that this timeline may not be as speedy as Members would prefer, McCarthy pointed out that it is also 3 months sooner than what the company had originally communicated. 
The cost of the recall, however, greatly exceeded the company's initial estimates, resulting in a $40 million accrual this quarter.  This amount includes actual expenses incurred as well as future anticipated recall-related costs. Additionally, an estimated 15 to 20 thousand of our 2.2 million impacted Members elected to pause their monthly subscriptions in Q4 pending receipt of a replacement seat post.
Primary Goals Revisited
In McCarthy's first letter to investors in May of 2022, he laid out his three primary goals for the company:  stabilizing cash flow, getting the right people in the right roles and then growing the company again. 
Highlighting a silver lining, McCarthy points out that, for the second time in the company's turnaround, Peloton achieved positive free cash flow in the most recent quarter.  Excluding the DISH legal settlement, and despite the impact of the seat post recall on Q4 sales revenue. Pro-forma free cash flow was $1 million. Although the company only achieved free cash flow on a pro-forma basis, and it is just barely positive, it represents a significant milestone in getting Peloton back on track, with McCarthy pointing to this being accomplished due to rightsizing the overall cost structure of the business. 
Looking ahead, McCarthy currently does not expect the company to remain free cash flow positive in the two upcoming quarters, primarily due to seasonality of hardware sales, timing of inventory payments, marketing spend as more investments for growth are made and as the company prepares for the holiday season, and one-time cash outlay for seat posts; but he does expect to achieve this objective once again in the second half of FY24. However, in the Earnings Call, he noted that Peloton is much better positioned with "tools in the toolbox" to tackle these types of hurdles.  Unfortunately, he did not rule out the possibility of additional store closures in the future.  
Recounting Achievements and Goals over The Last Several Months
Pointing back to his letter to investors in February of this year, McCarthy outlined the goals that he set for the company over a 12-month timeline, and recounted the numerous changes Peloton has made in pursuit of achieving those goals.  Nodding to expanding global entry points into the market as a critical part of Peloton's growth strategy, he pointed out that the bike rental program continues to be a popular venture, and Peloton has recently expanded the program to include the German market.  Additionally, McCarthy pointed out that the launch of the Peloton Refurbished Bike program has seen success, with 6.5 thousand sales in Q4. 
In addition to finding ways to get hardware into Members' homes, Peloton launched a brand relaunch, focusing on showcasing the company in a new light and looking for ways to capture the Gen Z consumer market.  
McCarthy also heralded Peloton's partnership with Liverpool FC and the University of Michigan, the relaunch of the App and it's three-tier pricing structure, and a new Business to Business corporate strategy.  In the weeks ahead, Peloton expects to announce more partnerships and plans to pursue more opportunities with NCAA Division I schools.  Of note, in today's Earnings Call, McCarthy also mentioned that the Bike+ and the Row would be joining the Bike as commercial space offerings, with expansion into international markets.  
The User Demographics are Shifting
In his shareholder letter, Peloton's CEO also notes that the new App structure opened up an opportunity to pursue a variety of new user demographics. Since the relaunch in May, Peloton "has seen more than 900 thousand App downloads, over 600 thousand of which were non-Peloton Members, representing a significant acceleration from recent trends."
Additionally, the company notes that new users are more likely to be male, a key demographic opportunity for Peloton.  The company is also seeing a shift in downloads towards Gen Z, Black and Hispanic consumers.
Limited Edition Bike Colors ARE Coming
The tease has been on for a while now, and, in his shareholder letter, McCarthy confirmed what we have long suspected:  Limited Edition Bike colors AND graphics are in the works, and will be available for sale sometime this fall. At press time, no dates were made available. 
The Tread+ is Back, Baby
Peloton also announced that the Tread+ will make its much anticipated return to the market just in time for the 2023 holiday season. Last Quarter, the Consumer Product Safety Commission approved Peloton's design for a new rear guard for the popular product. The approval enables the company to begin retrofitting existing Tread+ products later this year, enhancing the safety of their Members. Peloton will also install the rear guard for Members who request one, with 17 thousand requests to date.
The company expects to resume pre-sales of the popular Tread+ in the US this holiday season, with first shipments about 6 weeks later. Retail pricing for new sales of Tread+ with the new rear guard is expected to fall around $6 thousand with initial shipments coming from existing inventory. Once that inventory is sold, Peloton will stand up a new manufacturing line in order to bring the Tread+ back to the market for residential and commercial customers. Delivery dates were not made available at the release of the shareholder letter.
A Look Ahead
Wrapping up his letter and subsequent 4th Quarter earnings call, McCarthy notes that big things are happening at Peloton and he underscored his excitement about all that has happened, as well as all the things that are yet to come.  And, while these things may not result in growth in the coming quarter, he does expect them to result in growth over the next fiscal year. He also points to the fact that much of what is in the works for Peloton is new territory and they do not have an operating history on which to model the impact on future growth.  In other words….they're winging it, but with optimism!  In McCarthy's words, "For financial planning purposes this means we've forecast some of the expense and none of the revenue these initiatives might generate in FY24. That means there could be significant upside to our financial performance later this year, or none at all. I'm signaling significant potential upside but considerable uncertainty, in the spirit of radical transparency."
Read the most current shareholder letter here and then tune into this week's episode of The Clip Out for in-depth analysis of this week's earnings call with Crystal and Tom!