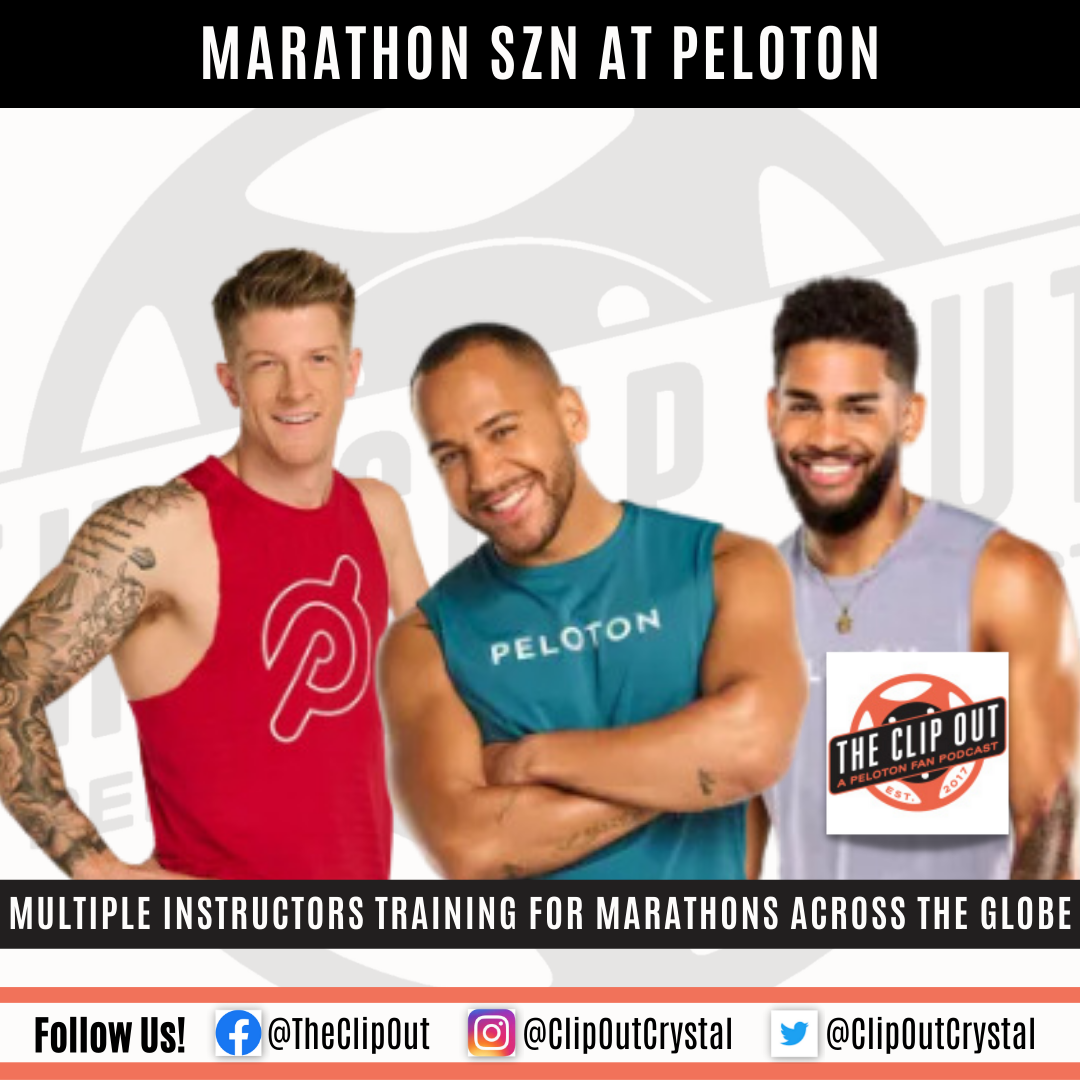 Marathon Szn for Peloton Instructors
It's no secret that Peloton Instructors have interests outside of the studio, and it appears that several of them have been bitten by the marathon bug.   Starting several weeks ago with Logan Adridge's announcement that he will be running the Chicago Marathon on October 8, we've also learned that Rad Lopez will also be running Chicago as well as New York City on November 5, and German Tread instructor Jeffrey McEachern recently revealed in an AMA on Instagram that, in addition to running Berlin on September 24, New York City this fall, and Los Angeles on March 17 of 2024, he's also eyeing either the full or the half-marathon in Edinburgh, Scotland on May 24 as a spontaneous sign-up.   
Logan is running to support the Christopher & Dana Reeve Foundation, aiming to raise $3,000 and finish in under 3 hours and 30 minutes.  While we can't physically join him on his speedy journey, donations to help him achieve his goal are being accepted via his dedicated fundraising page.  
Rad made his announcement more recently while sharing a tasty protein "ice cream" recipe on an Instagram Reel. And Jeffrey spilled the beans about eyeing an additional fourth race during his spontaneous Ask Me Anything on Instagram Stories, after previously posting on Instagram about training for both Berlin and NYC.
Incidentally, it's not lost on us that the Chicago Marathon comes on the heels of the Peloton On Tour Chicago stop.  While we don't yet know which instructors will be at those events, it does appear that the first weekend of October in Chicago will be filled with Peloton and Peloton-related fun!

Fleet-footed Members have a chance to catch all 3 instructors out on the marathon course if they happen to be running any of these races and, for those of you who aren't running any of these marathons, don't worry, you'll be getting in on the fun, too.  Logan and Jeffrey have already assured Members that their classes will serve as training for the races they have lined up.  So, whether you're running a marathon or not, if you're taking these classes, you're going to train like you are!  
We love seeing Peloton Instructors pursuing their interests outside of the studio. We know they'll crush it out there, and we wish them the best of luck. We'll be cheering them on every step of the way!
See something in the Peloton Universe that you think we should know? Visit theclipout.com and click on Submit a Tip!
Tune in to The Clip Out every Friday to hear Tom and Crystal's take on this and other hot Pelotopics. We're available on Apple Podcasts, Spotify, Google Podcasts, iHeart, TuneIn. Be sure and follow us so you never miss an episode. You can also find the show online on Facebook.com/TheClipOut. While you're there, like the page and join the group. Lastly, find us on our YouTube channel, YouTube.com/TheClipOut, where you can watch all of our shows.