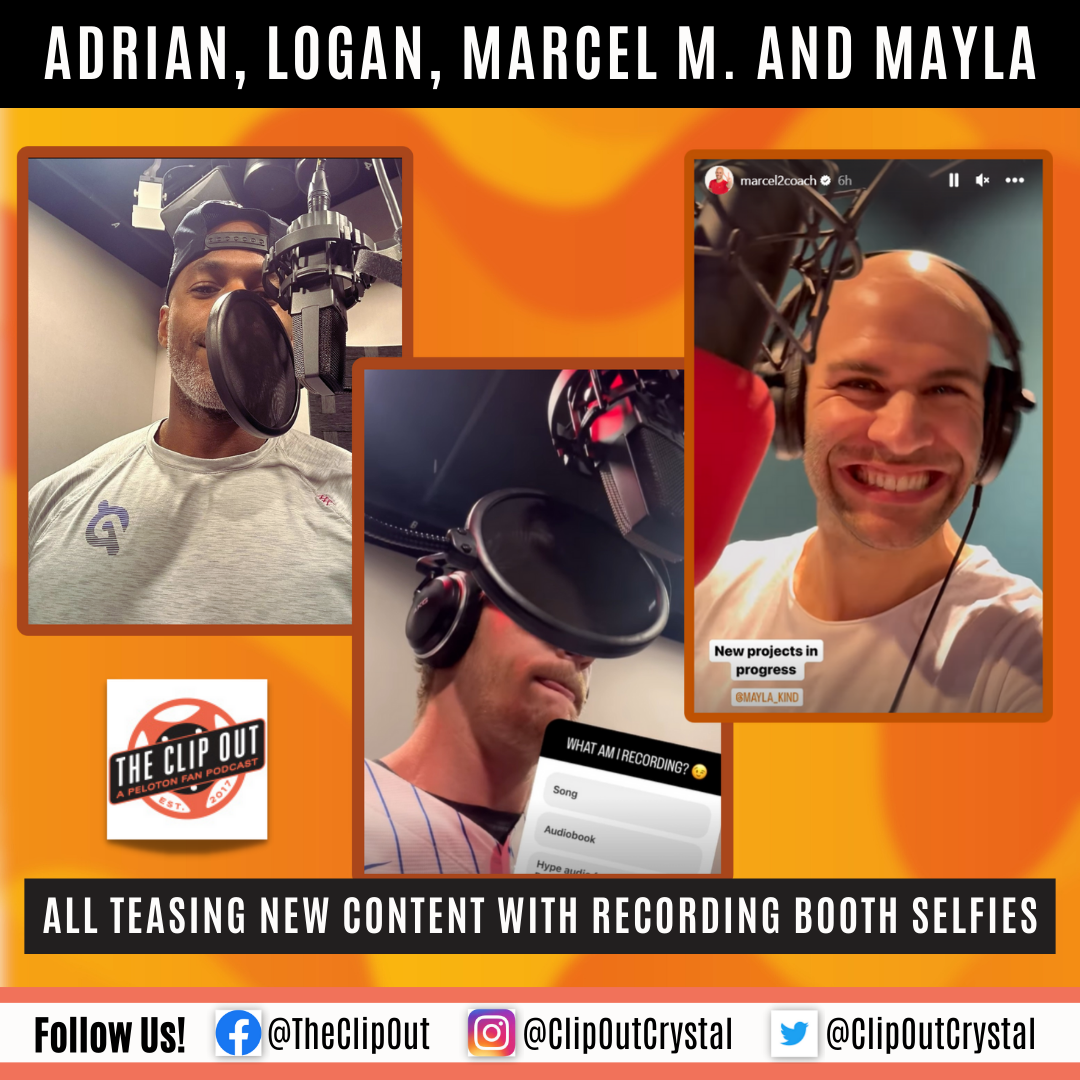 Adrian Williams, Logan Aldridge and Marcel Maurer Tease New Content
New Peloton Content Teased!
Over the past few days, three of Peloton's most popular instructors, Adrian Williams, Logan Aldridge, and now Marcel Maurer, teased their fans and followers with sneak peeks into the recording studio, leaving many speculating about new content the three of them might be creating.
Could it be Sleep Meditations?
Fans were quick to jump to conclusions when Adrian Williams posted a photo of himself in the studio, a move that prompted a flurry of speculation amongst his followers. The possible inclusion of sleep meditations from the popular instructor would undoubtedly be a welcome addition to Peloton's rapidly expanding repertoire and, based on comments, content that would be enthusiastically welcomed by Adrian's fanbase.
Outdoor Content?
Logan Aldridge, on the other hand, sparked interest with his multiple choice guessing game for what he could be recording. One of the options, Outdoor Content, caught many fans' attention, raising the question of whether Logan might be recording audio for his first Outdoor class.  With a robust collection of Outdoor Walks and Runs, Logan's addition to the lineup would add one more option to an already great selection of classes, especially as the weather cools as we head into the autumn months in the Northern Hemisphere.
The German/UK Component to the Mystery
German strength and Tread instructor Marcel Maurer also teased some new content in the works. In his recent Instagram story, Marcel can be seen in a recording studio, hinting at what's to come. As with Logan and Adrian, it's unclear exactly what type of content he was working on, but his presence in the studio definitely adds to the speculation. In the same post, German Bike and Tread instructor Mayla Wedekind made an appearance, adding further guesswork to what could be in the works. This is especially interesting given that both German and UK Peloton instructors aren't teaching live classes at the moment, as Peloton Studios London is closed for upgrades.
All For One Festival?
With the All For One weekend fast approaching, the hype around these mysterious recording sessions is high, leaving us to wonder whether the content being recorded was linked to this upcoming event.
The All For One Festival is a highly anticipated annual event that merges together Peloton Members and Music for a weekend of classes and interactive content. While details of this year's lineup have not been fully disclosed yet, it's clear that Peloton is pulling out all the stops to deliver an unforgettable experience for its members and we can't help but wonder if seeing Adrian and Logan in the recording booths could be one more piece of the AFO puzzle?
Guesses Please!
Whether Adrian Williams is recording sleep meditations or Logan Aldridge, Marcel Maurer and Mayla Wedekind are bringing us expertly curated outdoor adventures, or they're all creating content for the upcoming All For One Festival, Peloton members around the world are sure to benefit from the their creativity and passion for fitness. Indeed, these recent developments show that Peloton is not content to rest on its laurels, and it continues to drive innovation within the fitness industry.  And one thing is very clear:  these instructors are inviting speculation about what they're up to.  So, let's hear it, TCO listeners.  What do YOU think they're recording?