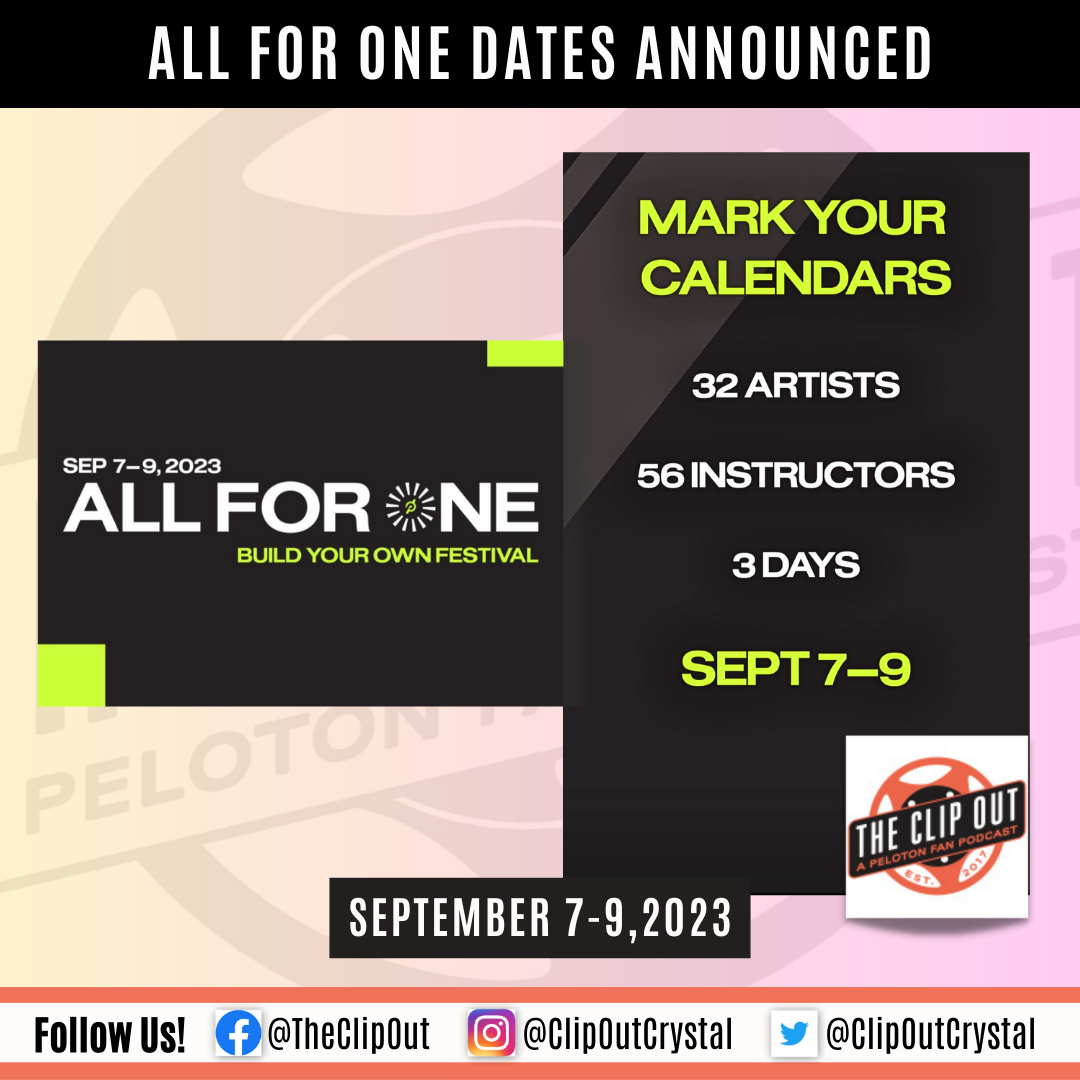 All For One Weekend – Peloton Releases Dates for 2023!
Get ready for Peloton's annual Music Festival, All For One! Mark your calendars for September 7-9, 2023, because it's going to be an event you won't want to miss.  Earlier today, August 1, Peloton Studios Instagram account teased us with the announcement: 32 Artists and 56 Instructors over the span of 3 electrifying days.
The History of AFO
In the early days, All For One focused on having multiple instructors teaming up to teach one epic class. But due to the pandemic, they had to make some changes. While giving it a shot virtually in the early days of COVID, they have since pivoted away from that format and created the All For One Music Festival to take its place.
All For One, affectionately known as AFO, is like a music lover's dream come true. Expect a lineup that covers all genres and caters to every taste. Each artist will be featured in multiple classes, allowing you to curate your own personal festival experience. These classes will be a mix of live sessions and On Demand releases. And, yes…..you'll even earn a badge.
DJ John Michael has been dropping hints about AFO weekend on his Instagram, so you know there's been a ton of behind-the-scenes work going into this.
Getting Tickets To The Action
As a reminder, Peloton Studios London will be closed for renovations during this time, and live classes from the UK and German team won't be filmed there. We can't say for sure if some instructors will make their way to PSNY, but it's definitely a possibility!
Speaking of PSNY, AFO weekend comes just a few days after the NYC Peloton location reopens from a week-long studio upgrade closure happening August 28 – September 4. So if you're dying to experience a live AFO class in person this year, keep an eye out for the class release this Thursday at Noon (ET).  We can't help but wonder if this will also be when Peloton gives us some hints about which artists they have lined up for this year's event!
And, just in case you want to relive the glory days of AFO 2021, check out this playlist!
Now it's your turn to share which artists you're hoping to see in this year's lineup. Get ready to rock out with Peloton at All For One!