Tonal Makes Time Magazine's 'Best Inventions' List plus our interview with Brandt Belson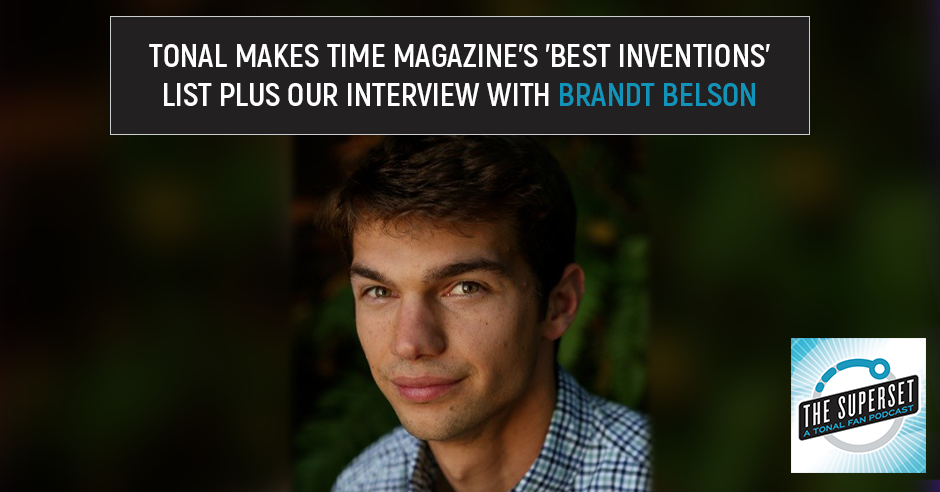 Episode Description:
All this plus our interview with Brandt Belson!
—
Watch the episode here:
Listen to the podcast here:
Tonal Makes Time Magazine's 'Best Inventions' List plus our interview with Brandt Belson
If you hear this shortly after it came out within a day or two, and you live in the Boston area, and you have time to come hang out with us if you are so inclined. 
What is it, the 27th? 
The 27th, which is Saturday. We are going to be hanging out at Fogo de Chão. 
In Boston. 
We will be getting there around 6:00, so if you want to hang out with us, swing by and say hi, and we would love to see you. What pre-tell do you have in store for people? 
Here's what we have in store. We are going to talk about gratitude. We get Tonal. We have new updates to the guides that Kate keeps updated on Facebook. We have new updates to the Tonal mobile app, new content. We have in the news with instructors in the news with Tonal. There are celebs sightings, Tonal talks, and we have a breakdown of a recent Tonal talk, the Tonal Strength Institute with Troy Taylor. We're going to talk about that because there was a lot of really great information, so I want to dig into that. Also, we have an announcement for the December challenge group that will be coming up with the Tonal community. 
Before we get to all that shameless plugs, don't forget we're available on Apple Podcast, Spotify, Google Podcasts, wherever you find a podcast, you can find us while you're there. Be sure to follow us so you never miss an episode and maybe leave us a review. That's always helpful as well. If you want to keep up with us throughout the week, you can find us on Facebook, Facebook.com/supersetpodcast. While you're there, be sure to like the page and join the group. If you want to watch these episodes, you can do that too at our YouTube channel, Youtube.com/TheClipOut. All the episodes for both podcasts are live over there. There's all that. Let's dig in. 
—
Thanksgiving is almost upon us, which means it is gratitude week at Tonal and presumably other places if they're not the sole people in the world who are grateful. 
I hope not, but it is a weird world now. Here's what's going on at Tonal. There are tons of live classes this week, and if you scroll down, we have some details on what exactly that means. There's going to be a ton of live classes, like I said. From the 21st to the 27th, you can join your favorite coaches for live Thanksgiving-themed Power Hit Workouts. If you can't make the live workout times, no big deal, you can take them during Encore or On Demand. 
Make sure you check out Tonal's Spotlight Row, that's going to feature those workouts. Here's the cool part. In the spirit of giving back, Tonal will donate $5 to Meals on Wheels in San Francisco for every member who takes part in a Thanksgiving theme, live Encore, or On-Demand workout between November 22nd and November 25th. Tom, I got mine in. I am covered. 
That's good.  
I'm excited.   
I've never done the live one. 
Are you a little intimidated? 
I'm just not good at planning my day. 
Also, they tend to happen when you're at work. Maybe you'll get some more options, like whenever they expand their calendar. I know that they are planning on opening up a New York studio at some point. They'll probably be a wider variety of live class times, then you won't have an excuse. What are you going to do then? 
I'll come up with a different excuse. 
That sounds great. Attracts. 
It's my superpower. 
You've got a lot of them. 
When it comes to avoiding things, yes, I do. Speaking of avoiding things and making excuses if you need to replace a move. 
We joke, but there are seriously good times to do this. Maybe you have an injury. Maybe it's something that's you're not strong enough to make a move for whatever reason. 
You want to punch barbell front lifts in the dick. 
That could be a thing, but there's a way to do it. You can replace a move on most workouts. You can't replace them on live workouts yet. Pretty much most of the workouts that are in the library or that are not starting as a live workout, you can change the movement. You want to follow the instructions that are in the guide out in the official tonal community. It's super easy. Before starting the class, you just review the workout details, find the exercise you want to move, and then tap the arrow. Pick your new move as you scroll through it and then decide that's the one you want, and you're done. This is great for people exercising with an injury. 
It's easier than the move you we're going to do. 
I said they're not available for live workouts but I also want to point out the movement replacement is also not available for yoga workouts. 
Good to know. 
Handy little feature. 
—
There has also been a mobile update for people. 
It's a super easy one. I don't know how easy it was to do. It's not like it's not something that you might notice on your own but it is in the Tonal app. If you happen to be a person that has a lot of friends that you follow on tonal, sometimes you can miss your friend's workouts. Now you can go directly to that friend's profile and see what they've been up to on the Tonal recently. If you want, you can give them kudos for every workout they've ever crushed. How amazing is that? 
It's very convenient for me because I'm following up now with three people. It's a lot to juggle. 
That sounds tough. It's me, Kate and Mark, right? 
That is correct. 
You're very choosy. Somebody clicks follow on me. I'm following them back. 
You're more ambitious than I am, which anyone who reads regularly is already aware of. 
You're crushing those workouts, honey. 
—
Streaks help you workout frequently and show up at least once a week so that you will never lose the habit.
Click To Tweet
As always, tons of new content for people to enjoy. 
We've got three posts about this. We started with new yoga, Capoeira yoga. That goes with the flow with a Brazilian yoga kick with Coach Brett. New Pilates, we've got Pilates core for athletes with Coach Francis. New bar, which is cross-training bar with Coach Gabby. We've got a new warmup, Power Punch Warmup, with Coach Gabby. That's a perfect way. It's a boxing-style warm-up, especially if you're going to do kickboxing. It's perfect. New meditation, Mental Escape with Coach Allison. I love Coach Allison's meditation. She is crushing it also, new cardio, fifteen minutes of sweat with Coach Trace. 
Next item up for bid. 
There's even more. There's a brand new program by Coach Nicolette, Mastering Major Lifts. This is an intermediate, full-body 4 times a week for 4 weeks program. This builds strength by mastering the major lifts like the front squat, Tom, the deadlift, and the pull-down. If you've never tackled these movements or, Tom, you struggle with them, this is your chance to hone your technique and reap the gains. Every day features a different movement pattern from squatting, pressing hinges, pulling as you explore the different compound lifts. This is perfect. You got new strength, which is Metabolism Reset Coach with Coach Woody, a beginner. It's 30 minutes, full-body, all about getting lean. 
You have Sweat Like Coach with Coach Paul. This is an advanced full body for 30 minutes. This is a Coach Paul classic complete with advanced moves, pushing past adversity, and training like a pro. You've got quick fits. Quick-Fit, shredded shoulders with Coach Paul Quick Fit back strength with Coach Liz, new yoga. Hands-off flow with Coach Jake. Unwind chill flow with Coach Francis. New bar, your intro to bar with Coach Francis. New recovery, how to stretch your core with Coach Nicolette. This is key. People do not stretch their core. This is important. New cardio, cardio with a side of core with Coach Woody and another new meditation. Quantum jumping meditation with Coach Jared. 
Am I going to land in another dimension? What is happening there?   
It's to help connect members to the power of their breath. That's going to help you find clarity and release from stress. This is really good for tackling anxiety before a big game work presentation or life change. 
It's also good for the scapula. 
There's also a new family fitness class kids camp, superheroes with Coach Paul. I heard tons of good things about this. This is perfect for beginners. It's a full-body, fourteen minutes. That was number two. 
We had a couple of different posts from coaches, just their thoughts and musings about life and fitness in general. 
I love that the Tonal coaches are so accessible, and they're also constantly posting super motivational things. The first one that we have here is from Coach Jackson, and he talks about who you work out for? He started by always working out for himself. He found that only took him so far. It helped him learn how to work hard, push himself, overcome obstacles, and gain confidence. Again, that only got so far. 
He then started figuring out that there were other things. He'd started looking for other ways to move forward, and that's when he became a personal trainer. That helped him move forward by helping other people. That's what he started working out for other people, then came Tonal and this amazing community, which now inspires him to be his strongest. 
Also, he talked about his wife and how his family is now essential to him. What motivates him. I found it interesting to hear about these different things that drive him because as we go through the different cycles and stages of life, we all have different drivers. It's amazing to see somebody who's so focused. He's had all these different reasons, but it all comes back to fitness for him, and not all of us have that. I didn't start in a place. You didn't start in a place where fitness was ever important. Even now, we have different reasons that might change daily the why we work out. It's pretty cool. I'm glad that coach Jackson shared that. 
Coach Paul had an interesting post as well. 
He did. I'm just so impressed with these guys, being all of our coaches, guys being plural for people. For gender-neutral. In this one, he talks about how he wanted to keep it real because he's had a really rough couple of months. He's been battling behind the scenes to stay disciplined with his mind, body, and soul despite what it looks like on the surface. 
When he moved to LA, it's had a lot of ups and downs. Life hasn't been easy. He has found that continuing to move helps him find his peace. He talked about being able to do the live classes with us. The community is helping him build a rhythm and routine in life. That's helping him get on top of things and stay on top of it in 2021, helping him out of that rut he was in. 
He had to miss a live class since live classes started coming out. He missed a couple. He wants all of us to pop in and train with him because that motivates him, drives him, and gets him going. I wanted to point this out because we all need each other. That's what this community is about. Being able to have the opportunity to impact somebody else, especially one of our coaches, the people who drive us, I think that's amazing. If you get a chance, make sure that whenever Paul does a live class, stop in, say hello by hitting the button to all your friends, and just show up. I'm sure it will mean a lot to Paul. 
I'm sure it will. Finally, Coach Nicolette. 
Coach Nicolette is such a bright light. I love her. She started with a quote, "In the absence of love and belonging, there's always suffering." She said that she has been exploring this theme of belonging. When she was doing the first live class, she felt a deep sense of true belonging. She talked about how throughout her life, she's never really felt like she belonged. 
She's always been an outsider, maybe because of her piercings, tattoos, or hardcore music. It's all been out of distance. She talked about what does belonging means? For her, it's about acceptance and belonging to herself that it's not about fitting in or being cool, being the best, having the most friends. It's showing up as any version of yourself and being supported, loved, and appreciated despite how you might feel about yourself. She feels the community does that for her. She loves being a part of something bigger than herself. I just thought that was wonderful. I'm so glad that she feels she belongs because I can't imagine a Tonal without a Coach Nicolette. 
It all shows you that everybody has those moments. 
I love it. Our coaches are so real. They're all amazing. 
—
Time Magazine is starting to roll out their end-of-year lists, and Tonal makes the list of best inventions of 2021. 
I agree with Time Magazine on this one. 
For high-intensity workouts, just go as fast as you can. As long as your form is good, you're not going to hurt yourself.
Click To Tweet
Except for the date. 
There a few years behind, but they caught up, and we've got to give them that. 
Like any had mentioned, "Alexander Graham Bell invented the telephone." It was a while you had enough people that had a telephone. 
That it was on everybody's radar, that it became a household thing. Tonal is getting there every day. It gets them a little bit closer. 
That's cool to see them making something like Time Magazine. 
Congrats to Tonal, the whole team. 
—
Rob Webb sat down with VentureBeat to talk about how Tonal is turning the media landscape upheaval into opportunity. 
This article is a bit technical, and I mean marketing technical, not about the behind-the-scenes of technical. 
You don't need to be an engineer. 
What they're talking about here is how over the last year and a half of COVID. There's been a huge amount of growth. Still, internal marketing analytics and forecasting abilities have really been key for Tonal to stay on top of it, ride that wave and keep riding it, especially post-COVID. We hear from some other companies, including Peloton, that their numbers aren't staying up there, but Tonal appears just to keep on going, which is fantastic. They have a lot of deep understanding of the channels they're working within in their marketing channels, which is so important. If you want to get a deep dive on this, this will be a great article for you to check out. We will post it over in The Superset group so you can check it out. 
—
Tonal is opening a showroom there at the Westfield Galleria for those who live in the Sacramento area. 
Did it say when it's opening? 
If it did, I don't remember. 
It's December 9th. How exciting. 
Using Smart Flex makes you stronger and significantly faster.
Click To Tweet
If you live in the area and haven't checked out Tonal yet, here's a great opportunity. I thought it was interesting that it wasn't like a pop-up or Nordstrom's. It's a flat-out showroom in Sacramento. I thought that was pretty cool. You can probably stop by and get yourself a Tonal T-shirt or something if you're so inclined. 
It's the first time they're entering the Sacramento market, so that's a pretty big deal. 
—
Did we come across this article called, Is Your Peloton spying on you? We wanted to address it because they talk about some other pieces of connected fitness equipment in there. One of them is the Tonal. 
Can I just give it a big, "Hmp?" 
If you have stumbled across this article and it made you scratch your head or, even worse, made you concerned, we wanted to point out that it is completely incorrect with what it says about Tonal. 
It talks about Tonal having a camera, and it says, "If you were to take images with the camera, tonal might share them with the third party, along with data about your gender location, name, and connected social media accounts." Supposedly they got this information from the foundation. They said, "Tonal shared audio and video data to the following third-party, service providers, connected application, social media, public audience, and legal authorities. The company also provides no retention details, images. There are no ways to delete the data for anyone be California resident." Now it has changed. It initially said that tonal was going to sell the data. Now it has said, "It does not sell data outright. Tonal can share the heck out of it. Mozilla found." However, when I reached out to Tonal, they said all this information was incorrect. We all know they're not using the camera now. I pointed that out to this person, and they never responded or fixed it. 
It says, "If you take a pic." You can take a picture if you want to. 
It's saying that you're making images if you use the camera, but I don't know. It's just all incorrect, and i's irritating that it's incorrect. 
—
You will learn so much about your users if they could just talk to you.
Click To Tweet
Inside Nova has an article about Lance Bass, where he sings the praises of his Tonal. 
Do you think we need to tell anybody who lands passes? 
I just assumed everybody knows that he's from Back Sync Boys Degrees. 
He's NSYNC. All those boy bands. Tom, I never listened to any of them, none. That was never my jam. I know it's a lot of people's, and this is a huge deal because it's talking about how Tonal specifically changed his life. That is amazing. 
That is really cool or as cool as NSYNC can be. I'm a rock guy, so I have to make fun of them. It's the law. Also, Troy Jones was spotted with a Tonal. 
We have to credit Oscar Martinez for posting this out in the official Tonal community, so thank you for doing that. World boxing champion Gervonta Davis uses tonal to prepare for his peep, his pay-per-view world title defense in December. It's all thanks to strength and conditioning Coach Troy Jones. If you look behind him in this image, you can see three Tonal's lined up behind him, so that's cool. If you watch it, you can see him using it briefly in the intro of the all-access episode. 
Because I'm not a sports guy, I don't know who any of those people are. 
World Champion, baby. That's all that matters. 
World Champion, it's something. They're doing better than me. 
World Champion of boxing. It said that. 
That's what happens when people talk about sports to me. I just instantly glaze over. 
You hear nothing. Maybe if I made a movie about it, you'd remember it, or maybe I wrote a song. 
A movie, maybe but I don't know that a song would. 
—
A quick rundown of some of the Tonal talks that might not just buy us. 
This is all about one Tonal talk. This is a huge deal, though. This happened on November 17th at 7:00 PM Central. You have to do the math to figure out your time zone. This is amazing. This is all about the Tonal Strength Institute, and they did an update, so we've been watching it. They're making this like compendium of all these experts and talking about how they will use these experts, amazing expertise to build on Tonal. Check this out. Troy was the first person on, and he talked to Kate about all these different experts that they were going to be discussing. The first one was Dr. Brad Schoenfeld. He isn't a hypertrophy expert. They called him the Preeminent Researcher in Hypertrophy. He wrote the book on actually maximizing muscle growth. This is not a book like you, and I could pick up and use it. 
It's because we haven't done enough hypertrophy, and we don't have the strength to pick up this book. 
It's a college-level book. I'm not saying it's a book that he just wrote. This is a textbook. He loves his Tonal. He's involved in these great research studies that Tonal is teaming up with him on. One is all about the dynamic weight modes and what their effect is on muscle growth and activation. The first phase is they put this little patch on your muscles. Whenever people do the workouts with eccentric mode or smart flex, they test to see how activated the muscles are. That's a one-time thing. Assuming that they're activated, they will move to the second phase to measure muscle protein synthesis. That is the building block to all muscle building. That is hypertrophy. You have to go in and test that with a needle. You have to grab a little piece of the muscle. 
Like a muscle biopsy? 
It's not quite that, but it's close from what I can tell. All I know is you a needle. This is not a patch like the first phase. What they're going to do is they're going to have people work out with again, eccentric and smart flex in different modes, and then they're going to see, did the muscle grow after one time using it? If that goes well, they're going to do a third phase, which is a longitudinal study using smart flex versus non smart flex, eccentric versus noneccentric. They're going to compare over time what happens to those muscles. This is so incredibly exciting because they believe that these different smart modes or these advanced modes will show so much promise, but this will be the proof. This will be like, "It works." 
The other thing is probably a play here, and maybe you were going to get to this, and I'm just going to jump in like a man. In the past, if you wanted to do a study like this, you really couldn't get the data. You don't know for sure what people are lifting. When they're lifting? Did they lift it? Now with a Tonal, you can track real data. 
These will have to be done controlled studies, so they'll have to be done in a lab. You would have been able to do the same thing back then. This will be comparing free weights and a Tonal to see how much better that Tonal is. Anybody who uses a Tonal suspect it's better, but to know, it will be fascinating. We have Dr. Stacy Sims. This is also very exciting. She is talking about or looking at an expert on women's lifting. She has proven for many years, there are different things to think about with women, including muscle cascades like how everything works, hormonal considerations, muscle activations. She's the main person that's been studying this for many years. 
What they're anticipating is that we're going to start seeing potentially specific programming. Dr. Sims has identified seven areas that we really don't know anything about with women specifically. She's going to collaborate with Tonal, and they will build brand new knowledge in this area. Kate let it slip that there were things that they are working up for the community, that she's worked with Dr. Sim specifically for items they are working on with the community. I am excited about this because so many users of Tonal are women. They even said during this Tonal talk, "Strength, the entire background is not servicing women." This is incredibly exciting. 
We move on to Dr. David Martin, this is going to be all about sports performance. He wants to build optimal programs for all stages in life, young, older sports specific, etc. For Dr. Martin, we can anticipate there will be more sports performance programs on Tonal. Things like better bike and tread, that's what we're be looking for from this collaboration. 
Dr. Marcus Elliott is an MD. What he is working with Tonal on is all about what movement should look like across all populations. You and I probably move a little bit differently, but there should probably be based on our ages and gender. Like basic, this is how we should move. They're going to work together to find a way to make a more robust and specific assessment. That is what they're hoping for, and to make data that we get in our assessment way back at the beginning, we first started using Tonal to make that data more actionable. Wouldn't that be fascinating? 
I'm so excited about all of these. Next up, we have Dr. Riley Williams, also an MD. This is all about preventative training. Let's say you can do things called prehab to keep your shoulder health good, like lots of mobility, shoulder circles, so that you're not putting a lot of pressure on weird points in your shoulder. They're also going to be working on programming for injuries that have occurred. Let's say you have an injury, here's what you can do to fix it. This is incredibly exciting, too, because I feel like this is step one in how we get to where we're helping people do rehab after injuries, which is so incredibly exciting. 
It's cool because all of this was a scoop for the official Tonal community. This has not been shared with the press at all yet. This is just for people that follow along closely. They also got done with a study that they did called the Real Feel Study. It was specifically to see how much heavier Tonal feels than it is. This is fascinating. Would you like to guess the percentage? There's a range. I will tell you that it feels heavier than it is. 
I don't even know how to guess because I've never lifted the real weights. 
That's fair. They did four exercises and tested them side-by-side, the deadlift bent over row, front squat, your fav, and then bicep curls. They were all the barbell versions because that was the easiest way to do apples to apples comparison. They wanted to look specifically at the one max rep on both. They looked at him again a couple of days later after they rested. They did an EMG study to see how well it activated the muscle. Anyway, the end result was 16% to 25% heavier. The deadlift,16%, front squat, 16%, bent over row was like a range, the teens to 20%, and the bicep curl 25%, which feels right to me because it was bicep girls. 
Does that mean that if you're lifting 10 pounds in a bicep curl, it feels like you're lifting 12 pounds or 12.5 pounds? 
That's exactly right. The reason is not just the gravity, but also the strain is on the entire time. When you're lifting a freeway, you can swing that. It makes sense, too, that a bicep curl would be the heaviest difference because you can swing that bar. You can't swing a front squat. You can't swing a deadlift. It makes sense to me that it would feel heavier. I am just fascinated by this. This is incredibly exciting. 
One of the other things that they are working on with this compendium is Louisa Nicola.  She's going to be looking at what Tonal does to our brain. This is from a neurological perspective. We all know that working out is a good benefit. We get some serotonin from that but how can we use Tonal to get the maximum positive benefit? That's going to be an interesting study as well as Mike Mancias.  
He is looking at how to maximize the learning. He's been an athletic advisor to LeBron James for years. He will be looking at how to maximize the learnings that he has found with LeBron, who's this amazing athlete. How to put it out there on the Tonal for all of us to use? That could potentially lead to a new LeBron program. Who knows? Many exciting things are happening in the Tonal Strength Institute. Just saying, "There's a total talk," did not do it justice. 
They should study me for that brain chemical one to figure out why I don't get any of that. 
Kate, we need to get Tom in that study. That could be really interesting. 
To figure out what the hell is wrong with me? Sounds like a pretty big study. 
There was another Tonal talk that I didn't want to skip over. Wednesday, November 10th, is all about how do you make your holidays that are coming up happy and healthy. This was with coach Natalie and Kate. They talked about cultivating a balanced approach to wellness while you still enjoy the holiday festivities in 2021, which is something you and I are working on, like having a day where you do whatever you want. 
You don't have to go 30 of them. 
You can still work out and feel good. You don't have just to stop everything. We're going to be working on this in our personal lives. I am excited to see how this turns out. 
—
The December community challenge has been announced, and it will feature Tony Horton. 
They're going to do the entire 20 in 20 Ignite Program. Coach Tony Horton is leading it. He will be in the group, talking to people, doing the videos, the whole spiel. That is super exciting. They felt like this was the perfect program because it was December. 
The holidays are so much stuff going on, so the twenty minutes in and out, and you're good to go. That makes a lot of sense. 
He is going to join to two Facebook live Q&As during the challenge. There will be a whole curated list of workouts to round out the strength worth that workout with Coach Tony. 
—
Joining us is Brandt Belson. He is here to talk to us about data and Tonal and all the magic that they do with it. 
Is your official title a Data Scientist? 
Yes. 
Do you consider it data magic? 
There's some magic pixie dust sprayed over the database. Sometimes, it feels like magic. 
How long have you been working at Tonal? 
Since May 2017. It has been a while. 
How did you first hear about Tonal? 
I found out about it through a recruiter. It was a pretty quick process back then. It was a much smaller company. I was interviewed by Aly and one of the senior engineers. I was texting back and forth with Aly and that was pretty much it. 
They were like, "You pass the test. Join us." You were around back in the days of the kitchen table like the prototype. You've seen some things. That's cool. 
I've seen quite a few. There was a time where the screen was not in portrait. It was landscape. It was also much smaller. It was a crazy time back then. 
I'm glad you guys went with portrait. What is your personal fitness journey been? Are you a weight guy? 
No, I've been more into sports and cardio for most of my life. I played soccer and baseball in college. I didn't do much strength training. It's just the bare minimum that I was required to do. After I joined Tonal, I realized what I was missing. It helps your health and sports as well. Since I've joined them, I'm much more into strength training. Getting a few pounds of muscle has been good. 
How long was it between when you started and when they could send a Tonal to your home and you could start using one? 
I didn't have one for a while. When we were in the office, I was using the one there. We had a little mini-gym there. I would get in early in the morning and do my workout and testing there. I only got one right around the start of COVID for myself and it has been much nicer. I use it a lot more often when it's in my home. 
Is there more than one Tonal in the mini-gym or is it just one that you all have to huddle around? 
There were about five and they were in constant use. You had to sign up. 
When you are a data scientist at Tonal, what kind of data are you pulling from the Tonal users that were previously you didn't know or nobody knew? 
The most important is the cable data, we call it. As you're pulling on the cables, we're measuring that 50 times a second. We know how far it's pulled out, the speed, the tension, and the force that you're pulling at. We can do all kinds of interesting things with that. That was hard to know in the past. There's a whole lot we do with that, and then also the scale. We have thousands of users all using the same hardware, doing exactly the same things, following the same coaches and instructions. It's a very controlled experiment. We know exactly what they're supposed to be doing. We can figure out how well they're doing it relative to themselves and everyone else. 
When it comes to that cable that you talked about being pulled out and measured, that leads to questions about things like the Y-pull and the pull-through. I feel like I struggle so much even set to set, getting set up correctly like the right distance from the machine. It feels like I'm getting the workout I'm supposed to be getting. Do you see on exercises like that a lot of different information coming in? 
Yes, definitely. When we come up with the Form Feedback cues that pop up that other people may be cursing at. Hopefully, not too often. We check the historical data to see what people are already doing and if they're close to right or not. Some of them you can see there's wide distribution. They're all over it, so they don't know where they're supposed to stand. Particularly, when you're not facing Tonal, you can't see the coach directly. You have to remember to stand and take a few steps away. Those things, we see for sure. We try to create rules and feedback to help with that. 
I bet that's tough because you don't know what you don't know. That's why you keep doing your iteration process. 
In some cases, we know. There are rules of thumb on how far away you're supposed to stand from Tonal, for example, so we can come up with things on that. We also take into account the user. We know their height, weight, and a bunch of basic demographic things about them. That comes into play too. 
What do you feel has been the most surprising data point? 
We're talking about Form Feedback. Maybe that's a good example. When we were first about to launch it. We were going through checking the data to see what the condition should be to give someone feedback or not. On the Eccentric phase, we have one that says, "Lower the weight down slower." When we checked, all of the coaches and experts told us, "It should be at least 2 or 3 seconds." 
We checked what people were actually doing, and most sets were under one second. Everyone was doing it way too fast. They were all focusing on the Eccentric portion where you're pulling the cable out, not the part where you're letting it back in. It's lowering it fast. More than half of the sets when we launched, people were getting feedback and they've gotten much better. People have learned. 
You haven't adjusted the machine talking to people. You've trained the public to where they're better at it now. 
Do you have the actual stats on how much better people have gotten? Do you see that? I'm not asking for you to have it memorized. I'm saying in general. 
We track everything. We have that. I don't remember that off from my head, but we track it and it has gotten a lot better. 
I feel like you're collecting so much data, not personal data. These are broad strokes of, "Here's how people are interacting with the machine." Is there anything that you're learning about strength training, in general, that was maybe previously unknowable and now you can capture that information? 
Yes. One example is using cable data. One thing we do is figure out how much a user was struggling during that set. We have the Suggested Weights like after every set or before the next set, the weight can go up or down a little bit, depending on how well you did and your whole history. That's one thing. We can measure it better than anyone ever in the past has been able to exactly how hard a set was for a user without them having to tell us. Sometimes a personal trainer may ask you, "How hard was that for you?" We can measure that pretty accurately and directly. 
You can measure it in a way now that's quantifiable. If you ask somebody how hard it was like if you ask me, I'm a big, giant pus. I'm going to tell you it's hard. It might not be hard at all. It could just be that I'm a baby. 
If you're new to the world of Tonal, join a Facebook group.
Click To Tweet
That's incredible because you think about things in the health industry. For example, the pain scale. When you're in a hospital environment, they always say like, "What's your pain scale?" Now, they show you pictures, but you get what I'm saying. They're like, "How much in pain are you?" To this day, we can't measure how much pain people are in because it's so subjective. How fascinating that you can see like, "It was a 7 on your effort level." Do you think there will ever be a day where Tonal will be able to provide like, "This is how hard that was for you based on our data?" 
Yes. We could if we wanted to show users that but to Tom's point, they may not agree. 
Maybe that's not a good idea. What do you feel like is the most important data point that people can use at home that you capture? 
We track a lot of things. The mobile app has a bunch of that, but maybe counterintuitively, I would say streaks if I have to pick one number to look at. The rest follows. If you workout frequently and show up at least once a week, then you won't lose the habit and everything else will come with that. Keep your streak going. That happens for free. 
That's spoken like a personal trainer there, Brandt. That was very inspirational. 
PRs matter too if you want something more in the workout. The more PRs you can get, that shows improvement too. 
I have a question about that. I had several months off of the Tonal because I was focused on my cardio. I have gotten back into doing programs, which I love. I'm so excited to finally be doing that again. I noticed that overall, I'm less strong than I was, especially my upper body, but I'm still getting PRs. Even though if you look at my data and you can see the history, I'm on average below where I was before, but it's still showing that I get PRs. Would that be the behavior that you would expect? Does it take into account my time off? 
PRs don't take into account your time off. There are three kinds of PRs. I'm not sure which ones you're getting. It's possible that even if you're lifting a little bit less weight than before, the weights will go down if you have taken time off. I wanted you to realize that or maybe you load them yourself. Either way, it will adjust. 
There are three kinds of PRs. One is strength. With those, you probably won't get if the weights are lower, but the other two you can. The other two are volume. If you do a whole lot of reps with one move, then you could get a higher volume, even if the weight is slightly lower. The other is power. If you have a slightly lower weight, you might be able to go so much faster that you can get a power PR. 
That does make sense. I do think now that you say that they were power and volume. Going back to what you were saying before about how interesting it was at the time under tension or how slow people were going on the Eccentric was not what you expected. If a person like myself is focused on that power, you can still go fast, but you should still be trying to slowly put it back on the Eccentric move. You have to do both. 
I'll try my best to be a personal trainer here too. I've talked to them so many times now. I had their answers memorized. What they would say is, "It depends on the type of training that you're doing." Usually, the coaches will tell you what you should do. If you follow along with what they're doing, that's the right way to go. For strength training, usually, you're supposed to go slower on the Eccentric phase. For the HIIT style or the high-intensity workouts, it doesn't matter. You go through with your reps as fast as you can. As long as your form is good, you're not going to hurt yourself. 
Has the data shown anything that was the opposite of what you expected or perhaps counterintuitive? 
That happens a lot. I'm trying to think of an example. One we came across was we're looking into how often people workout. We want to increase that number. We were looking at people who workout once or twice a week on average. We figured, "If you workout once or twice a week in most weeks, you probably workout also twice a week if they're usually consistent." That was not the case at all. 
At least, this is on average speaking. People who workout frequently tend to workout in spurts. They'll do zero workouts for a week or two, and then 3 or 4 in a week, they go back to none. That was surprising. It makes us think, "These people want to workout more often. Maybe they call it vacation or something. I'm not sure of it." That was unusual. 
Consistency is something people struggle with for whatever reason. 
Are there things that Tonal can do to nudge people to get them back in there? Do you do things like that? 
Streaks and programs are the best way we do that now. Streaks are meant to keep that habit going at least week-to-week, and then programs as well. We try to keep people sticking to a schedule. 
I know this is completely outside your purview, but I know that there are emails and stuff that go out that are like, "We haven't seen you for a while. Can you get back on the Tonal?" What is your favorite part about Tonal? 
It's probably Smart Flex. We're still doing some research to see how effective it is. There have been other people who have done research in the past such as Smart Flex increased your strength faster than not Smart Flex. We're checking our own user data now and it seems so far like it does. You get stronger significantly faster through using it. I turn it on for all my workouts. Even if the coach didn't say to, I just turn it on. 
I love Smart Flex. I love that there are moves that are tough for me that I feel like it helps me get through and do the move with better form. Especially overhead presses, that's something that's hard for me. Whenever I put Smart Flex on, I can tell a huge difference. I feel accomplished at the end of that move rather than, "That was awful." Is that one of the features that you worked on? 
Yes, that's one of the intelligence data science features. 
What other features have you worked on that you've rolled out? We don't want any unintended secrets. We do. We just don't want you to get in trouble. 
There are quite a few. Rep counting and set detection were the first ones. You know how the video waits for you. A part of that is based on detecting when the set is over. We recommend workouts and programs. That's another one. Suggested Weights and all the dynamic weight modes, Spotter, Smart Flex, Chain, and Eccentric. Form Feedback is the biggest one that we launched and Muscle Readiness. 
There are many good ones. I would not do any of these exercises were it not for Tonal. It's so much that I don't have to think about that was very overwhelming to me. I know that's something pretty common that people say but I can't say it enough. I was curious when you talked about the rep counting. This may not be something you can answer, so don't get yourself in trouble here either. I know that live workouts are coming fairly soon. Is there anything about how rep counts are happening with live workouts that you can explain? 
It works exactly the same way. 
How does it wait for you? I don't understand. 
Those are all time-based. You have two styles at this point of content that wait for you and then the ones that are more time-based. If people were all moving at their own pace, we would get out of sync. That doesn't work the same with the live. 
Is it more like as many reps as you can do like an AMRAP thing? 
Yes, it's like high-intensity workouts. 
Is there anything you've incorporated that you learned specifically because you're using Tonal? You're on the machine working out personally and you're like, "You know what would be cool," or "You know what, I should tweak." Has that moment ever come to you? 
All the time. It's not just ideas for new features but also catching bugs. We're always working out on test software. I'm catching all kinds of things all the time. There have been some times where the Form Feedback completely turned off. This didn't ever get out to all of our users, luckily. There was no Form Feedback. I was like, "I'm pretty sure I'm not doing this right." It wasn't giving me any feedback and then I went and checked. I was like, "It's broken." 
Do you go check out all of the Feature Friday stuff and see what people are putting out there? Have you been surprised by any features that people request and you're like, "That is an interesting idea?" 
First, I definitely look at those. We take those very seriously. I always check them. I don't think there have been any that had been surprising. Most of them are things that are on the roadmap. It's just a matter of figuring out how to do it. Some of them sound easy but are quite complicated. 
Give us an example of something that seems easy but it's super hard. I know programming is a lot more complicated than people can even imagine. 
I can give you one. People want to make their own moves. I see that one a lot. They think you give it a name and you're done. It sounds good but it interferes a lot with intelligence because we won't know anything about them except its name. For Smart Flex, we won't know how it's supposed to interact, so Smart Flex won't work. We list out a whole lot of information about every single movement on Tonal. We would be without that. That's a tough one. We're working on it for sure because we understand people want to do all the different things that they could do anywhere else, but it's tough to incorporate that with intelligence. 
That almost sounds dangerous if somebody can make up their own move like, "I'm going to put the thing on my foot and then put my foot over my head." It seemed like, "Maybe we shouldn't be making up our own moves." 
There's probably a happy medium that it can be done not in a dangerous way. From what I have seen, the people who want to do that are people that are the opposite of me. They've had experience doing weightlifting workouts. They're comfortable in a certain environment and doing certain moves. I feel like the follow-up question that you would automatically get by saying that is, "Is there some kind of database that you could put out there that we could fill in for you because we'll do that?" I feel like that's what you're going to get. 
This is open-source, people. Take your internet hippie BS elsewhere. This is all proprietary. 
I didn't mean for them to program. I meant for them to list out the moves and what they would do. 
I'm not asking you to point fingers, although maybe you can answer this question without pointing fingers. What's a dumb thing somebody wanted to do and you're like, "That's ridiculous?" 
I won't call it dumb but there are a lot of challenges with voice control. If you imagine talking to your Alexa, sometimes it gets things right. Sometimes, it doesn't. 
I wouldn't want it to get it wrong while I'm under tension. 
That is what I have been saying. Since people have been bringing it up, I'm like, "That is so dangerous." We use Google, but Alexa and Siri get things wrong all the time. You're lifting heavy weights and you want that to be the moment that it increases it by 20 pounds or whatever you want it to do. 
Also, decreases it when you're not expecting it and you go flying. That could happen too. 
Are those the kind of challenges that you're running into? 
Yes. We take safety super seriously. If we were to do anything like that, we have to be sure that it was safe. The things that people ask are like, "I want Tonal to do something with the weight." Anything with weight, we got to be careful about. 
I don't want to talk to my Tonal because I feel like I would hurt its feelings. I would get reprimanded a lot. You think Form Feedback is bad. 
It would be like, "Tom, watch your mouth." That's what you need for a Form Feedback, "Tom, no." 
It will learn so much about our users if they could talk to us. 
How about for your own workouts? Do you do programs or workouts or a combination thereof? 
I've been doing programs more often, but I've gone through phases. For a while, I was doing a lot of custom workouts and one-offs. I've been through all of the different phases. I like programs. It keeps me on a schedule. I don't have to think as much. 
I'm the same way. If I have to look at the machine too long, I'll come up with a reason not to do it. I like to go down in the basement and be like, "Next day." I don't even want to think. 
He always picks out his next program the second he finishes the program he is on because he is concerned that when he comes back for the next workout, he will be like, "I don't know what to do, so I won't do it." 
It has been ten minutes and I'm like, "I got things to do." 
The first program recommendation is, "That one looks good." 
That's what he does. 
I trust the data scientist. She is over there picking out stuff, going off-menu and ordering custom hack Starbucks orders. I'm like, "These data scientists work hard, honey. You should do the next thing that they recommend. That's science. Why do you hate science?" 
I like to pick a variety of things. I will try the other workouts and I like to intersperse them between the programs. What about the other content? Are you doing the bar content, yoga or meditation? Do you do any of that? 
Yes, a little bit. I tried a couple of yoga. I don't do much yoga in general. I was playing around but I liked it more than I thought I would. I do meditate but I haven't done it with Tonal. I have my own routine with that. I do a lot of mostly strength training. The high-intensity ones are my favorite. 
Is there anything that we, as users, can do to make a data scientist's job easier? 
Yes, never change your weight. 
If we change it down or up, does that mess you up? 
We very carefully track the percentage of people who do the weight that we suggested. If you accept it, it boosts our numbers and makes us look good. If you change it, we learn more. Either way is okay. 
I got you guys messed up because I had gotten back to a program. I hadn't done it in a long time. My upper body is my worst area. I went to go do the overhead triceps thing with the rope. I don't remember what it's called. When I went to go do it, for some reason, I was 32 pounds. I don't think I've ever even done that move, so I have no idea what it was based on. I moved backward. I was like, "This is not happening." I was curving my back, so I knew my form was off. I had to lower it. 
That one, you have to be ready for. It's not balanced. 
Do you have any advice for people that are new to the world of Tonal? 
Join the Facebook group. Kate is amazing. That group is active and fun. Follow this show. Do a program and get into the habit. The program will help with that. 
Thank you so much for joining us, answering our questions, and putting up with my silliness. Before we let you go, where can people find you if you would like to be found? 
On LinkedIn, it's my name, Brandt Belson. Sometimes I write stuff on Medium too. You can go there @Belson17. 
Thank you so much for taking time out of your day to join us. We appreciate it. 
Thanks for having me. This was great. 
—
I guess that brings this episode to a close. Until next time, where can people find you?  
People can find me on Facebook at Facebook.com/crystalDOKeefe, and they can find me on Instagram and Twitter @ClipOutCrystal. 
You can find me on Twitter @RogerQBert. On Facebook at Facebook.com/TomOKeefe. Find the show online at Facebook.com/supersetpodcast, while you are there, be sure and like the page and join the group. That's it for this one. Thanks for tuning in. Until next time, keep lifting. 
 Important Links:
About Brandt Belson: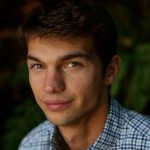 Hands-on leader in data science and software engineering with a strong sense of the product. I'm always open to impactful projects, collaboration, and investment opportunities.
Love the show? Subscribe, rate, review, and share!
Join The Superset community today: