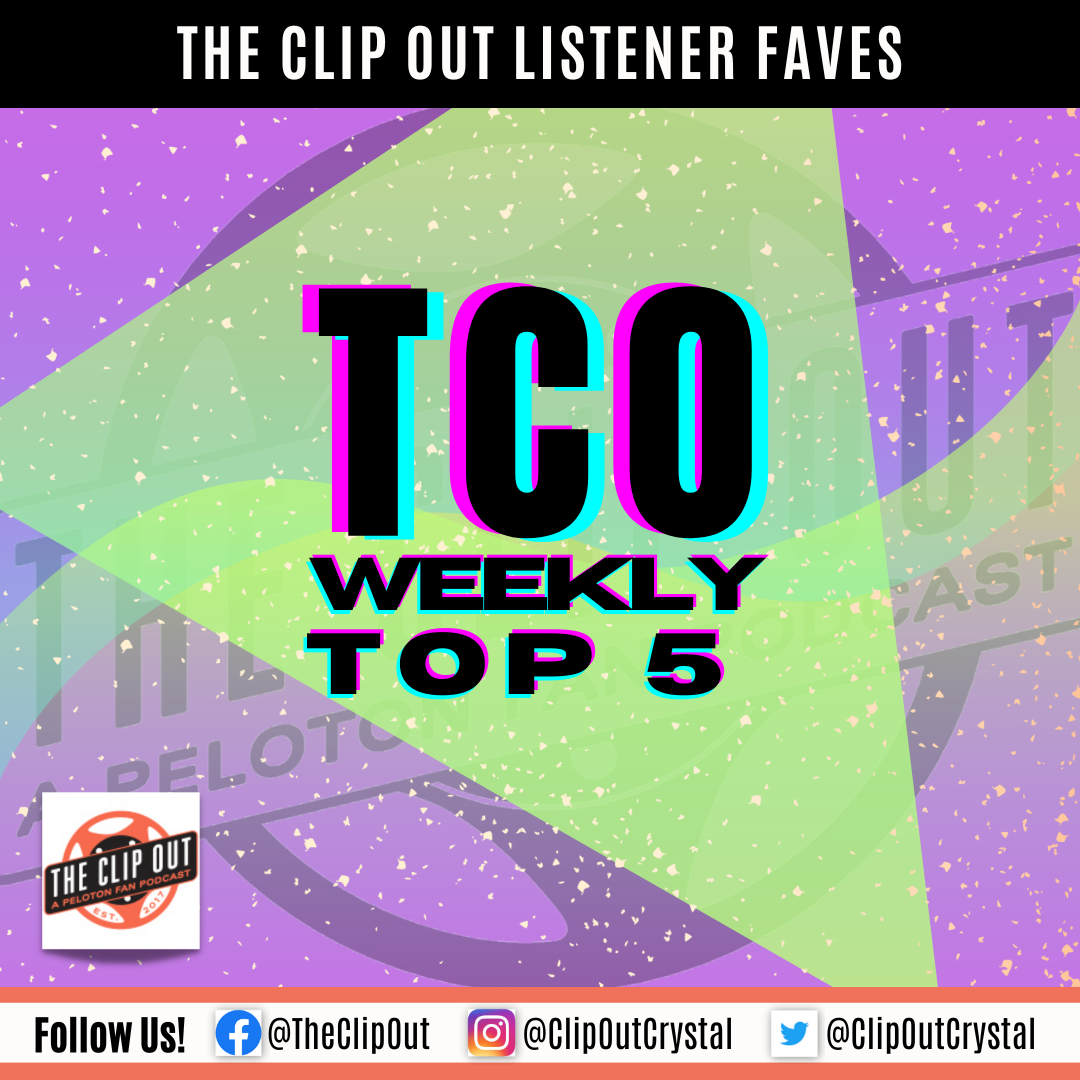 TCO Top 5 Favorite Peloton classes: Stay motivated with this week's picks (9/25/23)
The Clip Out Facebook Group shared their favorite Peloton classes with us this week, and we noticed a somewhat soothing trend. With summer officially over and new fall routines setting in, a cozy workout to keep the lights on sounds just right. We're sharing the five most enthusiastic recommendations from our community (in no particular order), along with a quick summary of each class. Read on for our weekly dose of motivation!
This week's favorite Peloton classes:
Why you loved them!
Sometimes it's hard to pick just one favorite, but these reviews make it seem easy! Here's what the TCO Group had to say about their favorite classes from the last week.
1. Favorite Peloton Stretch
8/4/23 (or 8/3, depending on your time zone) 20 min Evening Stretch with Matty Maggiacomo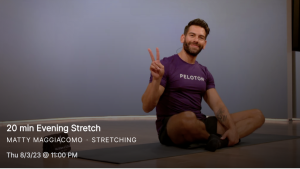 Marie KBurdick (RheumRidinDoc) set the tone for a restorative set of classes with her favorite of the week from Matty. "Not sure if we have mentioned this before but Matty's 20 minute evening stretches are an amazing way to wind down," she said. "I took the one from August 4th— totally relaxing and ALMOST as good as a Ross sleep meditation."
This is high praise for a Stretch, but we're not surprised! Matty shines in everything he does.
This class features some super chill tracks from Drake, Taylor Swift, Sarah McLachlan, and Lewis Capaldi, and will feel like a soak in the tub whether you take it in the evening or after a workout.
This is the first appearance on the TCO Top 5 for Matty's Evening Stretches, but Helper Bee Tina reviewed them previously in this story on TheClipOut.com! Check out the story for all the details.
2. Favorite Peloton Ride
9/17/23 30 min Feel Good Ride with Ally Love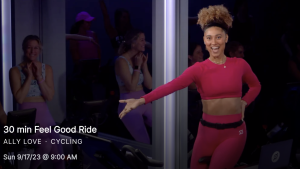 Kerry Pickett Marden likes to start her week off with some good vibes. That's why Ally's Feel Good Ride was her favorite pick.
"Such a great class and she even snuck in a little bit of tabata," she said. "Love her energy and love taking these Feel Good Rides on a Monday to start my week."
Ally's Feel Good Rides usually have only five minutes of hard efforts, all at the end of the class. For this one though, she mixes it up and alternates between easy and hard, but still for a total of just about five minutes of tough work. The point of the class is to push just enough to elevate your mood.
Song highlights for me on this one are two—yes two!—tracks from Hamilton: Satisfied and Dear Theodosia (plus a tiny bonus taste of It's Quiet Uptown as the class fades out at the end). Other songs include What a Man Gotta Do by the Jonas Brothers, Timber by Pitbull and Ke$ha, and Sweet Nothing by Taylor Swift.
Ally's song selection and effortless musicality make for an immersive mood-boosting experience. She manages to dance and lip-sync without skipping a beat—or a pedal stroke. This might sound awkward, but I dare you to take the class without being pulled to sing and dance right along with her.
3. Favorite Peloton Walk
9/24/23 30 min Disney Walk with Jess King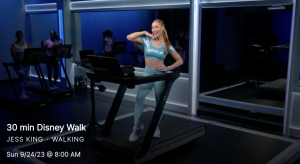 Jess King is known as a big dance music fan, so leave it to her to find some dance tracks from the Disney catalog for this Disney Walk. Sarah Lester loved the surprising playlist, and found the walk surprisingly hard to boot.
"Jess King's 30 min Disney walk [from] 9/24 was great. It wasn't an easy walk and not the music you typically think of with Disney but the energy was great and it was a ton of fun," she said. "[Jess played] more contemporary songs as opposed to the classics."
Sarah Kaplan Schmidt agreed! She particularly liked the unexpected choice of music. "She had a song from the Descendants and she said it's just EDM Disney music."
In addition to well-known tracks from Tarzan, Toy Story, and Aladdin, the class features lesser-known numbers like the dance-worthy Rotten to the Core and Queen of Mean from Disney's Descendants franchise and the disco-bop Me Party by Amy Adams and Miss Piggy from Disney's The Muppets.
The class packs a nice low-impact punch with ten minutes of hills, some intervals, and even a power walk, which all sounds like the perfect pick-me-up!
4. Favorite Peloton Row
9/25/23 30 min Classical Row with Alex Karwoski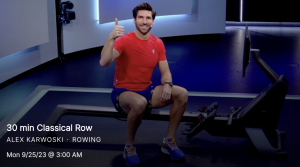 Susan Dunton Burton (SusanATX) found a beautiful Row as her favorite of the week. 
"Favorite class this week was Alex K's 30 minute classical music rowing class from 9/25 at 5:00 am ET," she said, "He explained the history of each musical piece he selected so I learned a lot, it was so enjoyable, not boring, went by fast, big climactic ending, highly recommend."
The setlist naturally contains some classical staples like Vivaldi's Spring from The Four Seasons, but it also includes Concerning Hobits, also known as the main theme from The Lord of the Rings, and The Sorcerer's Apprentice from Disney's Fantasia.
The class plan oscillates from easy to moderate to challenging efforts in five big waves, for a total of just over five minutes of challenging and one minute of max effort. With built-in recoveries and Alex's entertaining explanations, it's no wonder the class flew by for Susan!
Susan also shares what might be the Peloton hack of the year! "And here's a tip," she said, "If you want to customize your rower foot straps with your fav Crocs Jibbitz like I have, it's easy and they fit perfectly."
5. Favorite Peloton Unstackable Run
9/23/23 30 min HIIT Run with Selena Samuela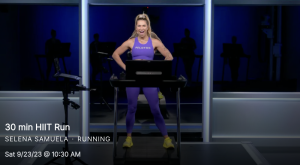 Sometimes we want a class that leaves us in a puddle and washes all hope of a stack of extra classes away with it. We call those classes Unstackable, and we love hearing about our listeners' Unstackable experiences.
We didn't get a group recommendation for an Unstackable class this week (we are in our soothing era!), but we did get one from Becs Gentry (okay, she's not a member of the TCO Facebook Group, but we can pretend, can't we??). Becs shared her experience in a since-expired Instagram story while sitting on the floor pointing to her face.
"This is what happens after taking two Selena tread classes. Look at these stripes," she said, referring to the sweaty red streaks on her cheeks–the kind of flush you earn from a really tough workout!
Becs did stack this class with an Endurance Run as a cooldown, but when you're an Olympic trials runner, you just do that sort of thing. For most of us, this will be absolutely Unstackable.
Selena's class plan is a generous 7-minute warmup followed by 22 minutes of, well, super-hard intervals. The intervals are short, hard runs followed by short recoveries. Selena encourages you to draw from your own well of inspiration throughout the class, saying, "You showed up for a reason. You've got a why. Hold on to it."
The class setlist is perfect for a tough HIIT Run with music from the likes of David Guetta, Gorgon City, Hozier, and Doja Cat.
If you dare give this class a try, please let us know how it went for you!
Thank you!
Thank you to all of our listeners for sharing your recommendations and enthusiasm. To see the full list of this week's classes and add your own to the conversation, check out the post from September 25, 2023, here. To see past weeks' Top 5 classes, visit TheClipOut.com and search TCO Top 5! If you try any of the recommendations and find a new favorite, we'd love to hear from you!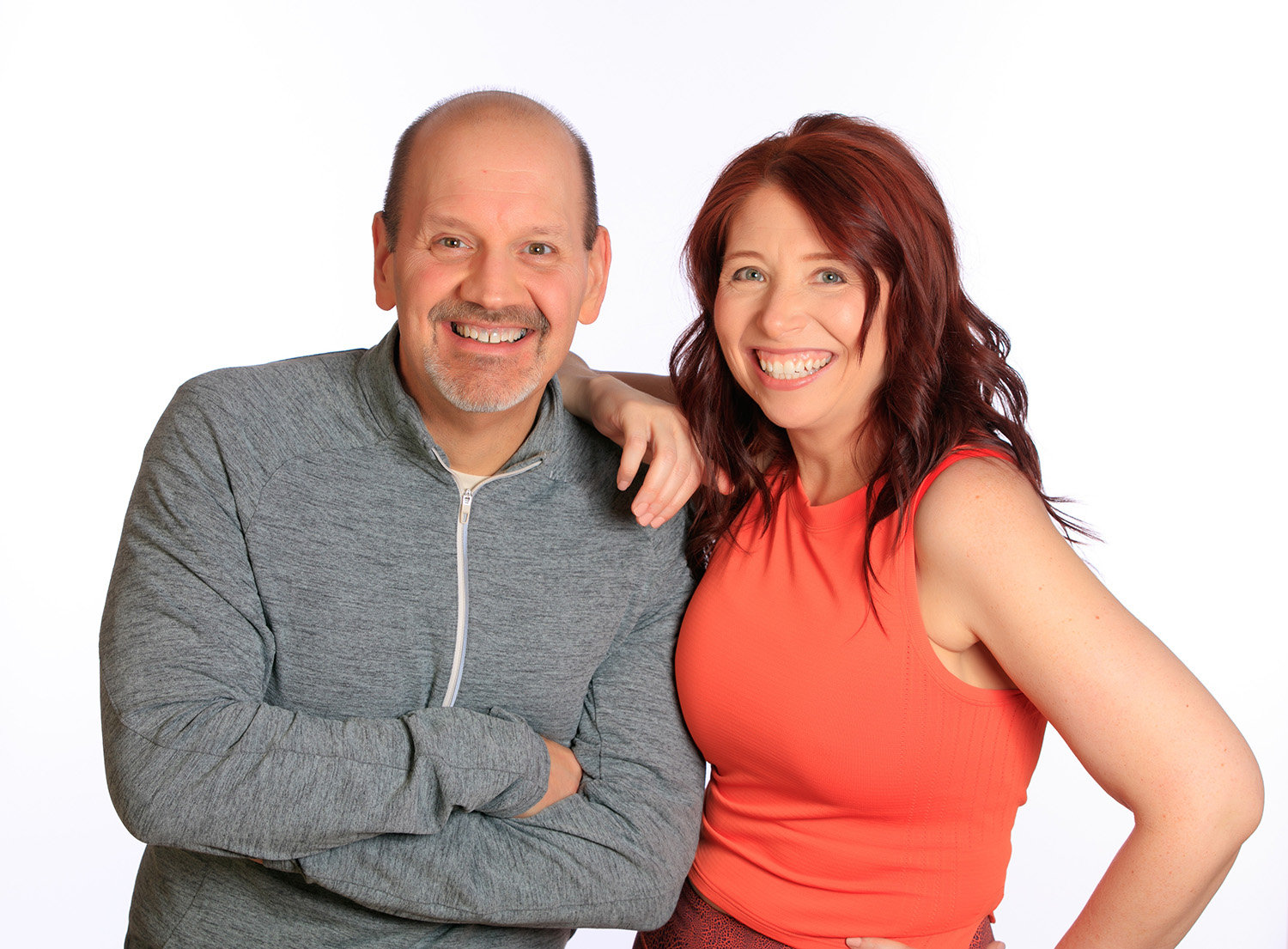 Subscribe
Keep up with all the Peloton news!