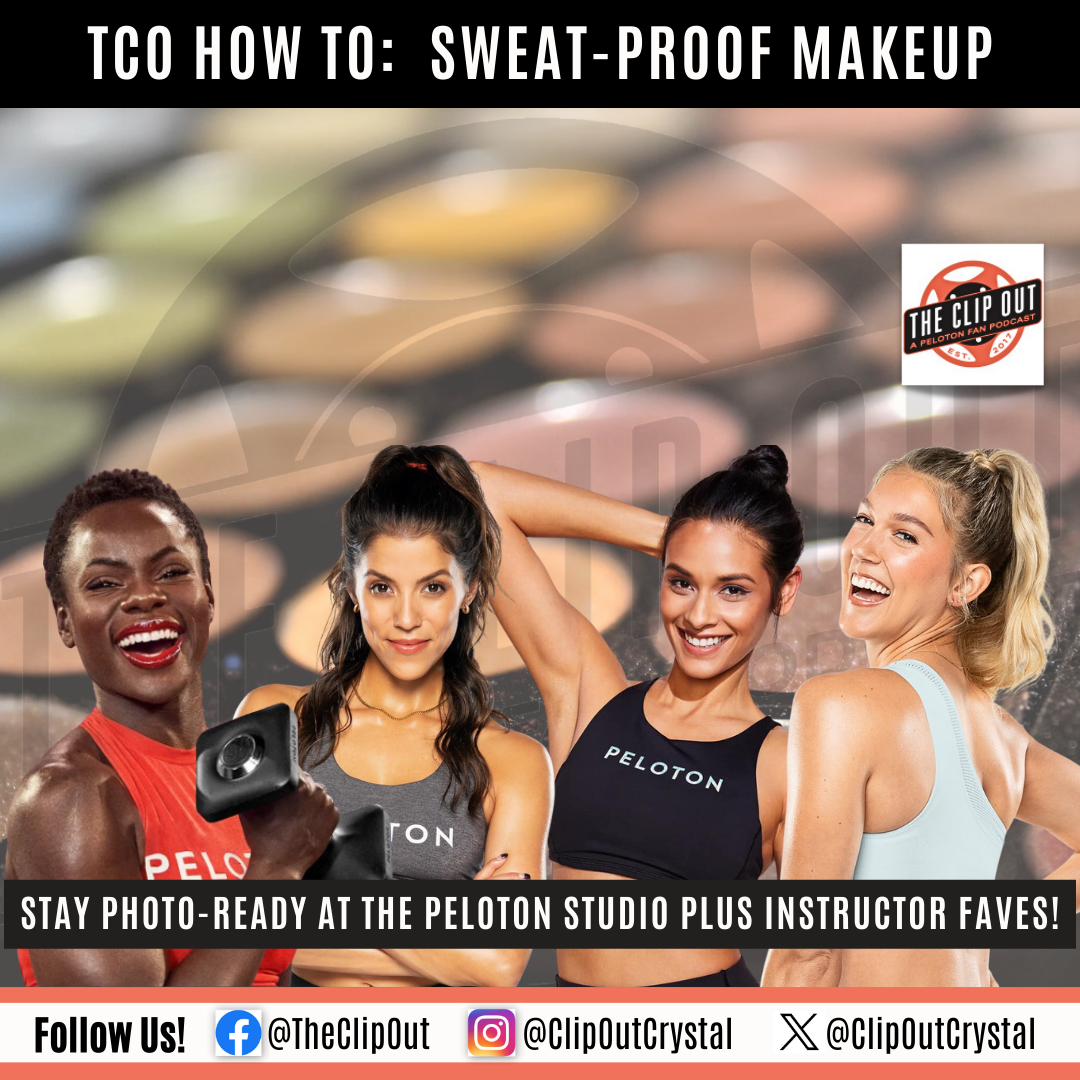 Sweat-Proof Makeup to Keep You Photo-Ready at the Peloton Studio and Beyond
Hannah Corbin's perfectly polished berry-stained lips.  Aditi's flawless winged eyeliner.  Callie's easy-breezy glow.  Tunde's endlessly perfect, vibrant lipsticks that, somehow, never smudge!  Not only do these Peloton Instructors leave us with a serious amount of envy, but they also make us wonder….how do they teach those sweaty classes and maintain those perfectly made-up faces??  Is it witchcraft?  Maybe.  But, since Peloton instructors have to act as their own makeup artists and are in charge of their on-camera looks prior to stepping into the studios, it's more likely that they have an arsenal full of tried and true sweat-proof makeup. 
Wondering how you, too, can achieve a similar look, especially when you're visiting the studio, eager to get that post-class photo with your favorite Instructor while not looking like a scary clown with a melting face of makeup?  The Clip Out's got you!  We've done our homework just in time for anyone heading to All For One and, whether you're squeezing in a midday workout on your lunch break, or taking a trip to PSNY or PSL, we're here to break it all down for you!  
First Things First
Ready to get started building that sweat-proof makeup look?  It all starts with a clean, moisturized canvas – your skin! But before you apply foundation, let's talk about an essential step: sunscreen. Yes, even if you'll be indoors. We know you're likely already aware of this, but it's always worth a reminder! Aim for an SPF of 30 or higher and be sure to use ¼ tsp for your face and neck. 
While Supergoop's Unseen Sunscreen is a cult favorite, we have an equally good and slightly more budget-friendly alternative to recommend: Olay's Regenerist Hyaluronic + Peptide 24 SPF 30. And, if you're looking for an even more budget-friendly option, a little birdie told us that Trader Joe's sells an incredible dupe of Supergoop's Unseen Sunscreen.  All three options dry down to a matte finish, so you won't look sweaty before your workout. 
No matter which sunscreen you go with, be sure to give it at least 15 minutes to absorb into your skin before applying the rest of your makeup.  This allows for maximum protection against harmful UV rays, but also helps guard against the dreaded "peelies" that some sunscreens can give you if you apply before they're dry.
Prime Staying Power
Once you've let that sunscreen dry down, you're ready to move onto the next step:  primer.  Often overlooked, primer is a great way to really give your makeup something to grip onto and a good primer will keep your makeup in place all. day. long.  Splurge brands, like Tatcha, can make even the quickest of makeup jobs look airbrushed and flawless, but, for the more budget-conscious, you can find equally good primers at the drugstore made by brands such as E.L.F and NYX.  
And, don't overlook your eyelids (pun intended)!  Sure, you can use the same primer for your lids as you did for your face, but using a primer specifically designed for eyeshadow will amp up the benefits. It will ensure your eyeshadow stays put all day long and maintains its vibrant shade without fading or smudging, no matter how hard that workout was.  One of our favorites is Urban Decay's Original Eyeshadow Primer Potion, which happens to come in travel-size, making it perfect for a trip to New York or London! 
Now that we've covered the basics, let's move on to Instructor faves!  
Easy, Breezy, Beautiful
Ok, we know that's CoverGirl's slogan, and Peloton Strength and Bike Bootcamp instructor Callie Gullickson happens to be a noted Maybelline (and eye patch) lover, but it's a perfect way to describe her fresh-faced, your-skin-but-better glow.  Callie has one of the more robust collections of Instagram Reels and LTK's devoted to products she loves and there are lots of them!  From Maybelline's Lift Stick Brow Gel, to their Superstay Vinyl Ink Liquid Lip Color, to their Lash Sensational Sky High mascara Callie, Callie has no shortage of Maybellien faves to help her maintain her camera-ready look, and her product devotion, no matter what kind of an AMRAP she's throwing at us.  
Side Note:  If you're looking to skip all of this makeup noise, but still want that sunny glow, Callie recommends mixing Isle of Paradise tanning drops in with your daily moisturizer.  If you're looking for a product with an equally easy application, but without the moisturizer, check out St. Tropez Purity Bronzing Water Face Mist.  While it takes a little planning to apply so it has time to develop, it's an easy hack to give skin a boosted look that won't sweat off while you're working your booty off in a class.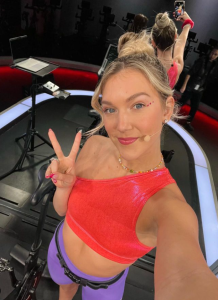 The Most Unforgettable Women in the World Wear Revlon
The world is a HUGE place, so we don't know about that, but the staying power of Tunde Oyenyenin's lipgloss through even the most difficult of workouts is definitely legendary.  In fact, it's so remarkable, it's one of the questions she gets asked the most often. A former makeup artist, Tunde is also a Revlon devotee.  Much like Callie, Tunde relies mostly on a single brand to pull her camera-ready makeup together. The key to Tunde's radiant look begins with Revlon's ColorStay Foundation and ColorStay Concealer.  But, for lipcolor with some serious staying power, she turns to Revlon's ColorStay Matte Lite Crayon (we're sensing a theme here!), specifically pointing to the colors Ruffled Feathers and She's Fly as personal favorites. Once she's applied her color base, she tops it off with a gloss like Revlon's Super Lustrous The Gloss…because, of course…and she's ready to hit the studio.
View this post on Instagram
Tunde isn't the only Revlon-lover in the group.  Hannah Corbin has mentioned being a big fan of Revlon Super Lustrous lipsticks, raving over the colors Mocha and Cherries in the Snow in past Instagrams.  If you're looking for that pretty pop of fuschia for your pout, but aren't quite the Revlon fanatic that Tunde and Hannah C. are, MAC's Lipstick Matte D for Danger is a nearly identical dupe to Cherries in the Snow.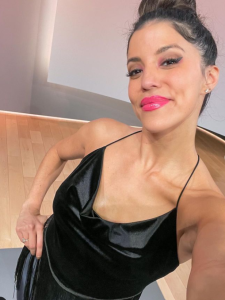 Winging It
What would a sweat-proof makeup article be without telling you how to get Aditi Shah's flawless winged eyeliner?  While we can't guarantee you'll master the technique to get that perfect corner flick, we can point you toward the product that will get you there. In an Instagram Get Ready With Me, she gave us a glimpse of her makeup routine, and revealed that her go-to liner is Makeup Forever Aqua Resist Graphic Pen.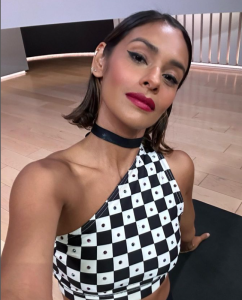 To achieve the rest of her gorgeous on-cam look, Aditi turns to a variety of her tried-and-true go-to products.  She relies on Milk Makeup foundation, Fenty Beauty Match Stix Contour Skinstick, and Hourglass Vanish Airbrush concealer to give her a flawless base, and keeps her makeup in place with the Urban Decay All Nighter Setting Spray in Ultra Matte. To complete her look, she adds a pop of color with Huda Beauty GloWish Blush in 02 Caring Coral, enhances her lashes with Benefit Bad Gal mascara, and perfects her brows using a combo of Kat Von D Super Pomade and Benefit Cosmetics Gimme Brow brow gel.  Aditi relies on Huda Beauty Brown eyeshadow palette for a perfect smoky eye, and adds a touch of radiance with RMS Beauty Luminizer.
Side Hack
Aditi didn't just share her favorite products in her GRWM Reel – she's also got a handy makeup-setting hack not-so-hidden in there. While the Reel is sped up for brevity, it's easy to spot that, instead of drenching her skin with setting spray, she sprays it on a beauty blender and gently bounces it onto her skin, locking in her foundation, contour and concealer before continuing on with the remainder of her makeup. 
No matter what your day holds–AFO, a sweaty workout, a trip to the studio, or just existing in a hot and humid environment, there are plenty of sweat-proof makeup options available, so you don't have to sacrifice your makeup game just because you're active. These Instructor-approved products will keep your makeup looking fresh and flawless. So go ahead and sweat it out–your makeup will stay put.  Just don't forget to take it off at the end of the day.  (Callie recommends Clinique Take the Day Off cleansing balm, by the way.)