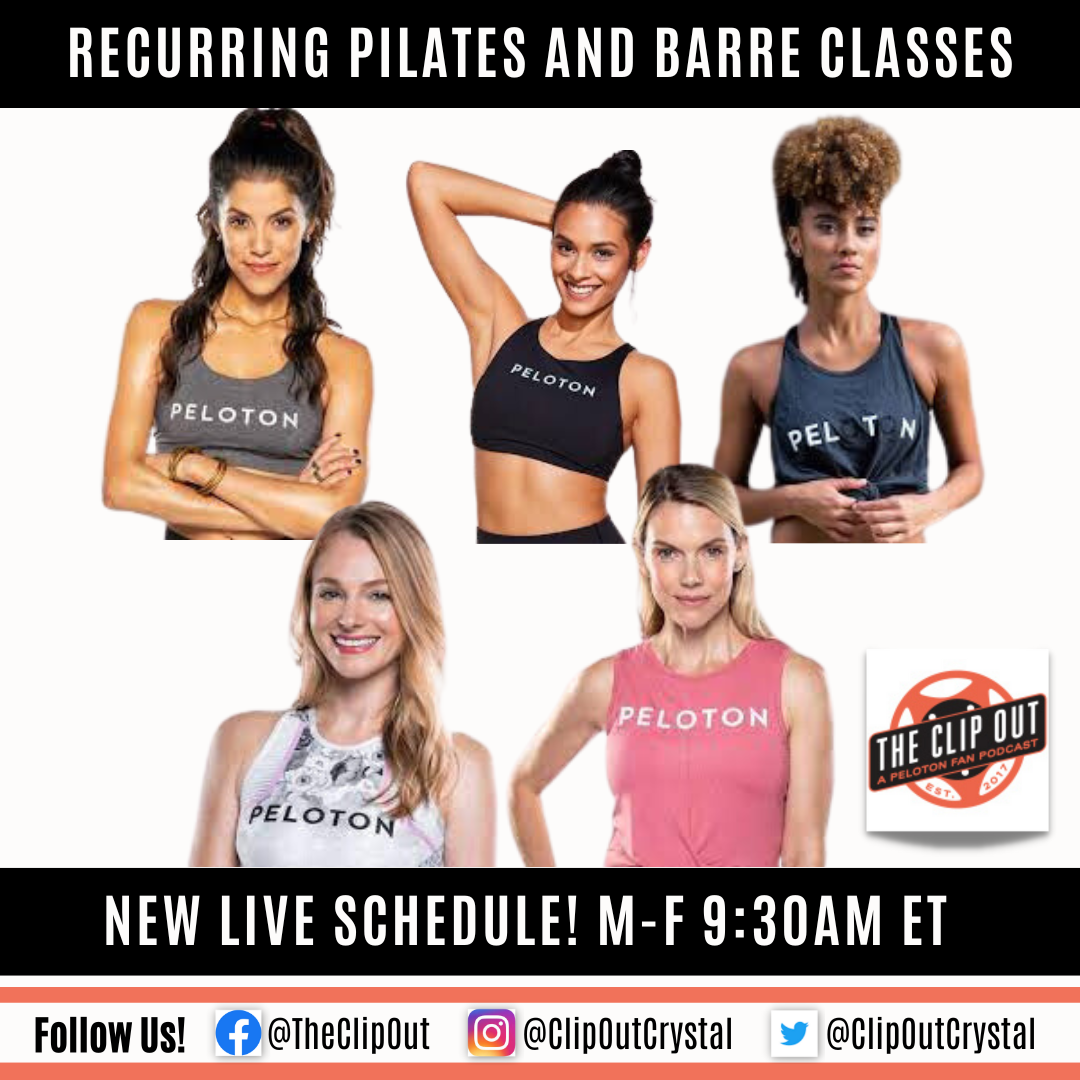 Recurring Live Pilates & Barre Classes Start This Week
Are you looking for something different in the live class schedule on the Peloton platform? Look no further than Peloton's new recurring Pilates and Barre Classes! Starting at 9:30 AM ET every Monday through Friday, these Pilates and Barre classes will get your heart pumping and muscles pulsing as you join a community of fitness enthusiasts from around the world. Whether you're a seasoned pro or a newcomer to exercise, Peloton's expert trainers will guide you through the best Barre and Pilates classes, helping you to reach your fitness goals and feel your best.
The recurring live classes are the perfect way to jumpstart your day and get energized for whatever comes your way. With a range of classes to choose from–this week's lineup include 20- and 30-minute classes–you can customize your experience to meet your fitness needs and preferences. Peloton has something for everyone, from high-intensity Barre classes that build strength and flexibility to restorative Pilates sessions that focus on breathing and alignment, these classes will give you the tools you need to feel strong, confident, and ready to take on whatever comes your way.
The fact that Live classes start June 5th and here is the schedule:  6/5: 20 minute Pop Barre with Hannah Corbin, 6/6: 20 minute Pilates with Aditi Shah, 6/7: a 20 minute Pop Barre with Ally Love, 6/8: 20 minute Pilates with Anna Greenberg and finally  6/9: 30 minute Pop Pilates with Kristin McGee.
Classes continue on the calendar for the following week as well.  6/12: 10 minute Barre with Hannah Corbin, 6/13: 20 minute Pop Punk Pilates with Aditi Shah, 6/14: 20 minute 90s Hip Hop Barre with Ally Love, 6/15: 15 minute 2010s Pilates with Anna Greenberg and 6/16: 20 minute 2000s Pilates with Kristin McGee. 
As you can see from the schedule, the duration of the classes will vary but so far the pattern is Barre Monday and Wednesday and Pilates on Tuesday, Thursday and Friday.  The same instructors seem to teach each day as well. One of the things I love about these classes being on the shorter side and showing up in the schedule 5 out of 7 days is that you can easily add it on to an existing schedule, without overdoing it!
Peloton's new recurring live classes are an amazing way to get your pulse racing and your body moving. Whether you're looking to build strength, and flexibility, or just improve your overall fitness, these classes offer something for everyone. With a supportive community, expert trainers, and a range of classes to choose from, Peloton's Pulse Hour is the perfect way to start your day and feel your best. So why wait? Sign up for a class today and experience the magic of Peloton for yourself!
---
See something in the Peloton Universe that you think we should know? Visit theclipout.com and click on Submit a Tip!
Tune in to The Clip Out on every Friday to hear Tom and Crystal's take on this and other hot Pelotopics. We're available on Apple Podcasts, Spotify, Google Podcasts, iHeart, TuneIn. Be sure and follow us so you never miss an episode. You can also find the show online on Facebook.com/TheClipOut. While you're there, like the page and join the group. Lastly, find us on our YouTube channel, YouTube.com/TheClipOut, where you can watch all of our shows.