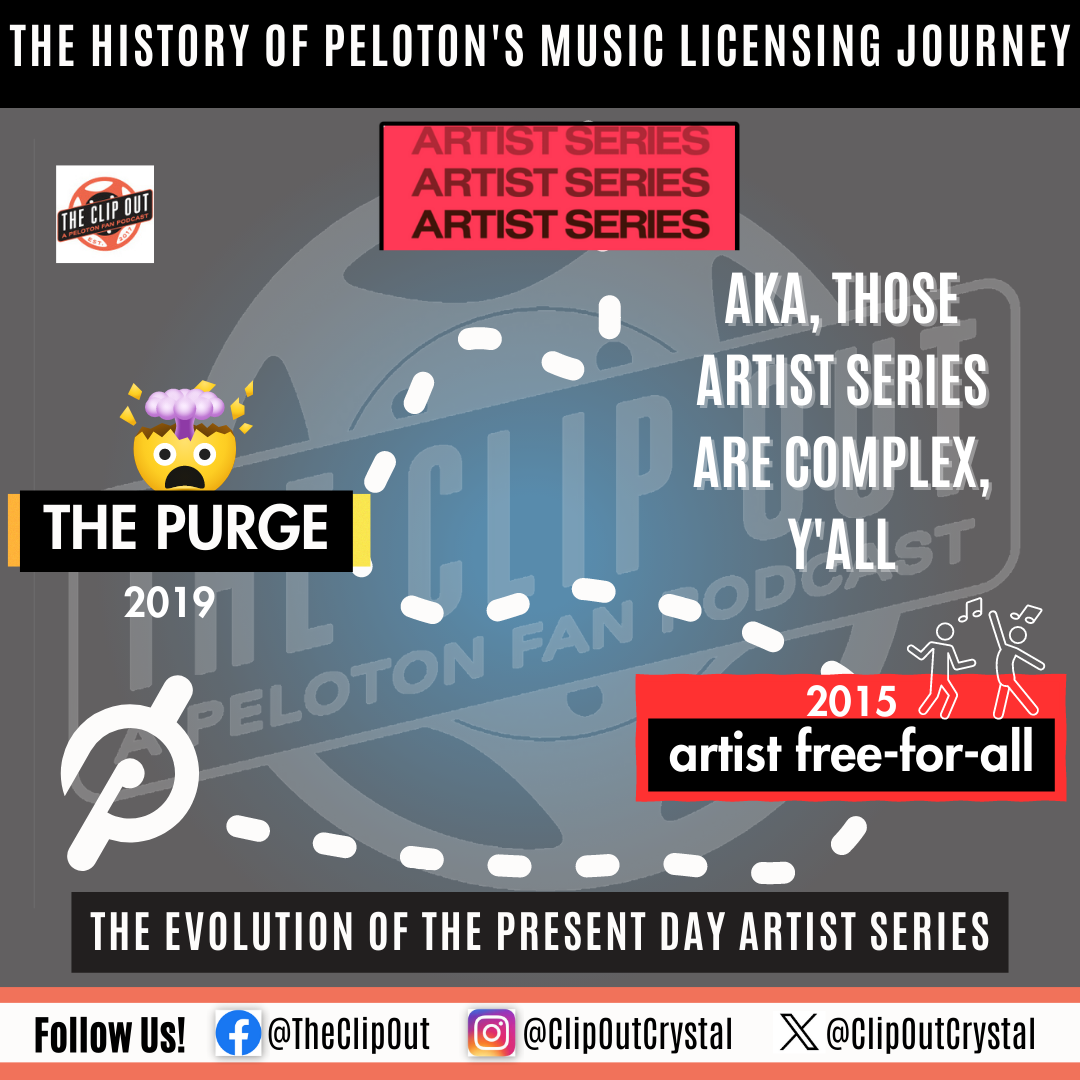 Peloton's Extraordinary Music Licensing Journey: Not Always a Smooth Road
If you have ever taken a Peloton class, you know that music is as crucial as the workout itself. Peloton's extensive music library of everything from country to classical (and everything in between!) is more than a background score–it's an essential instrument that elevates the Peloton experience. In this story, we cover the history of Peloton's music licensing–the challenges, successes, and the future of music in the Peloton ecosystem. 
Recently, a Peloton member who took one of Sam Yo's rides heard Sam mention that Peloton must get permission to use the word "Motown" each time Peloton wants to use it during a class. This got us curious about exactly how Peloton is able to provide the music that it does, and we're excited to share our findings with you. 
Peloton's Early Days of Music Licensing
Peloton launched in 2012 and quickly became a sensation in the fitness industry, attracting millions of subscribers and an army of dedicated riders who swear by the platform's interactive and immersive fitness experience. However, despite its early success, the company was not immune to the music licensing hurdles that have plagued the fitness industry for decades.
In the early days, Peloton faced a tough challenge in obtaining music licensing rights. As a start-up with limited funds, negotiating with record labels and music publishers was a daunting task, especially for a company with no prior track record in the industry. It took considerable time and effort for Peloton to establish relationships with the major music labels and publishers.
Eventually, Peloton made strategic deals with major labels as well as independent labels and publishers – securing the rights to use their songs in Peloton's on-demand and live streams. Unfortunately, troubled times lay ahead.
The Road Gets Bumpy: Peloton Sued for Copyright Infringement
All seemed well on the music front until 2019 when Peloton was sued by a group of music publishers and labels for copyright infringement. The lawsuit, which eventually sought in excess of $300 million in damages, alleged that Peloton had failed to obtain synchronization (sync) rights for approximately 2000 songs in its music library. 
These separate sync licensing rights are different from the traditional public performance rights that your local fitness studio must obtain in order to legally play copyrighted music. Performance rights are easier to negotiate because there are only four major organizations that control virtually all performance rights in the United States.
Sync rights are required when a company seeks to reproduce copyrighted music in connection with a visual medium. Traditionally, sync rights applied mostly to motion pictures studios that used copyrighted music in films. The lawsuit against Peloton alleged that sync rights should be applied to connected fitness content such as Peloton classes.  
The synchronization right gives the copyright holder control over how and when their music is used in combination with either a video, film, advertisement, or presentation. Obtaining sync rights can be complicated and time-consuming due to the fact that these must be negotiated separately with each copyright holder. Music tracks with multiple copyright owners are more difficult to obtain. 
Eventually, Peloton purged a significant portion of their classes that contained the unlicensed music and eventually settled the lawsuit for an undisclosed sum. The company's earnings report for that quarter reported $49 million as its total litigation and settlement costs. Peloton then entered into a collaboration agreement with the National Music Publishers Association to work together on music licensing systems and processes. 
The Future of Music at Peloton: Smoother Roads Ahead
Peloton has consistently emphasized its support for the music community, and this has been visible in its approach to music licensing. Fast forward a couple of years from the lawsuit settlement to today, where the music industry likely sees Peloton as a valuable business partner. 
Late in 2020, Peloton launched an exciting new feature called "Artist Series," which now offers Peloton members exclusive classes with specific megastars such as Beyonce, The Beatles, Bruce Springsteen, Ed Sheeran, and dozens of others. Some of this music content is exclusive to Peloton. The feature has been a massive hit among Peloton users and has brought new and exciting workout experiences to the platform. In June, Peloton greatly enhanced its Artist Series interface which now allows users to more easily sort workouts by their favorite artists and classes.
Peloton's music licensing approach has even inspired a new generation of music artists to create music specifically for Peloton's classes. Through its Peloton Music arm, the company has collaborated with composers to create custom music that complements its workouts. These collaborations have helped shape Peloton's unique music identity. Peloton also produces its own remixes of classic hits.
According to Peloton's 2022 Annual Report, it had licensing rights to over 4 million music tracks. The Music Business Worldwide website recently reported that investment banking firm Goldman Sachs estimated that Peloton contributed as much as $267 million in revenue to the music industry in 2022. If you've wondered why the cost of your Peloton subscription has gone up in the past couple of years, the cost of music licensing is likely a major factor. 
Right now, the future of music at Peloton looks pretty bright as the company continues to add new artists and tracks to its vast music library. Its ability to integrate this music into its dynamic fitness classes keeps Peloton at the forefront of worldwide connected fitness.