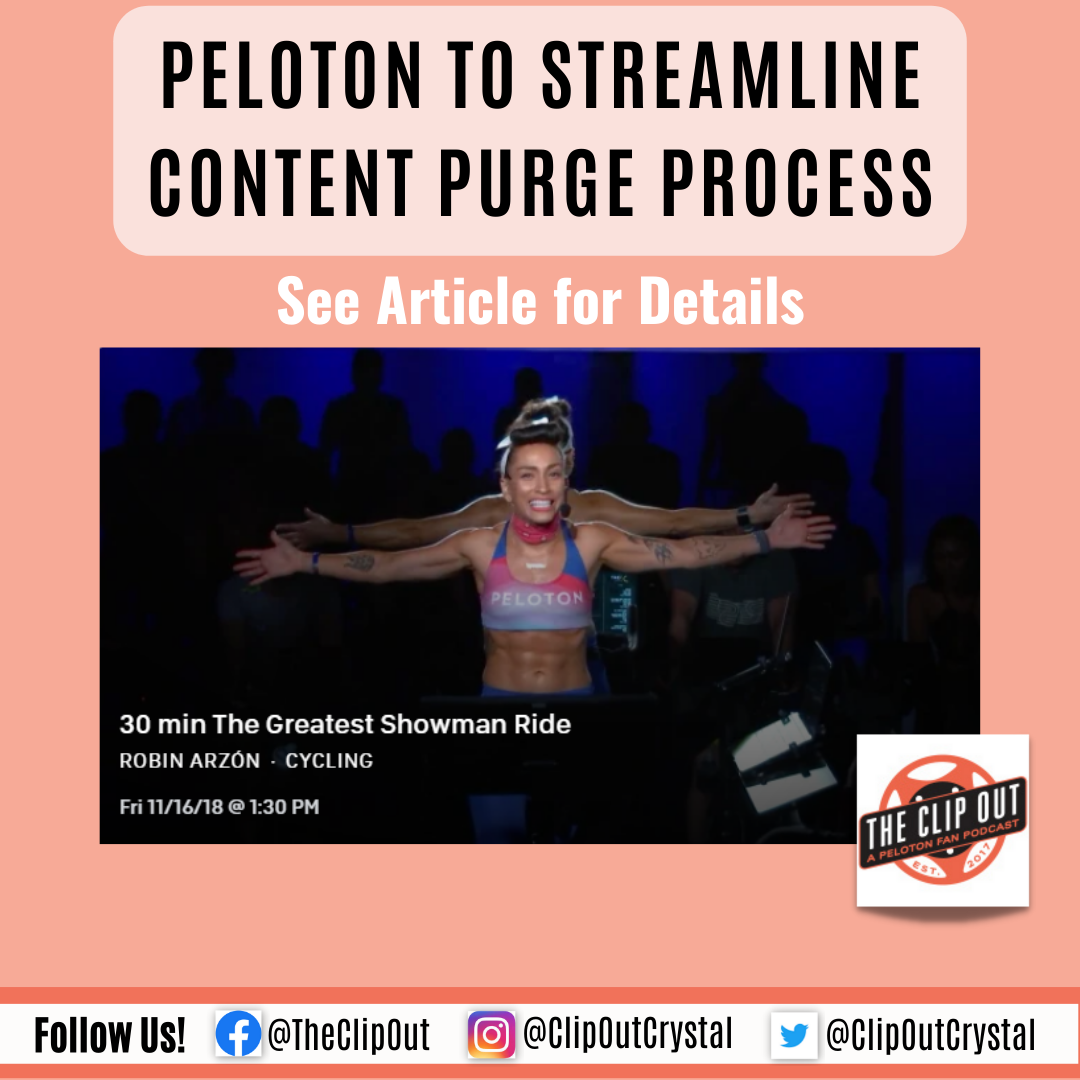 Peloton to Streamline the Content Purge Process
Nothing lasts forever, including content in the Peloton On-Demand Library.  Beginning this Friday, April 28, 2023, Peloton will implement a new streamlined and consistent process for purging classes.  
We love what we love. 
As any seasoned Peloton Member knows, content purges are typically met with at least some degree of controversy and woe (see past reactions to: instructor-specific purges, artist-specific purges, class-action lawsuits because of purges….).  Peloton Members are just very, very attached to, and passionate about, the classes that they love.  Shout-outs, milestones, music, Denis Morton's Pride Ride/Golden Buddha story, Christine D'Ercole's Bigger Than a Smaller Pair of Pants ride…the list goes on and on.  Whether a class struck a chord for a personal reason, or was a hit with the masses, Peloton is very aware of the deep and abiding love that Members have for their content.  But, as a business, and as a streaming service, the On Demand Library needs to remain fresh and new while still being member-centric, which makes for a tricky balance.  However, Peloton believes this can be solved with their new Library Maintenance approach to how content is removed from the system.  
What's new? 
In the past, content purges (unrelated to sudden staff or cultural changes) have felt a bit inconsistent and have most certainly caught people off guard, which inevitably resulted in a flurry of disgruntled posts across social media.  Hoping to mitigate that level of frustration, Peloton's Content Team will implement rolling maintenance on Fridays to whittle down the extensive library of classes.  Rather than a bulk removal as has been done in the past, the Content Team will now be removing smaller batches of classes over time.  With a new, consistent plan for maintenance, this will hopefully eliminate some of the shock Members have felt in the past with unexpected bulk purges. 
What stays, what goes? 
Opting to take a human-centric and Member-centric approach vs creating a blanket algorithm, a team of people will look at a variety of factors when deciding which classes will be removed and which classes will stay.  This means that historical fan favorites from years' past (ie. The Greatest Showman ride) will likely remain, whereas older classes that have seen Member engagement wane will eventually be ushered out.   
While Fridays will be the designated days for Library Maintenance, it should be noted that this is not expected to happen every single Friday and this, of course, does not include unforeseen cultural- or staff-related changes to content, which may dictate larger, unexpected purges whenever the need arises.  
Bottom Line:  
Peloton is implementing Library Maintenance starting this Friday
Smaller rolling purges vs bulk purges will be the norm going forward
A team of people, not an algorithm, is responsible for making the cuts
The Content Team considers all data before deciding upon removal
Library Maintenance will happen on Fridays, but not every Friday
We know that purges are rarely ever celebrated and we all want our favorites to stay; which classes do you hope to see stick around and stand the test of time? Make your case for your beloved class in the comments.
See something in the Peloton Universe that you think we should know? Visit theclipout.com and click on Submit a Tip!
Tune in to The Clip Out on every Friday to hear Tom and Crystal's take on this and other hot Pelotopics.
We're available on Apple Podcasts, Spotify, Google Podcasts, iHeart, TuneIn. Be sure and follow us so you never miss an episode.
You can also find the show online on Facebook.com/TheClipOut. While you're there, like the page and join the group.
Lastly, find us on our YouTube channel, YouTube.com/TheClipOut, where you can watch all of our shows.