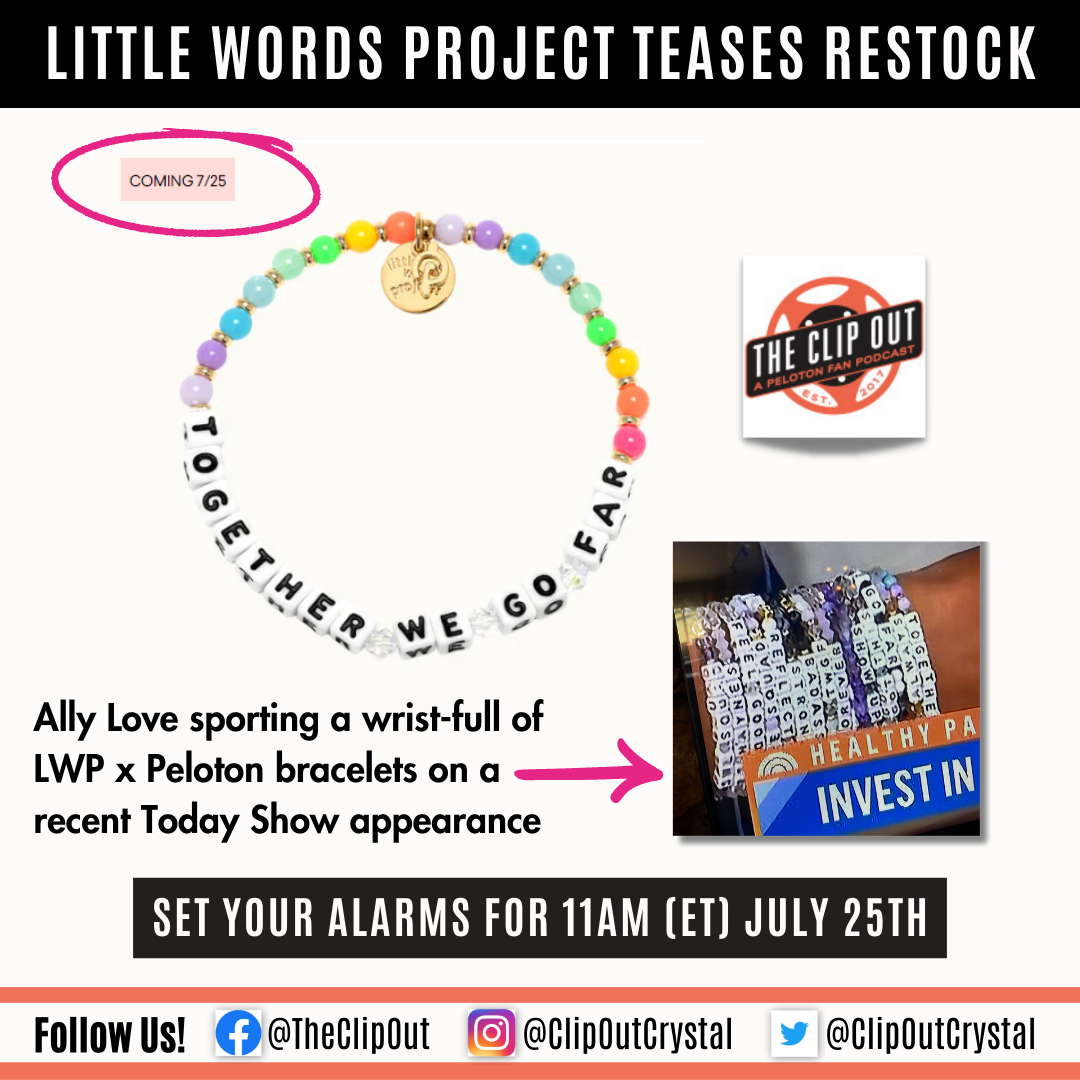 Peloton Restocks The Little Words Project Bracelets – A Dream Come True!
If you're a Peloton fan, you know that the brand's apparel collections are not just about style and fashion, but also about motivation and inspiration. This is where the Little Words Project Bracelets come in. These bracelets were part of a Peloton apparel collection in the past, and they were a huge hit among the Peloton community. But, unfortunately, they sold out very fast, leaving many customers disappointed. However, the long wait is finally over, as Peloton has finally announced (well, they teased it!) that they are restocking these beloved bracelets very soon!
The First Drop
Here's a bit of backstory: The Little Words Project Bracelets first came to the Peloton community as a part of their apparel drop in June 2023. They were so popular that they sold out in a matter of hours! Fans of Peloton and the Little Words Project couldn't wait to get their hands on these bracelets, which feature inspirational words and phrases. This particular collection was doubly special since it featured instructors' specific mantras that we often hear in their classes. 
Peloton even had a special giveaway of the bracelets on release day. Both Leanne Hainsby and Ally Love both gave out the bracelets during their live classes.  Peloton Apparel put together a reel including member and instructor reactions, and it was clearly love at first sight!
A Today Show Easter Egg
Here at The Clip Out, we KNEW the restock would be coming soon!  The first tease was from Ally Love.  It was during her appearance on The Today Show on July 20th.  Our team instantly noticed a close-up of Ally wearing the bracelets.  To them, it did NOT seem like an accident.  From that moment, we've been on high alert for the restock. 
We were rewarded Sunday when the Peloton Apparel IG channel posted a cheeky social post that was a mockup of a chat between Peloton Apparel and Little Words Project. The chat indicated that they had been going back and forth about whether to restock the bracelets and if so, when it might happen. According to their post, the bracelets will be restocked in the Peloton apparel boutique on July 25, 2023 at 11am ET. Mark your calendars, Peloton fans!
More About LWP
The Little Words Project Bracelets are more than just a cool accessory. They were created by Adriana Carrig, who wanted to create a brand that empowered women to be kind to one another. Each bracelet features a different inspirational word (such as "dream," "strength," or "grace"), and the idea is that the wearer "passes it on" to someone who needs the word more than they do. The bracelets are meant to be a reminder to be kind, to be grateful, and to always look for the good in the world.
Aside from being an excellent accessory for Peloton workouts, the Little Words Project Bracelets can be worn anywhere and make an excellent gift for friends and family. They are made of high-quality materials, including Swarovski crystals and semi-precious stones, so they last for a long time. Plus, they come in a range of colors and styles, so you can choose the one that best suits your taste.
In conclusion, the Little Words Project Bracelets are back, and Peloton fans can finally get their hands on them again! These bracelets are not just an accessory, but a reminder to be kind and to inspire others. The bracelets sold out quickly last time, so if you want to get one for yourself or as a gift for someone special, be sure to mark your calendar for July 25, 2023, and head over to the Peloton apparel website. Let's grab this opportunity to inspire ourselves and others around us with these beautiful and meaningful bracelets.
See something in the Peloton Universe that you think we should know? Visit theclipout.com and click on Submit a Tip!
Tune in to The Clip Out on every Friday to hear Tom and Crystal's take on this and other hot Pelotopics. We're available on Apple Podcasts, Spotify, Google