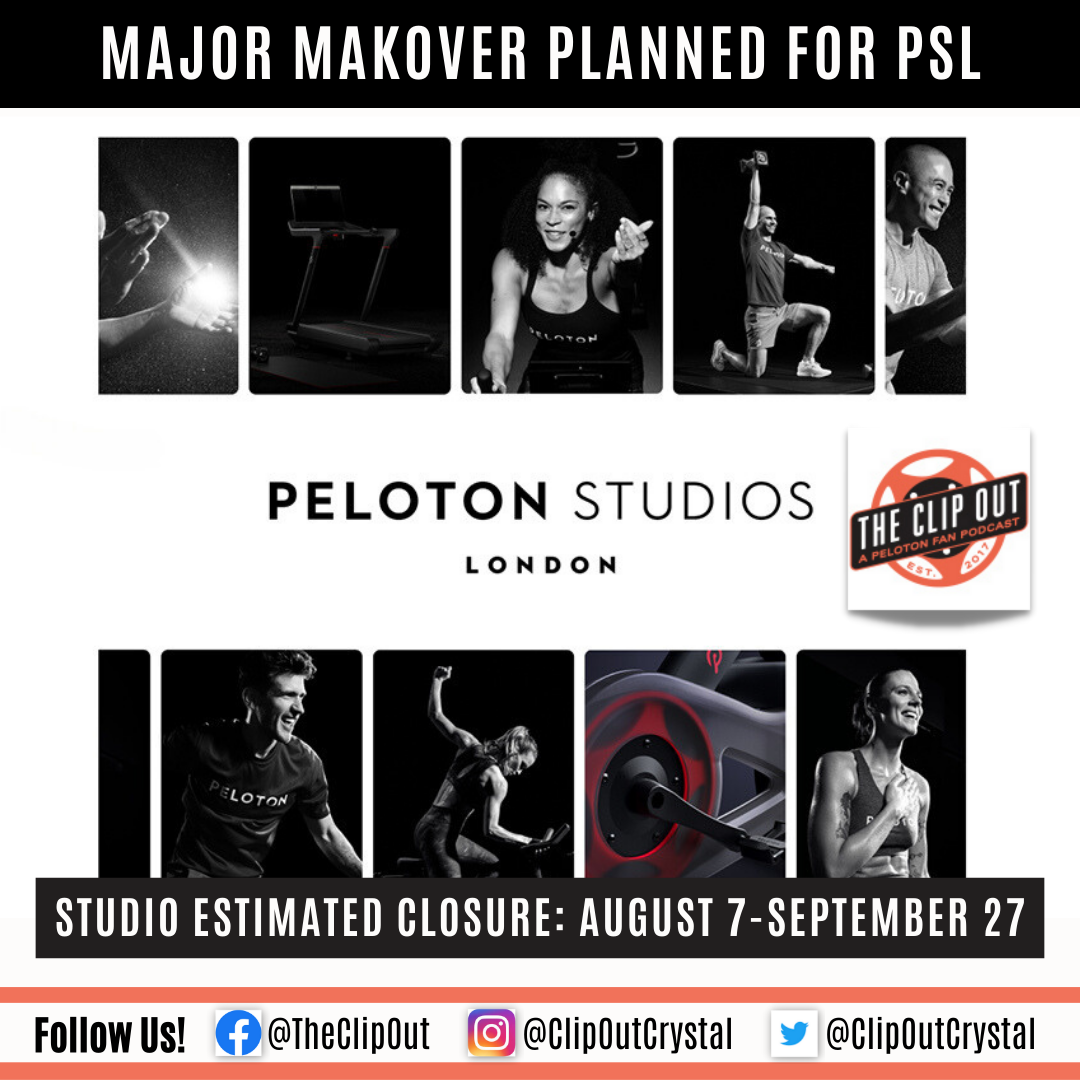 Major Makeover for Peloton Studios London
Who Doesn't Love a Good Makeover….
Peloton has announced that a major makeover is coming this summer to Peloton Studios London, which will see a six-week long studio closure between August 7th and September 22nd.  
Originally opened in September of 2021, Peloton Studios London, located in Covent Garden, opened to Members for in-person classes the following year in September 2022 (due, of course, to pandemic delays).  Now, two years after its original opening, PSL will undergo a makeover focusing primarily on things that will enhance the virtual Member experience, bringing the overall concept of the studios more in-line with Peloton's flagship studio, located in Hudson Yards in New York City.
During this closure, neither the lobby nor the studios will be accessible to Members, and in-person classes will be on hiatus. However, new content will not be taking a break.  Although there is a robust On-Demand library for Members to pull from, Peloton has long-planned for this closure and has plenty of content ready to launch, including special programming, to keep the schedule feeling fresh and keep Instructors in your daily workout routines.  Members will also see a schedule-refresh during this time, as well. 
What About AFO and Peloton on Tour?
Peloton's much-loved All For One classes also typically fall during this time of year, and, while AFO dates have yet to be announced, Peloton promised us that they have a plan for London-based Instructors to be a part of the annual music-centered celebration. Peloton on Tour has also been taken into consideration and nothing will change due to the makeover. 
Studio scheduling
One thing that will be affected immediately is that members will not be able to book classes in the London Studio and that will begin this Thursday at noon ET (that is when booking opens for 8/7).  So, please spread the word, because you know the next question we will see repeatedly on social media…. Why can't I book a class in PSL?
In the meantime, lets discuss – what new features are you hoping to see at PSL?
See something in the Peloton Universe that you think we should know? Visit theclipout.com and click on Submit a Tip!
Tune in to The Clip Out every Friday to hear Tom and Crystal's take on this and other hot Pelotopics. We're available on Apple Podcasts, Spotify, Google Podcasts, iHeart, TuneIn. Be sure and follow us so you never miss an episode. You can also find the show online on Facebook.com/TheClipOut. While you're there, like the page and join the group. Lastly, find us on our YouTube channel, YouTube.com/TheClipOut, where you can watch all of our shows.