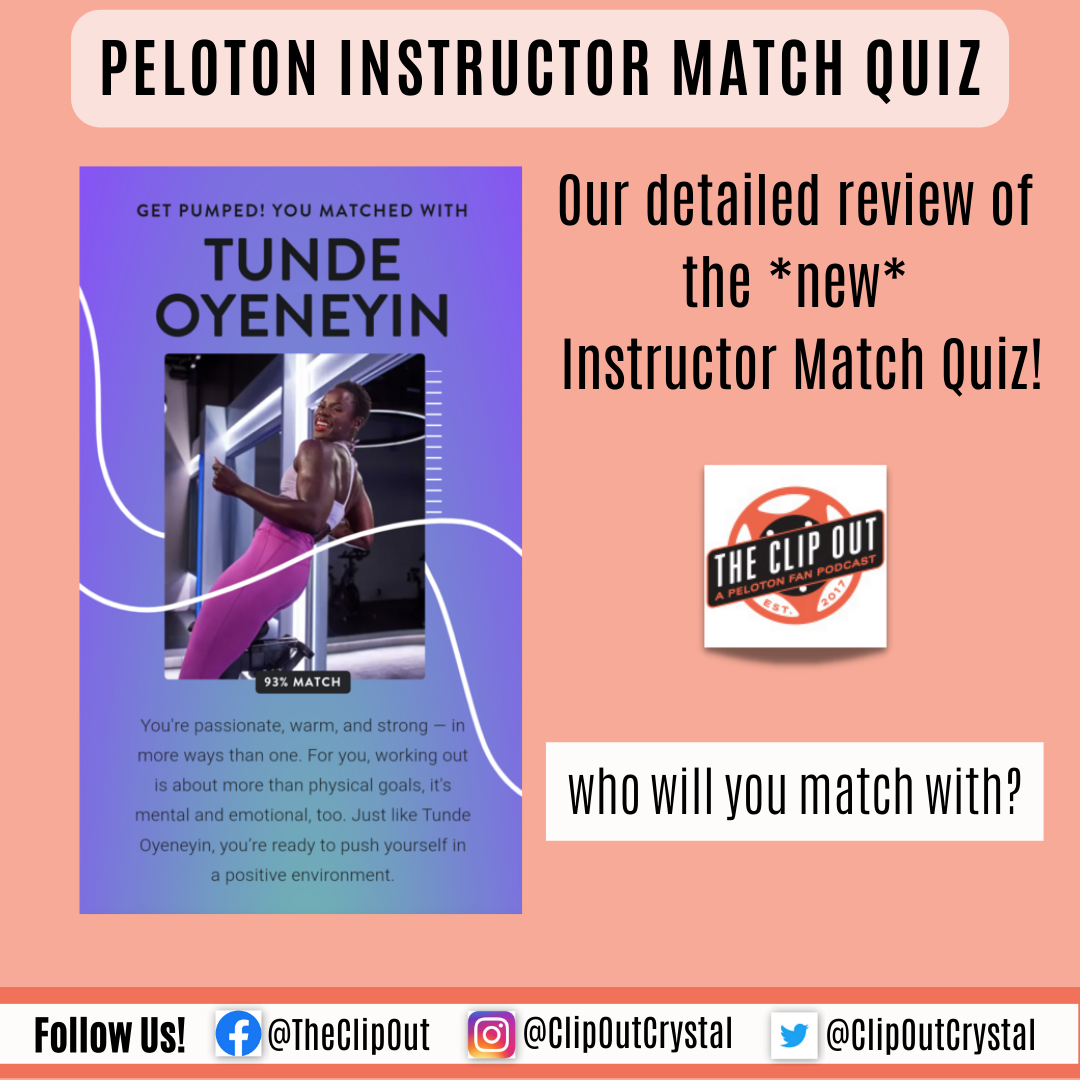 Peloton Quiz Matches You To Your Ideal Instructor
Ever wonder who the best Peloton instructor is for you?  Peloton has added a quiz to its website that can help you find your perfect match (hey, Bradley Rose, it's you –  in case you're free Friday night…)
The quiz goes through a series of five questions:  
(1) the type of workouts you enjoy 
(2) how hard you want to work out 
(3) the types of music you prefer 
(4) the language(s) you would prefer 
(5) what sort of mood you want for your workouts. 
It's quick – like speed dating for workouts, without the awkward introductions. 
In terms of the types of workouts to select from, everything is listed – indoor, outdoor, bike, run, walk, hike, row, bootcamps, stretching, yoga, cardio, strength – I really wanted to check them all, but chose the ones I most commonly pick (running, bike, strength, yoga).    In terms of how hard I want to work out, I chose high for strength (it's always good to lift heavy!) but moderate for cardio and stretching/yoga (I know I'm not even close to the "crow pose comes naturally" or "headstands are fun" stage of yoga practice).
I also love most types of music but picked my favorite categories (rock, classic rock, and pop). Music is my biggest motivator when I work out, so I appreciate being matched with instructors who play the music I enjoy most.  I chose English as my language preference.
The last question provides choices of heartfelt, playful, motivational, or technical. This was a tough one for me, as I want different types of workouts on different days, but I chose "playful" since a fun workout helps the time go by quickly for me. 
The big moment revealed that my match was Bradley Rose and my results included a picture of him (ok, so he's eating a shoe for some reason, but if anyone can rock that look, he can) and a lot more information about the types of classes he focuses on, examples of music he uses, and some of his interests and characteristics (he was a stroke survivor and he is a dog dad.)  His "top quote" is Sometimes you have to fight more than once to win it. The quiz also listed Jess King, Robin, Ally and Emma as possible matches. (Each of the instructors were listed as being a 75% to 78% match for me.)
While I love all the instructors and really prefer various instructors depending on what brings me to my exercise room on any given day, this was a fun and very quick quiz to take and I learned some new information about all of my matches.
The Peloton platform can be overwhelming to new members who want to try out different types of classes, so there definitely is value in being able to narrow down which instructors might be a match.   The quiz also provides suggestions of highly rated trending classes for each instructor – after all, how could you not try out a class that's been streamed a thousand times and has a rating of 100%?
Check out your best matches with this quiz as you keep lifting, stretching, riding, running, and rowing.  You might just find a new favorite class with an instructor you haven't worked out with before.
See something in the Peloton Universe that you think we should know? Visit theclipout.com and click on Submit a Tip!
Tune in to The Clip Out on every Friday to hear Tom and Crystal's take on this and other hot Pelotopics. We're available on Apple Podcasts, Spotify, Google Podcasts, iHeart, TuneIn. Be sure and follow us so you never miss an episode. You can also find the show online on Facebook.com/TheClipOut. While you're there, like the page and join the group. Lastly, find us on our YouTube channel, YouTube.com/TheClipOut, where you can watch all of our shows.