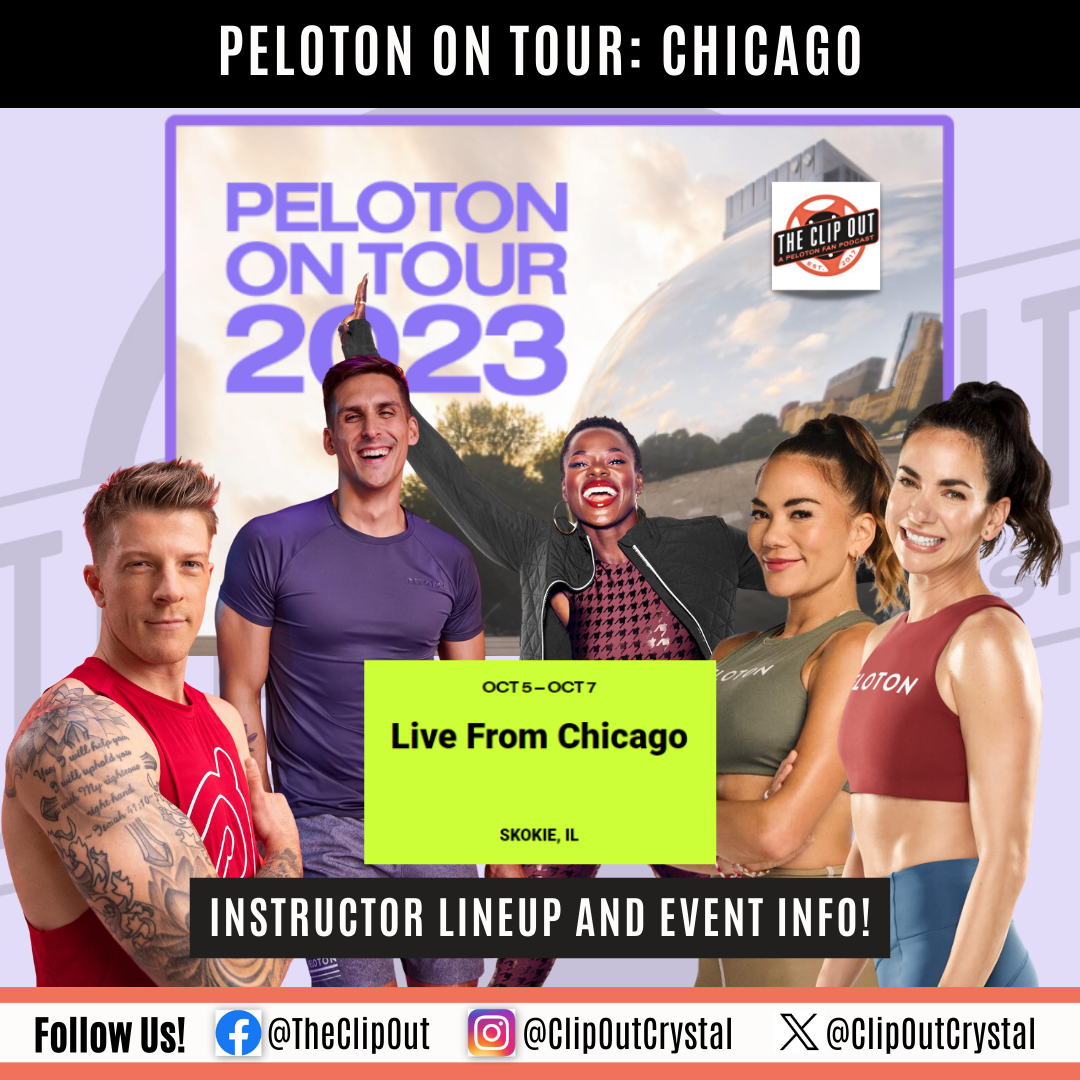 Peloton On Tour: Chicago Instructor Lineup and Event Info
Peloton On Tour:  Live in Chicago

Get ready, Chicagoland! Peloton is coming your way on October 5-7, 2023. After epic events in Los Angeles and Atlanta, they're shifting focus to the next stop of the tour with plans for a fun weekend of fitness, community, and fun. Mark your calendars and get ready to party with Peloton in the Windy City!
The Instructors with Chi-Town On Their Minds
The Instructor lineup is definitely bringing the fire to the third stop of Peloton's world-wide celebration.  Members can expect appearances by Cody Rigsby, Logan Aldridge, Mariana Fernandez, Tunde Oyeneyin, and Susie Chan with five different events spanning three days, plus opportunities to see Instructors out and about, taking in the sights and sounds of the city.  In addition to these events, Peloton has also teased that they have some surprises in the works for this particular stop.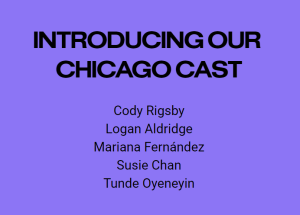 Event, Leaderboard Awards and Ticket Info
In order to help spread the Tour experiences out to as many people as possible, Peloton is not offering 3-day passes. Ticketing is set to open tomorrow, September 7th, 2023, and each experience will be ticketed separately. This will divide the Tour pie into as many teeny tiny pieces as possible.  Even if you aren't one of the lucky few to snag a paid ticket, keep your eyes peeled as the event date gets closer because, in addition to those teased surprises, Peloton added additional events to both the Los Angeles and Atlanta stops, trying to include as many Members and non-Members alike as possible..
This stop's event lineup includes instructor Meet & Greets, live group classes, Leaderboard Awards, and two new events previously not held at the Los Angeles and Atlanta stops.   

Thursday, October 5th:  Instructor Experience 12:00-5:00pm
Fans will have the opportunity to interact with Peloton Instructors in three different areas.  Tickets will be available for purchase in 30-minute windows.
Friday, October 7th:  Cody x Tunde Live 2:00-3:00pm
Cody & Tunde take you behind the scenes of Peloton Studios.  Get all the insider stories on the instructor team, the studios, the community and more.  This event is expected to last 45 minutes, with a meet & greet to follow. 
Friday, October 7th:  Peloton Game Night 6:00-8:00pm
Peloton believes that rest AND fun is the key to refuel the mind & body.  Test your Peloton knowledge while you bond with your community and Instructors at Peloton Game Night.  Instructors will captain teams that will compete in classic indoor games with a Peloton twist.
Saturday, October 7th:  Live Group Classes 10:00am-2:00pm
Similar to UCLA and Atlanta, Peloton will offer 3 live outdoor classes at the Chicago stop:  Yoga for Runners, a Strength Workout, and Dance Cardio.  Mats will be provided, and Members will be treated to an instructor Meet & Greet after each class.  
10:00am: Yoga for Runners
11:15am: Strength
12:30pm: Dance Cardio
Saturday, October 7th:  Leaderboard Awards Party 6:00-8:00pm
This is an invite-only event for people who have been selected for a Leaderboard award, plus a guest.  Want to nominate someone for an award?  Click here.
Tickets are set to go on sale at Noon (ET) on Thursday, September 7th and can be purchased at the Pelton on Tour landing page.  The Skokie, Illinois showroom will serve as the main hub for the events.
Ushering in a New Era
After the pandemic put a sudden stop to Homecoming in 2020, and people came to the platform in droves, Peloton satiated the Member craving for a big Peloton party with virtual events. Now, three years later, Peloton is making a big pivot away from a central event and moving toward smaller local experiences with Peloton On Tour. 
Instead of one big event at Peloton Studios New York, or even one big global virtual event, the fitness company announced in June that they're taking the party to five different showrooms across the globe. 
Peloton On Tour is meant to provide engagement on a local level for both Members and Non-Members alike, and to help reframe Peloton's expensive showroom spaces from equipment sales rooms to places where people can meet and experience the energy of Peloton together.
Up Next
Chicago marks the third in the Tour with two more stops to go!  Peloton on Tour will be visiting the following cities for the rest of 2023.  
Berlin, October 19-21
London, November 30 – Dec 2
As a reminder, details are being kept under wraps and won't be released until 31-days prior to each event, with tickets going on sale 24-hours later, via a dedicated link.  Want to know more about Peloton On Tour?  Check out their landing page here.