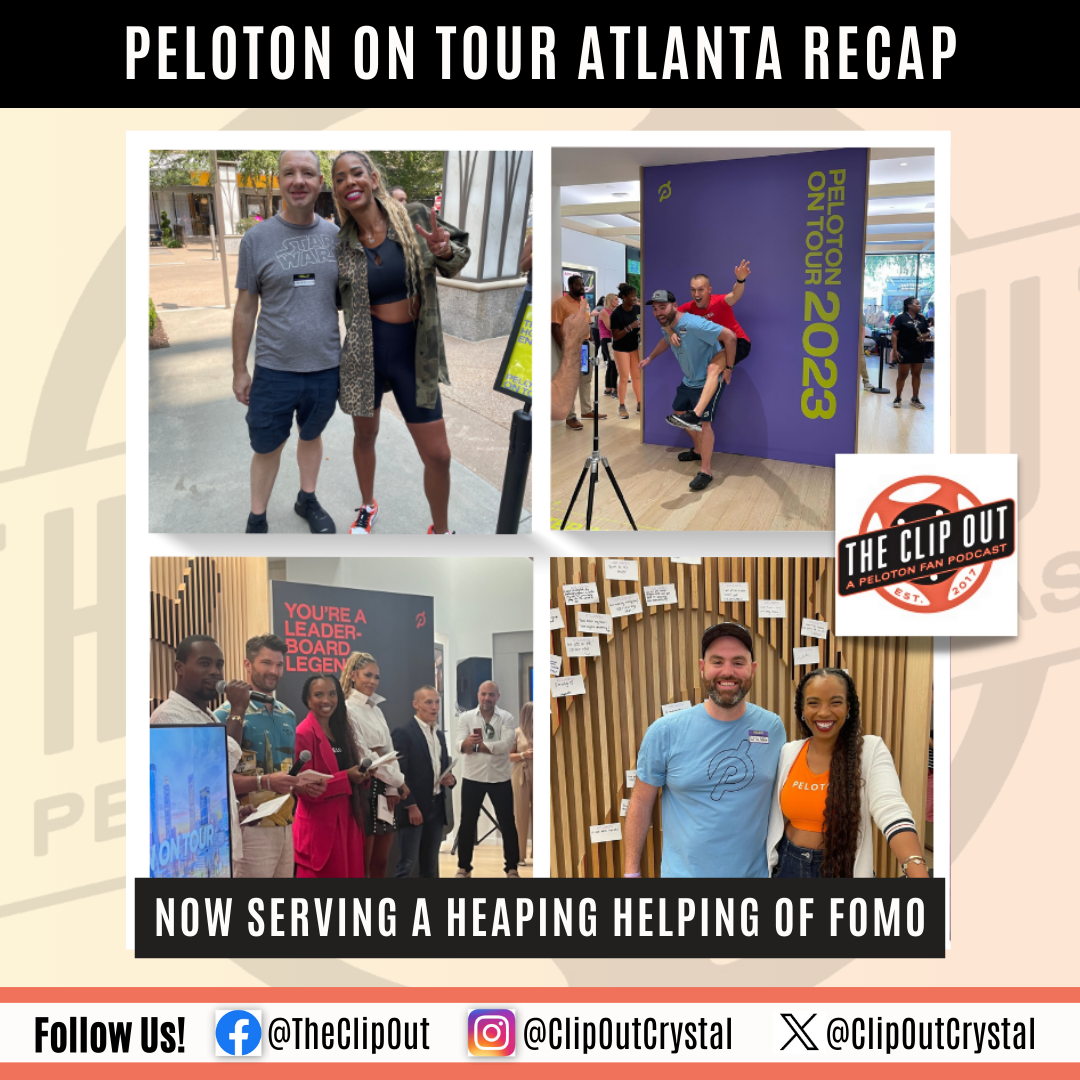 Peloton on Tour: Atlanta Recap
Peloton on Tour continued its trip around the globe, making the tour's second stop over the weekend in Atlanta.  TCO is bringing you the FOMO in the form of highlights, photos, and exclusive Instructor video!
Peloton on Tour takes on the ATL
Making some tweaks to the schedule after the Los Angeles leg of the tour, this stop added a Field Day into the mix, removed the VIP Behind the Scenes experience, replaced it with a series of outdoor group fitness classes, and then topped it all off with a dose of Club Hosky for good measure.  
Kicking off on Friday with the Peloton Instructor Experience, ticket holders had the opportunity to meet and mingle with Alex Toussaint, Matt Wilpers, Jon Hosking, Marcel Dinkins, Kirsten Ferguson and Dr. Chelsea Jackson Roberts.  On Saturday, everyone brought their A-game to the Field Day event, which we suspect was inspired by how much fun the Instructors had at their own Field Day event several months ago at the 2023 Instructor Summit this past April.  
People who weren't lucky enough to have a ticket to Field Day were invited to the Alpharetta showroom for a very special, non-ticketed, Club Hosky event.  Once Field Day and Club Hosky wrapped up, ticket holders were treated to an Activate Your Greatness discussion with Alex Toussaint, moderated by Marcel Dinkins.  Wrapping the weekend up on Saturday, ticket holders were given the opportunity to attend several outdoor group fitness classes, followed by the invite-only Leaderboard Awards later that evening. 
Peloton Instructor Experience
Just like the LA stop, this ticketed event kicked off the weekend and featured all 6 of the Instructors. They were there to welcome event-goers at the same three stations that were available in Los Angeles: a photo booth, complete with an assortment of props, instructor hashtags, and giant cutouts of the Instructors' heads, a social media station where attendees could create an event-inspired GIF, Cameo, or record an inspirational video message, and, finally, an intention-setting station where they were encouraged to write down their own fitness goals. A handful of Instructors were at all three booths, so ticket holders had the chance to chat with them as they explored the stations and moved throughout the showroom. 
Tyler Funderburke (#TheBeardedSnack) shared with us that the Showroom staff (shoutout to JoJo in particular!) went out of their way to make sure every guest was as comfortable as possible in the summer heat.  He tells us, "The event was greatly managed and every detail was well thought about. Upon check in you are given a fan to beat the heat that had Peloton on Tour Atlanta on it and a colored wrist band depending on your time slot. You are all given a card with your number on it, and that number held your place in line and was used at station 2 of the event."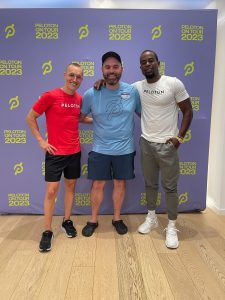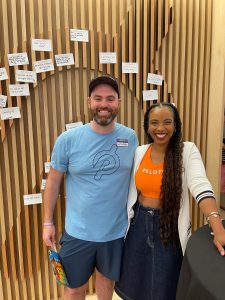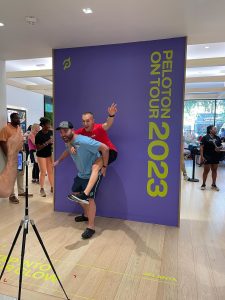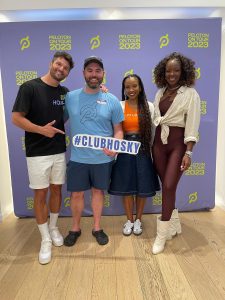 Once attendees made the rounds through all three stations, they were treated to some sweet deals in the retail space, with sales on Instructor looks marked down by 40%, and were also gifted swag bags containing fitness-related goodies such as a heart rate monitor, stickers, and a Polaroid photo frame.  Before leaving for the day, attendees were given the opportunity to have various items personalized with both the Peloton on Tour: Atlanta logo as well as the Peloton logo.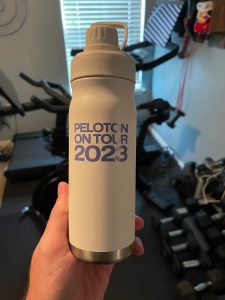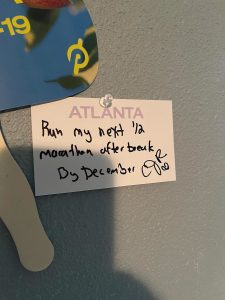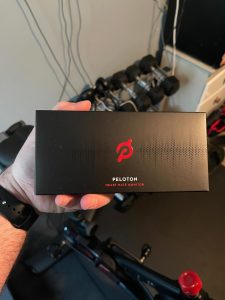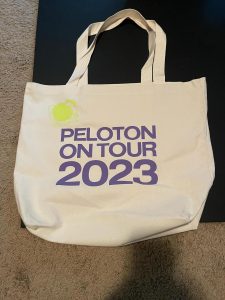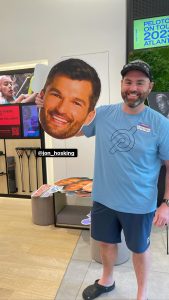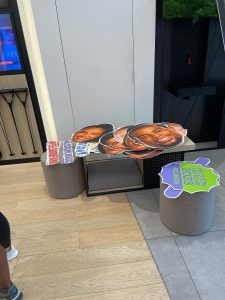 Peloton Field Day
Saturday's Field Day event, held at the Home Depot Backyard space adjacent to Atlanta's Mercedes Benz Stadium, proved to be a unique experience, filled with competition, fun, and fitness-focused games. The Instructors leading the event took inspiration from their own Field Day event held this past April and brought out the competitive fire in everyone. With megaphones in hand and team cheers at the ready, the Instructors led their teams through a series of games that featured various Field Day staples, including relay races, tug of war, and even a puzzle-solving event that would put any Survivor contestant to the test.
Despite the intense competition, the event was divided over two separate time periods to give everyone a fair chance to compete. And, according to all accounts, the event was an enormous success!  Coming down to the wire with a tie score, Chelsea Jackson Roberts and Marcel Dinkins faced off in an intense round of Rock, Paper, Scissors, with CJR ultimately claiming victory.
The event was not only a fun day of competition but also a chance for participants to engage in physical activities that promote health and fitness. The Field Day event energized and motivated attendees to challenge themselves physically and mentally, pushing beyond their limits and discovering new strengths. The enthusiasm and conversation generated by the event continued long after the winners were crowned, as participants shared stories of the exciting, athletic feats they accomplished on Field Day. It was a day of bonding, sharing, and exhilarating activities, all designed to promote healthy living and positive social interactions.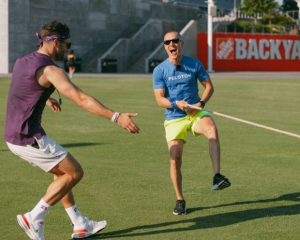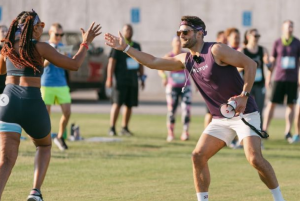 Meanwhile, back at the Alpharetta Showroom, Club Hosky was Hopping
Ticketed events for the Atlanta stop sold out within minutes of their release, but Peloton didn't want to disappoint their Members and added Club Hosky, a non-ticketed event open on a first come, first served basis.
Members and their friends were welcomed into the Alpharetta Showroom with sweets and refreshments, including cupcakes, water, and mocktails that added to the celebratory atmosphere. The Club Hosky event was a massive hit, attracting not only Peloton enthusiasts but also other Instructors….because, really, who can resist a trip to Club Hosky? Kirstin, Alex, and Matt all made appearances, making the party even more memorable for party goers.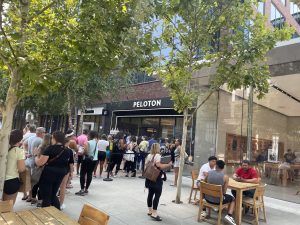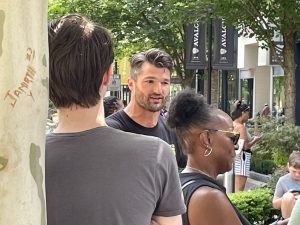 However, some members missed out on the Club Hosky experience due to the overwhelming popularity of the event.  TCO Writer Chris Perone (#JaxintheSaddle) tells us that the instructors empathized with the situation and went out of their way to greet those who were still waiting in line, stopping for a chat and photo op.  Chris also noted that the energy of the event, both inside and out, was absolutely electric and the Instructors' dedication to ensuring every attendee had a great time was truly heartwarming and left a lasting impression on everyone who attended.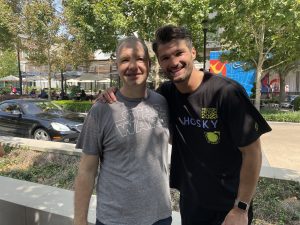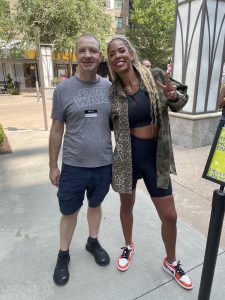 Activate Your Greatness with Alex Hosted by Marcel Dinkins
Atlanta was the perfect location for Peloton instructor Alex Toussaint to discuss his upcoming book Activate Your Greatness. The event, hosted by Marcel Dinkins, was packed with eager attendees who had the opportunity to engage with Alex and his inspiring ideas on wellness, fitness, and personal improvement. Over the course of the hour-long conversation, Alex discussed a range of topics, including his military school background, childhood experiences, and how he came to join Peloton.
One of the highlights of the event was the chance for Alex to shed light on his Do Better Foundation – a non-profit that aims to increase access to wellness resources among underserved communities. Through the foundation, Alex has been working to bridge the healthcare gap and make fitness and wellness accessible to all, regardless of socioeconomic background.
As the conversation continued, attendees had the opportunity to submit their own questions to Alex, allowing for a fun and interactive dialogue with the Peloton instructor. Overall, the event was a fantastic opportunity for those in attendance to learn from Alex's wealth of experience and passion for making a difference in the world. And with his new book coming out soon, it's clear that Alex's message of activating greatness is resonating with people around the world.
Peloton Outdoor Group Fitness Classes
With attendees eager to get in on the fitness action, Peloton decided to forgo the Behind The Scenes studio experience that was on offer at the LA stop. Instead, they opted for a more interactive vibe and engaging approach with various outdoor group fitness classes to cater to every fitness level and interest.
The ATL stop on the tour featured three different sessions with 100 tickets available for each session—a surefire recipe for an incredible group fitness experience! The classes were approximately 30 minutes each and were led by Chelsea Jackson Roberts, Matt Wilpers, Kirsten Ferguson, Alex Toussaint, and Jon Hosking.
CJR kicked off the session with a rejuvenating Yoga flow class that helped participants stretch and relax their muscles. Meanwhile, Matt and Kirsten led the Strength for Runners class where runners honed their strength training skills to become better runners. Finally, Alex and Jon delivered an incredible Bodyweight Strength session, where attendees learned how to utilize their own body weight for strength training.
After sweating it out in the Hot-lanta sun and humidity, participants were treated to a well-deserved photo op with the instructors back inside the Showroom where they mingled, shared insights, and soaked in the air conditioning. 
Peloton Leaderboard Awards
Peloton on Tour: Atlanta concluded with the Leaderboard Awards. This exclusive event, which is invitation-only and held inside the Alpharetta showroom, was a private party attended by Peloton's Instructors (excluding Marcel) and was designed to celebrate individuals within the Peloton community. These individuals were recognized for their inspiring stories, contributions to social media, and other outstanding accomplishments that have made them stand out within the Peloton community. The Leaderboard Awards were limited to those who live in the metro area of Atlanta, as is the case for each tour stop, ensuring that each event has a distinct and unique flavor.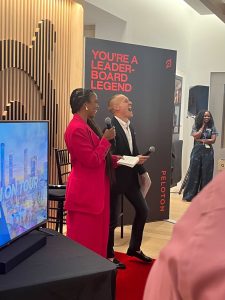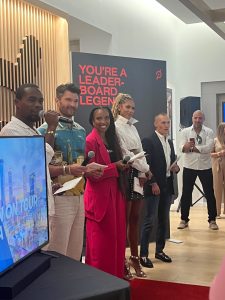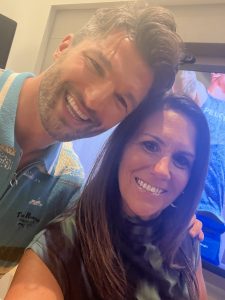 Peloton Instructor Side Trips
It's absolutely clear that the Peloton instructors had a blast at the Atlanta event! In addition to all the official activities that took place, a few of them got to explore Atlanta and experience some of its remarkable places. Dr. Chelsea Jackson Roberts and Kirsten Ferguson treated themselves with a visit to the well-known Historical Black College and University (HBCU), Spelman College. Chelsea, a proud alumnus of Spelman, even took the opportunity to teach a very special yoga class on the campus grounds. The class was a great hit among students, and Chelsea was thrilled to be back where it all began for her.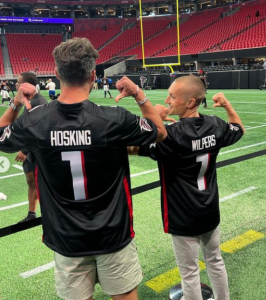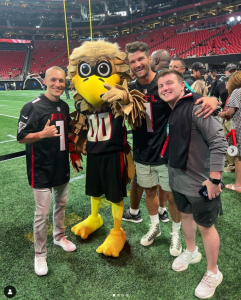 On the other hand, Matt and Jon opted for a sports-filled day and went to Mercedes-Benz Stadium to catch a pre-season Falcons game. The excitement of the crowd was contagious, and our Instructors had a great time cheering for the home team. And, yes, we are totally here for this Hosky-Wilpers bromance in the making!
One on One with Matt Wilpers
During her Field Day event, our intrepid TCO Tipster #Reasons2Wine was able to get a few burning questions in with Matt Wilpers.  In our exclusive videos, Matt tells us which Instructor he'd choose to be stranded with on a deserted island, and plays 2 Truths and a Lie.
It was refreshing to see our Instructors take in all that Atlanta has to offer beyond the event's activities. With vibrant history and culture, Atlanta is a city that leaves an impression on visitors. It indeed was an exhilarating and action-filled trip to Atlanta for everyone, and we are already looking forward to the next one!
Up next for Peloton on Tour is Chicago!  This event will take place October 5-7 from the Skokie, IL showroom and, as a reminder, tickets go on sale roughly 4 weeks beforehand.  Have questions?  Check out the Peloton On Tour landing page here. 
Thank you to TCO Writer Chris Perone (#JaxintheSaddle), TCO Tipster #Reasons2Wine, and Tyler Funderburke (#TheBeardedSnack) for being our eyes and ears at the event, and for creating an epic sense of FOMO for the rest of us.  You truly appeared to be having the time of your lives, and we're totally happy-jealous for you all (we mean that in the nicest of ways!!).