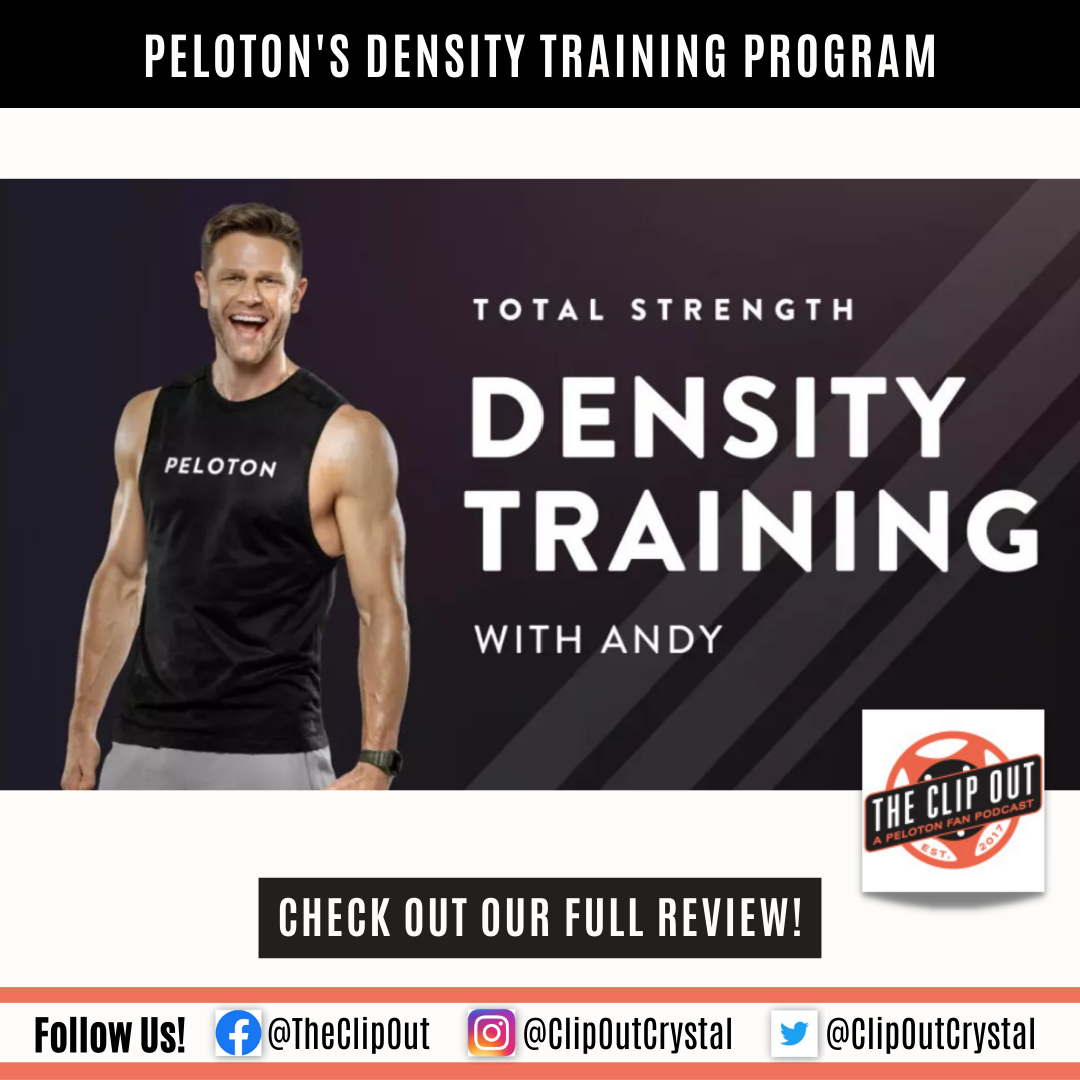 Peloton's Density Training collection is fun and rewarding (even if you don't love strength training!)
What happens when a girl who favors cardio over strength commits to a strength program for four weeks? Something magical! Enter Andy Speer's Total Strength Density Training collection.
I'm in that stage of life where I know I should focus my Peloton classes more on strength and less on cardio. I try to take (and enjoy, or at least appreciate) strength classes, but I can't say I love them. A good sweaty ride on the bike or some gentle yoga makes me happy, and when I do try a random strength class, I never seem to know if I'm making gains. 
Yes–it's a collection, not technically a Peloton program, which means you don't ever get locked out of classes the way you do if you get out of sync with a program. However, even without the accountability of a program, getting the classes done is manageable because there are only three a week (which also, truth be told, helped me to be able to commit to the idea of tackling this).
Class Overview
Two days a week are 30 minutes long and one is 20 minutes, so it's easy to complete each week even when "life" (work, family, etc.) gets in the way. The two longer days focus on both upper and lower body, and the shorter adds in some ab work. The program also has a 5-minute introductory video, a 10-minute full-body body stretch, and a 20-minute full-body mobility class that complement the program. The class uses both heavy and medium weights. 
Keeping it fresh!
The moves in each of the classes are repeated week over week, but unlike other split classes that repeat the exact same class recording over and over, this collection has 12 distinct classes. Each class has its own playlist and fresh commentary.
For me, this was the best of both worlds–same moves repeated for gains–new jokes and comments to keep things fresh! I generally like Andy's classes, as he has basic, simple moves, and I enjoy his choice of music–generally rock songs that have a driving beat to energize me. 
Track your progress
The program can be done on the App or on any of Peloton's devices, including the Guide, which will count your reps and rounds for you (pssst: the Guide is also a Peloton multi-person Membership price hack–learn how here)–otherwise Andy suggests you grab some poker chips to help you keep track of your rounds. After each class, record your weights and reps so that you can build on your work in the next class.
You can find tracking sheets on the Andy's Speerheads Instagram page (the Speerheads are Andy's official fan group–give them a follow!).

What is Density Training? 
Density training is based on gradually increasing the amount of work you perform in a set block of time. There are two main ways to increase the work: By increasing weight or reps/speed.
Your goal is to progress by increasing weights while you complete the same number of reps and rounds, or to increase your number of rounds and total reps with the same weight. You could also try to do the same number of rounds/reps in less time.
Andy helps you decide whether to increase rounds or weight based on the number of rounds/reps you are able to complete. I even found that density training also provided a nice cardio boost! 
You can read more about density training here, and you can watch Andy's overview of the Density Program in his Instagram Story Highlights.
So whether you're a strength pro or cardio is your jam, let us know what you think about this collection! 
---
See something in the Peloton Universe that you think we should know? Visit theclipout.com and click on Submit a Tip!
Tune in to The Clip Out every Friday to hear Tom and Crystal's take on this and other hot Pelotopics. We're available on Apple Podcasts, Spotify, Google Podcasts, iHeart, TuneIn. Be sure and follow us so you never miss an episode. You can also find the show online on Facebook.com/TheClipOut. While you're there, like the page and join the group. Lastly, find us on our YouTube channel, YouTube.com/TheClipOut, where you can watch all of our shows.