Peloton celebrates the NBA Finals June 9 with two new classes – and a special guest
If you've seen some of Peloton Studios' and Jess Sims' Instagram posts lately, you might have noticed the instructors entertaining a special guest in the studio. He's about two feet tall, solid gold, and covered in sweaty kisses.
The guest is none other than the NBA Finals Trophy, known formally as the Larry O'Brien Championship Trophy, but to the instructors, he's known as Larry. He–yes, the trophy–even has his own Instagram page, where he documents his visit to PSNY!
Peloton will put on two classes inspired by Larry and the NBA finals on Friday, June 9. These classes are designed to help people stay fit while leveraging the excitement of the NBA finals. Read on for more details!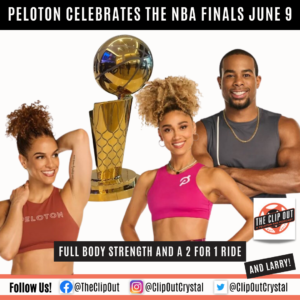 NBA Finals Full Body Strength 
Starting at 12:30 PM ET on Friday June 9, the NBA Finals Full Body Strength class is a live 30-minute intermediate level class taught by Jess Sims. Not only is Jess one of Peloton's most beloved instructors, she is also a former college basketball player. 
Jess is known for her high energy and contagious positivity. She will lead Members through a series of exercises that are designed to target their entire body. The class is meant to be challenging, but also fun and enjoyable. And as Peloton's Queen of Jock Jams, we can probably expect some arena-worthy music to keep the party going.
NBA Finals Two for One Ride 
After strength, head straight into a ride at 1:30 PM ET. The NBA Finals Two for One Ride is a live 30-minute cycling class taught by Alex Toussaint and Ally Love. Alex and Ally are two of Peloton's most popular instructors. As the host of the Brooklyn Nets, Ally is no stranger to courtside hype. And as the MVP of the 2022 NBA All-Star Celebrity Game, Alex is right at home leading a team to victory. 
Alex and Ally will take Members on a high-energy ride that will be sure to challenge their endurance and grit, while also ensuring a healthy dose of fun. 
With Peloton's top instructors leading the way, Members are sure to get a challenging, but fun and exciting workout. Whether you're a basketball fan or just looking for a fun way to stay fit, the Peloton NBA Finals classes are a great option. So, get your game face on and join us (and maybe Larry too?) on June 9th for the live classes!
---
See something in the Peloton Universe that you think we should know? Visit theclipout.com and click on Submit a Tip! 
Tune in to The Clip Out every Friday to hear Tom and Crystal's take on this and other hot Pelotopics. We're available on Apple Podcasts, Spotify, Google Podcasts, iHeart, TuneIn. Be sure and follow us so you never miss an episode. You can also find the show online on Facebook.com/TheClipOut. While you're there, like the page and join the group. Lastly, find us on our YouTube channel, YouTube.com/TheClipOut, where you can watch all of our shows.