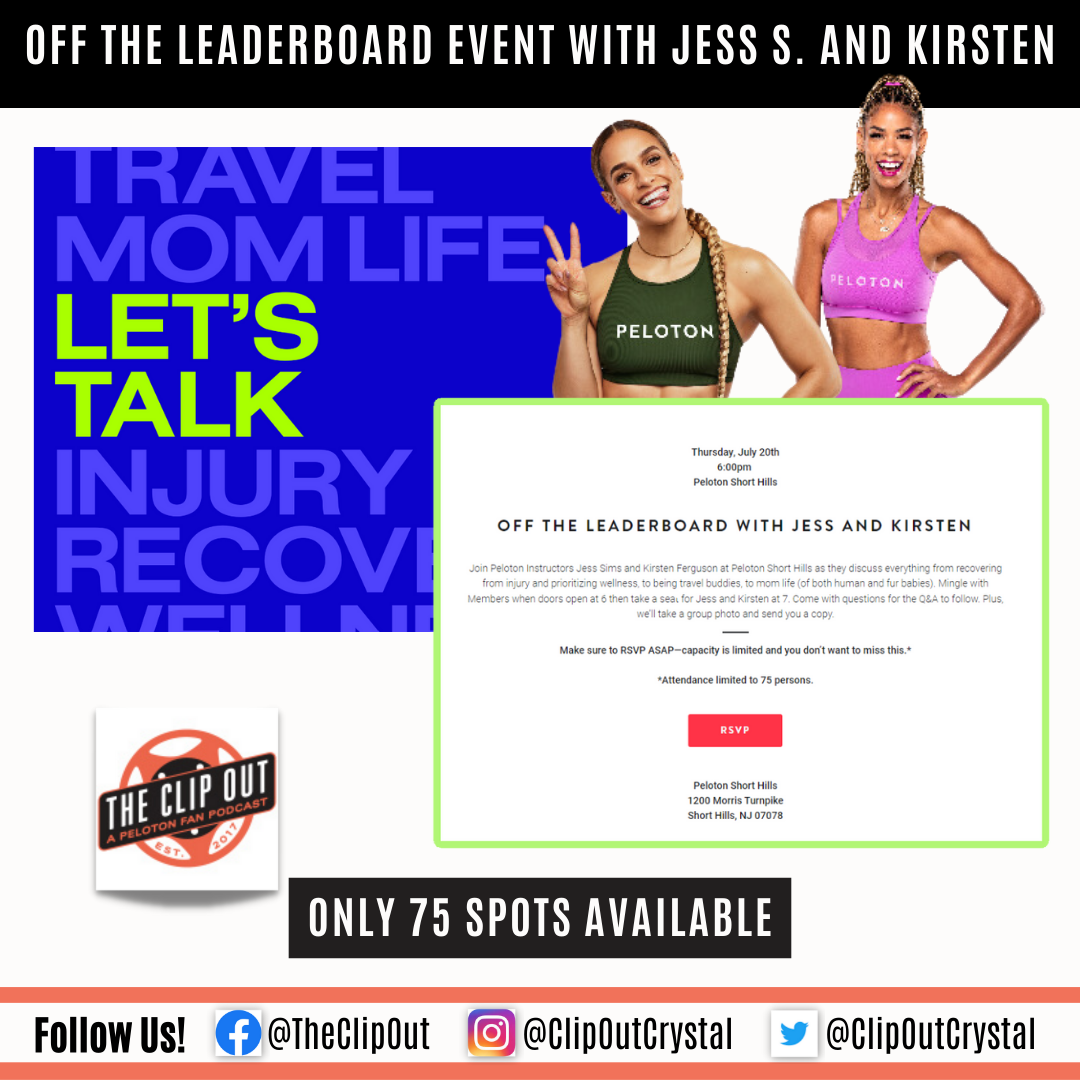 Off The Leaderboard: A Night with Peloton Instructors Jess Sims and Kirsten Ferguson
Get ready for an exciting event featuring two incredible Peloton instructors: Jess Sims and Kirsten Ferguson! Join us at Peloton Short Hills for an evening filled with inspiration, wellness, and the unbreakable bond between these amazing women.
Jess Sims, a former athlete, and educator, is known for her motivating teaching style and infectious energy. After a career in education, she discovered her true passion for fitness training and has since become a sought-after Peloton instructor. Her engaging workouts and uplifting personality have inspired thousands.
Kirsten Ferguson, with a successful background working with the NFL, found her strength and solace in fitness during her journey to motherhood. Despite facing challenges, she remains a beloved figure in the Peloton community. Her story is sure to inspire you.
What sets Jess and Kirsten apart is not only their incredible teaching skills but also their deep friendship. Despite coming from different backgrounds, they share a passion for health, wellness, and empowering others. They support each other both professionally and personally, sharing the joys and challenges of motherhood and beyond.
In their classes, Jess and Kirsten emphasize the importance of holistic wellness, including mental well-being and self-care. They want you to listen to your body and focus on progress, not perfection. Their relatable and approachable approach resonates with the Peloton community.
Now, you have the opportunity to meet these fantastic instructors in person! Join in at Peloton Short Hills for the "Off the Leaderboard with Jess and Kirsten" event. Doors open at 6 PM for mingling with fellow members, and the discussion with Jess and Kirsten starts at 7 PM. You can ask them your burning questions during the Q&A session. We'll also take a group photo and send you a copy as a keepsake.
Don't miss out on this incredible event! RSVP as soon as possible to secure your spot, as capacity is limited to 75 persons. The event will take place at Peloton Short Hills, located at 1200 Morris Turnpike, Short Hills, NJ 07078.
---
Tune in to The Clip Out every Friday to hear Tom and Crystal's take on this and other hot Pelotopics. We're available on Apple Podcasts, Spotify, Google Podcasts, iHeart, TuneIn. Be sure and follow us so you never miss an episode. You can also find the show online on Facebook.com/TheClipOut. While you're there, like the page and join the group. Lastly, find us on our YouTube channel, YouTube.com/TheClipOut, where you can watch all of our shows.
See something in the Peloton Universe that you think we should know? Visit theclipout.com and click on Submit a Tip!