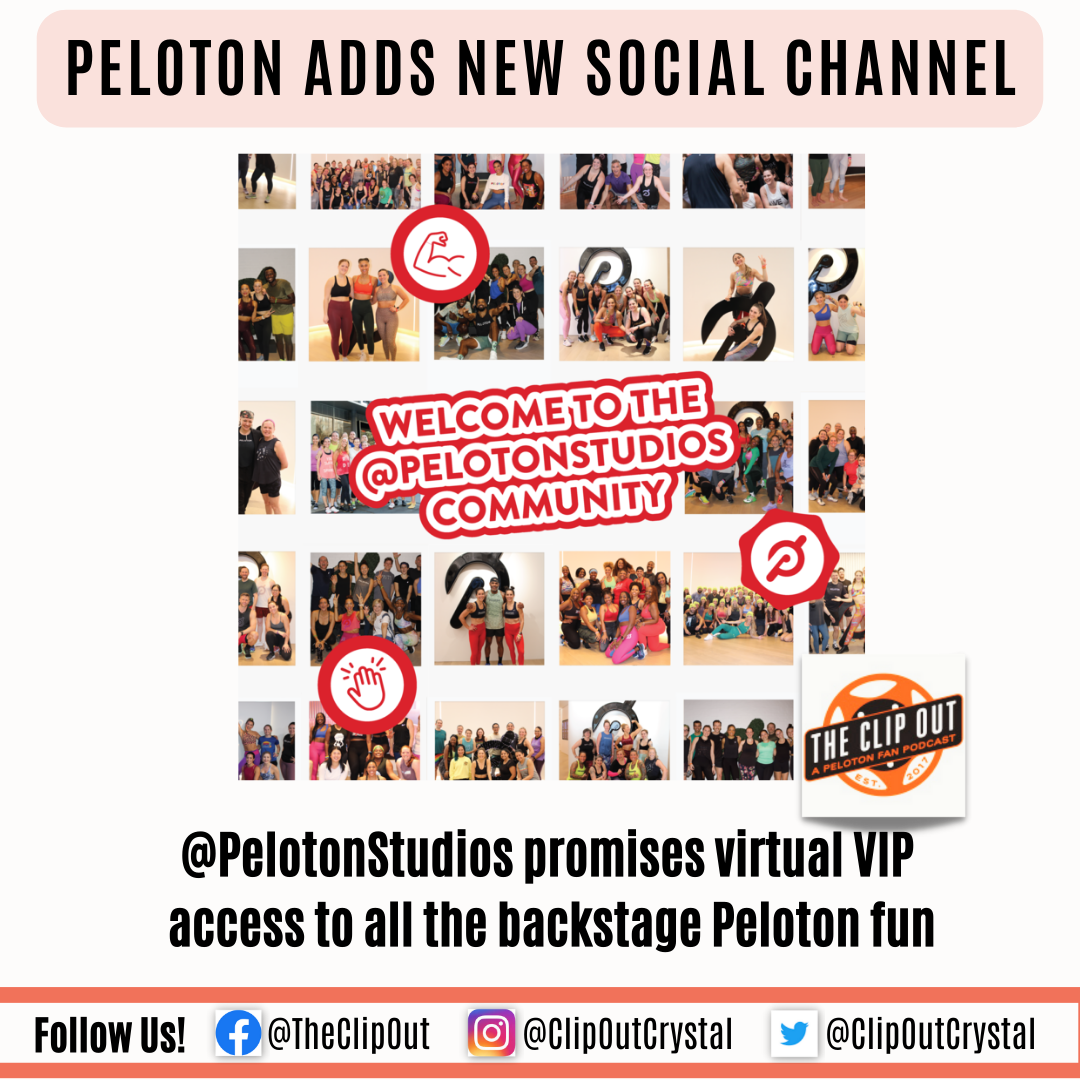 There's a New Kid on the Social Channel Block! Introducing: @PelotonStudios
It's no secret that securing a spot for an in-person class at either Peloton Studios New York or London takes two specific things:  persistence and luck.  And, with WAY more Members than available classes, only a small number of people actually manage to get a coveted peek behind the scenes at PSNY and PSL, while the rest of us are left to sit on our Bike, or our Row, or stand on our Tread at home and wonder…..what kind of fun are we missing out on??  The FOMO is real, friends—very, very real—but, thanks to the debut of the new @pelotonstudios social channel, that's all going to change.  Consider this new social media account a virtual backstage pass to the Peloton Party; a party that Peloton thinks you'll really want to go to, and keep going to, over and over again.
Peloton Studios, but make it social
The brain-child of Kailin Vandevelde, VP of Global Instructor Talent Strategy and Performance, @pelotonstudios aims to marry the digital-connectedness Members experienced during the pandemic to the new, in-person experience now available at the Hudson Yards and Covent Gardens locations, while giving a sentimental nod to the more intimate 23rd Street Studio memories that seasoned Members still have an affinity for.  The newest social channel under the Peloton umbrella is expected to be Member-focused and Instructor-driven, providing a virtual VIP-feel for everyone who loves Peloton. 
One Brand, Three Distinct Lanes
With the introduction of @pelotonstudios to their stable of social channels, Peloton-related content will now be divided between 3 distinct accounts, each with its own flavor, personality, and niche.  The new breakdown looks like this:
   

 

@onepeloton

,

brand- and fitness-focused content, concentrating on what makes Peloton unique and exciting as a leader in the connected fitness industry

     

@pelotonapparel

,

shopping and retail content for all of your Pelo-gear needs

     

@pelotonstudios

,

Member engagement and virtual VIP access to all the behind-the-scenes fun
Let's Get This Party Started!
Curious new followers won't have to wait long to see what kind of content @pelotonstudios is bringing to the game.  The new handle is officially live on your favorite social networks, with content already waiting for you to interact with!  If you follow any (or all) of the Instructors on social media, you know how creative they are.  Thanks, in part, to that creativity, the sky is truly the limit for Peloton's new social channel, and they have some amazing things lined up to share, but we're curious: what kind of behind-the-scenes content are you hoping to see featured on the @pelotonstudios account? Let us know in the comments, or on any of our socials!
Want to know more about what went into the creation of this channel and what type of content to expect?  Be sure to check out this week's episode of The Clip Out! 
See something in the Peloton Universe that you think we should know? Visit theclipout.com and click on Submit a Tip!
Tune in to The Clip Out on every Friday to hear Tom and Crystal's take on this and other hot Pelotopics. We're available on Apple Podcasts, Spotify, Google Podcasts, iHeart, TuneIn. Be sure and follow us so you never miss an episode. You can also find the show online on Facebook.com/TheClipOut. While you're there, like the page and join the group. Lastly, find us on our YouTube channel, YouTube.com/TheClipOut, where you can watch all of our shows.