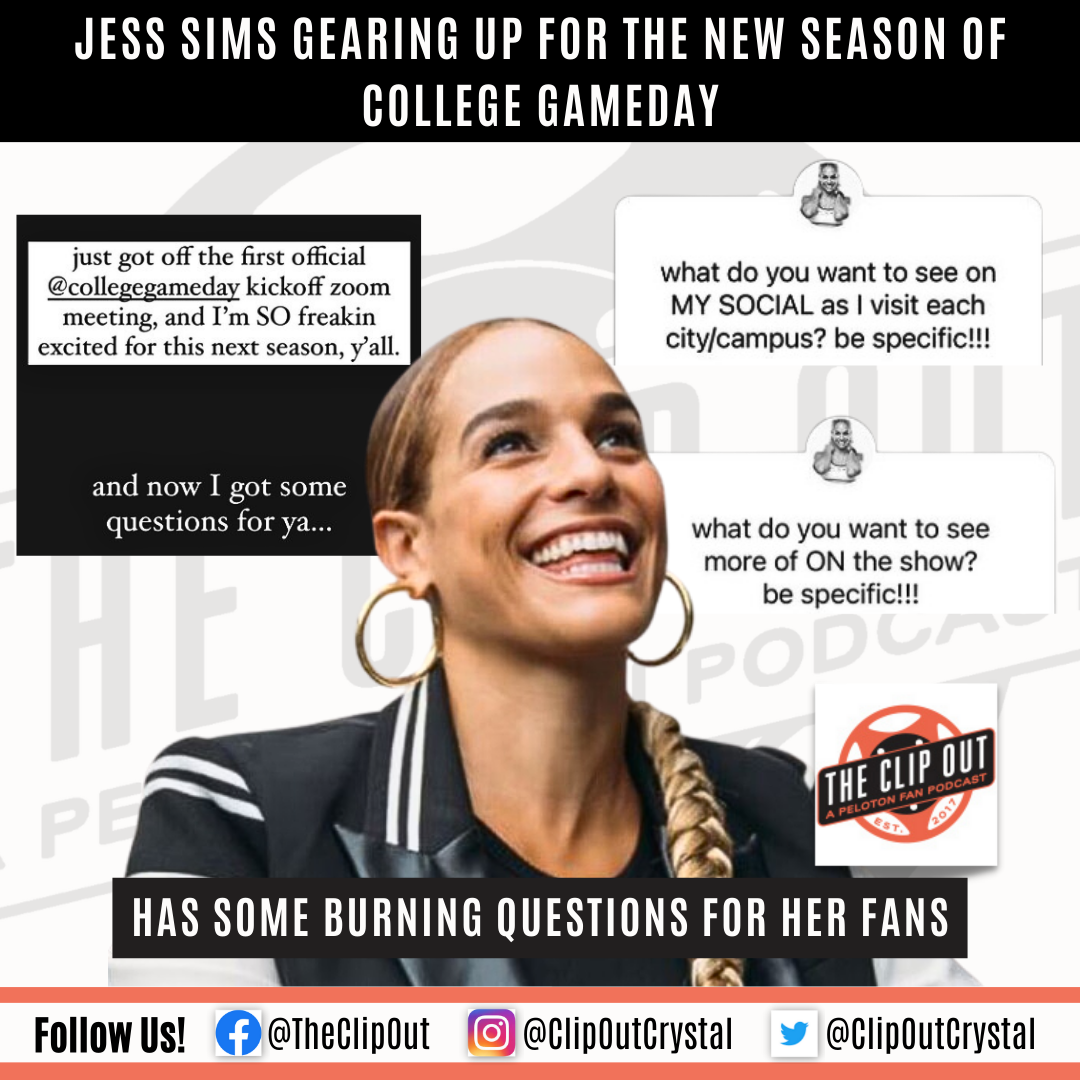 Jess Sims Gearing Up to Return to ESPN's College GameDay
First Meeting via Zoom Led to Some Burning Questions
The 2023 season of ESPN's College GameDay is just around the corner and Jess Sims is back and she's fired up! Earlier this week, she shared her enthusiasm for the upcoming season with an Instagram story about her first GameDay Zoom meeting.
Jess also wants to make sure she's giving her followers exactly what they want. In a subsequent story, she asked for input on her social media content while she visits different cities and campuses and she's also curious about what her followers want to see more of on the show itself.
She even asked for luggage suggestions. It's no wonder – with the show's last-minute location announcements, she needs to be prepared to travel anywhere and everywhere at a moment's notice.
First College GameDay Stop of the 2023 Season
ESPN's College GameDay, a pre-game institution that began in 1987, is set to make its 2023 premiere on Saturday, September 2nd, broadcasting from Romare Bearden Park in Charlotte, NC for the rivalry game between University of North Carolina and the University of South Carolina.  The Battle of the Carolina's game has been played since 2015, with the Gamecocks and Tar Heels last facing one another in 2021, where the Gamecocks beat the Tar Heels 38-21. 
Jess's Addition to the Crew Last Season
Jess Sims joined the College GameDay crew last season as a reporter and became an instant hit with the crowd.  Peloton Members quickly caught the eye of their favorite instructor by bringing creative signs to the show, hoping to score a selfie with the Tread and Strength instructor and were frequently rewarded for their efforts.  In addition to mingling with fans, Jess conducted multiple interviews, explored campus culture and mingled with students and fans alike.  In addition to College GameDay, Jess also works with the WNBA's New York Liberty as the on-court host and a side-line reporter.
What This Means For Saturday 60s
As her legion of devoted fans know, Saturday 60 is Jess's signature series on Peloton and many (many!!) Members look forward to being dismantled each and every Saturday morning with Jess's unforgiving 60 minute Tread bootcamp.  Just like last year, Saturday 60 will still be available each week, however the live classes will be replaced by pre-recorded classes until College GameDay wraps up its season at the end of the year.
College GameDay Schedule 
College football fans know that the GameDay schedule is kept under wraps and locations typically aren't announced more than a week or so in advance.  While GameDay generally shows up at rivalry games or games with playoff implications, they've been known to show up at fan-favorite sites as well.  One thing is for sure, wherever they go, Jess will be there to bring her signature sparkle to the GameDay coverage.
Share your thoughts below–what do you want to see on her socials and on the show?  And, for that matter, what luggage would you recommend for her?