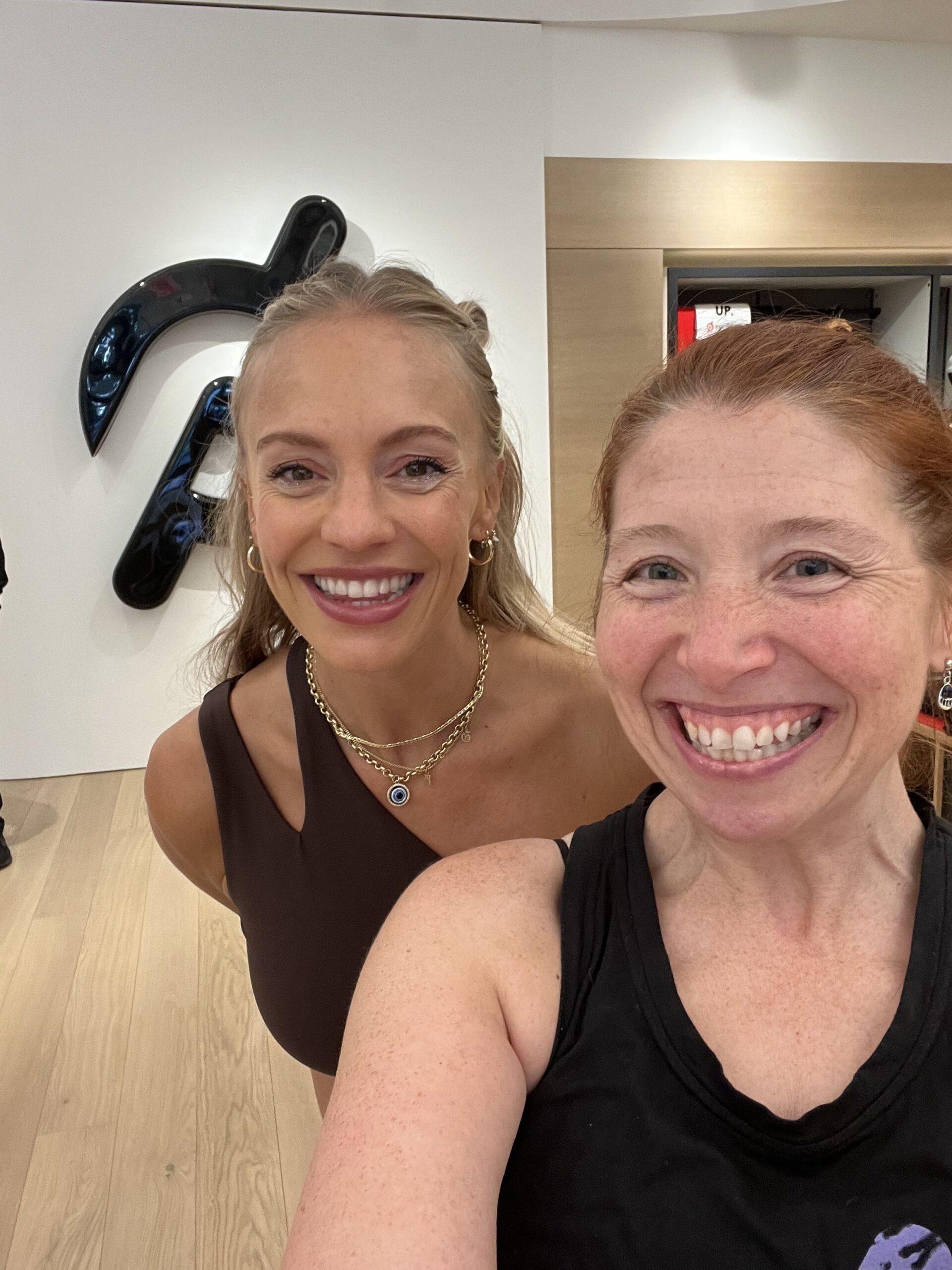 How to Navigate Peloton Studio New York
How do I get there?
Let's start with the most obvious – but easily overlooked – detail.  Where to go.
How to Navigate Peloton Studio New York
Keep this address handy:  370 10th Ave, New York, NY 10001 – this is what you want to put into google/apple maps.  If you just google Peloton studio, you will get the corporate location, the store at Manhattan west, and the old studios.  Typing the address is the easiest way to know you are in the right place.
It's a bit of a confusing layout as there are multiple entrances.  You cannot go into the studio through the storefront.  You must check in at the front desk off 10th Avenue.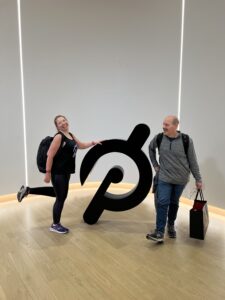 Navigate Peloton Studio New York – When do I go?
They are SERIOUS about showing up 1 hour early. You don't want to get there too much earlier because they are not letting you in.  However, some classes (like Jenn Sherman's Sunday ride) line up out the door 30 minutes before you are allowed in, so keep that in mind too. And dress appropriately for the weather if you have to stand out there and wait. It was a really nice morning when I was there, but if it had been cold/rainy/hot, it would have been miserable.  The line ONLY matters if you have your heart set on a specific location in the room or if you are on the waitlist.  If you don't care where you are located, show up an hour early and do not bother to wait outside.
What happens next?
You check in and sign the waiver electronically.  If you have never been to the studio, this process takes a couple of minutes to do the waiver.  If you have been, you simply are checked off as arriving at your class and you are good to go.
This is your time to grab a bottle of water or snack from the front counter if you need one.  While you are waiting in line to check in. People are nice and will hold your place – but be quick!
You will get a wristband for your left wrist.  These change colors every class and every day.  You cannot reuse them.  This is 1) your clearance to be in the building and 2) your photo pass at the end of class.  Do NOT take it off!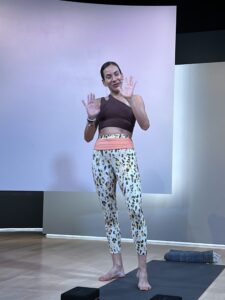 Lockers!
If you need to change clothes before or after class, I recommend heading up the stairs to stow your items in the locker room.  The locker rooms contain the only bathrooms in the space.  They also contain very nice showers, should you need them.  In addition, there are hair dryers, q-tips, tampons, shampoo, condition, and body wash.  And towels – they have sizes for the shower and for your workout.  If you only have a bag or coat or something, you could choose to just use a locker on the main level – this is a great option to have since it's so quick to get in and out.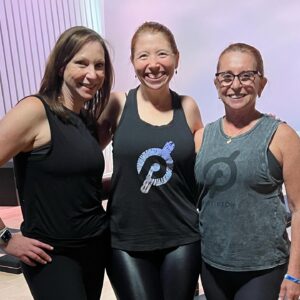 Shoes!
If you are taking a cycling class, you'll want to stop by the shoe window.  They will get a great set of clip-in shoes for you and help you if you need to exchange sizes or can't get them unbuckled.
Get in line!
Each studio has a line to get into class.  It's first come, first serve to pick your spot.  If you have a specific spot you want to get in class, you'll want to get in line immediately.  If you don't care where you are, then no need to rush to get in line.  The studios all are numbered, and you'll be told which studio you are in when you book.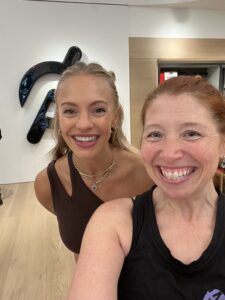 But go to the bathroom!
The studios open up 30 minutes before class and once you are let in, you CAN NOT leave and come back.  Therefore, I highly recommend that 35 minutes before the class you hit the bathroom one more time.  Especially if you are hitting a yoga or tread class.  I know you ladies who have had children get what I am saying.
Paging!
30 minutes before class starts the studio personnel will page you to get to your class.  If you haven't been in line, this is still your time to get into the class – bring your water, your phone, and your hair tie – this is your last chance to bring anything you need.
Once you are in class…
Quickly move to the spot you want…. Each class type has a few spots that are the most "on camera".  For both the bike and tread studio, it's the spots to the left of the instructor (as you are facing them) and closest to the mirror.  If you would rather not be seen, the spots in the back are the most in the shadow.  Those to the right of the instructor are visible, but typically not on camera as much.
Log in – hopefully, you have your login details memorized because you'll want to log in to be able to record your class.  Even for yoga – you log in for this before you walk in so you can still get "credit".  Also, remove your socks/shoes before you go into the yoga studio.
Change your settings on the bike – hopefully, you know these too! I have them saved on my phone just in case!
Get your phones ready, you can record all the fun pre-production stuff and the instructor entering the room.  The studio employees will also take pictures of you on your tread or bike (some even offer!) Treads/bikes both have a Peloton towel waiting for you.
Enjoy all the people and find new friends! It's going to be over before you know it, so really be present in the moment!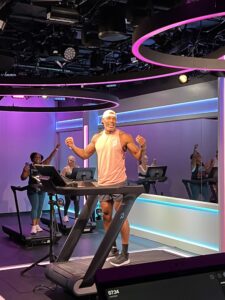 Don't move!
Once the class is over, you are to remain where you are until the instructor leaves the room and the production crew tells you that you are free to go.
Picture time!
Now you go get in line again.  The instructors will clean up and then come back out for a picture with everyone who was in the class. Each studio has a separate designated place for photos.  The yoga pictures take place IN the yoga studio.  And its so small, that its super easy and quick.  The tread photo line is upstairs by the storefront.  The bike photo line is on the main level next to the large Peloton logo by the front desk.  I'm not sure where strength takes theirs, it could be in a class like yoga.
The Peloton employee running the photos for your group will take your bracelet (some employees will let you keep them).
If you need to rush off somewhere, I would get in line right away, because it can take a few minutes to go through all the people – especially the bike line.
This is a great time to talk to people in your class.  See if you recognize anyone from social media or the leaderboard.  Make friends!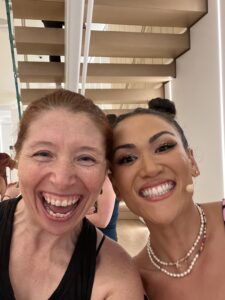 What if I have more than one class?
Now that your class is over, sit back and relax.  You can go grab refreshments from the mall and come back (if you still have a wristband).  You can peruse the clothing in the boutique.  You can hang out and watch for other instructors who are teaching (or recording) to run by (they might even take a candid picture with you).  One hour before your next class, you will need to run down and check in again and then repeat the process above.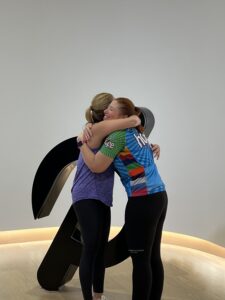 I hope you found How to Navigate Peloton Studio New York helpful.  I just want to add that a LOT has changed about Peloton, but the community has not.  When I was there, I saw so many reunions happening around me.  So many people I recognized from social media and the leaderboard.  It was just a complete love fest.  And every single Peloton employee was so incredibly nice and helpful.  They treated everyone with respect and kindness. I hope you get to go and I hope you have a blast, and don't forget to come back here and read the latest about Peloton.