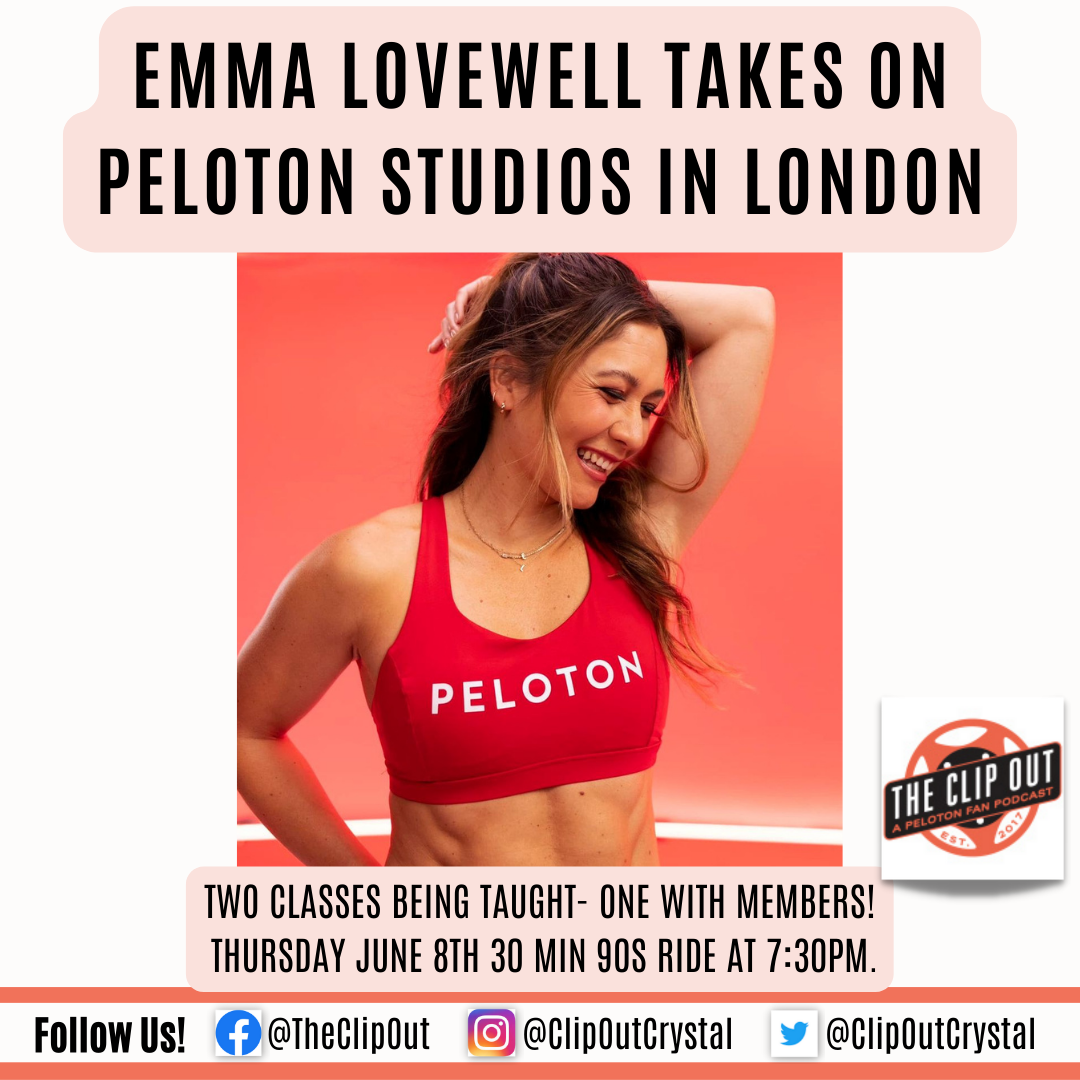 Emma Lovewell Takes on Peloton Studios in London: A Must-Attend '90s Ride
Big News!
Emma is headed to London AND teaching TWO classes while she is there – one of which will include members!  The class with members is a 90s ride on Thursday, June 8th at 7:30pm. This event will not only provide a great sweat session to your body but will boost your morale, energy, and zeal as well. As an avid Peloton fan, I am thrilled to share some insights regarding this fantastic event that I am sure you don't want to miss.
Who is Emma Lovewell?
Before you mark your calendar for the Peloton Studios' 90s ride, you must know about the instructor who will lead the session. Emma Lovewell is a renowned Peloton instructor who has been coaching people for six years. She is a certified personal trainer who inspires and empowers her trainees to reach their fitness goals. Emma's style is authentic, engaging, and intense, and she loves pushing her trainees to achieve their limits while having fun.
The Peloton Studios: A One-Stop-Shopping Experience for Fitness Enthusiasts
Peloton Studios is a popular fitness lifestyle studio that offers indoor cycling, meditation, yoga, and other fitness-related classes. They aim to deliver a unique and immersive workout experience to their trainees through advanced technology, professional coaching, and a vibrant community. The studios' aesthetic and ambiance are sleek and modern, providing an environment that promotes productivity and concentration.
The 90s Ride: What Can You Expect?
The Peloton studios have several workout sessions that cater to different preferences. However, if you are a 90s music fan and looking for an energetic session that could give you a good sweat, you should attend the 30-minute 90s ride led by Emma Lovewell. During the ride, you can expect a high-energy playlist filled with iconic 90s songs, non-stop pedaling, and coached by Emma's motivating words. The 90s ride is a perfect opportunity to immerse yourself in the remarkable ambiance of Peloton Studios and make the most out of your workout.
Benefits of Joining the Peloton Studios' 90s Ride Led by Emma Lovewell
Besides the fun and intense workout session, the Peloton Studios' 90s ride has several benefits that you should consider. The event is an excellent chance to connect with other fitness enthusiasts, socialize, and share your passion for fitness and wellness. The 90s ride is also beginner-friendly, so even new trainees can participate in the session as they will ease into the workout through the guidance of Emma and their fellow trainees. Lastly, the 90s ride is the perfect stress-relieving activity that could refresh your mind and body giving you the energy you need for the rest of the week.
Be there!
If you love pushing your fitness limits, and seek an extra dose of energy and motivation in your workout sessions, then there's no better coach than Emma Lovewell. Her Peloton Studios' 90s ride on Thursday, June 8th, is an event that you don't want to miss, and the benefits of joining the session go far beyond a good sweat. Excite your senses, make new friends, and refresh your mind and body by experiencing the vibrant ambiance of Peloton Studios while pedaling to the rhythm of the 90s hits. So save yourself a spot, and we will see you at Peloton Studios!
---
See something in the Peloton Universe that you think we should know? Visit theclipout.com and click on Submit a Tip!
Tune in to The Clip Out on every Friday to hear Tom and Crystal's take on this and other hot Pelotopics. We're available on Apple Podcasts, Spotify, Google Podcasts, iHeart, TuneIn. Be sure and follow us so you never miss an episode. You can also find the show online on Facebook.com/TheClipOut. While you're there, like the page and join the group. Lastly, find us on our YouTube channel, YouTube.com/TheClipOut, where you can watch all of our shows.