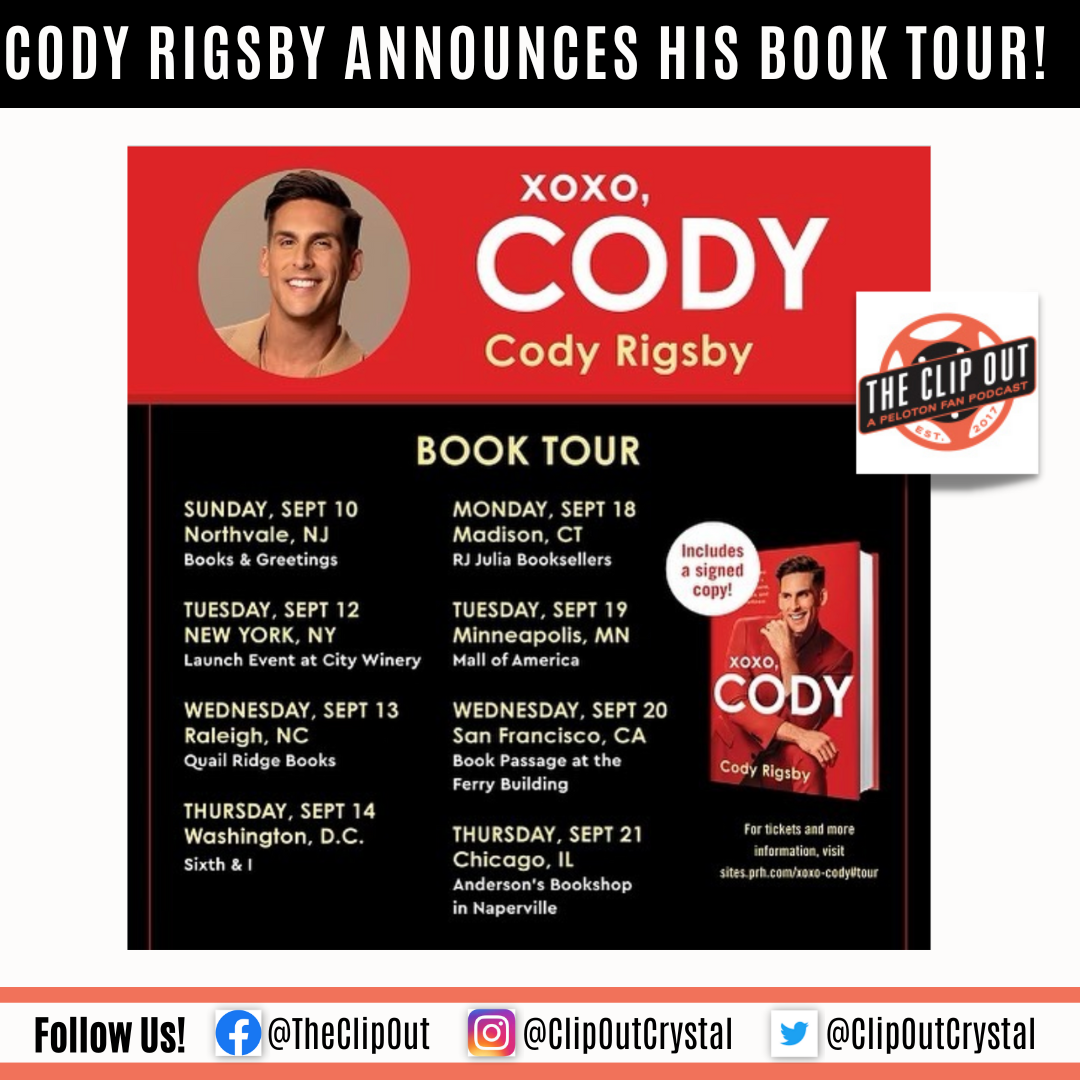 Cody Rigsby Announces His Book Tour!
Cody Rigsby's Instagram reel yesterday announced his upcoming tour to promote his soon-to-be-published book, "xoxo, Cody", with a release date of September 12, 2023.   Even more enjoyable is the full name of the book:   "xoxo, Cody:  An Opinionated Homosexual's Guide to Self-Love, Relationships, and Tactful Pettiness."  That sounds like some perfect advice for everyday life – and a good reflection of Cody's usual banter during his Peloton classes!  
Cody specifically stated that his "gay ass" would be going from coast to coast, so be prepared for some spicy interactions with him if you can catch one of his stops!  Cody will stop in eight cities (his original announcement said seven, but he edited his reel to tell us there would actually be eight), including what he describes as the "main event" in New York City. 
All of the cities were announced this morning in his new reel, which you absolutely have to watch because you'll be rolling on the floor laughing (make sure to clear kids and clergy out of the room first, though).  You can find a list of his tour stops (and links to preorder his book) here.   It starts on September 10th and includes Northvale, NJ, New York, NY, Raleigh, NC, Washington D.C., Madison CT, San Francisco, CA, and Chicago, IL.  This is a ticketed event, and all ticket holders will receive a signed copy of the book and a photo with Cody (although the New York tour includes a photo opportunity only for a limited number of tickets).    
Cody warns us that if our city is not on the list – that means he's not coming (he specifically apologized to those of you in Topeka, Kansas).  
 Make sure you're one of the first three hundred people to click Cody's link in bio and order the book or audiobook because Cody promises you'll get a special gift (which is far too x-rated to include in this article – so go check it out yourself!)
Get ready for a lot of life tips and a ridiculous amount of laughter from Cody Rigsby!  And make sure to take Cody's advice – don't take yourself – or life – too seriously!