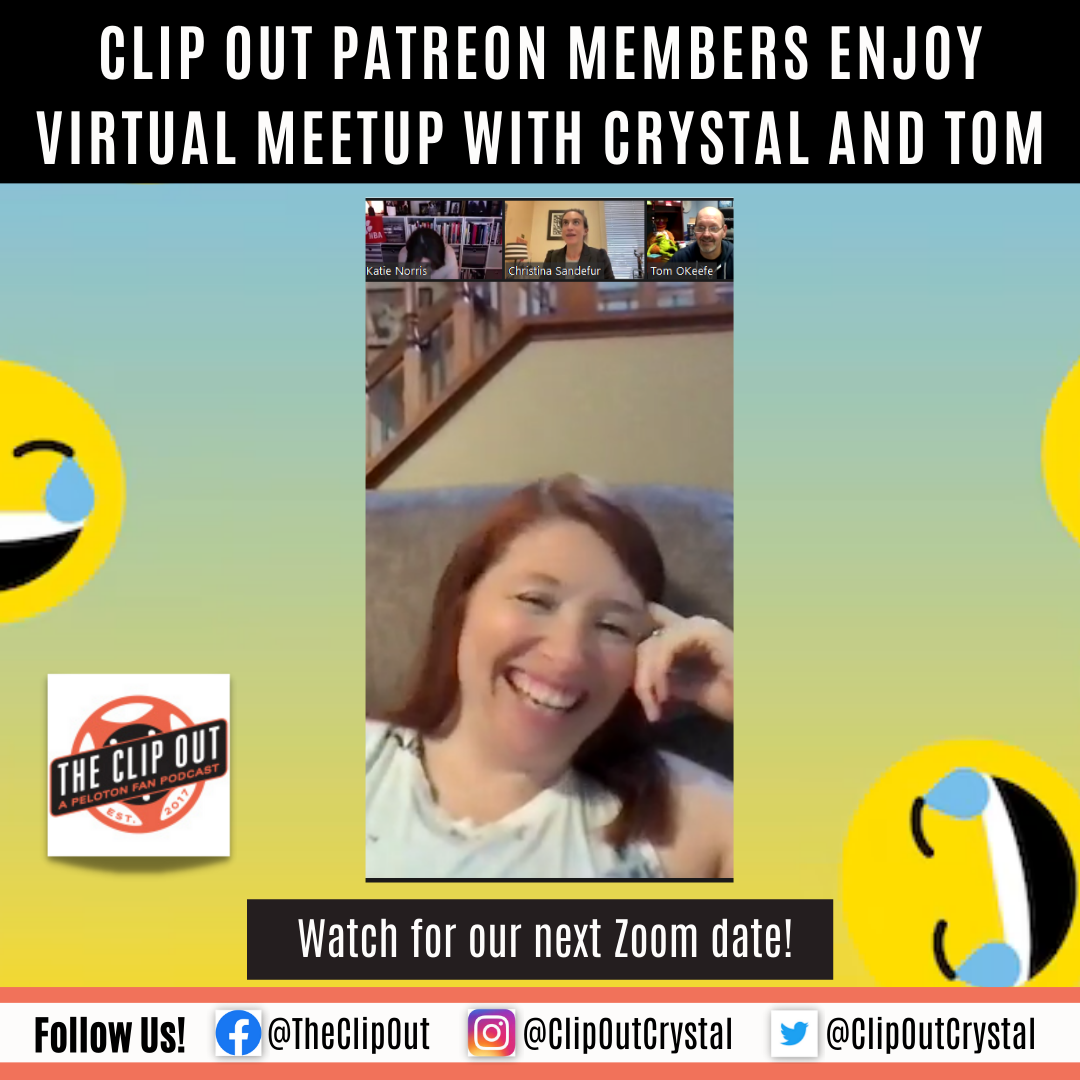 Clip Out Patreon Members Get To Chat with Crystal and Tom 
As if getting ad-free and bonus content from The Clip Out wasn't enough, Clip Out Patreon members received a special treat on Friday night by Zooming with Crystal and Tom.  It was a great way to start the weekend, especially since we were able to celebrate The Clip Out's brand-new and amazing website!  
Tom's Office Tour
We started the Zoom call with a video tour of Tom's office (ask him about his special, special lunch box!)  We of course spent a little time talking about The Monkees (it's not just Tom who loves them!) and then moved on to all things Peloton!  We talked about power zones, trying to balance our time between all of the various forms of exercise available on the Peloton platform (Should I emphasize running this week?  Is my rower sad because I haven't used it for a while?  Are my abs sad because I haven't used my rower for a while? I know I need to mix in some strength!), and reminisced about Peloton instructor cards and bobbleheads, a bygone era. 
We Love Barbie (and other toys) 
Members also shared all of our random thoughts about the Barbie movie and Oppenheimer movie and then reminisced about Barbies, American Girl Dolls, Liddle Kiddle dolls (look them up if you've never seen one), and Trolls (spoiler alert- Crystal loves them).   
We Told Crystal and Tom All of Our Hopes and Dreams
We were able to share our thoughts with Crystal and Tom about our thoughts on their new Patreon bonus episodes (check them out if you haven't – they are truly fantastic), guests we'd like to hear from on the podcast, our request to hear more from the Peloton Prophet (Crystal promises we'll hear from her before the end of the year!) and our idea for Crystal and Tom to share the details of their first date with us.    
Join In On the Fun
If you're not a Clip Out Patreon member yet, consider joining – and if you are a member and missed this virtual meet-up, watch for others in the future!  We promise you, it's a perfect way to kick off your weekend.