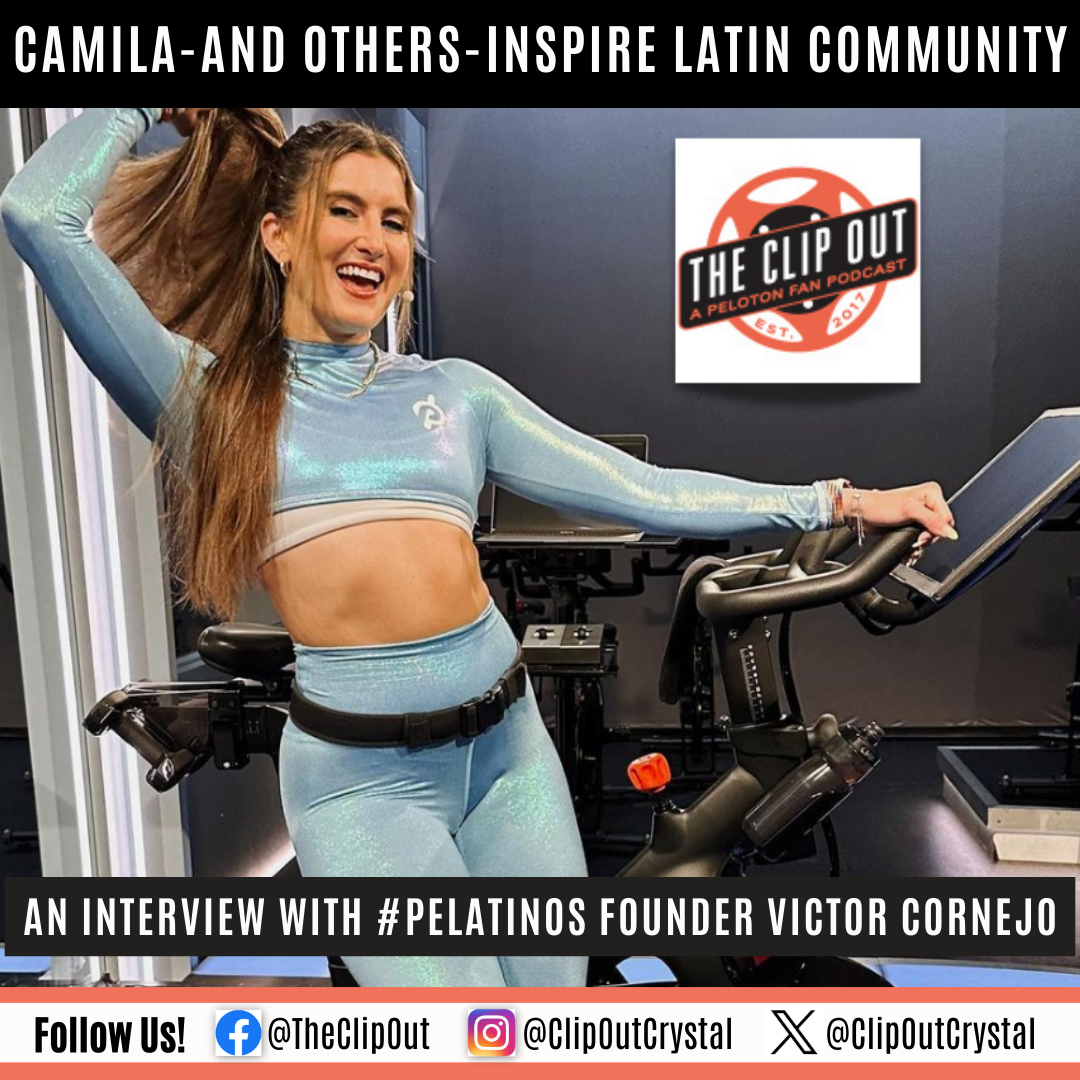 Camila Ramón – and Others – Inspire Peloton Latino Community
Camila Ramón was featured this past week in Hip Latina, an "honest and uplifting" publication dedicated to empowerment of its readers and especially the American Latina community. I was thrilled to learn a little more about one of my favorite instructors (and I'd somehow COMPLETELY missed Amistad y Decepción– shame on me!) but a huge part of her story is one I can't tell myself- how the Latina and Latino community feels about her and the other Latin Peloton instructors.
There is someone who can, though: The #PeLatino community. We all know that hashtag, and being a huge fan of Camila (not to mention my devotion to Jess King), I've seen a ton of it, and I'd love to know more. I was lucky enough to hear from Victor Cornejo, #PeLatinos founder (also known as #3ByPassAt42), who was able to fill me in on that story.
Is there something that sets Camila apart from other Latinx instructors? The Hip Latina article says she has a "completely different vibe." What is it, if so? 
Each Latino instructor brings something different to the platform but what they all have in common is pride in their culture and are loud about it and that speaks to our souls. Camila is a ball of positive energy that wears its "Latinidad" with every outfit. She's found a way to inspire her fans using unique cultural insights that when you hear them you say to yourself, "OMG, she's talking about my family, my aunt, my crazy neighbor." In other words, she gets me and where I come from.
Which of the other Latinx instructors stand out to you, and why? 
The PeLatino community is especially grateful to have Robin Arzon, Jess King, Hannah Corbin, Mariana Fernandez and Rad Lopez as part of the platform. They're all very different, but that is exactly what the Latino community is, diverse. Latinos are not a monolith and a lot of brands seem to think that we are. We're simply a large group of multiracial people united by a somewhat common language and culture. Some of us speak Spanish and some of us don't, but we all feel something when we hear Latin music or hear a story or experience that we know is uniquely ours. 
PeLatinos is a HUGE, well-known Peloton hashtag and community. What draws you together and makes you so enthusiastic? 
What draws the PeLatinos community together is positive energy and shared cultural experiences. Health, fitness, wellness, meditation are all things that aren't necessarily a part of our culture. It simply wasn't prioritized for a number of  historical reasons. This platform has brought together a group of people that want to integrate these very necessary things into our lives and affect generational change for our community one workout at a time. What makes me the proudest is that the PeLatinos community was the first to recognize that this population is here and as a result there are now instructor specific communities such as #MarianasMariachis, #LaMilaMafia and #TheRadOnes that do an amazing job of uniting behind what these instructors bring to the table in their own unique and necessary way. 
What topics are big in your community discussions?
The biggest topics our community discusses range from our favorite classes based on the Latin playlist, food hacks (let's just say the best Latin foods aren't always the healthiest), and funny anecdotes that every Latino has experienced. This also includes challenges that help us keep accountable to ourselves knowing that we're all trying our best. 
What's your favorite fitness music? Anything you like that Peloton hasn't gotten to yet?
My personal favorite music is going to be 80s and 90s Spanish rock and music and rhythms that remind me of my childhood, when my family would move furniture in order to dance until 3 or 4 in the morning. It's pretty amazing how much noise Latino kids can fall asleep to. 
What would you love to see Peloton celebrate that's important to the Latinx community?
It should be said that Peloton does an incredible job of recognizing this community through the year and not just during Latino/Hispanic Heritage Month. We have Latino instructors, some of who are more bilingual and bicultural and some who aren't, and that is an exact recognition of how we exist in America. 
After hearing from Victor, it's become even more apparent how Peloton has brought us diverse instructors, and how inspiring it can be to see someone with a similar background and culture to your own spreading the importance of fitness and a message of positivity. Even better- it's great to see how Peloton communities form around shared cultural experiences, and how they're able to leverage that kinship (even within a diverse group) to inspire one another.