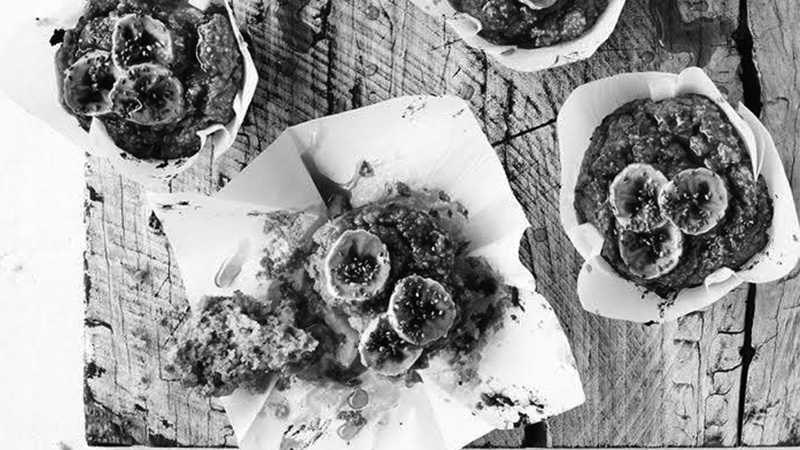 Banana, Date + Walnut Protein Muffins
Lisa Niren: Episode 50
Gluten Free + Paleo Friendly. 
Lisa says "Give these banana, date and walnut protein muffins a try. They are ridiculously easy to make and have no sugar in them, just using the dates to sweeten them and a drizzle of honey on top, as needed. These would be a great addition to your kids school lunch box or a warmed up afternoon tea snack! Put a dollop of almond butter or ricotta cheese on top for the protein and fat boost…delicious!  Can't quite fathom how something this good can be so good for you!"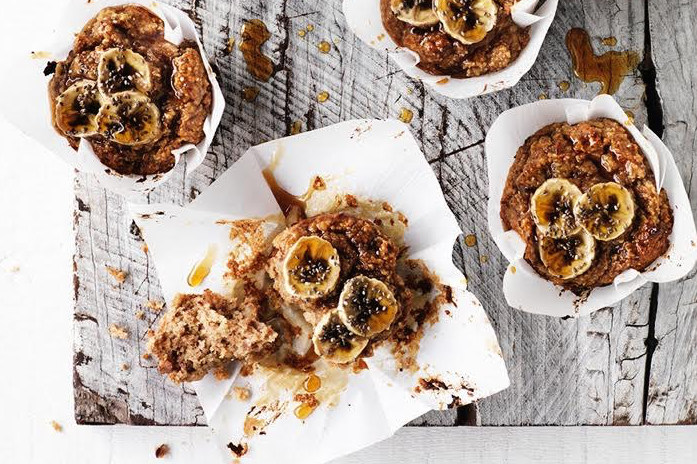 2 cups almond meal
1 tsp vanilla extract
2-3 ripe bananas
1/4 cup coconut oil, melted
1 scoop of vanilla wafer Muscle Elements T.R.U.T.H protein or any other protein you desire
2 tsp baking soda
1/2 tsp nutmeg
1 cup dates, pitted and chopped
3/4 cup walnuts, chopped/crushed
NOTE: YOU CAN OMIT EGGS ALL TOGETHER & USE CHIA SEEDS OR FLAX SEEDS AS A REPLACEMENT — 1tbs chia seeds + 3tbs water per 1 egg. Grind up the chia seeds (you can use black chia as you won't see them in the muffin) and add the water to make a gooey paste).
1 tbsp cinnamon
1/4 tsp ground cloves
3 eggs
pinch of sea salt
Prep

Cook
25 m
Ready in

Directions
Preheat oven on bake to 325 degrees.
In a large bowl, combine flour, baking soda, T.R.UT.H, salt, cinnamon, gloves, nutmeg and vanilla extract.
In a food processor, combine dates, bananas, eggs and oil.
Add mixture from food processor to dry mixture in the large bowl and combine thoroughly.
Fold in nuts.
Spoon mixture into paper lined muffin tins.
Top with chia seeds and banana slices.
Bake for  25 minutes.