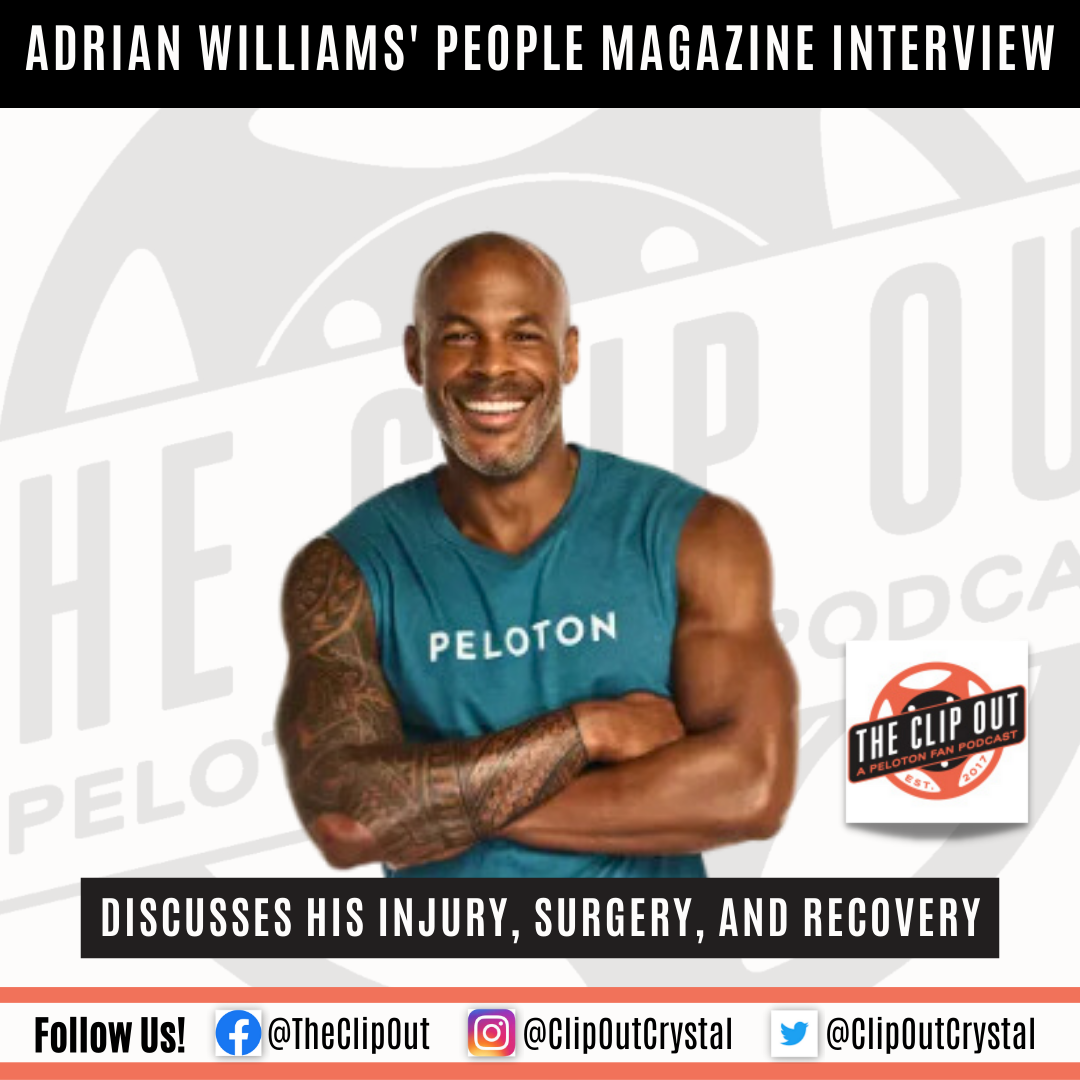 Adrian Williams Speaks with People Magazine about Recent Surgery and Recovery
Several months ago, keen-eyed Peloton Members noticed that Adrian Williams was suddenly missing from the live Strength, Tread, and Row schedules.  Before speculation could run wild (as it tends to do in Peloton-land!), Adrian took to his social media accounts to explain that he'd undergone surgery to repair an injury to his arm.  Now, in a candid interview with PEOPLE, he shares his journey to recovery and why prioritizing rest was the key to his successful comeback.
The Backstory
It all began when Adrian woke up one morning with his left arm stuck at a 90-degree angle. Unable to move it, he sought medical advice and discovered a bone growth around his joint. Although treatable, he faced a tough decision: continue with limited movement or opt for surgery and regain full functionality. Choosing the latter without hesitation, Adrian knew that he wanted to be 100 percent, not just settle for less.
But undergoing surgery meant temporarily stepping away from teaching and exercise. However, for Adrian, it was a welcomed pause. Contrary to being obsessed with workouts, he simply loved staying active and knew how important it was to prioritize his health.
Road to Recovery
During those eight weeks of recovery, Adrian admits to doing "nothing." No running, no movement. It was a stark contrast to his usual active lifestyle, but he embraced the opportunity to explore other interests and activities that brought him joy. From immersing himself in photography to taking peaceful long drives, he discovered the power of meditation and the impact of caring for other aspects of his life.
Once he was cleared to exercise again, Adrian bounced back quickly, feeling like his old self in just two weeks. His experience has not only rejuvenated him personally but also inspired him to share his journey with others. Adrian hopes that his healing journey will resonate with his followers and the Peloton community, regardless of where they take classes.
Read more about Adrian Williams' comeback story and his tips for finding balance and self-care on People.com.
See something in the Peloton Universe that you think we should know? Visit theclipout.com and click on Submit a Tip!
Tune in to The Clip Out every Friday to hear Tom and Crystal's take on this and other hot Pelotopics. We're available on Apple Podcasts, Spotify, Google Podcasts, iHeart, TuneIn. Be sure and follow us so you never miss an episode. You can also find the show online on Facebook.com/TheClipOut. While you're there, like the page and join the group. Lastly, find us on our YouTube channel, YouTube.com/TheClipOut, where you can watch all of our shows.