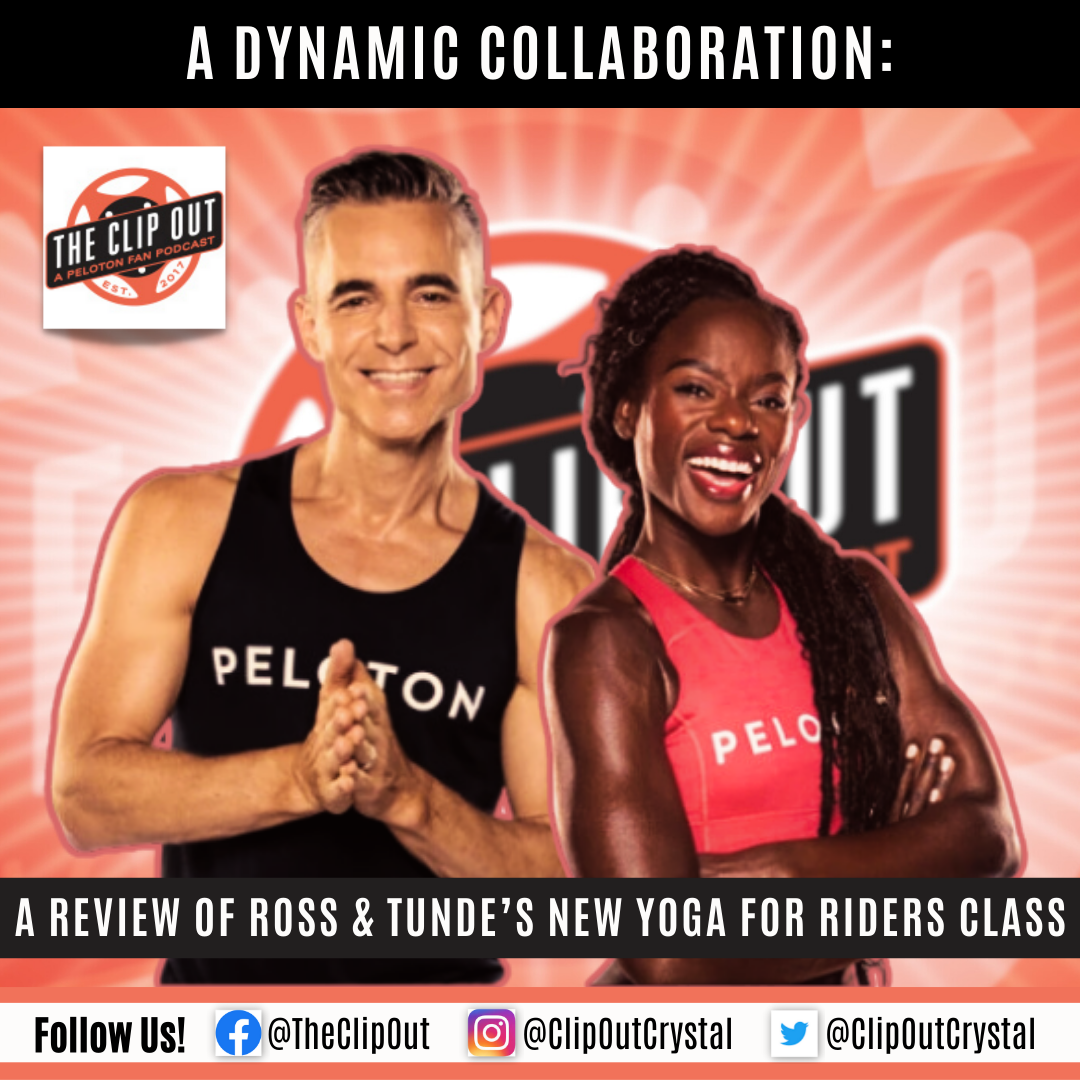 A Dynamic Collaboration: Ross & Tunde's New Yoga for Riders Class
Confession time: I've always been obsessed with both cardio and yoga workouts. While I've always considered the modalities to be complementary in my own fitness life, Peloton has taken this cross-training concept to a new level with the new focus flow formats that are designed specifically for runners, cyclists, and rowers. They're a game-changer for Peloton fitness enthusiasts! These classes aim to help us riders, runners and rowers improve our endurance and flexibility, and this, in turn, reduces the risk of injury. Not to mention that you're energized, relaxed and focused after taking these new yoga classes!
I recently tried Ross Rayburn's 15 Minute Focus Flow For Riders from July 7 after a long endurance ride.  Joined by popular Bike and Strength instructor Tunde Oyeneyin, Ross kicked off the class during the introduction by saying, "I picked this song, John Legend's "Wonder Woman", because [Tunde] is a wonder woman!"
This class is the latest addition to Peloton's yoga for cross-training series, and the second in what appears (we hope!) to be a series of 2-for-1s, where a yoga instructor is joined by an instructor from another modality. (Denis Morton was joined by Matt Wilpers last month on June 7 for a memorable 20 Minute Focus Flow for Runners, also a great class! Noticing that both classes were released on the 7th of the month makes me wonder if maybe the next class could be a Focus Flow for Rowers dropping on August 7? Check back next month to see if I called it!) 
Did I like this class? I really did – enough to do it twice in the past week, and I rarely repeat classes.  The calm chemistry and obvious friendship between the two instructors was absolutely genuine, and Tunde – who initially said that she was "incredibly nervous and incredibly excited" – looked graceful and serene enough to be a yoga instructor herself.   And the playlist? Absolute chill bomb. I loved it.
While the class is not specifically tagged for any specific level of experience, I think this class is absolutely suited for everyone.  Even as an experienced yogi, I really enjoyed this class, but Ross also makes the class accessible to literally anyone.  Somebody with zero experience can take this class (I'm looking at you, Bike members who are intimidated by yoga!)  
Ross expertly structures the class in layman's terms as long, delicious stretches focused on muscles heavily used in cycling – and then describes the stretch by the name of its formal yoga pose.  The class is heavily hip-focused, so anyone with tight hips (pretty much all of us!) can benefit from the openers Ross sprinkles throughout.
By the end of the 15 minute class, I was mellow and feeling thoroughly stretched out after my long Bike ride, and Tunde clearly felt the same way.  She joked with Ross, "I chose the wrong career! I should have been a yoga instructor." 
Balance the yin of an intense cardio class with the yang of a serene yoga flow! It's the perfect fitness routine and you won't be disappointed.
How do you structure cardio and yoga classes?  Let us know in the comments below!
---
Tune in to The Clip Out every Friday to hear Tom and Crystal's take on this and other hot Pelotopics. We're available on Apple Podcasts, Spotify, Google Podcasts, iHeart, TuneIn. Be sure and follow us so you never miss an episode. You can also find the show online on Facebook.com/TheClipOut. While you're there, like the page and join the group. Lastly, find us on our YouTube channel, YouTube.com/TheClipOut, where you can watch all of our shows.
See something in the Peloton Universe that you think we should know? Visit theclipout.com and click on Submit a Tip!