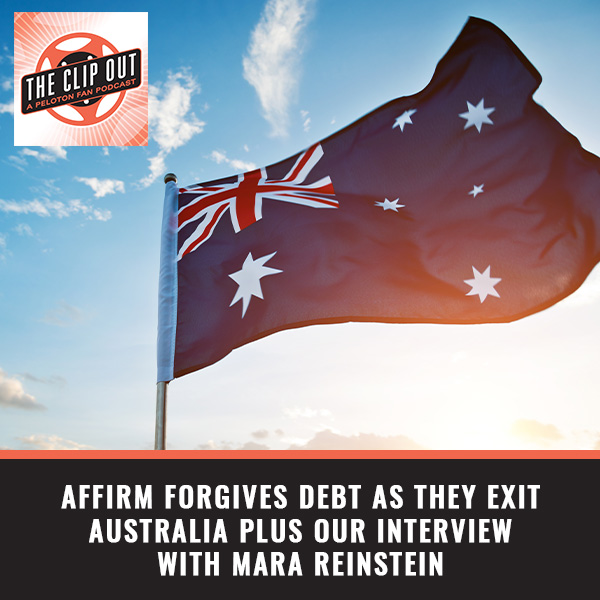 302. Affirm Forgives Debt As They Exit Australia Plus Our Interview With Mara Reinstein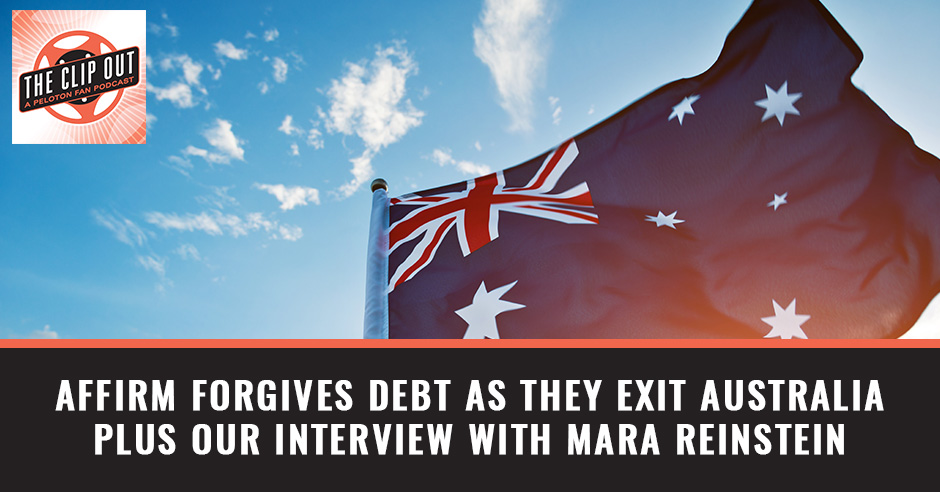 Affirm is waiving debt as they exit Australia.
Peloton Studios account celebrates Mother's Day in the U.K.
They also took us behind the scenes of Mayla Wedekind's first live Tread class.
Peloton Studios account sent Matty Maggiacomo out to talk to people waiting in line.
Coaches have been chosen for Team Validate and Team Activate.
@OnePeloton posted fun college throwback photos.
Jenn –  Finding the strength for strength.
Dance 100 was in Netfix's Top Ten.
Ally Love was on The View.
Variety covered the launch of Ally's Netflix show.
TV Line talked to Ally about her new show.
Marcel Dinkins hosted the Shamrock Marathon.
Endurance Sportswire covered the event.
Cliff Dwenger talks about his time on The Voice Germany.
Robin Arzon will be at the L.A. Times Festival of Books.
Tunde spoke at East View Mall in Rochester, NY.
Logan Aldridge gave a keynote to the Cincinnati Reds.
Alex Toussaint shows off his home gym.
Jess Sims showed off her fancy closet.
Bradley Rose is not joining the Tread team despite a rumour-inducing IG post.
Matt Wiplers ran the NYC Half Marathon.
Angelo has tips to get more protein.
Ash Pryor & Katie Wang have a row for Women's History Month.
We have a review the new Yoga Conditioning classes.
Aditi Shah's Morning Stacks are on Mondays.
Peloton Studios shared what to be on the look out for this week.
New Lanebreak levels.
Birthdays: Becs Gentry (3/27)
All this plus our interview with Mara Reinstein!
—
Watch the episode here
Listen to the podcast here
Affirm Forgives Debt As They Exit Australia Plus Our Interview With Mara Reinstein
We are on vacation except for this show because we are committed. We are in St. Martin.
Yes, we are in gorgeous and beautiful St. Martin. We were out snorkeling.
You were snorkeling. I was sitting in a boat waiting. I can't do the snorkel. It freaks me out. I can't sync my breathing and I feel like I'm drowning.
You're not the only one. I know that's a pretty common thing. I loved it though. I got to see lots of gorgeous fish. They were so pretty. We went to a place called Shipwreck Bay and we got to snorkel around a shipwreck and a bunch of corals. If anybody out there would like their own gorgeous vacation to the island of St. Martin, we have a connection for you. It's Rainbow Beach Club. This is not an ad. There are some units there that are owned by our past guest and friend, Rosalyn Arntzen and her husband Mike. They live in St. Martin for six months of the year. You might be saying, "That name sounds familiar." Ros was on episode 237.
She was the one who talked about getting "stranded" in St. Martin during COVID.
This is a beautiful place to get stranded. I would love to be stranded here for three months.
We had little sympathy for her before. Now there's none at all of any kind.
The only thing I will say is the internet here is not what I am used to. Trying to get things like this done can be a little frustrating. The recording is going fine, but uploading and downloading is a slow process. This place is gorgeous, and Mike and Ros take such good care of you. They will tell you all about the island. They take care of everything for you. If you guys have any interest, let me know. I will get you in touch with them. I'm happy to do so. This is not an ad. That's where we are. What else Tom?
It's 2015 on the timeline.
Make sure that you get to check that out. Each year we'll be under a different link. Let's say you went to 2012 and 2013. When you got to the end of that, it should point you over to 2014. You can find it that way or you can go to the menu. On the website, there will be a separate link for each year. You can do that either way, whichever is easier for you.
If you're one of our Patreon or if you want to join our Patreon account, you will get bonus episodes. If you are a Patreon member and you have the level that has bonus episodes, we are doing a deep dive with Diana Nichols for each separate year. We did one for 2012 and one for 2013. We did one for 2014, and one on Friday for 2015. It's cool to hear all the fun stuff and all the things that happened.
If you're hearing this a long time from now and you joined Patreon later, they will still be there for you.
I have to say one more thing about St. Martin because it's Peloton related. Completely unbeknownst to me, Nicole Babiak was on the island. She's across the street. She was three minutes away from where we were staying.
Everything is three minutes away on this island.
That's fair but she was on the same street. She was on this street. When she saw my post that we were here, she was like, "I'm here too." She was on her way to the airport. She stopped by and dropped off all of her leftover alcohol. Thank you, Nicole.
I'm surprised that she left us any alcohol considering how not sober I was.
Tom was the least sober that I have seen him in a long time. Tom doesn't even remember being that unsober. He doesn't remember most of the afternoon.
If that was something that happened frequently, that would not be cute.
Once a year is totally fine. You can get schnockered all you want.
I get my own three-part series with Dr. Jenn on the episode of The Clip Out. I was at one point legally declared a Kennedy. That's how intoxicated I was. If I said anything to Nicole and Lucas, I don't think I did.
If anybody out there is wondering who Nicole is, she is one of the admins for the You Get To Crew, which is Jess Sims's group. She's lovely. I got to meet her in person for the first time when we went out to LA for the Pride thing in 2022.
Maybe one day I will get to meet her too.
You've met her. You just don't remember it.
Other than that, what pray tell do you have in store for people?
We have very interesting news coming out of Australia. You are going to want to stick around for that.
You are going to wish you are Australian.
We have all kinds of details about what is going on with each instructor like we always do. We have a visit from Dr. Jenn and she is going to help you find the strength to do strength. We have all of the details on Dance 100 and everything going on there. We also have a visit from Angelo and he's going to help you get more protein in your diet. Not to mention past guest updates, a very special one you want to listen in for, and a whole bunch of In Case You Missed It.
Before we get to all that, shameless plugs, don't forget we're available on Apple Podcasts, Spotify, Google Podcasts. Wherever you find a podcast, you can find us. While you're there, maybe follow us so you never miss an episode or leave us a review. That's always helpful as well. If you like the show so much and you want to help us out, the easiest and cheapest thing you can do is share it on your Instagram feed or whatever. We're always posting when new episodes come out. If you see it pop up, give it a share because if you like Peloton, there's a good chance your friends and family do too. Maybe they'll also want to check us out.
You can also find us on Facebook, Facebook.com/TheClipOut. While you're there, like the page and join the group. Also, Patreon.com/TheClipOut, where you can get bonus episodes. When episodes are done early, you get them early. You get ad-free episodes. That's good as well. Finally, we're available on YouTube at YouTube.com/TheClipOut, where you can watch all of these in HD. Let's dig in. Shall we?
We shall.
—
This is the best news to come out of Australia since an AC/DC reunion. If you don't live in Australia, you're going to be very jealous right now. We got word that Affirm gave everybody their Pelotons.
Let's back up. Before I tell you this story, let me tell you what happened before that. We told you a couple of weeks ago that Affirm is leaving Australia. Going forward, Peloton is going to be using a company called Zip. A bunch of people who live in Australia who are Affirm customers got an email that they are no longer offering financing for Peloton products.
They said, "To ensure that we have a seamless experience as we exit the market, we have decided to forgive the remaining balance of your Affirm loans that you took out for the purchase of your Peloton products. This means that starting March 21st, you do not need to make additional payments toward your Peloton purchase that you have financed through Affirm. You can keep your Peloton product. You will not be charged for the remaining balance of your Affirm loan."
How does that even make sense? I get it if you're not in the country anymore but people still owe you the money. Do you think this is maybe some sort of Australian law on if you don't do business in the country anymore?
I have no idea. I've never heard of anything like this. My first thought was this cannot be real. I was very skeptical at first, but multiple people sent us this. This particular one does not have the header on it, but I have seen the header. It was from an actual Affirm address. There are ways you can spoof it. I'm not saying this is a definite thing at all.
What would possibly be your motivation? They're not saying, "Come here and give us your information, and then we will waive the rest of your balance." They're saying, "We already have a pre-existing relationship and you're good. You're free to go. Don't send us any more money."
Over on the Australian page, there are all kinds of people posting about this. This is not like a one-person thing. I found the whole thing super fascinating. We have several lawyers that are tuning in. If anybody knows Australian law, maybe there are some things we need to know more about. I don't know. The Peloton Aussie page also had a little joke. They said, "Everyone who got gifted their Peloton bike via Affirm shall pay their penance and ride with us this Sunday morning. You will do ten 10-minute classes starting at 7:00 AM. Perth people start at 7:00 AM your time. Add #PelotonAussieRiders. It's the least you can do."
You can see lots of comments from people in Australia all saying the same thing that they got this email. If it's not real, because it has been a couple of days now, you would think Peloton would step in and be like, "Pump the brakes. That's not a thing." I do not understand the logic or rationale. I would think that if MasterCard went out of business, someone would come in and acquire MasterCard's debts. They'll be like, "You pay me now, buddy." I would love to learn more about what the logic is here, but congrats to the people that got a free peloton. Peloton Studios celebrated Mother's Day but it's only in the UK. As long as your mother is not a UK citizen, you don't owe her any flowers. You're okay. Every year, this one freaks me out. I'm like, "Mother's Day, what?"
You even said you already have my gift picked out.
I do but if I didn't give it to you, you'd be sitting here stewing. That's what I would have thought.
I couldn't last that long. I would've been like, "What the hell, Tom?"
That would've been said at about 8:45 AM on Mother's Day.
Is that why you always put my gift out early? You always bring it home from work like, "I got it. It's here."
It's because you have no patience.
I don't know what you're talking about.
I'm talking about your lack of patience. If you were a doctor, you'd be out of business because you got no patience. Peloton Studio's brand new social media account also took us behind the scenes of Mayla Wedekind's new live tread class.
It's her first live tread class. I love seeing these behind the scenes, especially because I haven't seen the UK studio but in any studio. It's great that she is one of the instructors now. She got to do her first live class. All the instructors were there to support her, which is lovely. I'm happy for her. Congrats.
While we're talking about the Peloton Studios account, which if you haven't been following, you should. They're doing some fun stuff. They said that Matty Maggiacomo is out in the lobby to interview people waiting for their in-studio class. This is a great use of Matty because he's funny and he's very engaging with people, and this is his background. He started a million years ago doing red-carpet interviews and this is like that.
You need to watch this particular one because he wanted to ask things like, "Which instructor would you want with you in a zombie apocalypse?"
Matt Wilpers.
Why Matt?
Based on his past life, he was a big giant corporate accountant or something. I figured he got a smart brain and that's probably tasty. Zombies like brains. They'll sense it and they'll go for him first.
I thought you are going to use him as a distraction because he was going to run fast. He's a fast runner and a fast biker. He's got multiple sports down. He can swim. He is a triathlete.
The running thing is detrimental for my purposes because he would just run away.
You're going to sacrifice his brain.
I'm hoping that because of his brain, that's like a delicacy to a zombie.
Did you just say that you think Matt Wilpers is the most intelligent Peloton instructor?
I know so little, but I know he had a big fancy career. Although Robin Arzon is an attorney.
Mayla Wedekind is a doctor.
I'm not going to get attacked by a zombie in Germany.
How do you know?
For these purposes, I know. Who would you pick?
That's tough. I mean, a zombie apocalypse. I feel like Rad Lopez because there would be a lot of punching and he's good at boxing. I'm going to go with that. He would punch the zombies for me.
Okay. Duly noted. The Ride to Greatness is almost back up and running. We were shown the coaches for Team Activate and Team Validate.
They're doing things differently, but let's talk about this. I have to give total props to Nikki and Darcy. They both have been helping us with lots of articles and lots of things going on with the show. Since I was on vacation and when I was recovering, they put together amazing notes for the show. This background comes from them.
You're thanking them but you're also preemptively blaming them in case they got something wrong.
Absolutely. Jess is the team captain for Team Activate. Jenn Sherman is the team captain for Team Validate. In the past, team instructors have done warm-ups and cool-downs before the Ride to Greatness classes, and then Alex taught the actual class, aka the competition. For this year, they seem to have all the instructors divided up into teams. There are instructors on each of those teams that do not teach the bike or the tread platform, so it'll be interesting to see how they're used. Alex is still teaching the actual competition classes on both platforms.
Team Activate, we've got Emma, Cliff, Charlotte, Adrian, Robin, Kendall, Katie, Jeffrey, Jermaine, Mayla, Eric, Kristin, Logan, Leanne, Marcel M, Sam, Christine, Matt, Anna, Joslyn, Rebecca, Tunde, Chelsea, Kristin, Mariana, and Mila. On Team Validate, we've got Benny, Hannah F, Tobias, Ally, Cody, Nico, Assal, Alex, Susie, Kirra, Hannah C, Rad, Ben, Jess K, Bradley, Andy, Ash, Marcel D, John, Olivia, Camila, Callie, Denis, Becs, Matty, Aditi, and Ross. Jess K is not officially back from maternity leave. It's unclear if that means that her return is coming up. Wednesday, 3/22, train on the bike. Wednesday, 3/25, compete on the bike. Wednesday, 3/29, train on the tread. Saturday, 4/1, compete on the tread. We got this.
There you go. The one Peloton account, not the Peloton Studios account, posted some fun college throwback photos. We got to see Jess Sims in her basketball days. In case you can't tell by this picture, she is also a cyborg.
I wouldn't go with that. It was just a knee brace.
Agree to disagree.
Look how young Marcel looks.
It's college. Everyone was in college until they were 40 like me.
She looks like a baby in this. I am 44 years old and everybody is starting to look like a baby, but she looks like a baby. Do you know what's interesting about Marcel? She looks wiser and more mature, but she doesn't look older. She looks different than that. She's like a baby there, but in real life, she doesn't look older. She looks more mature. I wish I could pull that off.
I don't care if I can pull that off or not. Anyway, that was a fun thing for people. Coming up after this, Dr. Jenn is going to talk to us about how to find strength for strength.
—
Joining us once again is Dr. Jenn Mann, licensed marriage, family and child therapist, and sports psychology consultant. She was a five-year national team member in rhythmic gymnastics and sports psychology for USA gymnastics. It's Dr. Jenn.
Hello.
Our first question is from Steph Marriott Abbot. She is having issues with committing to strength classes. She doesn't go into any depth. That's all it says, committing to strength classes. I'm imagining that means it's not her favorite thing.
My advice for Steph is a few things. One is to start small. Sometimes people go, "I need to do a strength class" They are going to either do one of the full-on programs, where they're not picking their next class. Sometimes the next class isn't necessarily what they want to do at that very given moment in time. Sometimes people are like, "I have to do a 30-minute strength class." Start small. Start with 5 minutes or 10 minutes and build on it. Vary it day by day. Do a 10-minute leg day, a 10-minute core day, or a 10-minute arms day.
Don't do it seven days a week. That way, you also have something to look forward to making sure you pick your favorite instructors. Also, do searches for songs that you like or artists that you like so that you have something to look forward to. If you find a class that you like, don't hesitate to take it again. A lot of the time, people will say, "I can't take the same class again," but when you're trying to get into the groove, that's a good way to do it.
Lots of good ideas there.
Can I throw one out since I do the strength now?
Sure, Tonal Tom.
I do Tonal and so they add weight incrementally, which I guess you should theoretically be doing on your own with strength training. One of the things that took me a while to wrap my head around and make my peace with is that if you're doing it right, it will never feel easier. You always have to be lifting a little bit outside of what you can comfortably lift or it doesn't work. It clicked for me one day that I'm never going to feel like I got good at this. It's always going to be a struggle because that's what makes it work.
There are two other things I wanted to add. One is also the timing of it. If you hate your strength, do it at the beginning of your workout. If you love your cardio, ride, run, row, or whatever it is, get the strength over in the beginning. I've done this myself with stretching, which I actually love, but sometimes I magically run out of time. I was supposed to do a five-minute stretch at the end of this class, but I don't have time. I'm like, "Maybe I'll do it later tonight," then somehow it doesn't happen. Start with the thing that you least like, and get that over with at the beginning.
It's like marriage.
That is very true. Try to get that over with. The other thing that you want to think about is what is your motivation for doing this strength training. I find in my experience working with people, the least effective motivation is looking a certain way because that is the one thing you can't control. If your motivation is, "I want to avoid osteoporosis, and so a weight-bearing exercise is important for me," that's a great one. If it is, "I want to be able to lift a bottle of water and carry it by myself to the kitchen," that's a great one.
Think about what motivation you have or what it is that makes you want to do this outside of an aesthetic that you're hoping to accomplish, and let that be your motivation. Remind yourself of it. You can even put a Post-It note on the wall like, "Osteoporosis. Don't get it," or whatever it is that is your motivation. Have a reminder there so that you can push yourself to do the thing that you least like to do.
Also, keep in mind that even though Tom is 100% right, that strength training is one of those things that will always be difficult because when you improve, you have to increase your weight and increase your reps and all of that. It never gets easy, but there is a sense of accomplishment when it does get easier and you're able to make that leap. That's inspiring and exciting.
You will see that leap outside of the gym in other areas of your life, like when all of a sudden you can grab four bags of groceries instead of two or what have you.
At the beginning of the pandemic, when I had to bring a case of water, it will hurt my back. It was tough. Now I can carry it very easily. It's one of those little measures that I'm like, "I'm really coming along."
It's very inspiring, both of you.
Lanebreak is just you and your bike. It's beautiful.
Click To Tweet
Two big takeaways from this. "Osteoporosis. Don't get it" and "Tom was 100% right." That was said out loud by a woman. That's even rare. Thank you so much for all that. Until next time, where can we find you?
You can find me on all social media @DrJennMann.
Thank you.
—
Ally Love hosted Dance 100 premiered on Netflix, and it is doing very well. It actually made it to number eight within Netflix's own chart.
I find that fascinating because Netflix doesn't let people have a lot of visuals into that.
They'll show you the top ten in your thing so you know what's popular. Nothing draws a crowd like a crowd, but they never like to release hard data. When they do, it tends to be vague. With Stranger Things, they were like, "Over two billion hours have been streamed." What does that even mean? It's a lot but in relation to what? That means lots of Ally Love as she makes the round. She was on The View talking about Dance 100.
She seemed to make lots of comments on that one. The new show started on 3/15. On The View, she talked about before she was a model, she was a backup dancer for Beyonce. She also talked about what inspired her to start talking about her recovery from her car accident. She realized during the pandemic that she didn't want people to think that everything came easily for her and that she worked hard physically to heal her body.
She also explained the premise of Dance 100. It's a dance show, but it's a choreographer competition. The dancers dance but they vote for the choreographer they think should win, not the other dancers that they think should win. I've heard it's only six episodes and people are loving it so far.
It's interesting because I posited that the Today Show had her on because maybe they felt like it was a competition to Dancing with the Stars. Here she is on The View, which is an ABC show, which is also the network that airs Dancing with the Stars. I guess they didn't see it as too much of a competition. I don't think people see the world through those prisms anymore. Not the way they used to. Ally Love was featured in Variety, which is a huge trade magazine.
It was interesting that picture that you had up at Variety. I remember that Peloton or somebody used it way early on in Ally's career at Peloton. It's an old picture. I mean, there are no old pictures from the Peloton time but I'm just saying.
It has been used for a while. She also talked to TVLine.com, which I'm not familiar with. The website looks reputable. Some of them you go to and you're like, this site is janky.
They're like the one that always posts like, "Did Cody break up with so-and-so? Click here." There are no answers. This one is an actual interview and they asked lots of questions of Ally and they got lots of answers from her.
Marcel Dinkins ran in the Shamrock Marathon.
Not only did she run in it, but she also hosted it. She did both. She was the designated high person. Of course, she was. If you're wondering, the Shamrock Shuffle takes place in Virginia Beach. There was a highlight reel from the race. She was shown at the very beginning and they did a post-race reel. She also ran the entire 8K with a finished time of 45 minutes and 37 seconds. That's 9 minutes and 11 seconds per mile.
She's hosting marathons. It seems like just two segments ago, she was in college. They grew up so fast.
I guess she ran it in 2022. It was her first marathon.
Endurance Sports Wire also covered the event.
Good job, Marcel.
Cliff Dwenger was on The Voice in Germany.
It was 2019.
He's posting on Instagram about it and it says, "When Michael Patrick Kelly said, 'When I'm in Germany, I'll bring you up on stage,' and then he did." I don't know who that is.
I don't either, but it's cool that he was up on stage with him.
I don't know if that's somebody who is a big deal in Germany or I just don't know because I'm 52, but that's cool that he was on The Voice. I did not know that. Tunde spoke at the East View Mall, which is in Rochester, New York.
This was so random. Tunde just showing up in a mall.
When this popped up in the feed of news stories, it was like, "She's doing what now?"
She was at Dick's Sporting Goods specifically. I don't know if it was because Peloton has a partnership with Dick's Sporting Goods. That's how that happened. I was fascinated by how did this come to be.
There's nothing wrong with it. Clearly, people showed up. I'm just curious about what happened here or how did that come to be.
She was talking about her book Speak. Lots of people were there. The lady who interviewed her is a Peloton user as well.
Logan Aldridge was brought in to give a keynote to the Cincinnati Reds to get them geared up for the season.
This is a cool video. He was there and I saw him post about this when he first got back. He was like, "This is the best. I am team Cincinnati Reds this year." He had a great time getting everybody all stoked and everything. I thought that was neat, and it's great that he posted this video so that other people could see it as well.
Alex Toussaint showed off his super fancy home gym on the gram.
It's a full custom gym. Every weight and every single thing in it has his logo on it. Above it says, "Do Better," which is his logo. It's branded all over it. The other interesting thing that you got to know here is that this was designed and installed by Callie Gullickson's husband. Alex did a whole post about it and said thank you.
I'm curious because I'm not used to seeing the tread from that angle. Is that a Tread or a Tread+?
A Tread+. I checked.
At first, I thought that I'll be able to tell by looking.
It's that lighting. There's another image. You can see the red line on it. That one, you couldn't. All of the weights have the AT on there.
The way you have yours is it butts up against the wall so I can't see it from the angle that he shows.
See how it's flat. There are no treads. There are no slots. That's how you can tell.
Speaking of showing off fancy home systems, Jess Sims showed off her fancy closet.
Did you see the sneaker collection in there?
I did, as a matter of fact. The clothes are organized in rainbow order.
There are so many workout clothes. I want Jess Sim's closet, and I want it now. Look at those sneakers. It goes on and on. There are hundreds of sneakers in there. I'm so jealous.
Robin Arzón will be appearing at the Los Angeles Times Festival of Books.
They have quite the lineup. From what I understand from the gentleman who sent this to me, this is a pretty big deal in LA, this whole festival of books. That's cool that she gets to be on there.
I'm going down the names, Omar Epps, Stacey Abrams, Joan Baez, Laura Dern, Dave Eggers, Jennifer Garner, Lauren Graham, Steve Madden, Idina Menzel, Chrissy Metz, and Meghan Trainor. There are probably 60 people on this. There are lots of big names on here. They listed them alphabetically.
That's a cool list. Congratulations to Robin for that. That's in April if you were wondering.
Bradley Rose had a post that made people think that he might become a tread instructor.
From my notes, he is not joining the tread team. He did put this reel out there. He posted about not listening to what others think, but he was in the tread studio. He very graciously but firmly said in several replies to comments that he is not coming to the tread, citing that he is "not built" for it, so leave Bradley alone.
Matt Wilpers ran the New York City Half Marathon. Did he even break a sweat?
It was cold that day. They said it was abnormally cold.
A half marathon for him is like a fun size M&M's for me. That's nothing.
It's like, "Where's the rest of them?"
Coming up after this, Angelo is going to have tips for you on how to get more protein in your diet.
—
Joining us once again is Angelo from MetPro, here to answer all of your fitness and nutrition questions.
We have lots of people asking about protein. We have Caitlin asking about making a protein-rich meal prep as a vegetarian. We have Tiffany saying that she is recovering from an injury since July and had surgery in January. She is looking for help to get her protein levels up. Rachel Cook is looking for an on-the-go protein that isn't jerky or nuts.
Let's handle those one at a time. To go back to the first one, is she looking for meal prep?
Protein-rich meal prep as a vegetarian. She's in a full-time PhD program. She's gone Monday through Thursday, 8:00 AM to 9:00 PM, and all day on Friday and Saturday.
I got it. There are 101 different options, but I'm going to give you some of the most common ones that I use with my clients, whether they're vegetarian or plant-forward where they want more plant-based proteins. I'm always looking for a combination of it needs to be quick and non-messy. The harder one with some vegetarian proteins is the low perishability when you get into dairy, for example. If you're vegan, you're not going to be having dairy.
The simple go-to's that I like or the first thing out of the gate is to get yourself a quality vegan or vegetarian protein powder. That solves so much as far as "I'm worried about my protein needs." It's so easy to add that in once or twice a day. You can see very dramatically that it easily increases your protein levels. What that doesn't do is satisfy any sort of appetite. It's not going to be like, "Great, I had that whole meal of that vegan protein shake. I'm good for hours." That's not going to happen. That's basically to make sure you are getting your protein intake high enough.
It's okay to supplement a meal. If you go and have a meal that's mostly plant-based, for example, beans, rice, veggies, etc, and you're consistently like, "I'm low on protein," there's nothing wrong with adding half a scoop of a vegan protein powder into your water bottle. Now you got an extra 25 to 30 grams. It's super easy.
I'll give you one more little life hack on that. Everyone says, "I'm not at home where my jug of protein powder is." What you can do is get the single-serving miniature Ziploc bags and take ten minutes a day to put a scoop in a Ziploc bag and make a big stack of them. You can just grab a few of those and throw them in your purse, briefcase, or what have you. When it's time to have a protein shake, you grab one of those Ziploc bags. Don't open the Ziploc. Tear the corner and then pour it into a water bottle or your jug. It's super easy. They're like self-serve packets. You can buy them in individualized packets. You're going to pay three times for the same amount of protein powder. That's just a few little life hacks.
Outside of that, when you're doing meal prep, you have dairy as an option. Cottage cheese is so easy and so quick. Low-fat string cheese works as an easy on-the-go snack. You can always go to that. If you are not going to do a lot of dairies, then tofu is great. I'm a big fan of Trader Joe's carries because they have a little packet where you get two little slabs of flavored tofu. They've done it in the sriracha or the teriyaki. They do a good job of adding minimal calories to it, but it has some flavor. It's good cooked in something, mixed in a stir fry, or whatever you like. It's also good as a side by itself. Even cold, I'll do it sometimes when I'm trying to mix in a little bit more plant-based protein.
Being an entertainment journalist is a way to combine pop culture, entertainment, and writing.
Click To Tweet
Those are a couple of really easy go-to's. There are also some quality protein bars out there. The reason that's not the first thing is everybody asks, "Protein bars are quick, easy, and not messy." This is true. The industry has not dialed in a low-calorie high-protein bar that tastes not like cardboard. If you found a brand that is quality and it also has protein and it also tastes good, it's probably more of a meal replacement bar. In other words, it has additional calories from carbohydrates and possibly fats. That is fine if you're not trying to cut calories. If you're trying to cut calories, it's probably worth the effort to do some meal prep from some of these other protein sources.
One of the things that we were talking about in one of our previous episodes that have become more popular is they have vegetarian burgers. You have to do a little bit of self-investigation and read the package because some vegan or vegetarian protein burgers don't have that much protein. They're still mostly carbs. Most of them, however, are high in protein and have moderate to low carbs. What you're looking for is a one-to-one ratio or better. In other words, stick with the brands that are going to give you 50%. If you look at calories from grams of carbs and protein on the back, the protein should be as high or higher than the carbs. That's probably a decent starting place.
Those are the quick go-to's. Probably, someone has heard me before with the jerky and the nuts, and there's a reason that we use those. Turkey jerky and nuts are among my favorite because they're so portable and low-perishable. Someone who's traveling can throw it even in their suitcase and it's still okay, but there are other options. If you're traveling, the first thing we tell our clients is whenever you get there, just plan and make it part of your routine to hit any simple grocery store on the way and stock up on simple things.
If you're not vegan or vegetarian, it becomes even a lot easier. You can grab a can of tuna. You can even grab a can of organic canned chicken. It's not the most exciting thing in the world, but you can spruce up even a salad on the go. It makes food prep easy, especially when you're not making that as the entree. You're sprinkling that in with what you're eating. It gets easy to start increasing protein levels. I threw a bunch out there. Whose questions didn't I cover?
I think you got it all. I will add for your protein that isn't jerky or nuts also. It's nut butter or almond butter packets like JUSTIN'S Almond Butter packets. Those are great for the on-the-go as well.
I love that. Back in the day, they sent us a big case when they were just starting up. We were big fans of using that because they were just the travel size. They sent us a big case of it. I remember all the trainers in the back room enjoyed those.
Lots of very good advice for proteins, so thank you.
On that note, where can people find you if they would like things like this tailored to their specific needs?
Thank you.
—
We have a new artist collaboration. This time it's with Shakira.
This was posted over on the Peloton Studios. It's going to be a 30-minute ride with Camila Ramón on March 23rd, 7:00 PM Eastern, listing it as a premiere. It's not listed as a collaboration.
Normally you would think an artist of Shakira's magnitude would get more.
I wonder if they're doing something just for Women's History Month and it's just one ride. They couldn't call it a collaboration. I don't know.
—
We have a past guest update about Danielle Verwey. You might remember her.
Danielle was on and her leaderboard name is Fit Cookie. Mr. Fit Cookie, her husband, also known as Paul, has been diagnosed with rare bone cancer. Danielle is trying to do everything she can to take care of everybody. First of all, if you see her, drop a high-five to show your love. You can also follow Fit Cookie Made Me Do It to let her know that you're there for her and her family.
Also, there are going to be a lot of changes for the family. If anybody would like to support Danielle, Paul, and the kids in any way, you can go to the You Get To Crew. Anisha Blakely is asking people to let her know that she will be helping. Also, there is a GoFundMe that is listed in the You Get To Crew as well. We're just putting that out there for anybody to support our fellow Peloton friends. Good luck to Danielle and Paul and their family.
—
Katie Wang and Ash Pryor have the first ever two-for-one row for Women's History Month.
It happened on March 20th. I'm super excited to take this. I'm looking forward to taking this row when we get back. I'm very much looking forward to it. They're both so delightful. It's great that they were able to be the first and make history within the Peloton world.
We had an interesting review of yoga conditioning classes.
Tina took the first one on Wednesday night when it popped up. She was kind enough to write up a review about it. I appreciated the review because I have not had a chance to take the class yet. It takes your regular yoga classes. It adds a very light amount of strength to it, 2 and 3-pound dumbbells, but also sitting in the poses longer. One of the examples Tina gave was using blocks in ways that might make it more difficult. Let's say you're doing a downward dog, but then you put the block between your legs and squeeze your thighs. It gets into the muscles in your thighs in a very different way than it would by just doing the downward dog. There are lots of little things like that that are happening. I thought that was pretty cool.
Aditi Shah posted, "Just wanted to make sure everybody knows that Morning Stacks are on Mondays."
There's also a new collection out there that's Good Morning Peloton. It has all kinds of meditations and morning yoga flows. I love them. I did one before we left for vacation. You get a little morning yoga. You get a little morning meditation. They are going to be taking place every Monday. That's great.
Peloton Studios has a post, which I assume will probably become a weekly post.
It has become a weekly post.
It's a roundup of things that might interest you.
They got all the two-for-one classes. There was tread bootcamp, the tread-row, and then there's going to be fourth-trimester yoga classes, so New Mom Yoga. Of course, the 50 years of hip-hop is being celebrated, and then Ally Love's 30-minute ride. I believe that Ally's 30-minute ride is also from the Dance 100. She took music from that.
There are new Lanebreak levels for those who are interested.
We alluded to this a couple of weeks ago that there would be Kylie Minogue hits. There are going to be two classes. Hits number one is out now to a 30-minute level that has The Best Of, and then there's Women's History Month Dance 2, and there's a whole bunch of different artists there. There's '80s Pop Essentials. That includes A-Ha, Blondie, The Vinyls, Talk Talk, and more. I love Lanebreak so much.
—
Finally, we have one birthday. It is from Becs Gentry.
Happy birthday to Becs Gentry. It is on March 27th. The new mom will be celebrating her birthday.
Coming up after this, we're going to talk to Mara Reinstein. She is a writer about all things pop culture, so you know how excited that's going to get me. We will go down some rabbit holes, but there will be Peloton stuff in there too. Don't worry your pretty little head about it. It's coming up right after this.
—
Joining us is Mara Reinstein. How's it going?
Thanks for having me.
We are so excited to have you here.
For people who are tuning in, you need to go to our YouTube channel so you can see her super cool microphone.
You then have to see my face.
It lights up. It's like she's talking into Studio 54.
It's a pretty microphone. I agree.
Do you use something like that when you ride the Peloton? There are so many people who have disco lights, so now I'm curious.
I'm about 3 feet away from my Peloton. I'm in my office in New York City. Because it's New York City, you have to multitask all the room. This is my office/Peloton room.
You only get 150 square feet.
I don't even know if it's even that, but it has a room. I have a mat. I have the shoes and weights. It does the job.
You turn on your microphone when you do the workout, and then you can see the little flashes of light.
It changes colors. Is it a mood microphone?
It's based on the tenor of my voice. I would imagine.
I was trying to figure out if you are getting mad at us and if it will tell us.
Now that you say it, why haven't I thought to do the Peloton with the lights out and just this microphone?
I don't know but it sounds like it would be fun.
Fun for me maybe. Not for anyone else. You have given me food for thought.
I'm going to recommend a DJ ride if you do that. I feel like it would give you the ambiance.
Maybe Lanebreak.
I hate the DJ rides. It's not happening. I keep it real when it comes to all things Peloton and all things in general, but no DJ rides for me.
Is that the DJ or the type of music?
I guess we will just go into it. I'm going to say something controversial. I don't like the member rides. I like it when it's just the instructor and that's it. I got a little spoiled during the pandemic when they didn't have them in there. Mind you, I have been invited to go. It has nothing to do with Peloton. I understand why they have the members in there. I get it. It's a vibe. I'm sure if I were in the room, I would be thrilled to be in the room, but I don't need to see randoms when I am riding.
I would think you would love Lanebreak then because it doesn't have any people of any kind.
It's all music.
What is Lanebreak? This is breaking news to me. What is this?
On your bike, there's a game that you can play.
I don't play games either but go ahead.
If Jenn Sherman, who is older than me, can do it, it's inspirational.
Click To Tweet
You are killing me.
Aren't you glad you had me on?
In this interview, she will tell us all the things she doesn't do.
Now we are best friends. Go ahead. I'm curious.
On the bike, there is a game. It's music. It's usually a theme class of some kind. You could do anything like soft rock or hard rock or whatever. You pick it and it can be anywhere from 5 minutes to 30 minutes. It comes on the screen. It looks like Tron. You are on the bike and you are riding, and then you increase or decrease the resistance to move across the lanes, and they will tell you which lane you need to be in. It will point you like, "This is where you should be," and the idea is to follow along perfectly.
It's like Guitar Hero for your bike.
Does this happen in the middle of the class?
No. It's separate.
You don't see an instructor. It's like a video game on your screen.
How long does it last?
Anywhere from 5 to 30 minutes. You can choose different ones.
This is breaking news to me. How do I access the Lanebreak?
When you go to your bike and you see the home screen. Look at the bottom and it says, "More Rides." When you click on that, it's going to bring up Just Ride, Scenic Rides, and then Lanebreak. You click on Lanebreak, and then you access an amazing world.
Do I pick the music?
You pick the class type. They curate it, and so the game is in sync with the music. One of my favorites is the Alanis Morissette one that they did. It's a whole class and it's all Alanis Morissette. I love it.
I'm doing this. I'm not just saying it. I have done the Scenic Rides, but the Scenic Rides are missing music, which is why I stopped doing them. This is perfect.
It's a game so I don't know how you feel about that.
I don't need to win. It's fine. I just like the fact that it's a little different. I like that.
I have grown to love them because there's no instructor. It's just you and your bike, and it's beautiful.
Thank you. This has been very informative. We are only five minutes into this, and we are done at least for today.
How did you find Peloton? I like to hear people's back stories of how they fell into this. For a lot of people, it's been the pandemic. There are people that it's all over the place so I'm curious.
I'm being honest here. I used to be an extremely hardcore OG SoulCycle rider. I live in New York. I went to SoulCycle when it was a little room in the back of an apartment building and had nothing else. This was before 2010 at least. I was extremely devoted to SoulCycle. My friends would talk about Peloton and what Peloton is, and it would be a major eye roll. I said, "I will never do Peloton. I don't know how you can ride a bike and not with other people. This sounds so boring. This will never be me."
Now you don't even want an instructor in the room.
This was me for more than a decade. That's how long I had been doing SoulCycle. In March 2020, the pandemic is starting. I'm still in New York City. I take a SoulCycle class and I look around and I think, "Maybe this isn't the smartest way to stay healthy and avoid germs." It finally dawned on me for the first time. This is where a Peloton is kicking in. I stay with my parents at their house in Michigan. I think it's going to be for two weeks. I pack a little suitcase. It ends up being six months.
We were all so naive back then.
We were so naive. I only pack winter clothes. Little do I know that I would stay through the entire summer.
Michigan doesn't have summers.
There was a summer for a two-week stretch in July. My mom has a Peloton and she was not a regular user. She did a twenty-minute low impact here or there just to say that she had it. I looked at it as well. I'm not going to get SoulCycle anymore. I still want to use a bike. I'm going to try it out. My mom's Peloton at the time was very new. She had gone maybe for a few months, and then I started getting into it. I started getting my mom into it. This was one of our ways of bonding during the pandemic. We would have dinner with my dad and watch Jeopardy! As soon as Jeopardy! is over, it's like, "Who's going to do the Peloton at 8:00?" Straight off. Honestly.
My mom, being a Baby Boomer from Detroit, would do all the Motown rides. Being in my 40s, I would do a lot of '80s and '90s rides. That's how I got it. By the time I got back to New York, I moved. I did an apartment rental because things were so cheap at the time. I got a bigger place. The first thing I did when I got to the new place was getting a Peloton bike. Now, my mom and I have matching Pelotons and I use the bike quite a bit. I have not been to SoulCycle since March 2020 and since that one class. I swore for years that I would never betray my SoulCycle. Now it has been over almost three years to the day. I just stopped and now I'm Peloton. That's my Peloton story.
I think a lot of people could relate to that.
I like that you and your mom ride.
Do you ride together? Do you bond together?
My mom isn't tech-savvy. It took her a while to even figure out how to turn it. She used to call me in a panic like, "How does this work?" We don't ride together. My mom is 75 years old. My mom called me so excited because she loves Leanne's Motown rides. We both love also Jenn Sherman's Yacht Rock rides. Sometimes we will do a Yacht Rock ride at a live class in the summertime. We do talk about Peloton. I know she has one on Sunday.
I was going to say that. I just wanted to make sure you were aware that was happening.
I'm aware. I'm going to be out of town on Sunday. My mom wrote in her organizer or her planner, "45-minute Yacht Rock," so she doesn't forget. I'm a little jealous of my mom as she gets to take a Yacht Rock ride in March.
This reminds me of my mom. She would call me and then say, "I need to email you something. Email me so I can reply to it."
My mom is like, "I checked my email." I'm like, "You mean your text?" She thinks that texts and emails are the same things. I love my mom so much. I'm sure she's thrilled that I gave her age away on the air. Her handle is MotorCityGrandma. There you go.
I feel like I have seen her on the leaderboard because I remember that leaderboard name. I love that leaderboard name.
That is a good name.
She's nowhere near the leaderboard. Neither am I. I highly doubt it, considering that she was alive for the heyday of Motown. She's there. Feel free to high-five her.
I'm at the bottom of the leaderboard.
I'm always at the bottom.
If your mom was there for the heyday of Motown, did she see all those acts before they were famous and they were still playing clubs and stuff?
My mom wasn't that kind of teenager. She listened to it on the radio. She did a college dance to Stop In The Name of Love when it was at the top of the charts. I don't think she was clubbing in Downtown Detroit. She grew up at the metro, not downtown.
That's cool to be at the epicenter of a movement.
She could listen to Motown. I grew up with The Big Chill soundtrack. It's all she played in the car when I was growing up.
That was a good soundtrack. That's a movie people never referenced anymore. That movie was so huge at the time.
It's never replayed on HBO even though it has so many stars before they hit big in it. They had that amazing soundtrack. Lawrence Kasdan wrote and directed it, a Michigan guy. I write about movies in my spare time.
I have a movie podcast.
Sorry about the rabbit hole.
She's married to a rabbit hole.
My next question was going to be about what you do for a living, so we can go down that road.
I'm an entertainment journalist. I write about famous people. I interview famous people. I have written for every single outlet that you have heard of and every outlet that you have not heard of. I also review movies for Us Weekly and Reader's Digest. I used to for Sirius XM. Not anymore on the latter but I'm very steeped in the entertainment world.
You review movies for Reader's Digest so that means you had to see 80 for Brady.
That's so funny. I did review 80 for Brady for Reader's Digest. It's only once a month. Reader's Digest is monthly, sometimes bimonthly.
I didn't realize they had to cut the circulation to that.
It's not every week at all. I did do 80 for Brady. That was the February pick. Good call.
I could do it for a living.
You did it. I went to a screening of a new movie.
What did you watch?
I saw this movie called A Good Person. It was written and directed by Zach Braff starring Florence Pugh and Morgan Freeman. It will be out at the end of March 2023. I don't know if it will be up at the time this airs or streams or whatever, but there you go.
You can't say.
You know what's up. I can't say a word.
I went to a screening and this is the first time I heard this. I went to a screening of Ant-Man. It was just for critics. As they are getting ready to start the movie, the review guy from the company stands up and goes, "You are embargoed on this until next Friday." That's normal but you are embargoed for spoilers until next Friday, I was like, "First off, FU." Second, this movie comes out on a Friday.
Don't get caught up in the leaderboard.
Click To Tweet
I'm not going to deliberately spoil a movie for somebody but I have a podcast called Reel Spoilers. We talk about the movie like it's a book club and we assume that you have already seen the movie. It's the whole premise of the show. I'm like, "Once the movie has been released, you can't tell me what I can and can't say." I was livid.
In recent years, they have had the social media embargo and then the review embargo. I have never heard of a spoiler embargo.
It was a week after the movie opened. I'm like, "If I leave the screening right now and then buy a ticket to see it on the soft open on Thursday, are you still going to yell at me? What are the rules now? Why are the rules different for me?" I don't get paid for it, but I do this for a living. I was mad.
I don't blame you. That's annoying.
I knew you would feel my pain.
I do.
You do all these different movie things. You write for all the entertainment. Tell us what does that look like? What does a day in your life look like? I would think that there's a lot of reading and research.
No two days are alike, which is why my job is so fun. I work for many different outlets. As I said, now was a pretty typical day. I started off with the screening, and then I came back to my apartment and did some writing. I can't say what it's for but it's a big series that's premiering at the end of April 2023. I interviewed all the cast members and the producers for it. I started on that. That's going to be a 2,000-word story. I can't start and finish it in a day.
I then did an interview with an actress who was on the series Yellowjackets on Showtime. I then transcribed it and scheduled another interview for another cover story for a different outlet. That's going to be on Monday. I had to submit a few questions in advance, which is not ideal. I don't love doing that, and then now I'm on your show. This has been a typical day. It's a little bit of everything.
This is the highlight of your day I'm sure.
It is.
It probably is because she doesn't have to ask the questions for one.
I have to tell you, I interviewed fourteen people. This was a heavy load for me, or maybe more than that now that I'm thinking of it. It's been a long week. It's nice not to ask, "Tell me how did you get involved in the series?" It's a nice change of pace.
I will say one of the cast members of Yellowjackets is a Peloton user.
For sure it's more than that, but which one?
The one I know for sure is Lynskey.
Melanie Lynskey. I talked to her. She's great.
I reached out to her to interview for the show and was ignored.
I don't know if it makes you feel any better that I have interviewed Melanie. I also moderate a lot of panels during the season. I have moderated a Yellowjacket panel and Melanie Lynskey is delightful.
That's why we wanted to talk to her.
It's her handlers that are awful.
Don't apologize. We are just teasing.
Was this always the goal to write in entertainment or was it to do journalism in general and you jumped into this?
Do you think I wanted a real job when I was growing up? There's no way. Who wants a real job? My twin brother is a CPA and I'm like, "What? How? Why? No."
You guys went in two very different directions.
You got the fun genes.
Thank you. I know. I got the opposite of whatever a CPA gene is. He's great at his job, but I could never and didn't want to ever. I grew up consuming pop culture maybe probably more extreme than my friends. I also was a good writer. I'm trying to say it without sounding obnoxious. I wasn't good at anything else, but I was good at writing.
I couldn't dance if it will save my life. I couldn't do piano lessons. I sucked at math, but I was good at writing. I knew I had to figure out a way to combine pop culture, entertainment, and writing. I have been doing this for years. Every day I am grateful that I get paid to have the job that I have. I don't get paid great. I didn't go into medicine. I didn't go into law. I'm not a CPA but I have a fun job, and I get to see movies for free.
Having a fun job makes a huge difference. Our origin stories are very similar. My day job is I book concerts for a living. This is what I wore to work, my Smokey the Bear hoodie like nobody cares.
The rest of the people like me are very jealous of people like you guys. That's awesome.
I'm sure you'll agree with me, Tom. I don't take it for granted and every day I'm worried about how I can sustain this for the rest of my career because it's too good to be true sometimes.
Is it a cutthroat industry where you're fighting for stories all the time or is it like once you're in?
You are never in. There's always going to be someone who's younger and who will accept less money, and who maybe will not do as good of a job as you, but do people even know? Do they care? The media landscape is constantly changing. The Sirius XM channel that I used to do every Monday, the whole channel went away. Not just the show but the entire channel. Things change constantly no matter what medium you are in, but there is no safe harbor. There's always going to be a level of competition and insecurity.
That sounds tough. That's why people like your brother become CPAs, and myself. You are like, "We have to have everything."
There's something to it. That is for sure. I always say there's always panic especially being a full-time freelancer. You panic when you are working too much and you feel like it's never going to get all done. You panic when you are working too little. You panic that there's going to be nothing years from now. It's always that level of panic mode I'm in on any given day.
I'm Facebook friends with a freelance entertainment writer. He used to work for The A.V. Club, Will Harris. I don't know if you know the name or not. He did a lot of their random roles articles. He's always talking about the difficulties of being a freelancer. I envy it if it's working, but I don't envy having to wonder from day to day what it's going to look like.
At the end of the day, it's fun. If you told me I was still doing this ten years from now, I'd be thrilled. If I had this exact day in ten years, including talking to you guys, I'd be totally satisfied.
Do you get to take time off to go do things or is that hard to do?
I travel every other weekend. I am constantly on the go. I'm going away on Sunday for ten days. I was in Berlin for the Berlin Film Festival for a week. I was at Sundance for the Sundance Film Festival in January. I pay an extraordinary amount of rent which is ridiculous considering I'm not here half the time. I also should add that I don't have children. One of the benefits is I get to be a one-person mobile unit, and then I could probably work anywhere. I have to be in New York a lot for my job, for screening, and to do an interview. That's a fun perk for sure.
Wasn't that nice during the pandemic when they said, "Screw it," and they started sending us links for everything?
I have very mixed feelings about it. It was convenient, but it was not the same experience. I'm constantly distracted. I have to say the movie that I saw is like a slice-of-life drama. If I'm watching it on my laptop, I'm going to be on my phone half the time. It's not going to get my full attention. In a screening room, it has my full attention. There is something unique to that. I also had to pay for the subway, leave my apartment, and put makeup on. I have very mixed feelings about the link.
When we would watch the screening links, I would always make a point to not play with my phone when I was watching it. I'm bad about playing with my phone when I watch TV, but if they sent me the link, I'm like, "I have to set it over here." It's also different because it's your job. It's such a pain in the butt for me to get to the movie theater sometime because I work all day and then I got to go. That would make a difference too.
A couple of days ago, I asked the publicist, "Can I get a link?" I'm a big old hypocrite.
Back to Peloton for a second.
Do we get to?
You can come back. You can ask more questions. It's okay.
Tom, we will Zoom up later. We will talk about movies.
I'm curious if you have a favorite Peloton instructor.
This is again where I go against the grain. My Peloton choices are based solely on music and not on instructors. For a long time, my go-to was Jenn Sherman. I still love Jenn Sherman. The reason why I love Jenn Sherman is because she's older than me. I have a hard time with a smiley 24-year-old telling me to keep going. I'm like, "Sorry, but I'm twenty years older than you and I'm not going to keep going."
If Jenn Sherman who is older than me can do it, it's inspirational. We will get to the '80s, which I know you want to go there. That is why you asked me to be on the show, but Jenn Sherman was alive in the '80s and she's not saying, "My mom loved Madonna so now I'm playing Madonna." That doesn't make me feel any better when I hear an instructor saying that their mom loved Madonna growing up. I like a lot of instructors, but it's honing in on the music. If Jenn Sherman is doing a hip-hop ride, it's not going to happen. If she is doing a Yacht Rock ride, absolutely. I go a lot of Ally Love rides and Sam Yo rides, but it's music dependent.
I saw that you talked about Peloton. I don't even remember what you said about Peloton. I guess it was something about the '80s ride. I saw you mentioned Peloton. I scroll through Twitter to see people who say Peloton. I haven't figured out a way to pull out the people whose phones autocorrect Pelosi to Peloton. I see a lot of weird right-wing screeds. I was like, "This person looks interesting."
Here's what happened. My birthday was on Saturday, February 25th. I was at home in Detroit, which meant that I got to use my mom's Peloton. We talked about this before. I'm also a runner but because the roads in Michigan that weekend were so icy and snowy, I'm like, "I'm not going to run on my birthday. I'm going to do Peloton on my birthday and pretend that I'm still in shape in my late-40s." Sure enough, Hannah did an '80s ride that morning. I'm like, "I will do a fun '80s ride." I do like Hannah. I have taken her rides many times.
Is this Hannah Corbin?
No, this is not Hannah Corbin. Thank you for clarifying. That's bad research on my part. Hannah Frankson. Hannah Corbin is hard. I don't do a lot of Hannah Corbin rides. She starts the class by saying, "Because we are in award season, I'm going to do a ride of Grammy winners." The Grammy's were three weeks ago. It should be the Oscars, but whatever.
The first song that she plays is This Is It by Kenny Loggins. She starts the class by saying, "I don't know this song, and I don't know who Kenny Loggins is." This is how she starts the class on my birthday. I stopped cold. I had a second where I'm like, "I am not young. I am now at the age where there are grown women who were not around for Footloose and Danger Zone."
Is it possible that that's also a British thing? I'm just asking. There are a lot of things that don't translate.
Top Gun Maverick was just that.
That's my whole point. Kenny Loggins had a little renaissance because of the biggest movie. He has Kennysance. Danger Zone played at the start of Top Gun, which is the number-one movie in the entire world for 2022. It's going to win an Oscar. Not the best picture, but it will win something. How do you not know who Kenny Loggins is? Rant over. I had to go to social media and tweet my frustration.
I don't blame you. I'm right there with you. As a middle-aged White guy, Kenny Loggins is my jam.
He's not your jam. It's like Richard Marx, Bryan Adams, and Kenny Loggins. They are not going to go into the Rock & Roll Hall of Fame but they've got hits for days. You just know them. Okay fine. They are not British but I know who The Human League is. I know all the Brits. I remember Samantha Fox from the '80s. Come on. It's not an excuse. Ed Sheeran, I could go on.
I was a little concerned that when you had to go into your nag and pull out a British band, it started with The Human League.
I'm going '80s and then I'm going current. From past to current. Harry Styles. Do you want me to continue? I can name all five members of One Direction.
It's okay. Your point has been made.
Thank you very much. I feel very strongly about this.
Don't worry about finishing first. You are not going to finish first. Just cross the finish line. Just get to the end of the ride and that's it.
Click To Tweet
We love the strong opinions about pop culture. Normally it's just me in the void.
You guys can rant together.
I have to ask real quick since you see all the movies. What was your take on The Whale?
I went to the Toronto Film Festival in September and I heard so much buzz about The Whale which had premiered in Venice a week earlier. I stood in an insanely long line to see the 8:30 AM screening of it expecting greatness with the capital G. My takeaway from that film was, and I tweeted this also, A) that Brendan Fraser is going to win an Oscar. It was a lock to me even in September, but B) The movie wasn't all that to me. I thought that it was very stagey and it felt like it was a play on a movie screen. That whole subplot involves the missionary and the daughter. Every time Brendan Fraser's story was not the central part of the film, I thought it lost something.
I hated that movie with the white-hot intensity of a thousand suns.
I don't want to go hate, but I gave it a mixed review. Go ahead.
In our episode on my other podcast, I do not get the love for that movie in any way, shape, or form.
The problem with that movie. I understand there's more than one. Could we spoil it? When he's reading the end of Moby Dick and he rises in the white light. I could see how people can get caught up in that one moment, but you take away that one moment and there's not a lot there.
It's like how Magic Mike always sends you out on a big dance number.
Not quite that, but yeah.
It's boring but here's a big dance number.
I thought the first five minutes were very captivating, and the last two minutes were very captivating. The first five minutes were he was masturbating. There's so much going on. There's sensory overload. What is happening?
There's if you do it right.
In the end, it's a little bit manipulative. Finally, he rises and then everything in between, it's like, "So what?"
This is still a spoiler for the movie so people should be warned. The whole thing with the daughter having written this essay of Moby Dick in middle school. They were having her read Moby Dick in middle school.
That was the least of the problems. I hear you. It's true.
I was not a fan.
A lot of people didn't like it. Brendan Fraser was good.
He's not the problem with that movie.
He is not, and I love Darren Aronofsky. He's in some of my favorites. I love Black Swan and The Wrestler.
In his last few movies, I don't get it. Did he find Jesus or something? They have all been about religion. This has a very significant religious subplot to it. Prior to that was Mother which was an allegory. I hated that movie so much.
I interviewed Darren Aronofsky. He also did a discovery series with Will Smith before the controversy about discovering the world. He has a very existential bet to him. I will give you one more little Darren Aronofsky anecdote. I sat next to him on a flight back from Sundance five years ago. I was so fascinated by him and I couldn't even believe I talked to him for so long, but the movie that he watched on the in-screen entertainment was 9 to 5.
9 to 5 is a great movie. People have forgotten the impact of that movie. It's the second highest-grossing movie of 1980 behind The Empire Strikes Back.
A groundbreaking classic. All three of those women are still getting things done. It's a favorite of Darren Aronofsky. What's not to love about it?
It holds up. I watched it a year ago.
It does. I do a lot of lectures across the country about how women have evolved on the screen in 50 years and using various clips. One of my clips is always 9 to 5 when the Lily Tomlin character Violet tells off Dabney Coleman about equal pay. The movie is 43 years old and the conversation is still relevant.
The Network is the same way.
I can only watch the Network one time. I watched it once and that was it. It's a lot. Paddy Chayefsky wrote it. It's a classic script.
It's 1976. Year of my birth.
I guess we should bring it back to Peloton because Crystal is getting frustrated. Do you have any advice for people who are just now entering the world of Peloton?
Do I have any advice? Don't get caught up in the leaderboard. I take it off my screen. I don't care what people's numbers are. I have to tell you. I hate to bring it back to SoulCycle, but people always wanted me to go to FlyWheel. Do you guys know what FlyWheel is? It was the big competitor of SoulCycle. I went to one FlyWheel class and I hated it because people were looking up at the screen. You could do the live numbers at an old FlyWheel class. I'm like, "I don't care."
It matters to me how I am doing a mat every single day. It's not a competition and I know that Peloton fosters a lot of community, but I don't know. I feel like there's a little competition involved when you have something called the leaderboard on that screen for people to see and where you rank. As much as I love Peloton, I don't love that aspect of the rankings. My advice would be just to do you. I say this also from running because I always finish at the back of the pack. Don't worry about finishing first. You are not going to finish first. Cross the finish line. Get to the end of the ride and that's it.
That's good advice. I'm curious if you high-five people.
Never. I don't high-five people. I don't follow anyone. I don't need anyone to follow me. I am a true freelancer in that I am like a bee away from the hive. I don't get caught up in it. No judgment to anyone who does. Honestly none. It's not for me. I and my mom have a very singular experience with Peloton. I'm still on it constantly. It has been a savior to me in a lot of ways, especially over the last three years, but no. I don't high-five. I don't follow. I don't give away my name. Nothing like that.
I will skip the next question.
I already took it off.
I never look at the notes.
It has nothing to do with the actual Peloton. To be clear, if anyone from the higher-up is tuning in. I have should add that I have also interviewed Oliva Amato for CNN, and she was great. Peloton has been great to me. I have nothing bad to say about Peloton, but I'm not in that community mindset.
The great part about Peloton is that it meets you wherever you are. You don't have to be and that's the beauty of it.
Some people are super into the leaderboard. That's what motivates them. That stuff never works on me because I know I'm going to lose.
I used to be on the leaderboard. For a lot of people, there are stages of Peloton where you are super into things and then you move on. When I first started Peloton, I was very into the leaderboard. It was more like I was worried about where I was, but I wanted to see how I was in relation to other people. Over time, it's exactly what you said. It was more like, "How am I doing with myself?" I think that that's a lot healthier mindset to be especially because all the bikes are so different.
There's a 30-point range between my mom's bike which is older compared to my bike. I did Sam Yo's '80s ride. I did an '80s ride all week in honor of my birthday. I felt like I had a good ride, and then it comes up on the board. I'm like 2,000 out of 2,300. It's like, "What?" In an instant, you feel a little demoralized. I didn't even follow my own advice, which is why I'm going to say it again. Do not get caught up in that leaderboard and those rankings.
It's very good advice.
Thank you so much for taking time out of your day to join us. This has been a lot of fun. I did not talk about Peloton for a little bit. I got to talk about nerd stuff.
As I said, Tom, if you ever want to nerd out about movies, just let me know.
You should come to his other podcast. You should be on his Reel Spoilers podcast. You guys could talk movies.
I'd be happy to.
Just pick a new release that you want to talk about. Every week, we talk about a new release in a spoiler-rich environment.
I'm not going to get into trouble with the studios, right?
It comes out after the movie. Remember, we are in St. Louis.
We see movies way after you do.
When you said you just saw Ant-Man, I'm like, "That movie has been out for three weeks already."
He did see it before the movie came out.
You are 1 hour and 1 month behind me.
That's about right.
In St. Louis, we still wear parachute pants.
I was there in December. I love St. Louis. As I said, I was a Mizzou grad. I do love Missouri, the whole state. There you go.
Is there somewhere where people can find your stuff or should they look for your bio? Is there one area that aggregates it all that you want to send them to?
It's weird. There's a site called Muck Rack that aggregates everything, but no one would ever go to that. They can follow me on Twitter @MaraReinstein. I try not to be obnoxious. I'm not great at reposting all my stuff. I don't want to be unbearable about it. A lot of things I write are in print and don't even go online. They can get a little sampling of my musings. I'm constantly tweeting about movies and try not to get in trouble with anybody because I need to keep paying my rent. I don't say anything too controversial. As you probably learn in this interview, I do try to be as honest as I can.
I do and I love it. I respect that.
Thank you.
Thank you very much for taking time out of your day. This has been a blast.
Thanks, guys. This was fun.
Enjoy the rest of your day.
The great part about Peloton is that it meets you wherever you are.
Click To Tweet
—
I guess that brings this episode to a close. Until next time, where can people find you?
People can find me on Facebook at Facebook.com/crystaldokeefe. They can find me on Instagram, Twitter, or the Peloton leaderboard even here in St. Martin @ClipOutCrystal.
You can find me on Twitter @RogerQBert or Facebook at Facebook.com/tomokeefe. You can find the show online on Facebook.com/TheClipOut. While you're there, like the page and join the group. Of course, don't forget our Patreon, Patreon.com/TheClipOut. That's it for this one. Thanks for tuning in. Until next time, keep pedaling and running and rowing.
Important Links
Love the show? Subscribe, rate, review, and share! https://theclipout.com/