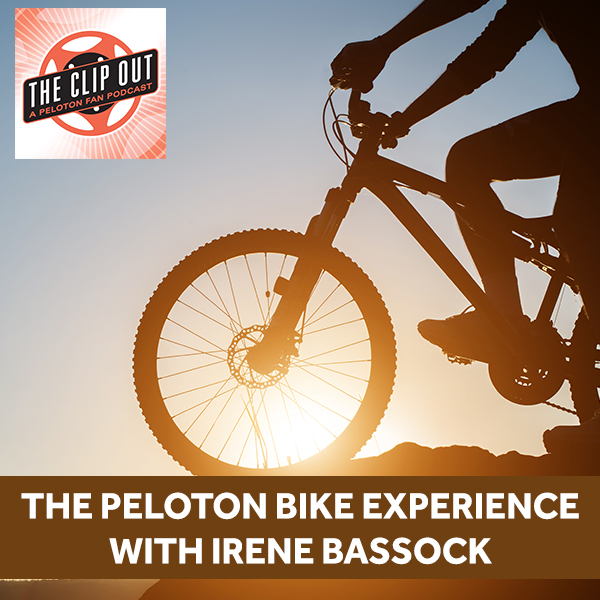 137: New Power Zone Instructors Are On The Way Plus Our Interview with Irene Bassock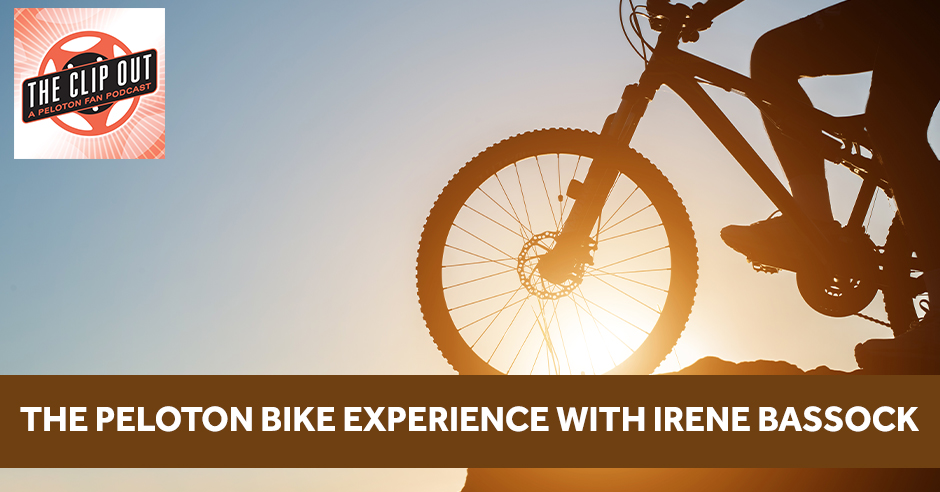 It's no wonder that biking is a very good form of exercise. For those who are wary about biking outdoors, the Peloton Bike is a step-up of the good old indoor bike. For the uninitiated, the Peloton Bike is a high-end indoor bicycle equipped with a Wi-Fi–enabled, 22-inch touchscreen tablet that streams live and on-demand classes which allows the user to compete with other members. 50-year-old attorney, Irene Bassock, joins Crystal O'Keefe and Tom O'Keefe in this episode to talk about her Peloton Bike experience and why she's loving it.
—
Listen to the podcast here:
The Peloton Bike Experience With Irene Bassock
Joining us is Irene Bassock. Irene, how's it going?
It's going well. It's a little surreal being interviewed.
Think of it as us hanging out, getting to know you.
If it makes you feel any better based on past one of these where we've done, that novelty wears off quick. By the end, you'll be like, "Are we done? I've got things to do."
Thanks for inviting me.
Thank you for taking the time to do this and humoring us with telling us all about your Peloton experience. If you've ever had the opportunity to read the blog, you probably know that the first question I always ask is how did you find Peloton?
That's an easy one. I do want to say I've read every single episode of the show. How did I hear about Peloton? My sister, Jane, used the Peloton app when it first came out and it was free. She knew I took spinning classes and was raving about these workouts. She talked about it all the time. I was on a business trip. I had to go to Chicago in November of 2015. While I was staying at the Weston, I went down early to do a workout before the conference started. There was a Peloton sitting right there. I had arrived at the gym right when it opened.
It was early and no one was there and the Peloton was sitting there. I went, "Go check it out." I took a ride with Nicole. It was weird. The bike sucked me in. I remember 45 minutes later looking up at myself in the mirror across from the gym. The gym was full of people at this point and I was a mess, sweaty. I cannot believe that I looked like that in public. I barely got off the bike without falling. I was like, "That's it. I have to buy one of these." Literally, it was on my way back home at the airport. I ordered one and it came 2 or 3 days later. It was a done deal.
You were all-in instantly. Was that a live ride that you took with Nicole?
No, I think it was on-demand, but it was interesting because I didn't even think about live versus on-demand. In fact, when I got off the bike, the gym manager came over to ask me how I liked the ride, which was obvious. He said that the bike had arrived in their gym a few days before. I was one of the first people that used it. I would love to figure out what that ride was that I took, but I'm sure it's been purged by now. It was great.
If you wanted to know, you could scroll all the way down on your profile.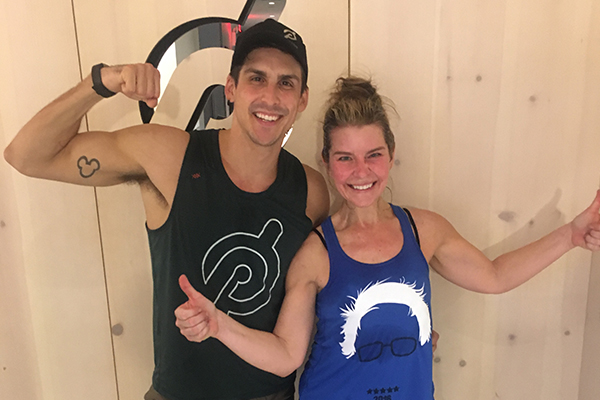 I didn't even sign it. I signed in the gym. I don't think I even had a profile. It was strange because I didn't even tell my husband I bought it. I tucked it on another credit card that I have. I'm sure he knows about it, but he doesn't know about it. I justified it. I canceled my gym membership. I didn't even realize I had this before, but my company's health plan had a program where if you sign up for gym membership, they will pay you X number of dollars every quarter. I justified that that money would be used to pay for the Peloton. My company accepted the Peloton monthly financing and they applied that health reimbursement amount to the financed amount, which I was surprised that they did.
Since you had a gym membership, were you already working out regularly? Were you an occasional gym-goer or were you like many of us where you have a gym membership and never use it?
What I most regularly did at that point was I did a lot of long-distance running. I was using the gym for the spin classes. I'd go maybe once a week. It was a family gym membership and I was the only person in the family using it. I saved some money by canceling it. I was definitely getting a better workout on the Peloton. Eventually, I did give up running. I found that as I was getting older, too many aches and pains and even though I still consider myself a runner, I don't run at all anymore. Kudos to you, Crystal, for taking up running. I did the opposite.
As Tom always says, all of my joints were in new condition. It's the benefit of starting late to the game.
I missed running so much and I miss the races. I miss running outdoors with friends and that was the hardest thing was giving up the running, but I have never felt better.
Don't pigeonhole yourself, just experience everything.
Click To Tweet
If it makes you feel any better, Irene, I go so slowly. You still wouldn't be able to do any of those things. It's like walking with a little bit of a fast forward. That's my speed. It's still running.
I love that my sister convinced me to try Peloton took her another year from when I purchased my Peloton for her to purchase her Peloton. That's been fun because she lives in Denver. I'm here in Connecticut and we try to ride with each other. We sometimes use the video chat function to look at ourselves while we're sweating away. She's like the only person I would be brave enough to use that with.
It's a little awkward. I'm not going to lie because you can only hear one side or the other. It's mostly gesticulation. It's basically doing hand gestures at each other anytime. I've used it anyway and it's not pretty.
I wonder if they're going to keep that functionality. I wonder how many people use it. With my sister, it is a silly thing to do. It's easier to get on our phones and talk to each other or video chat that way. I'm wondering if that will ever be disabled. I'm sure a lot of people have that camera taped over on their bikes.
I am sure that there are and I don't know. A lot of people don't talk about it and I know about every new person says, "What's that for? Why is there a camera?" That's a good question.
I did get a few visits from the Cheer Fairy early on. It's been a while, but those were definitely memorable moments.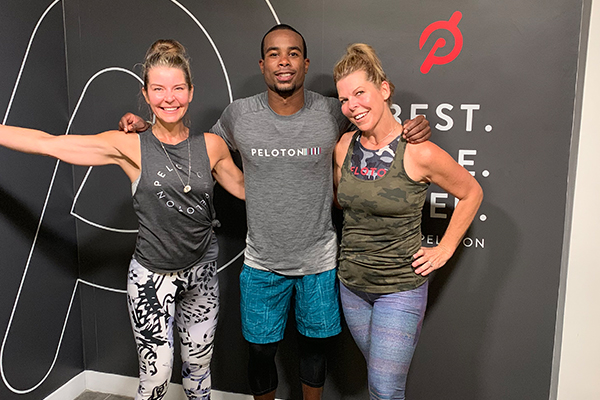 Getting a visit from the Cheer Fairy is memorable. I totally know what you mean. For anybody out there who doesn't know, we have a whole episode where we interviewed the Cheer Fairy, but she will literally video chat with you and cheer you on. If it's a special milestone ride and there are signs and there's usually some neon lights involved, it's fun and festive. You cannot miss it if it happens.
Except for the phone call, take the video chat.
You have to talk to the Cheer Fairy at least once. Speaking of the Cheer Fairy, how involved in the community do you feel you are?
I'm pretty involved. I've always done live rides and followed other people, but it took a while for me to get engaged in the community. I certainly followed the OPP early on before the numbers got out of control. It was a different community at that point. Things changed for me. I have to owe it to you, guys. I was listening to one of your episodes and you had interviewed someone in a tribe now that I'm a co-administrator of. Because of the interview that you did, I decided to join and got to know a lot of people. I liked the racing and the pacing that they were doing. The whole tribe was dedicated to '80s music and I'm an '80s kid. I joined and met the most wonderful people. In fact, shortly after I joined, I went to an HRI that was last minute, but it was one of those HRIs where everyone said, "This works. Let's go to New York."
A whole group of us went down to New York in October of 2017 and met each other for the first time in person. It was funny. Everyone had the same introduction, "I can't believe I'm doing this. We're not like this. This is not what I normally do." Everyone had the preface why they were there and how they weren't some weirdo on the internet. We found that we had so much in common beyond the bike. Everyone had Type-A personalities. Everyone loves the structure, worked hard, and played hard. It's a great group of people. From there, I've joined a few other tribes and pretty much stayed committed to those tribes along the way. In addition to the first one, which was Fast Times. I'm an active member of the Mileage Maniacs and in the last year or so, I joined the Pelo Law Moms tribe.
It's so stressful when you're not able to help people to the degree that they need the help even when you do your job and do it perfectly.
Click To Tweet
I have to laugh about the Fast Times because that's the group that we got kicked out of or I got kicked out of. Tom was never in it. I'm not going to go down that road. It made me laugh that you said that. I'm glad that you met many great people there though and throughout all of the different tribes. For Mileage Maniacs, we interviewed Peter Gaan. The last group that you said, Pelo Law Moms, I'm curious about that group. How many people are in that group?
I'd have to check. It's one of the smaller groups though.
I understand it's small, but I also understand it is quite active.
I've got a son who's in high school and a daughter in college. When I joined, I felt like a lot of the vibe was about trying to balance a law practice with having younger kids. I went through that. I get it. I'm done. My kids are older so I don't have the same day-to-day struggles, but I'm almost like the grandmom in the group, "It'll be fine. You'll look back fondly on these days. Everything will work out. Don't stop working. You'll be fine. The kids will be fine."
By the way, you have one of the most photogenic families I have ever seen. You guys always look like you should be gracing in the front of a magazine cover, all of you. It's crazy.
My kids take 100 photos and then they select one. Come on. It's working for you. It gets passed around and they delete. We could always Photoshop those if their eyes are closed.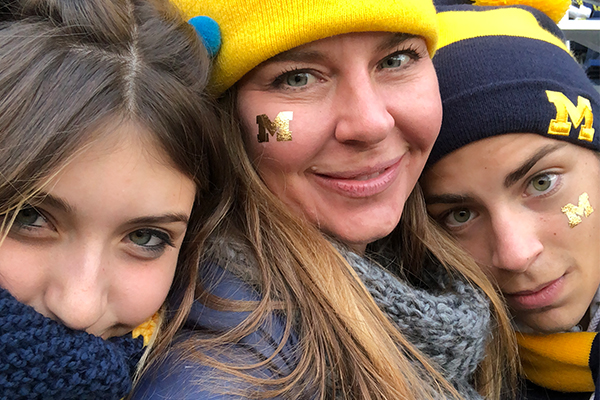 Circling back on the Cheer Fairy, it's Episode 10 and that was Lisa Carlson. We also in that episode discuss a pending IPO.
Lisa Carlson, right after I went to New York City for the first HRI back in 2017, I convinced my sister to fly in for it too because I didn't want to go alone. She flew into New York. It turned into one of those funny weekends and I could not have done without my sister. This is going to make me sound crazy because so much happened in one weekend. Lisa Carlson had organized a Sunday afternoon Connecticut-based Peloton meetup in New Haven. She got us on one of those group bikes where you peddle and you drink. I saw my sister who had flown into New York. I said, "Before you go back, we have one more thing we need to do. We need to peddle this group bike around New Haven and drink a lot on a Sunday night and then you're free to go." That's what happened to it was between the drinking and going bar to bar on a Sunday night in New Haven. I remember us having Peloton signs and going through the campus of Yale and being obnoxious. These poor kids are touring the campus with their families. It was horrible. It's a little bike trip. That was a memorable afternoon.
I can't believe you did that at the end of your first HRI visit because that weekend, I don't know about you, but I was exhausted.
It's tiring. My husband drove down to New Haven to pick us up. He was horrified. He was like, "What is Peloton drink?" He was a little jealous and a little freaked out that he'd find me in the back of a trunk somewhere, "Who are these virtual people? What have they done to my wife?" He's a little apprehensive about some of these relationships, but he's come to embrace it over the last few years.
Every time you meet your fake friends, it's a little weird. You don't know, but you meet them and it's like you've always known them. It's crazy.
No matter how you feel, just run one mile and your body will take over from there.
Click To Tweet
Crystal and I met online. There was no exercise involved.
When I was dating, I would text people and be like, "This is who I'm going out on a date with. This is where we're going. If I should get murdered, at least you'll know who to blame."
Going back to the Pelo Law Moms, it's an active group. I personally found a lot of comfort there beyond the kids and all those issues when I decided to leave my job in the last few months. I had been working at one company in-house for several years. When I decided to leave before even talking to some of my friends, I went to that group and solicited feedback from other attorneys who went from in-house to opening up their own law firms. It was amazing to hear all the different stories from these strong women who made some difficult choices and learn about the good and the bad. That group was supportive. In fact, I did strengthen a number of my personal relationships with a few members of the group. One member in particular, we've partnered and affiliated and I'm picking up and performing work for her law firm in New York and that has been great. She's been a fantastic mentor to me. I wonder if I could have done it as well as I'm doing it if it weren't for her, her support, feedback and cheerleading in my corner.
I'll tell you, the whole Peloton and the binds that it makes for people, the connections it makes are incredible. I never can get over it how it happens.
I'm also connected to Robert Brinker's group, the Dragon family. He is such a positive person and has embraced both me and my sister. In fact, he's in Aspen and my sister's in Denver, so they speak regularly. They've developed a nice, strong relationship. I look at him as being a friend to a great guy and knows how to bring people together. Another cheerleader that's always there to give you that support that you needed when sometimes you don't know you even need it.
He is a cool person. I'm impressed by the art that he does, his outlook on life and the joy that he spreads. We're going to be interviewing him. It is wonderful. I'm definitely looking forward to that. Tell us which instructor you ride with the most and why?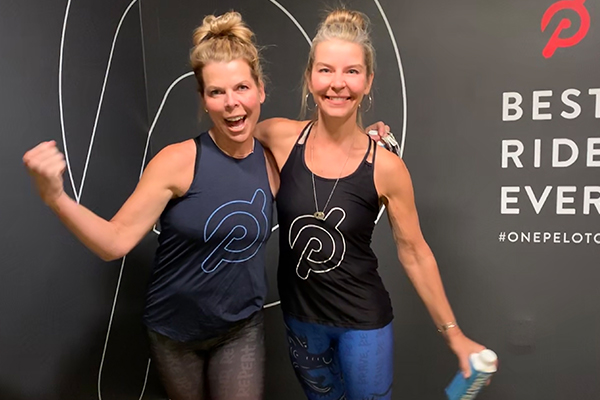 I'm an instructor agnostic. I like riding live, so I'll take live rides based upon what fits in my schedule. I found myself on an EDM ride and who was the instructor? It was Cody and I'm riding and I'm looking at my output and I'm like, "What the hell?" This is not my music genre. I don't usually ride with Cody, but what a ride. I always surprise myself. I'll jump on anything. I always find that the rides are great. I hear new music that I never thought I would appreciate. The advice I'd give to anyone is don't pigeonhole yourself, experience everything.
I wholeheartedly agree with that especially when you're first starting out, you don't know what you like or what you don't like. You might think a certain thing by judging a book by its cover, but you hop on a ride and you might have a completely different experience than what you expect.
Nobody is disappointed in me. I heard her say, "I'll jump on anything, but I let it slide." She could sue me. I still want people to think like, "Is he okay? How did he not have something to say there?"
If you could have seen the face he made, Irene. I thought we were going to slide right past it but no, he went back.
I've got a rep to protect. I don't want people to think I'm slipping now that I'm pushing 50.
Finding a smaller group with people who have interests in common to yours is critical to feeling engaged.
Click To Tweet
You mentioned you used to be a runner, you don't run anymore, but do you use any of the other Peloton content like the yoga or the strength exercises, anything like that?
On a regular basis, I use the meditation and that came out of a challenge I did with the Maniacs. It was right when they started rolling out a lot of their digital content. As the challenge proceeded, the teams that we were assigned to had to do yoga, walking, all these floor workouts. I became acquainted with the digital offerings, which I didn't end up using other than the meditation. What I do for a full-body workout is I do a bar. The workouts would be too much for me. The bar is a nice combination with the spinning, but the meditation is something that I try to do on a daily basis.
I was sitting here watching his face and it was totally dead serious. I didn't even see that one coming.
You're a lawyer and you've already talked about getting drunk. I could've gone 1 of 2 ways with that. I went with a professional way because your husband is already upset.
Do you know what they say about lawyers? We're heavy drinkers. The stress of the job gets to you and you end up drinking too much. We have a bad rep when it comes to drinking. If my reputation is that I go to the bar, I'd rather have it be the workout bar than the drinking bar, but I'd probably do both too much.
I don't see why it's stressful. It's the clients that go to jail.
What law do you do if we may ask?
We do employment law. For many years, I did the defense side. I represented companies and work for the man. When I left my job at the company and opened up my own law firm, I switched sides and now I represent employees.
When you represent employees, what is stressful about that from your perspective? From the person who's going through the lawsuit, I get what's stressful for them. Because you have all these deadlines you have to meet, is that the pressure of you want to win for them? Is it all of the above or is it something I would never even think of?
It's not the deadlines. I'm a person who feels deeply and now that I'm working with individuals, I'm seeing how bad the situation is for them, I feel horrible. It's like being a friend and seeing someone in the worst moments of their life and knowing that you can help them but hoping that you can also help them. I know I have all the expertise to do it, but you don't have everything within your control. If someone won't settle or agree to do X, Y and Z, I want to do more. What is stressful is not being able to help them to the degree that they need the help. Even when you do your job and you do it perfectly, it's still a crappy situation to be in. No one feels happy.
You probably never feel like you made everything better. You want to make everything better, but you can't tie a bow on it and call it a day.
Unless someone is looking for vengeance, that sometimes helps.
I feel like even then, with my own dealings with the legal system, divorce-related, I get arrested. I feel like there aren't many times when one's side walks out and crushed it. Both sides walk out going like, "Yeah but no."
You get part of things that you want and you don't get others and so you're happy on one hand and frustrated on another. I would assume with the law you're doing, you're ending up in some similar situations.
They call it employment law as corporate divorce law. For the years that I represented corporations, I didn't have to internalize a lot of the things that were going on. I was acting for the corporation and it didn't get as personal. I'm still working through some of these emotions, but now with individuals sitting down in front of me, my heart goes out to them. I want to be their champion and make things right. I'm sure that as the days and the weeks and the months and the years pass by, I become more seasoned representing individuals that may change for me. It's hard to let these feelings go. That's where the stress comes from.
Plus, if a corporation gets dinged, it's like your company, you'll be fine.
It's a different thought process than a person going through something like that. That makes you a good attorney though. At least from where I would be sitting, if I were having somebody represent me, I would want somebody that cares like that. I totally mean that. You're taking it personally. You're fighting in their corner in a way that a lot of people don't have somebody fighting in their corner, whether it's for work or medical or whatever. It's hard to find somebody who will get in there and fight for you. At the same time, be careful. Don't burn yourself out because I can see that happening too.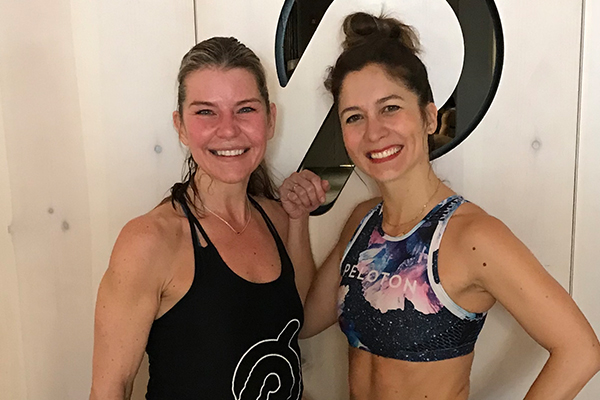 I work hard and I play hard.
We'll find you at the bar cycle again. That's awesome.
How often do you get to the studio?
For an HRI, I probably get once or twice a year. Fast Times had a joint one with Mileage Maniacs. The days are flying by. That was fantastic. Also, when I get into New York for business, I'll always try to get in a little bit earlier so I could take a ride in the studio. It's always fun. You end up bumping into people you know. I take whatever live ride is there. Sometimes I'm riding with instructors that I don't ordinarily ride with. It's a great level of energy in the studio. It's wonderful. They're great to home riders in the New York studio.
I feel like I want to binge on rides when I'm there. I want to do as many as I possibly physically can do while we're there. At least that first day because probably everything will happen the second and third days. I'm like, "I don't know how much time I'm going to have to do it." That first day I'm like, "4 or 5 rides, let's do it."
Same here and you're tired. Even though I don't feel like I'm working out as hard, my outright is a little bit lower. I have a fan at home. There's no fan there. You end up getting sweaty and gross. You're going back to back rides. You're meeting people in between the rides. It's much energy, but it's exhausting. I always burned myself out. I need a whole day afterward to sleep and rest up because it is taxing.
I wish we lived closer. I know I say that all the time, but I do. It would be amazing. Does anybody else in your family use the bike?
My son and my daughter both have accounts. My son has two rides. My daughter, since 2015, I don't know, maybe twenty rides. The answer is no. I find my daughter occasionally on, but they're a little freaked out by me and they don't want to touch it. I gave him the stink-eye.
I started a new job. I had a hard epiphany at how much I talk about the bike. I know it because we're on the show. I know I talk about the bike, but I had worked at the other place like my evolution of Peloton. Even as it ramped up, they adjusted accordingly. These poor people are like, "What happened?" I come in. I'm wearing the Peloton jacket. I've got a Peloton bag and let me sell you Peloton.
She's like, "Do you have a personal relationship with Peloton? Have you heard the good news?
I'm a little out of control. I didn't know it was that bad. They ride. There are two people there that one of them has a bike and one of them doesn't have a bike, but they ride. I'm like, "This is what you should take based on your personality and this is what you should try. You should do this and that."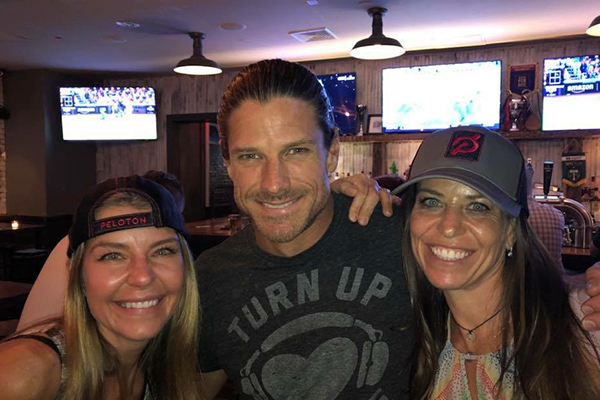 My husband and I took two weeks off and we did this hiking trip in the Swiss Alps with another group, strangers. We didn't know them. We went on this tour. On the first day of the hike, I learned that one of the other hikers owned a Peloton. Immediately I was like, "Who's your favorite?" He's looking at me like I'm crazy. He's not one of those riders.
It is funny that many people are rabid about it. You forget that there are some people that they ride the bike. That's the extent of their involvement.
We were coming back from the cruise. Do you remember that guy that sat in front of us? I started talking to him because he had a Peloton shirt on. I thought, "We've got one." He was like, "I don't do any of those things." He didn't know anything other than the rides he takes and he was more into scenic rides. He had no enthusiasm.
My husband, some of his friends from college have Pelotons. One day he came home from work and he goes, "I want to let you know those normal people who own Pelotons aren't like you."
I disagree, I think you're the normal one. These newer people who have come to Peloton later in the game haven't gotten the bug in the same way that the people earlier on did. There are exceptions to that. There are people that are as fanatic as we are. They're newer, but some of them don't like social media or if they do, they're not on it all the time and the OPP is not welcoming.
They do try the OPP and they get punched in the face and they're like, "Other Peloton people are dicks."
It's a different experience for people now versus back in 2016, 2015. It's a completely different personal experience.
I remember on my first HRI, we had a cocktail party on the Thursday night before the actual HRI. We're at a bar and Dennis Morton shows up, "Let's hang out." We hung out for a while, talked about surfing. It was such a normal fun conversation. I didn't think anything of it at the time. Now fast forward a couple of years, I can't even imagine one of the instructors stopping over for a happy hour and hanging out for the night. It wouldn't happen.
If it did, everybody would be texting their friends and that place would get mobbed in seconds.
I remember too when the OPP were only a couple of hundred members. Who was it that used to post like, "Who's riding what ride?" You'd see who was riding because they'd post on the OPP. It was easier to follow certain people and they had their own little shtick or the stuff with the coffee cups, the magic pants, all these neat little things that now are lost in the thread. I also remember the fighting that started on the OPP. Do you remember when there was the splinter group, The Badasses? I remember going, "Yeah, I'm joining The Badasses." I don't think that even exists anymore.
Those splintered and that became the OG Badasses or something and then there are the real Badasses of Peloton. It is still out there.
I'm not following either anymore, but there was a lot of drama early on. Nothing like what we see now.
It's a little boring out there because it's all like, "I have a milestone. My pedals squeak." It's literally the same five things over and over again. I rarely ever see anything unique as you said with the cups and stuff.
I also remember knowing the people on the page, someone who was in financial distress even.
I know exactly what you mean because when we started the show, that was my thinking. There are all these people that I see every day that I want to get to know. Now I still have that, but it's from all the other groups, not from the OPP but that's where it started. I would see the same people over and over again. I can't even tell you the number of people that we've raised money for that needed a bike or had health issues. They're on and on. We've done that. It's different. Now if you ask for anything, they're like, "You want money from us." They get mad.              
That's where the tribes have become important especially the ones that are in smaller numbers and people can find their own. For new riders, the first thing to do is get off the OPP or don't look at it every day. You don't have to be active. Finding a smaller group with people who have interests in common to yours is critical to feeling engaged or at least having the same feeling of engagement that we had earlier on.
What is your leaderboard name?
It's Scream.
I haven't seen your picture in a while, but I love that you always had your face like you were screaming.
I was screaming. We have a house up in Vermont. During the ski season, it's a house full of people. One morning, I was driving 1 of the 3 cars to the mountains and there must have been eight adults and twenty kids. It was like herding cats and ski poles and skis and boots. I couldn't get everyone out of the car or in the car. I can't remember whether we were dropping off or picking up. I remember taking a selfie, screaming like, "This is insane. What are we doing here?" When I selected my leaderboard name, which Scream is an old nickname, I thought back to that picture. I'm like, "I have that picture somewhere like freaking out." It was a legit scream.
It was appropriate. I love it.
Thank you.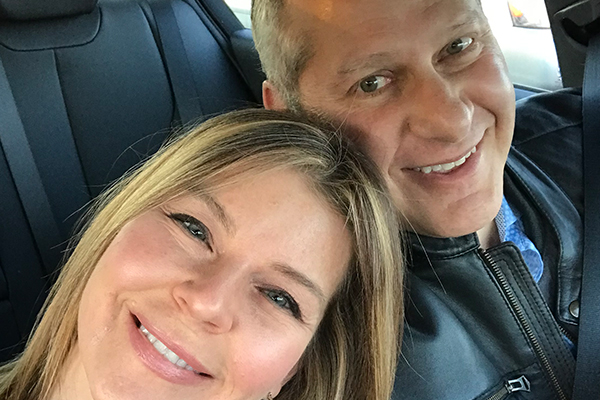 Do you have advice for newbies or like we did that so I don't want to put you on the spot for more if you don't have any at the ready?
My advice to newbies, especially if you're getting into a fitness routine, is to ride consistently. You don't have to do a heavy ride every day, but staying close to the bike and working it into your routine. I'm a big supporter of early morning rides before the day gets away from you. Trying to at least sit on the bike, pedal, moving your legs, you'll end up going farther than you think that you would have even on a bad day. Consistency is key absolutely.
I should remember it more often get on the bike even if I don't feel like it.
They used to say with running is that when you're scheduled to run, run the first mile. No matter how you feel, run 1 mile and your body will take over from there but run the first mile.
They probably didn't know that it takes me 30 minutes to run over too.
I'm still impressed that you're running. That is fantastic.
Thank you. It's sweet. I'm being self-deprecating because I am like a turtle.
Thank you so much for taking the time out of your busy day.
Where can people find you on social media? If somebody wants to hunt you down as an attorney, how should they go about that?
I'm on Facebook, Instagram and Twitter. I'm under Irene Bassock for Instagram, Facebook and Twitter, which I don't use, but my handle there is @I_Scream_Louder. I know I was late to Twitter, so Scream wasn't available. For my law firm, the name of the firm is Empower Legal Group and you can find us on LinkedIn, Facebook and Instagram under Empower Legal Group. There's a Twitter handle, which for the life of me I've forgotten, but it doesn't matter. I don't use Twitter all that much.
Thank you for joining us.
Irene, thank you for doing this. I appreciate it.
Thank you for asking. I appreciate it. Thanks.
Important Links:
About Irene Bassock
I've been riding since 2015. I'm passionate about the bike and the community and all the positive things it's done for me and others.
I love sharing stories about the personal and work relationships that this bike has brought me. Plus, my husband is suspicious of my passion for the community. He truly does. He's so afraid that I'm part of a cult.