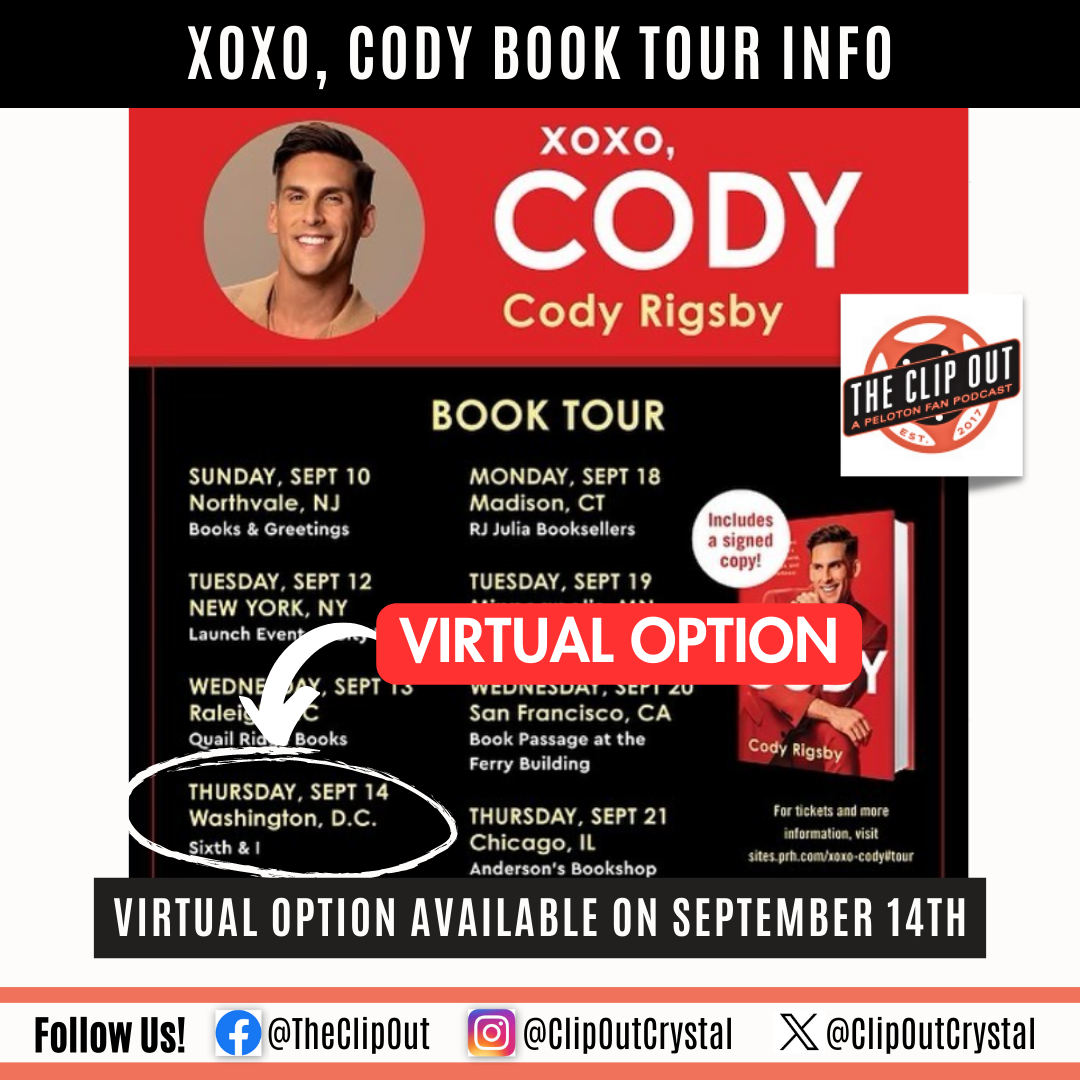 Virtual Option Added to Cody's Book Tour
Tickets to Cody's upcoming book tour sold out in minutes, but that doesn't mean you have to miss out!  Cody doesn't want anyone to have FOMO, so he is bringing his tour to you virtually!
Get ready for an exciting tour featuring the one and only Cody Rigsby, Peloton instructor extraordinaire and author of the empowering and entertaining book, XOXO, Cody: An Opinionated Homosexual's Guide to Self-Love, Relationships, and Tactful Pettiness.  His book hits shelves on September 12 2023.   Preorder your copy here! 
Earlier this month, The Clip Out shared Cody's Instagram reel announcement for his in-person book tour starting on September 10 to eight cities, including  Northvale, NJ, New York, NY, Raleigh, NC, Washington D.C., Madison CT, San Francisco, CA, and Chicago, IL.  This is a ticketed event, and all ticket holders will receive a signed copy of the book and a photo with Cody (although the New York tour includes a photo opportunity only for a limited number of tickets).   Tickets are now sold out.  But, you don't have to miss out!!
The Details
The virtual book tour will run for approximately 1 hour on Thursday, September 14 · 7pm EDT
Cost: $12
Get your tickets here https://www.eventbrite.com/e/cody-rigsby-tickets-676887658207?aff=oddtdtcreator
Virtual attendees will receive the event access link at multiple intervals: 48 hours, 2 hours, and 10 minutes before the start of the event. For those who are unable to attend the event live or simply want to relive the experience, a recording of the talk will become available the following business day and remain accessible for the next 72 hours. Instructions for accessing the recording will be emailed to virtual ticket buyers.
XOXO
Don't miss out on this unique opportunity to hear from Cody Rigsby in this entertaining and empowering book tour. Join Cody and discover how to live your best life, embrace self-love, and enjoy the journey with XOXO, Cody.
Did you get tickets to either his live tour or virtual?   Let us know in the comments, we want to hear from you.