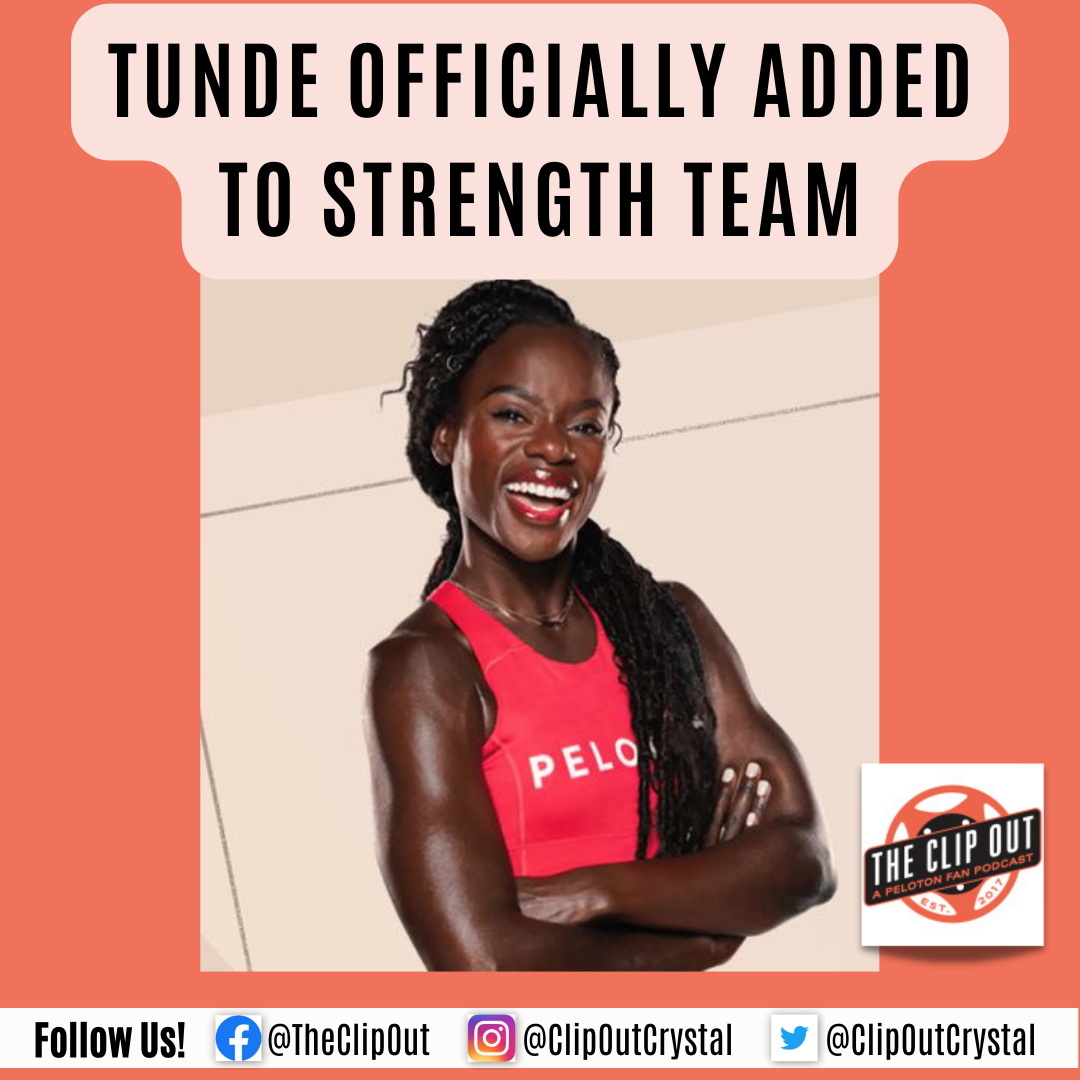 Not even Tunde's arms can hold Tunde back—she's now an official member of the Peloton Strength team!
On February 18, Tunde joins the ranks of Peloton's Strength instructors to teach a full lineup of Strength classes, including Core, HIIT Cardio, and Lower Body.
Tunde tells us that our mind is our strongest muscle. But that doesn't mean she wants our bodies to be weak. Starting next month Tunde is going to personally ensure that we are head-to-toe strong.
Tunde's Arms Content is King
Tunde is a cycling instructor known for her arms. From the start of her Peloton career, without even stepping foot in a Strength studio, Tunde's arms amassed a huge following. Her Arms & Light Weights classes are the basis for the wildly popular member-curated Tunde Arms Challenges, which are still floating about the internet today.
A quick clarification for anyone new to the lingo: Arms & Light Weights classes are different from Upper Body classes. In general, Arms & Light Weights feature cycling instructors on the Bike using 2-3 lb weights. Upper Body classes feature Strength instructors on a mat with heavier weights and more full-body movement.
Tunde's Strength Expansion
Peloton has been slowly expanding Tunde's Strength content since she joined the Bike Boot Camp team in December 2020.
At Homecoming in May 2022, Peloton announced the Arms With Tunde program (did anyone else scream when they announced it?), giving Tunde a chance to showcase her next-level Upper Body programming. The additional content was exciting, but it was also a finite set of classes, so naturally, members wanted more.
Then, in August 2022, Tunde finally joined the Strength schedule to teach live Upper Body classes.
Tunde's Popularity is No Secret
As of the time of this update, Tunde holds three of the top ten most popular Arms & Light Weights classes in the library, including both of the top two spots. She also has one of the top 20 most popular Upper Body classes, which is impressive given that she has only been teaching Upper Body for five months.
While we love Tunde's arms, we've also seen her total body programming in Bike Boot Camps and know she's got even more to offer. We're glad Peloton knows it too. February 18 is going to be a big day for Tunde, and for all of our bodies.
As Tunde says, "a switch-up is good for the soul," and this one is sure to be good for ours.
---
See something in the Peloton Universe that you think we should know? Visit theclipout.com and click on Submit a Tip!
---
Tune in to The Clip Out on Friday, Feb 2 to hear Tom and Crystal's take on this and other hot Pelotopics. We're available on Apple Podcasts, Spotify, Google Podcasts, iHeart, TuneIn. Be sure and follow us so you never miss an episode. You can also find the show online on Facebook.com/TheClipOut. While you're there, like the page and join the group. Lastly, find us on our YouTube channel, YouTube.com/TheClipOut, where you can watch all of our shows.