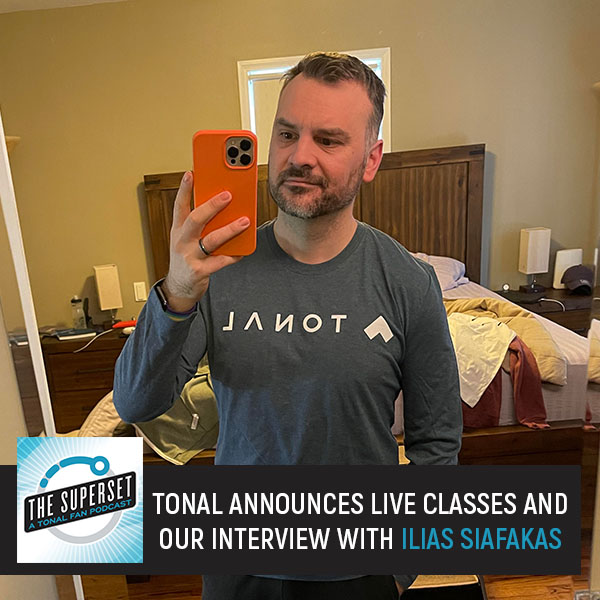 Tonal Announces Live Classes and Our Interview with Ilias Siafakas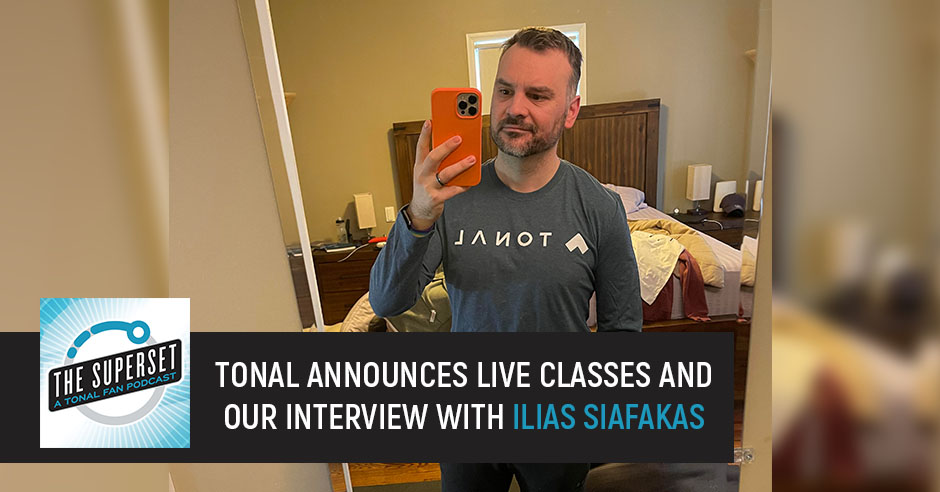 What to expect when you're expecting a Tonal.
There are new items in the Gear Shop.
Aly Orady was on the Hurdle podcast.
New Features include smarter weight suggestions for high volume sets and info on replacement moves.
Lots of new content including Muscle Build Up with Coach Trace, Upper Body Fire with Coach Gabby, Yin Yoga with Coach
Nikki, and more.
Tony Horton was spotted filming new classes.
Tonal is looking towards the community for input on diversity and inclusion. You can help.
Tonal is wanting to help a few lucky members train for the New York City Marathon.
Tonal Talk – Strength Training & Obesity Prevention w/Angelique Brellenthin (9/29)
The October Challenge is Tonal Bingo!
A community member (Josh Pepper) has put together a master list of badges.
October's Book Club – Effortless by Greg McKeown
All this plus our interview with Ilias Siafakas!
—
Watch the episode here:
Listen to the podcast here:
Tonal Announces Live Classes and Our Interview with Ilias Siafakas
Big news in the world of Tonal. It's coming right out hot. 
It hasn't started yet but we are told that live classes are coming to you on October 20th. I am so stoked. They are going to be opening another studio in New York, and they are going to be broadcasting the classes out of New York.
That's one more reason to go to New York. First, it's Broadway, now this. That'll be great. Especially as we get more information. Having never done Peloton, I've never done a live class. I'm not sure. I know people get weird about live classes and then they take them and they are glad they did. It'll be interesting to see. I don't know that it will fit with what I tend to workout.
That's my concern right now for us because since we're in the Central Time Zone, I tend to workout in the mornings. I feel like no one is awake at 3:00 AM in California. I don't feel like they are going to be doing a live class then. I don't know that it'll fit with our schedule but you sometimes do them in the afternoons. That might work for you.
We will see. That's something we all have to look forward to. People can finally get a Tonal shout out.
That'll be so exciting.
What else do you have in store for people? 
We are going to talk about all of the Tonal news that has come out. There are more guides in the official Tonal community. There are new gears in the Gear Shop. There are appearances from Tonal employees in the media that we have to talk about. There are about a billion things of new content. We're going to just do all the "In case you missed it" kind of things as well.
Before we get to all that, shameless plugs, don't forget we're available on Apple Podcasts, Spotify, Google Podcasts. Wherever you find a podcast, you can find us. While you're there, be sure and follow us so you never miss an episode. You can also check us out on Facebook at Facebook.com/supersetpodcast. While you're there, like the page and join the group. You can check out our YouTube channel at YouTube.com/theclipout, which is the name of our other show, but everything lives under one umbrella on YouTube. There's all that. Let's dig in. Shall we?
We shall.
—
Tonal has all sorts of little guides to help you. They put out, "What To Expect When You're Expecting Your Tonal." I love that title.
I do too. There are several guides out there and you can find all of these in the official Tonal community. I love that the community team has been filling these out so diligently. This one includes things like where the support forum is. Should you have an issue, you'll know where to go, filling out the pre-installation survey, what that's about and why you do it. It walks you through tracking your order, Tonal installation requirements, and everything you need to know, including before your installation day and during your installation.
It's great because when you make a major purchase like this, you're excited but there's that window between when you order it and when it shows up. Here's something that can whet your appetite in the meantime and hopefully, satiate you. You can also listen to us.
I know all kinds of fun things about Tonal.
We need to be in the what to expect guide.
Kate, why are we not there? We're totally kidding.
She is but I'm not kidding at all. 
It's pretty much anything that you want to know about the community, instructors, things like reverse birthday workouts. There are guides for everything in the official Tonal community. Keep on the lookout for those and make sure that you direct people to them when they are new to the community. It's very helpful.
Something else that you can do while you're waiting for your Tonal is you can stock up on gear at the Gear Shop.
You sure can. I am excited about their new gear. For the first time in Tonal history or on the Gear Shop, anyway, there are Tonal sports bras and Tonal leggings that you can buy. This is right up my shopping alley. Of course, I had to go buy things.
I can't even complain because you could finally get me something.
With Tonal, you just have to show up. As long as you show up, you're better off than if you didn't.
Click To Tweet
I got you your new size. I got you a hoodie. It's going to be perfect for you. You're going to love it.
She got me a sports bra in my new size. My breasts are getting smaller. 
Everything is getting smaller, Tom, including your breasts.
Not everything. You started it.
I am in love with that purple. They partnered with Rhone and Alala. Both of those are such good brands. I have bought some of the clothes from Alala. I've never bought anything from Rhone but I heard from men who have, tons of times. They really like those products. I can't wait to get them and check out the quality of them. Hopefully, they'll arrive in my mailbox soon.
—
If you just can't get enough of Tonal in your podcasts you can check out Hurdle. 
Joanna posted in the official Tonal community that episode 177 of Hurdle features Aly Orady who is the CEO and Founder of Tonal. If you can't get enough of Aly, he has been on our show as well.
—
We have a couple of new features to talk about on your Tonal device.
Whenever Kate posted about these in the official Tonal community, she talked about them as they are in-product education. They are a little bit different from some of the features we talk about, but both are really important. One of them is smarter weight suggestions for high volume sets. They were explained that Tonal weight suggestions are now more intelligent when it's a high volume set if it's targeting the same muscle group. Kate said you might notice that your weights go down a little bit but don't worry, this will not impact your strength score. That's very important.
It's Kate way of saying, "Don't at me."
We also have the movement replacement ability. In a workout where movement replacements are not available, Tonal will let you know whether or not that workout type supports movement replacement. You're going to know at the beginning of a workout, if you can change it out instead of guessing and not knowing until you come across a move you don't like
That's good to know because we all know that there's one move that I have to avoid because it makes me mad.
I love that they are always changing things.
—
As always, there is a ton of new content so I will let you pound through it.
First, we have a new program and this is Muscle Build Up with Coach Trace. It's advanced full-body. It's four times a week for two weeks. Coach Trace takes you through heavy lifts and plyometric movements in eight days of programming that's going to build muscle and elevate your heart rate. It's a great combo for people that are looking for a good new challenge. As far as new workouts, there are so many new high intensity, upper-Body Fire with Coach Gabby, new yoga, Yin Yoga for Hamstrings with Coach Nikki, then we have Post Lift Yoga Flow. This is all about recovery after you've been lifting. These are really important. We have a new barre, Barre For Abs and Glutes with Coach Frances. This is all focusing on your glutes and abs, but it's in a barre workout. That's amazing.
We also have mobility. I love these workouts. This one is a beginner. It's Intro To Modular Mobility with Coach Venus. It's combining ground-based movements such as stretches, flows and activation. The goal is to mix and match the components you need to improve strength, power, flexibility, mobility and coordination. There's so much that you're getting out of one workout,  and then new recovery, Steady Recovery with Coach Amy. New cardio, Intense Lower-Body HIIT with Coach Liz. New kickboxing, Impact Kickboxing with Coach Amy. This is perfect for beginners and it's twenty minutes. If you've been wanting to make a transition to kickboxing but haven't found your perfect go-to, this one is it.
There's another new program, Beginner Breakthrough with Coach Jared. This one is a beginner program and it's full-body, three times a week for two weeks. I like how they are doing some of these programs for just two weeks, especially when they are focused on beginners or specific pieces of workouts because it's a perfect snack bite to get into trying it out. This is specific for users who are looking for a breakthrough to the next level of strength training.
There's more new yoga, Pre-Lift Full-Body Flow. This is preparing your body for a lift. Chakra Balance with Coach Nikki. New Pilates, Straight Up Core. Who can't work on their core? Who doesn't need to do that? There is a new warmup, Leg Warmer with Coach Allison. This is great leg day movement prep, which is really good. More mobility, Wrist Clinic with Coach Liz. I highly recommend that you check that out, especially if you do things that are repetitive with your wrist.
If you're playing a lot of Xbox if you're single.
I was thinking of biking. A new cardio pump with Coach Amy. A new meditation, Empowering Breathwork with Coach Jared. It's so important to breathe properly whenever you are doing meditation. Which one are you going to try first, Tom?
The third one. There's so much, how could I keep track of it all? Also, while we're talking about new content, Tony Horton posted that he's recording some even newer stuff for the Tonal.
He posted a behind the scenes on another Tonal shoot.
Where is this person taking the picture from?
I felt like it might be a balcony or maybe whenever you're in stages, sometimes they have the catwalks above.
They call those riggers.
Maybe they were up there. Those were my two theories.
Did he toss his phone up there? I'm fascinated by how they got the shot but if you like your Tony Horton, there's more on the way.
—
Tonal is looking for some community help to be even more diverse and inclusive than they already are.
They are looking for folks to fill out a Google form to let them know who you are, how you identify, and what you would like to see discussed in series such as Tonal Talks, Black Excellence series, Heritage Moments and more. That's cool that they want to hear from the community about what they want instead of just guessing and doing it.
If you're comfortable talking about those things, you can swing on by the official Tonal community on Facebook and get the link for that Google doc.
They are anonymous. Just because you fill it out, doesn't mean you're required to talk about it. Know that as well.
While we're in the realm of Tonal being inclusive and helping and giving back, they are looking to help some people train for the New York City Marathon.
This one hurt my heart a little when I saw it. I do want to do it so badly. If I had known that they were going to offer this, I might have signed up for the New York City Marathon. I'll tell you what it is instead of just going on about it.  Tonal is looking for five members who are going to run the New York City Marathon on November 7th, and who are interested in having five weeks of personalized coaching. Who wouldn't be? It's so amazing. There can only be five but you get complete guidance. All you have to do is tell them your level of running. Whether this is your first Marathon, beginner, intermediate or advanced. One sentence about how you've been using Tonal with your training leading up to the race, and one sentence about why you were running the New York City Marathon. I probably wouldn't have gotten any way because my reason would have been to do this amazing training. It's probably not a good answer.
That's probably not what they are hoping for.
It's a really cool idea. I am excited to see how that turns out.
—
It will have already happened by the time this is published, but there was a Tonal Talk featuring Angelique Brellenthin about strength training and obesity prevention.
What a great combination of topics. It's one that I am super curious about. I will definitely be checking this out. These Tonal Talks are always fascinating and I love the breadth of topics. A lot of people could benefit from this because there are many people that have questions about, "How do I lose weight and do strength training?" Many times we're told, "Cardio, cardio, cardio." I'm excited about this topic.
—
The October challenge is almost upon us and this one is a little different.
Kate knows how to raise the anticipation level. I am excited about live classes and she posted, "Who's ready for the October Challenge?" Next month's challenge looks different because we're preparing for live workouts. She then posted a blurry image of the Bingo Challenge. You don't know what the workouts are going to be. What we do know is there's going to be community bingo and you get to play along for a chance to win cold, hard cash to the revamped Tonal Gear Shop. I'm so excited. Towards the end of the month, they are going to have a form that's going to submit your completed bingo board, and ten lucky winners will be randomly selected to win a $100 gift certificate to the Gear Shop. How exciting. I think it's going to be announced on the 1st with all the details for the October Challenge.
While we're in the "In case you missed it" area, community member, Josh Pepper, is putting together an exhaustive list of all the potential badges that you can get.
It's really cool. He's a completist and Tonal likes to surprise us with these. They might be a little sad that these still exist. I thought it was cool because I'm a completist as well, and this is a treasure map for them. It tells you exactly what you need to do to get them. There's a whole bunch of different badges that he has collected and he has the list. If you haven't checked it out, go and look on the official Tonal community and look for Josh Pepper and his list.
—
Finally, October's Read Between The Rep selection is Effortless by Greg McKeown.
That will start on October 1st. I am curious about this one. I have never heard of this book. I need to know more about this.
It sounds like it was probably easy to write. It's effortless. Greg's like, "Go to hell, Tom." 
I don't think Greg's here.
I'm pretty sure he's not listening. Now for sure, he is when he hears all the awful things I apparently said about it.
—
Joining us via the magic of Zoom-tube is Ilias Siafakas. This has been a long time coming. We have had a few scheduling mishaps. I'm so glad we are finally getting to do this. I would love to know when you first found out about Tonal and decided, "I want to take this home." Where was that in your journey?
The story is an interesting one. My husband and I were at a random Pride Event in 2018 that we did not know was there. We were walking around them and found a huge pride event. We were like, "Let's go do this." We were there, and another random moment took place where a person from the LGBT Center in New York City stopped us and said, "You both look like cyclists. Why don't you join us on this ride from Boston to New York? It's 275 miles away, 3 days of time to raise money for the LGBT Center." We were laughing. We were lethargic and on the couch all the time. How do we look like cyclists? We kept that flyer on the fridge.
It's called the Cycle for the Cause. For some reason, we didn't throw it away. Then comes a month later, we're thinking about our fitness journey. Generally speaking like, "What can we do to improve our overall health and lose some weight in the process?" We thought about that 275 miles. We were like, "It sounds crazy, but what if we tried it and did it?" For about a month, we did hardcore training. We bought bikes and went on the ride. I did not finish the whole 275 miles. Chris did. He beasts in it. I cannot even tell you how proud I am of him for doing that.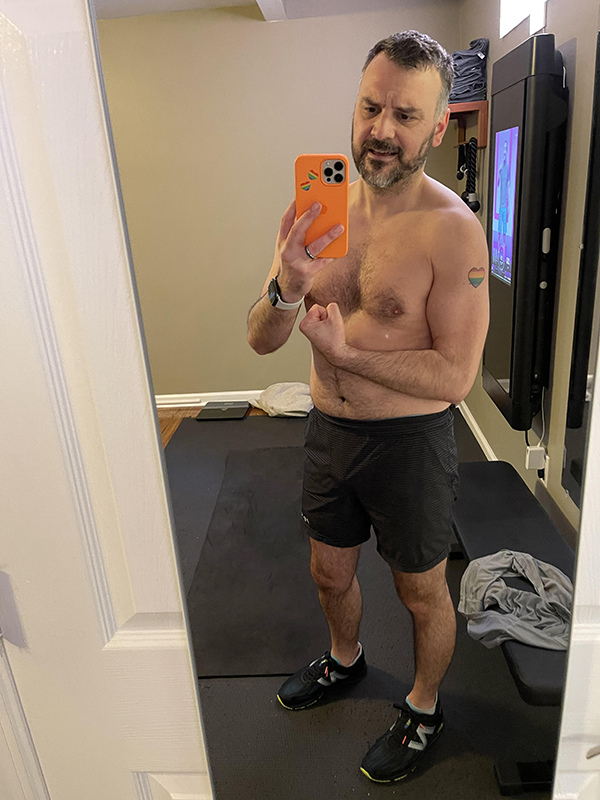 My goal then for the following year of 2019 was like, "I want to do more. Maybe not finished but I want to do more than what I did. What can I do to complement that?" When he got back from that, Chris was looking online and randomly came across the Tonal. This was early on in the Tonal year. We saw the product. Chris was like, "We've gone to the gym but we don't know what we're doing at the gym." We're picking up weights, dropping them. It's like, "Is this doing it? Am I working out? Do I chew on one end?" You have all these people in there who know fully what they're doing. They have three equipment sets up for themselves. When I'm going to use it, they're like, "That's mine. You're not using it." What is going on here? This is a whole other culture.
How are you supposed to know?
There needs to be a book.
What we did finally was we looked online and came up with a process of like, "This is what we're going to do. It seems to work for these people. Let's try it on our own." We did it and it did work. I'll be honest. It was a fine setup but it was not something I was enjoying. It was like I'm doing it because I'm supposed to be doing it. When we saw the Tonal, we were like, "This is a cool device because we can do all these things at home. We don't have to worry about all these other people. If we look dumb with a move that we don't know how to do, hopefully, someone on the Tonal will tell us how to do it." It was early on. Funny enough, I was the one who initially was like to Chris, "I don't know. Do you think we're going to get used out of this?"
We bought it and it was more like his thing for a second until I tried it. I'm like, "This is it. This is what we need. This is so cool." Chris and I are very tech people. We both worked at Apple for almost ten years each. We thrive on things that are connected and technological. The Tonal was right there. From that point on, we've not gone back to the gym. We've only exclusively used Tonal for strength training, and then we also have Pelotons for cardio. That's the journey.
Did you ever go back and do the Cycle for the Cause?
On the second year, we did Cycle for the Cause 2019. I was only 50 miles away from finishing. I ended up getting a little bit of a knee situation going on. I didn't want to push it. I was nervous to keep going but I did a whole lot more. I felt so much better. I didn't feel like I wanted someone to take me and helicopter me away to the hospital. I felt good. It unequivocally helped a ton because of the strength training I was doing on Tonal.
I noticed that when we went to Disney for myself. It's a lot of walking. There are some days we walk 10 miles for real. She has this thing that counts it. We'd get back to the hotel. I'd be tired. I'd wake up the next day, though and I wouldn't be sore or completely exhausted, especially on the seventh day.
That's an exhausting potential trip. If you're not prepared for the amount of walking, by the second day, you're going to wake up and be like, "What did I get myself into?"
That was the kids because, despite our repeated suggestion that they prepare for this trip, they did not because kids know everything.
I would show them the receipt of how much it costs, and I said, "I have no sympathy for you. Put on your shoes. Let's go. We're going to have the time of our life like a family."
That sounds so happy.
It was a lot of fun.
We went in 2019 as well. We came back before the pandemic beforehand. We took our airstream camper, drove it down there and did the whole thing at the campground. Went to all park, drove it back and then, two weeks later, we're shut down.
We stayed at Fort Wilderness with the lodge.
We stayed in the campground of that, and it was great. I loved it.
I couldn't drive a camper.
I don't. My husband does. He upgraded to a bigger one. We hopefully can get on the road again for Disney in 2022.
That's a lot to look forward to. I can't wait until the world can get back to normal and we can do all the things again.
I'll even accept "normal" at this point. This is a whole lot going on here.
When we went to Disney in June 2021, I thought we were back to normal.
We're almost there.
I thought for sure, the end was insight, then come Delta and so.
Funny enough, it's the start of that Cycle for the Cause challenge that I was telling you about. They didn't do an in-person ride because they needed to plan this for about a year and a half. They could not know whether or not for hotels, for the 500 of us who do this. What they did was they changed the virtual tour events. We all pick a variation of 275 to do what we want to do, like something challenging. I've committed to riding the bike for 10 miles a day, which will amount to about 275 miles at the end of the month because it's a month-long.
Will you do it every day for a month? That's cool.
I'll do about 20 to 30 minutes on the bike every day. I don't normally do that, but I will do that for the purpose of the challenge to give myself an additional challenge past what I would normally do. Then I'll hop on Tonal and probably every other day or something like that.
You'll do all that on your Peloton or do you have an outdoor bike that you'll do?
Pandemic time health has been more challenging than any of the other times.
Click To Tweet
We have an outdoor bike too. It's been a weird weather. I live in New Jersey. It's been hot, but then it's also been rainy. Weather permitting, I'm hopeful that I can. We have a cool trail to ride. If I do that trail that's about 12 miles, that's perfect for what my challenge will be.
Which did you get first, the Peloton or the Tonal?
The Peloton, we got when we came back in 2018 for the first Cycle for the Cause because we did this wrong, so we need to train. It was winter, so we were like, "What do we do to train inside?" We're looking at those things you buy where it allows you to put your road bike.
The trainer?
Yeah. It was fine, but we wanted something more than that. Once we saw something connected, technological, that's a beautiful screen, we were like, "That's what we need." We started with the Peloton and totally committed. We were in it and doing our thing. Simultaneously to the strength training at the gym, that's when we were like, "We don't know what we're doing." With the Peloton, we know what we're doing. With strength training, we don't. It would be cool if there was something like that for strength training, and that's where it all appeared.
I feel like there are so many people that don't get that's what Tonal brings to the table. It's not just the ability to lift weights in your home. It's that you have a personal trainer telling you how to lift weights, what to do, when to do it, how many reps to do. I feel like there are a lot of people that already know all that, but for people like us on this call, it's nice to have somebody spelling all those things out for you. It lowers the intimidation factor so much.
You have to show up. I know that sounds silly. You're going to do some work. They're going to swell. You're probably going to curse a trainer off. That's totally fine, but you don't have to do any of the thinking. I remember when I was going to the gym, I started off with a spreadsheet like an Excel, Google Doc, whatever a spreadsheet of all of the things I wanted to do and what weight I was doing them at. Every so often when I would bump up to the 5-pound difference to go up, it would be brutal. I would hate it because 5 pounds is quite a lot to do. I would go on the next column and do that. It was fine and totally manageable, but it's the pain more than anything.
You're going to get your piece of paper all messy. It's going to get folded and sweaty.
I moved to doing it on my iPhone. I'm sitting there zooming into the cells of the iPhone to try to see what I'm doing and where I'm going. I'm like, "This works but it's not ideal." When all of the features of the Tonal that were auto-weight adjustments, 1-pound increments, all of those things were exactly what I didn't even know I was looking for. I needed it, but I didn't know that's even a thing that exist when I saw that and tried it. It's funny because the beginning of Tonal was very bare-bones. From that moment, I still loved it. By bare-bones, I mean some of the production values or the repeated programs that they had.
One of the initial things was people upset that the first week was the same as the second week and the third week. From my brain, I understood that because that's what I did at the gym. That's the only way to grow muscles and gain muscles. Even still, they do have that method, but it's more interesting that they pepper in some of the dialogue that's different per week. All of those things have adapted and changed based on the feedback of the community, which is remarkable. I was here for it from 2018. We got it in January 2019. From then until now, I'm here for it. I love all the changes.
When you signed up for the gym and had your abbreviated attempt with weightlifting, was that your first time doing weights or had you done stuff like that previously?
I would probably say it's the first time. I'm saying probably because it's different when you're in high school.
Your gym teacher made you lift a weight.
It's like you go to your friend's house who has weights, and you're like, "Look, I'm lifting weights." What are you doing? You do it once, and you're like, "I'm Jack. Am I Jack yet?" That was the first time we went in with an intention, which was to let us gain some strength and learn what we were doing. We did for some of it, but I can't tell you the level of knowledge that I have compared to when I was trying to do it alone at the gym. Even with all of the different moves, I understand what they're supposed to be doing. I know what I should be working on while that move is happening. When it comes up in another program or even if I go to the gym, I know what I'm doing.
It's because you have somebody explaining to you the form and the rationale behind the form. That's where that personal training piece comes into. Whenever you do go to the gym, like if you're traveling or something like that, you have to go to the hotel gym and use the weights, it's like, "I know why I'm doing that. I know the correct form, and I'm not just throwing this weight around. I've got some purpose behind it."
Even if I went to a hotel gym, I would likely know what I was doing if I put a workout together on my own. I could probably pull together what I remember Pablo did for this lesson or this program and piecemeal together a program on my own. He was the first person I took the four-week program with when we got it. It was by randomness. I'm like, "I don't know who anyone is. I'm going to pick this one because it looked good." It was immediate like, "This is our person. This is who we're going to be with. He's great and awesome." From that point on, he's been so helpful in the community. There was a point where he was doing hourly Zoom calls over Saturdays. I did many of those. I was like, "This person knows what they're doing. They're here to have fun, but they're also here to make us sweat." That has been my favorite trainer since. The breadth of knowledge across all of the trainers and all the different types of styles that they have is fascinating.
All of the instructors are so responsive when you ask them a question. We're so lucky to have that, especially with Peloton. They've gotten so huge at this point that it's sometimes difficult to even hear back from an instructor.
It's realistic to expect that degree of engagement anymore.
Let's say Tonal takes off and becomes this massive thing that everyone has in their home. I anticipate that it's going, at some point, have to get like that. There's no way that the coaches could realistically sustain that. I still think that it's a big enough situation that they're in where the fact that they do respond, almost personal with their responses and know you is phenomenal. It is motivating when that happens. When you have a question, you ask it. They answered and were like, "Good job. Keep it up. You've come a long way." You're like, "What?" It's amazing. You don't get that anywhere else.
Are you a program guy? Is that what you tend to do or do you do one-offs?
I try to do a program. I typically will not finish the program in four weeks because of variety of things like work gets in the way. I miss a program. I allot five weeks for the program for myself, and then I'll take a week to do what other things I've wanted to try, other coaches and workout types to experiment with because they always are dropping in new stuff. Then I'll pick another program for that next block of five weeks, so on and so forth. That's what I'm trying to do.
Do you ever feel guilty when you do that? I always feel guilty when I change anything. It is not just Tonal. If somebody is like, "We prescribed this 30-day thing," as soon as I go off of that cadence at all, I'm like, "I've messed and screwed it up." Do you do that? I feel terrible.
I do. I know what you mean. I used to feel that way a lot more. Not at this point. I got to say that in pandemic time, health has been more challenging than other times for obvious reasons. For the most part, we're all working from home, going to sleep later, and waking up later. We are eating maybe unhealthier. I'm not at the state health-wise or physically that I was maybe years ago before pandemic time. What I've learned about myself is as long as I show up, I'm better off than if I didn't show up or did a 20-minute thing or a 10-minute thing.
There's a day where I was down, so I did a 10-minute yoga. I was so happy with myself afterward because I showed up. In this time of my life, it's less than that guilt aspect because in the prior portion, let's say pre-pandemic, I missed one day or didn't show up at a time that I should have that was prescribed. I'm like, "I failed. I'm the worst." I need to learn to be kinder to myself amidst this whole journey.
To be clear, I agree with you 100%. I wasn't saying you should feel guilty. I was just wondering if you were like me.
The answer is I am for sure.
It sounds like you're around it for yourself. You preemptively give yourself permission to like, "Four weeks for me is five." That gives you some wiggle room. As long as you do it within the five, "I'll follow this, and it became six," then you would probably go back to beating yourself up. I play the same game. I'm not casting aspersions.
Do you know the monthly challenges that are taking place in the community? The very first one of those was in January of 2020 with Nicolette. My husband and I were both on every single program that we needed to do for the whole month. We did partner workouts for a lot of them, which helped a little bit in that where you get a little bit of rest period in between. That was a challenging program. It was raising the barbell too. Once that ended, I felt exhausted. Truly, I felt tired and overdone. I needed a little bit of a break. From that point until now, I haven't been able to properly follow those monthly programs because I feel like what Tommy said, "I'm giving myself permission."
That was the only time I didn't give myself permission, and then I felt the results of that in a negative way. Going forward, I felt like I could never fully commit to those four weeks of nonstop every day. That's where I'm at. I started some of the other programs. I tried to get along with the things that were prescribed. It never fit what I was trying to achieve. That's why I gave myself permission to say, "It's fine if I don't do those. I'll do what I do." I'm good with that because there's so much goodness in the programs on their own without the monthly challenges.
To some degree, those time constraints are arbitrary.
You still have Peloton. If you're trying to juggle that in any kind of workout or anything off Tonal period, it's difficult to go by that 30-day calendar and juggle those other things. I'm trying to do a lot of cardio-based on what we're doing at MetPro from a nutrition standpoint. With my body type, it's like, "Lots of cardio to lose that fat." I can't spend as much time doing the weights then because I only have so much time to work out. In a perfect world, I'd have an hour and a half every day to be able to work out and have the energy but I don't.
In a perfect world, for sure, I would do an hour of Tonal and run for 30 minutes, but that's completely unrealistic in our lifestyle and what we're capable of doing. I'm going to be tired. I'm not going to want to do that all and then the next day, show up and do that all again. I've learned. I need to give myself a little bit of leeway, but I also think that these 275 challenges that we are in are going to reset or at least re-motivate me to jump in more and be more committed to the whole health spectrum. Maybe not go to bed so late, not have that extra glass of wine or order a Burger King at midnight on the weekend. These are the things that have come through the pandemic that is atypical of what life was like pre-pandemic.
I feel like as we come out of at least the sequestering ourselves portion of the pandemic, nobody came out looking the same. Everybody either came out like they gained 20 pounds or lost 20 pounds. They either use the time dialing in or were just like, "F it."
Many people had different stress mechanisms. I'm like you. There was so much that we started going to that was like, "We'll have this delivered because that was safer." When you start having food delivered, that's so dangerous.
My husband deleted all the apps like Uber Eats, DoorDash, and Grab Hub. He was like, "When I get that alert, and it's 11:00 at night, I will cave and order that burger. I will do that thing."
It used to be like if you're going to have food delivered, you had two choices, Chinese or pizza. That was it. Then you have Jimmy John's and anything.
It's so dangerous.
We tried to allot ourselves one bad meal a month. This was before pandemic time where we had this thing. We're both vegetarians. The Impossible Meat Whopper that came out at Burger King, we allotted ourselves one of those per month because we were like, "We should let ourselves indulge for a moment." We ordered it three times in a month. I slept, and I'm like, "Chris, did we order the burger? Did we use our allotment this week?" He's like, "Twice over." I'm like, "We need to reset ourselves."
It's like, "February has only 28 days."
Try to allot yourself with one really bad meal a month. It's good to just let yourself indulge for a moment.
Click To Tweet
We did that. One time they messed up the order, so we were like, "That one doesn't count."
Think about it. They didn't have this when I was growing up, I get all those months retroactively.
You got to catch up.
We need to try to stop ourselves from doing because it's easy, especially when both parties involved can tip each other in a direction. You're on that precipice of like, "Will I do it or not?" Once you even admit that you're on the precipice, the other party is like, "Let's do it. I'm in." That's it.
We'll sit there and be like, "I'm not weighing in on this decision one way or another. You decide."
If you promise to still find me attractive 5 pounds from now, I promise you, I will still find me attractive five pounds from now.
It's our first-day aim to the 275-challenge. We're both committed. We're going to weigh ourselves and see where we go. Suck it up, do it and get ourselves back on track. At least it's a new month. There's a reason to do it all. I feel motivated enough to help me along that journey, knowing that I don't have to go back to the gym or any of that. We've both been doing Tonal and Peloton, just not as maybe regularly or with intent as before.
It will be a lot easier to get back to where you want to be.
Do you know what I did one time to maintain focus? I started a diet day one on Thanksgiving, and it worked. My thought process was, "Any time after this that I'm like, I want to cave, I'll be like, 'You gave up Thanksgiving dinner. Are you're going to blow it on a random Wednesday in February?' No." It worked, and I did a whole year.
If you did the hardest thing, what's stopping you from doing anything less than that?
I have bad days and then I can talk myself into anything on bad days.
We're the same. Even when we had this whole conversation, I'm thinking about dinner. I'm like, "What are we going to order? No ordering."
It's a new month. We're starting over. What would you say that you love most about the Tonal? What's your favorite feature?
Let's say two things. One thing is going to be the feature. The actual physical feature on the device is the digital AI weights. I am so happy that the whole spreadsheet idea was gone and thrown out the window. It goes up in 1-pound increments. I like that maybe a bit 1 month or 2 it shows you that on the next rep you might get a personal record. There's that little icon that it shows you. That's all very motivating. It gives me an opportunity to maybe not do as well one day but do well in other days, and that's still all fine. It's still captured in the data. I love that it's so data-driven. It continuously motivates you.
The strength score also is there for a reason. It's a cool idea to give you this number of like, "This is where I started. This is where I'm at." For me, it was a 300% increase or something from that very first time that I did it. That's motivating and super cool. The fact that it goes sometimes down, sometimes up is normal. I had a moment a couple of times where it was like, "I did so well. Why did it go down?" I get it. I understand the mechanics behind it all. As long as that graph goes up, in general, that's all that matters. That's one thing.
The other thing is off Tonal, the community aspect. It's very motivating when you find like-minded people. Everyone is so kind and nice. You form comraderies. You keep yourselves accountable. You don't even know these people outside of a Facebook message and yet, here you are all motivating each other. That includes the trainers as well, the coaches. All of them are involved in that. Being able to message Pablo and be like, "I'm suffering from the goblet squat. I don't know what I'm doing wrong." It's like, "Tell me what you're doing." There'll be a conversation, and that's very cool.
The community aspect cannot be over-talked about or hyped up too much because it's unique. I love that Tonal is so intentional about continuing to build it. Having the monthly challenges, the opportunity for our Tonal talks and ask a coach anything. That's one way that they offset that. The coaches can't reach out to every single person so let's have this forum that you can ask them anything once a month. That's cool too.
It's very unusual for a company of this caliber to somehow still make it very personal in that regard. We're making the Peloton comparison again. There may have been a point in the Peloton experience where this may have been what it was like, but I feel it's very unlikely that you'll get through to any one of the coaches. At this point, they're all like celebrities. It's all been very like Hollywood or something.
Each of the programs when you take them is phenomenal, but they're all very heavy production. They're each a huge event, which is cool but it lessens the one-on-one nature of that. I'm happy where Tonal is. I love that there are continuing that element of it. Super shout-out to Kate because she's doing a remarkable job continuing this and making everyone motivated. All the things that she puts together, the books, the Tonal talks, the Q&As are likely all her.
Do you have any advice for people who are just getting a Tonal?
A lot of people, when I look at the forums and stuff, seemed to want to retake that initial assessment because they think something is off. Stick with it. Do whatever that initial assessment is. You might suffer and hate that first ten minutes because it asks you to do that light, medium and heavy. That heavy one, you might not even be able to do one of. Let it be. Don't go back to check out how much better you will have been because that resets your data, and then you're back to square one. Follow the programs. I would recommend starting with a basic beginner program. Learn all the foreign cues and the features of the actual device, the handles, the rope, the Bluetooth button and the bar. All of those things need to be beginners.
In the first month, this should be established. From that, explore and have fun with it but don't think that you should ever go back and redo that initial assessment for any reason. Unless you did it with a sprained arm or something, and it messed up your data, then maybe redo it, but there's no reason to redo it. A lot of times, people focus on that for some reason.
What about if you take off for six months though? If you haven't done any weightlifting in that long, that might be the only other exception because it's been a long time.
You can reset it to your current standards. You're right and I should be clearer on that but if you're not taking off longer than a month, no reason. If you need to rest for a while, it makes sense. My 52-week streak is coming up. The reason why this is important to me is because I was at 51 weeks before we got to Disney. We stayed at Disney for ten days. They did not have the on-the-go stuff. I could not physically continue my streak no matter what and it reset. I started it on the week back, and we were at a point where I was maybe 35 weeks. I was doing well. Then I had to get surgery that kept me out of being able to work out for a week. I forgot to do the on-the-go, and I lost it again. I'm at a point where I'm committed. I'm going to get that 52-week and feel super proud of myself.
Congrats. That is awesome.
I lost my streak at Disney too, but that doesn't bother me. It drives her crazy.
It drives me crazy because he also doesn't care about the PRs. I sit there, and every time he gets a PR, I'm like, "PR." He's got nothing.
The PR does motivate me. I'm not going to lie. When I see that, it's that bit of a little more force. I do it and get it. It's a ding. I'm like, "I did better than I've ever done."
I'm very linear in my thinking. I'm like, "If they increase you 1 pound when you're ready, you set a PR."
You're celebrating the win.
I'm the same way though, Tom, to some degree, with the length of time I'm on a streak, but I feel like 52 weeks a year is a commitment. I feel like it represents my growth and all of that but once I get it, I'm not going to lie, I'm probably not going to be that stressed about it in the future. The million-pound marks are interesting though because then you're thinking about it. You're like, "In two years, I lifted 2 million pounds?" That's a cool thing. I've not been as diligent about getting all of the achievements as I have in the past.
I stopped trying so hard on those because I do so many different things. There are people that have 4,000 rides and I'm still under 1,000, but I have rides, runs, boot camps and Tonal.
Not that it's a fake number but if you tell someone that you have 200 rides and they have 1,000 rides, they may be looking and think like, "You should do more rides." They're not thinking about the fact that you might have 100 boot camps, 100 runs and all of that. I'm the same way. Chris loves doing the Saturday 60 with Jess Sims every single Saturday. Therefore, he has a whole lot more boot camps than he does rides or runs. It doesn't mean he didn't do it.
I get frustrated with the strive score. I don't pay a whole lot of attention to it but usually, when you go down, I'm like, "I did the thing. I'm taking your program and I did what you told me to do."
The very first time that happened to me, I felt defeated. I'm like, "I had PRs. I did it. I'm drenched. How could it possibly go down?" Then there was all this talk in the community about that whole six-month period. If you didn't do a move in six months, it isn't taking as much account into it, and it's resetting that score. I get it but I agree. It's so demotivating the moment you see it go down. You're like, "No," even if it's just one point. In the inverse though, when it does go up a lot, you're like, "I'm the master and the professional."
Thank you so much for taking time out of your day to join us. Before we let you go, remind everybody where they can find you on social media, if you would like to be found.
We have a couple of things. We didn't even talk about this at all, but we have seven cats. We have a huge following on Instagram @MuskratNation. Take a look at that if you like cats. They're adorable and we're obsessed with them. Outside of exercise, they're pretty much like our lives.
If you have your cats, why is the Instagram called Muskrat?
When we first had the first cat, he was a little adorable little kitten named Drazen. One day, Chris was like, "Look at him. He's such a little muskrat," out of love and out of cuteness. We posted once about, "Look at this little muskrat." Everyone started referring to all of our cats as muskrats. We were like, "I think this is a thing." We've branded ourselves as Muskrat Nation because someone said they love to be a part of Muskrat Nation. That was enough for us to be like, "This is it. This is what we're doing."
It is a thing because you have 71,000 followers on Instagram.
It's been a couple of years of a journey. I got to tell you. It has been phenomenal. The people on there are all wonderful. It feels like one big giant family. We have learned a lot about social media. In the 275 challenge, we do most of our fundraising through that platform of Muskrat Nation. All the money that we get, we donate to the LGBT Center. Thus far, we've raised somewhere around $20,000 across the many years.
In the other place you find us, we also stream on Twitch as Airstreamers. We own an airstream. Every so often like once a month, we stream from Twitch inside of our airstream at Campgrounds but then other than that, we are also streaming three times a week at home, Tuesdays, Fridays, and Saturdays at 8:00 PM. The tag for that on Twitch is Airstreamers or on Instagram it's @TheRealAirstreamers. You can find us there as well. If you go to Muskrat Nation, all of this is there as well in the links.
I know you'll have more followers because I will tell my stepson about the cat. I followed you as well.
We are obsessed with them. They are like our children. They live a life of luxury. If we could, we would adopt all the cats in the world but seven is a lot.
What do you do with them when you go on trips in your airstream?
We hire a pet sitter. We know this person. We're super comfortable letting them stay over. We went to Maine and they stayed over for the ten days that we were gone. We knew that they were being taken care of. I would feel so stressed if we left and assumed someone was going to come every often. They don't have dry food. They only eat their wet food. Dry food is bad for the cat's health. We give them three feedings a day of wet food. We do it. We have a whole system. Anyone who stays over in that scenario needs to learn the system. They each have their own bowls that they eat. They're so funny.
Are they respectful of the bowls?
If you look on Instagram, you'll see some videos of them eating. Whatever position they're in, the moment we go downstairs, they all go right to their bowl and wait right there.
I'm going to have to watch that because I love cats. I don't like to live with cats though, because they can destroy things.
A lot of times, when people come over though, they say that they can't believe that we have seven cats because, for the most part, we're very clean people. What we'll do is pick up after them or if they mess up something, it's like whatever. We train them to try not to mess up too much. The only thing occasionally we'll have is a little dust bunny like a little tumbleweed. That's it. Other than that, they're self-sufficient. They do their thing. We have a downstairs that's like their apartment.
I was thinking that to have seven cats, they're very respectable because they haven't come into that room and interrupted you once.
That was by design because when we stream on Twitch, this is the space that we stream in and we have these two beds right back here and a cat tower. Normally, they're here but sometimes a little bothersome. I didn't know how. They're going to love me and put their face in the mic. That's a part of the stick of our streaming but I didn't know what they would be like in this setting and I didn't want it to interrupt us at all. That's why they're not here.
We once had a cat on our other show. He swatted the camera and knocked it. It was hilarious though.
That's why people tune in to see. We call it the Muskrat Cam. We have a bunch of cameras throughout the room here where people can see where the cats are and what they're doing while we're talking or playing a game. It's endless joy. We're so lucky to have the community that we have and built through Muskrat Nation and Airstreamer. We look forward to all the streams that we do because there's so much fun.
If you start with the hardest thing first, what's stopping you from doing anything less than that?
Click To Tweet
Thank you so much for joining us. We appreciate it.
Thank you for having me. This has been a blast.
—
I guess that brings this episode to a close. What a pray tell do you have in store for people next time?
Next time we are going to talk to Coach Nicolette. She is going to be back on the show. This time she is discussing cardio versus strength and all of the cardio options on Tonal, how to get your cardio on.
Until then, where can people find you?
People can find me on Facebook at Facebook.com/crystaldokeefe. You can find me on Instagram and Twitter, and the Tonal leaderboard @ClipOutCrystal.
You can find me on Twitter @RogerQBert or on Facebook at Facebook.com/tomokeefe. You can find the show online at Facebook.com/supersetpodcast. While you're there, like the page and join the group. Wherever you're getting your podcasts from, be sure and follow us so you never miss an episode, and maybe throw a review our way so people know that we're worth checking out. That's it for this one. Thanks for tuning in. Until next time, keep lifting.
Important Links:
Love the show? Subscribe, rate, review, and share!
Join The Superset community today: