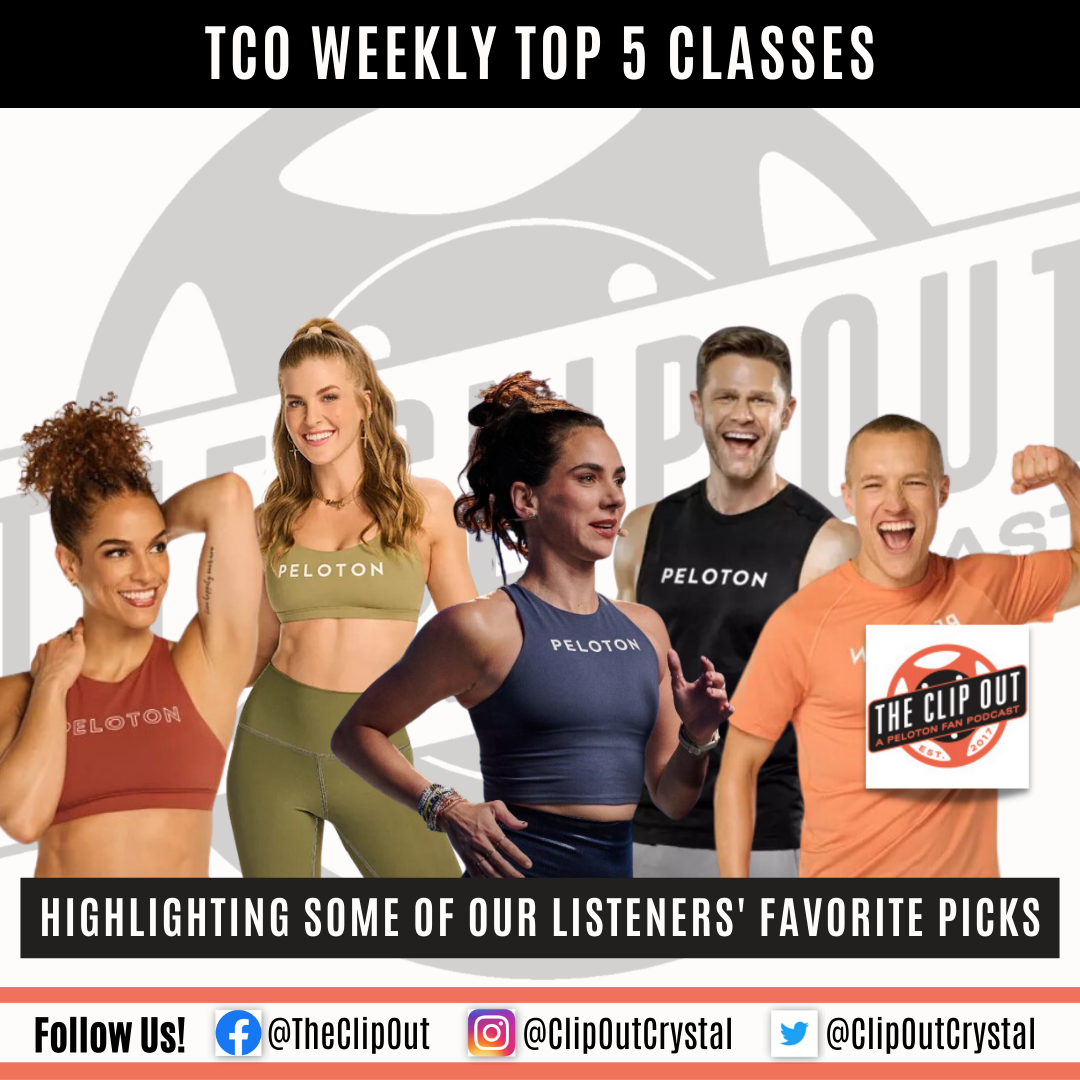 TCO Weekly Top 5: This week's listener favorite classes
We asked The Clip Out Facebook Group for their favorite classes from the last week, and we were showered with excellent recommendations and enough inspiration to motivate our next killer workout. Here we're highlighting five responses that make us want to get up and move!
The classes:
Why you love them!
Sometimes it's hard to pick just one favorite, but these reviews make it seem easy. Here's what the TCO Group had to say about their favorite classes from the last week.
1. Sneaky HIIT Run + Walk!
2/12/23 45 min Run + Walk with Rebecca Kennedy
TCO listener Christina, aka #TinaWantsNachos, isn't always up for a run, but she knows how to trick herself into one! Rebecca Kennedy's 45-min Run + Walk from Feb 12 did just that and gave her a fair amount of incline to boot! In Christina's words:
"I love taking walk-runs when I'm not motivated to run because they pretty much trick me into doing a HIIT run😆 This one is particularly good bc the walks are on a 10 incline which makes the runs feel that much easier!"
The Walk + Run features music by Beyoncé, Usher, Whitney Houston, and The Chainsmokers. After an 8-minute warmup that includes activation drills and three minutes of uphill walking, Rebecca takes the class through four blocks of run/walk or run/jog intervals, each punctuated by four minutes of uphill walking. Rebecca is a vocal believer in the power of uphill walking—it's a perfect low-impact trick to produce high-impact results!
2. Row Smart and Have Fun!
3/3/23 15 min Classic Rock Row with Matt Wilpers
Lisa Getty, aka #SeahawksFan, is training smart with her favorite Row class from Matt Wilpers. The March 3 class supports her goal of building rowing endurance while ensuring sustainability with manageable challenges. But even more delightful than the workout for her was the music.
Folks like to tease Matt for his musical selection, so when he referenced some "deep cuts" during the intro, Lisa wasn't quite sure what to expect. But to her surprise, the playlist included some of her teenage favorites. As she tells it:
"This OD 15 minute row class by Matt Wilpers on 3/3/23. I've just recently started doing row classes so I try to pick good, short ones to build up endurance and set a positive precedent for myself and enjoy it. When I scroll through, it often seems there aren't a lot of 10 and 15 minute classes with an instructor and music genre that I think I'll like.
During the intro he said there were going to be some "deep cuts" in the playlist, and I immediately thought, ugh. But then the first song was "New York Groove" by Ace Frehley, one of my favorite songs (!), followed by Kix — who I absolutely LOOOOVED in high school and never hear them played anywhere any more, so I was hugely and pleasantly surprised, and spent the class totally rocking out and loving it — could have easily done 30 minutes with his song choices!"
The class starts up with a quick warmup and some drills, then launches into three blocks of work alternating between moderate and easy—the perfect balance to build strength and confidence in a new fitness discipline!
3. Density Training For the Win
Total Strength: Density Training Collection with Andy Speer
We've raved about Andy Speer's Density Training Collection before, and we love hearing how much our listeners love it too. The Collection was released in May and is a four-week strength commitment built like a program, but without the rigidity of one. You can take the classes at your own pace and repeat or jump ahead with more freedom than the formal Programs on the platform. We love the Collection's progressive yet manageable format.
Here's what TCO listener Jessica L Winston, or #PeloVeloHalo on the Leaderboard, loves about the Density Training Collection:
"Those classes are strength alchemy. They push me beyond the limits I thought I had and the music is very good and Andy is incredibly motivational in them."
Husband and wife strength-building team, longtime Peloton members, and lovely TCO fans Michael Joyce and Adrianne Limjoco (aka #BostonIrish and #Yo_Adrianne) agree, adding that Andy's instruction is top notch, and the results are even better:
"[Andy's] prompts are clear and simple, his focus on technique is solid, his motivation without brashness is refreshing and his quirkiness and transparency with his stream of consciousness (often a negative from other posters) makes him fun to workout alongside. Oh…and having finished the 4 weeks yesterday the results are A+!"
4. Saturday 60
7/1/23 Saturday 60: 2010s Tread Bootcamp with Jess Sims
Stacey Rivere, or #SuicideBlonde on the Leaderboard, finds community and strength in her weekly live bootcamp with Jess Sims. The regular class marks the peak of her weekly training intensity, but the motivation of the people sweating alongside her, not to mention Jess' positive energy and encouragement, makes the struggle an absolute joy. Here's what she had to say about it:
"[My favorite] is always going to be the Saturday 60 live classes … There truly is nothing in Peloton like that for me. I get on and immediately get tens of high-fives. I see so many people on the leaderboard I love. That class is the hardest one I take, and I know that all of us are suffering together but love it. Love Jess so much and the positive energy and great Mantras she has. The admins have created something very special there."
The 7/1/23 Bootcamp includes three blocks each of running and full-body strength, each 10 minutes long. The first strength block alternates between bent over rows and Arnold presses, the second block progresses from a dumbbell passthrough to a devil's press and then reverse lunges. The final strength block is an EMOM cycling through goblet cleans, dumbbell squats, lateral lunges, diamond push-ups, plank jacks, and dumbbell jacks (anyone else tired just reading that??).
The class playlist promises to help keep your body moving with music by Drake, Nicki Minaj, Future, and 5 Seconds of Summer. I'll be bookmarking this class for the next time I need a little confidence boost for sure!
5. New Tread Instructor Love
7/6/23 20 min Intervals Run with Mariana Fernández
Mariana Fernández received a number of accolades on this week's post. She's still new to the Tread, but she is quickly becoming a fan favorite for her calm confidence as a running coach. We loved the challenge she issued to join her 60-min Endurance Run last month, and of course we are not alone in feeling the Mariana love!
Kacee Kirkland Sims, who you can find on the Tread as #N_The_Journey, likes that this particular 20-min Intervals Run, from July 6, can be taken on its own, added to a longer stack, and even bookmarked and repeated over time (it's that good!). In her own words:
"20 minute Intervals run with Mariana Fernandez from July 6th! Great as a stand-alone or as part of a longer stack. The class plan and coaching were phenomenal and accompanied by a fun playlist. This is the type of workout that you can bookmark to repeat to monitor progress over weeks, months, years! Mariana's calm, encouraging spirit pushes you to be your best – while acknowledging that where you are is just fine!"
The class kicks off with the foot-pounding Seven Nation Army by The White Stripes and includes other anthems by Florence + The Machine, Imagine Dragons, and Bruce Springsteen. (I know I'm physically at my desk right now, but this playlist has me 100% marching on my Tread in my mind.) The class plan includes 4 run intervals progressing in length from 1 to 3 minutes—just enough time to prove to yourself that you CAN add a little speed to your sprint!
Thank you, TCO listeners!
Thank you to all of our listeners for sharing your recommendations and enthusiasm. To see the full list of classes and add your own to the conversation, check out the post from July 10, 2023, here. And let us know in the comments if you try any of these and find a new favorite of your own!
---
Tune in to The Clip Out every Friday to hear Tom and Crystal's take on this and other hot Pelotopics. We're available on Apple Podcasts, Spotify, Google Podcasts, iHeart, TuneIn. Be sure and follow us so you never miss an episode. You can also find the show online on Facebook.com/TheClipOut. While you're there, like the page and join the group. Lastly, find us on our YouTube channel, YouTube.com/TheClipOut, where you can watch all of our shows.
See something in the Peloton Universe that you think we should know? Visit theclipout.com and click on Submit a Tip!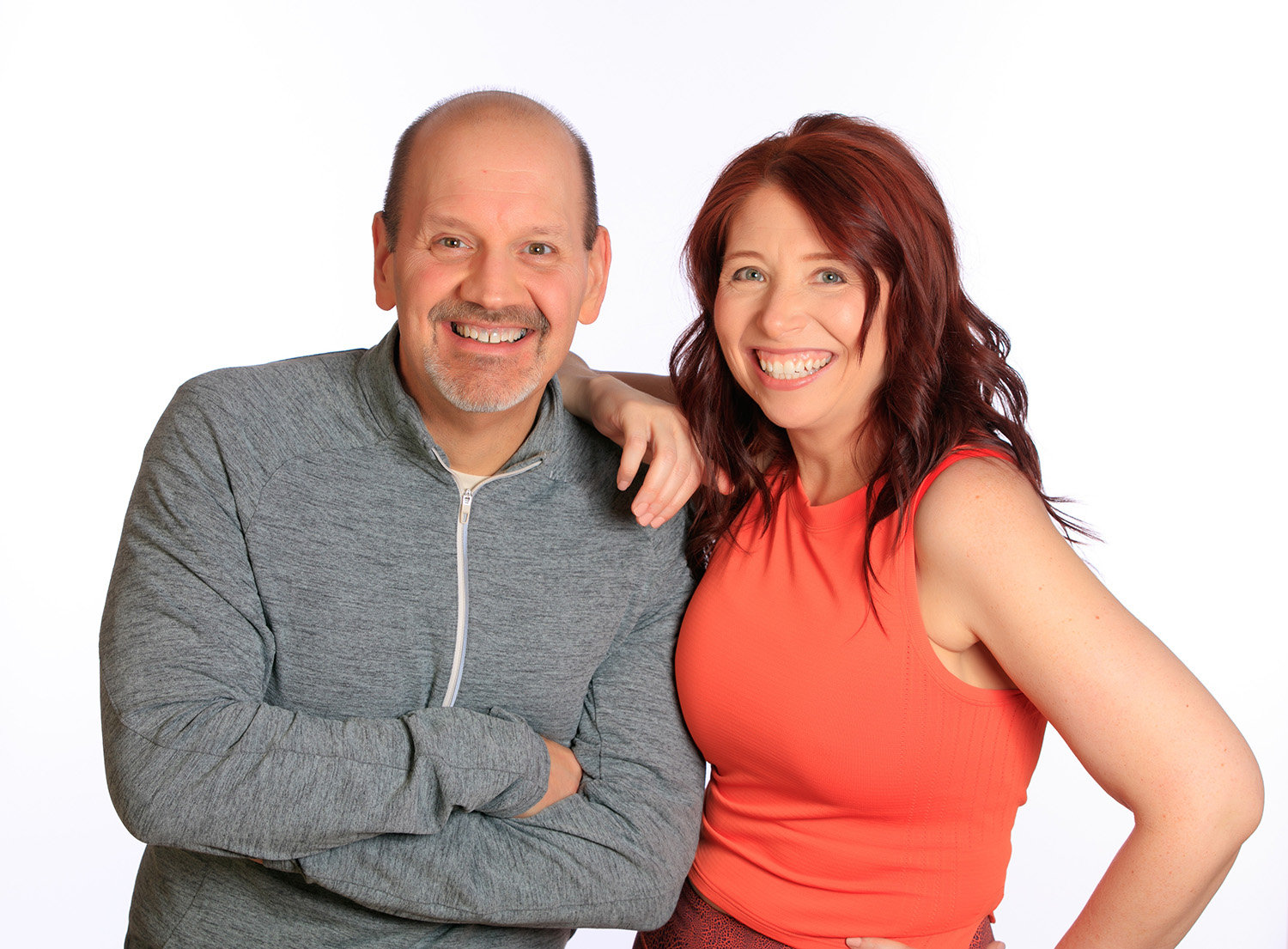 Subscribe
Keep up with all the Peloton news!