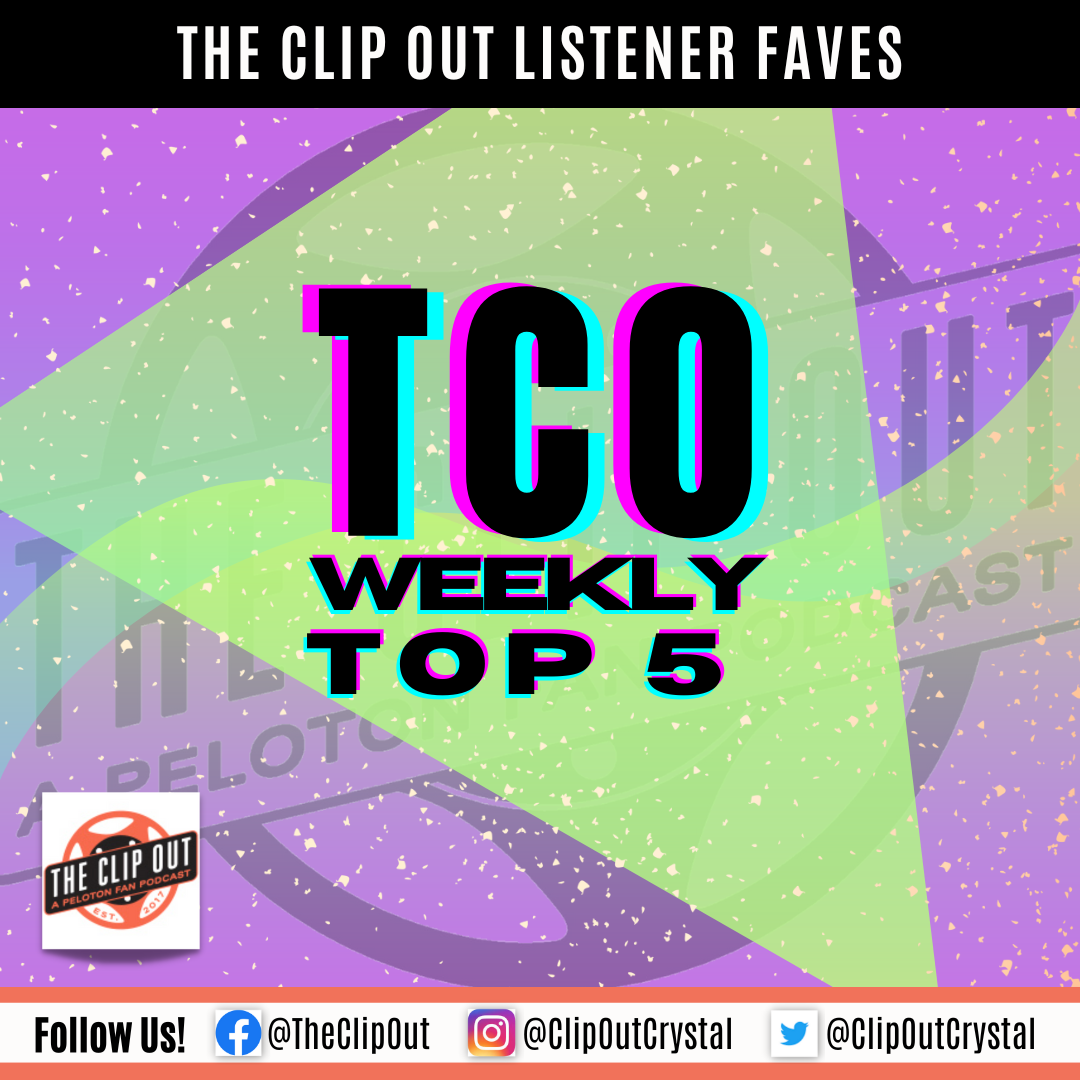 TCO Weekly Top 5: This week's listener favorite classes
Barbie, Mötley Crüe, and ABBA dominated the Clip Out Facebook Group Top 5 list this week! We're excited to bring you the most enthusiastic recommendations from our community and share a quick summary of each class below. Read on for some guaranteed motivation!
The classes
6/26/23 30 min HIIT Row with Alex Karwoski
7/27/23 30 Minute Mötley Crüe Ride with Sam Yo
7/27/23 45 min Outdoor ABBA Walk with Jess King
7/28/23 10 min Core Strength with Rebecca Kennedy
7/29/23 30 min Barbie Ride with Olivia Amato
Why you loved them!
1. Rowing PRs with Alex
6/26/23 30 min HIIT Row with Alex Karwoski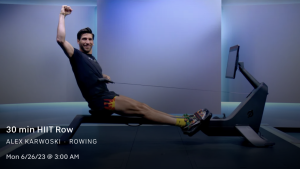 We are excited to feature a Row recommendation from The Clip Out group this week. This class is a power-packed HIIT (high intensity interval training) Row set to high-energy beats.
Kathleen Arthur says, "Intense class, first time my HR got into the red zone on the Row! I got a new 30 minute PR, and I loved it! He set up a good progression of intervals to get you ready for max efforts at the end of class. I find Alex to be a great coach, plus entertaining!"
The class set list includes dance remixes of crowd-pleasers from Panic! At The Disco, Pitbull, Katy Perry, and Diana Ross. The class plan includes 19 intervals, six of which are max efforts! Alex builds the intensity throughout the class so that you're primed to leave it all on the table and potentially pull out a new PR in the process.
2. A night out with the Crüe
7/27/23 30 Minute Mötley Crüe Ride with Sam Yo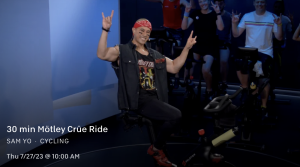 The Clip Out group had so many amazing things to say about this class!
Helper Bee Nikki Sherouse-Smith (#MySprtsBrasStuk), along with several other enthusiastic members of the group, loved this class. She said, "Sam's Motley Crue ride was masterful. He let the music shine, completely committed to the bit and the character, created a solid workout with thematic cues sprinkled in vs giving a full Wiki rundown of the band's history, all while coaching a challenging, but thoroughly enjoyable ride.  All of his Artist Series rides are underrated, imo, but this was one of his best, ranking right up there with his Bon Jovi and AC/DC rides."
Kathy McCarthy Yialamas agreed and said this class makes her very short list of repeatables: "loved this class! I had so much adrenaline running through me while taking it. I think I'm gonna take it again today, & I VERY RARELY repeat rides."
And Christina Ciano (#KeeperOfTheCats) highlighted the fact that Sam even pulled some strings to get some extra Crüe energy into the setlist: "He even cut a longer song to get another in. He squeezed a lot of Crüe in that 30 minutes! This will be a multiple repeat class for me."
Sam describes the class as a wild night out with Motley Crue with a plan that is "fast, heavy, and notoriously naughty." The set list is "a full-throttle, high-energy rock anthem," kicking off with Same Ol' Situation (S.O.S.), and including the heart-pumping and pedal-propelling Dr Feelgood, Girls, Girls, Girls, and Wild Side.
Bookmark this class for any time you want to escape to the land of rock and roll–and get a bonus killer workout in the process!
3. Strutting to the music with Jess King
7/27/23 45 min Outdoor ABBA Walk with Jess King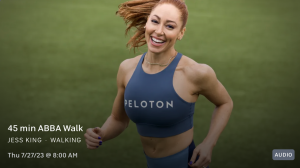 Several members of The Clip Out group loved this outdoor walk, which Peloton describes as being on a mission to make everyone feel as glorious as ABBA.
Ginny Davis said, "The music was perfect, it had a great vibe, it was perfect for a Sunday outdoor walk on a summer day. She even reminded me to put on sunscreen."
Nancy Nilsen agreed: "I was just going to put that in here. It was such a fun walk to do on a Saturday morning."
Jess begins the class with some activation and mobility drills and a reminder that you look amazing. The set list includes Chiquitita, Gimme! Gimme! Gimme! (A Man After Midnight), Dancing Queen, and Voulez-Vous.
Jess is a master of queueing you into your body and into the music. Add this class to a beautiful summer day and it is a guaranteed smile inside and out.
4. Bicycle breakdown (no bikes were broken in this segment)
7/28/23 10 min Core Strength with Rebecca Kennedy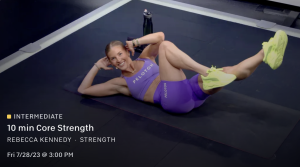 The Clip Out group has shared a true treasure with us this week. This class is 10 minutes that could literally improve your core engagement for the rest of your life. It's a 10-minute deep dive into the beloved bicycle crunch.
Maria Berenato says, "She takes 10 min to breakdown the proper way to perform a bicycle crunch. She's so amazing at instructing these moves for beginners. Love her! I take her classes to compliment Andy Speer – Peloton Total Strength Program which I've been repeating and loving for months now!"
Celina Schocken adds that this class is not just instructional, it's impactful! She says, "I do a 10 min core everyday, so I am rarely sore. I couldn't laugh for 2 days after this – it is great."
Rebecca features music from EDM greats deadmau5 and Black Coffee, so the beat will keep you moving even when your muscles can't!
5. A feel-good Barbie party
7/29/23 30 min Barbie Ride with Olivia Amato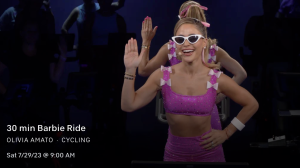 Barbiemania has hit the Peloverse indeed! No class garnered as much support this week (or ever!) as this one. The Clip Out group loved it!
Kelly Quirk-Ceperley said, "It was so fun, the soundtrack was great. The message was on point. And unlike her usual rides it wasn't entirely at 103 cadence for 30 minutes! So I could manage!!!"
Courtenay Cassel Brinckerhoff agreed: "Olivia's Barbie ride! Her outfit and hairdo were perfect, and she embodies the "you can wear pink AND be intelligent" message she called out. 💕"
The ride is a fun-first experience set to the Barbie movie soundtrack and adorned in a custom Brittany Allen Barbie-inspired fit. Olivia sets the class up as being "about channeling whatever you want to channel—whatever's gonna make you feel good," and invites everyone to just have a good time with their fellow Barbies and Kens.
It wouldn't be an Olivia class without an invitation to climb out of the saddle or reach for a cadence over 100 at least once (thankfully not at the same time!), but these efforts have never felt more approachable (or optional) than in this class.
The set list includes infectious bops from Dua Lipa, Sam Smith, Lizzo, Billie Eilish, and Charlie XCX, all from the Barbie movie soundtrack.
Whether you've seen the movie or not, this class will leave you feeling empowered and powerful!
Thank you!
Thank you to all of our listeners for sharing your recommendations and enthusiasm. To see the full list of classes and add your own to the conversation, check out the post from July 31, 2023, here. And let us know in the comments if you try these and find a new favorite of your own!